Coffee Quality

Design & Features

Durability

Ease of Use

Brand Reputation
Bottom Line
Presenting you one of the most affordable and famous espresso makers by Nespresso – Inissia! It offers two cup sizes, 1.35 oz espresso, and 3.70 lungo. There is a 24 oz water tank, a very sleek and stylish design, and all the basic functionality that a good espresso maker should have!
This is a review of one of the best-selling and most convenient espresso machines – the Nespresso Inissia!
I have always been a fan of Nespresso machines, and trying them out has always been a delight. Since Inissia was the talk of the town recently, I couldn't resist experimenting with this coffee machine to curate an in-depth review for all my coffee lovers! I spent days with Nespresso Inissia and tested it on the basis of design, coffee quality, functionality, and much more.
Now without making you wait any further, let's see if the Nespresso Inissia Espresso Maker is worth the hype or not.
Features of Nespresso Inissia
Product Line: OriginalLine
Weight: 5.29 Pounds
Water Tank Capacity: 24 oz
Brewing Mechanism: 19-bar Pressure
Brew Sizes: 1.35 oz espresso and 3.70 oz lungo
Heat-up Time: 25 Seconds
Auto Shut-off Time: 9 Minutes
Spent Capsules: 10
External Material: ABS Plastic
Third-party Capsules Compatibility: Yes
Watts: 1260 W
Nespresso Inissia Overview
As we all know that Nespresso launches its capsule-based machines in two lines:
Original Line Machines
They use the traditional and signature 19-bar pressure brewing mechanism to extract shots from coffee capsules.
Vertuo Line Machines
These machines use an innovative brewing mechanism known as centrifusion that rapidly spins the coffee capsules to extract shots.
The Inissia is an OriginalLine machine with a minimalist design and a very small footprint. It has all the basic features and functionality that a standard espresso maker should have. From a sufficient-sized 24 oz removable water tank to a one-touch programming system, it will give you nothing but comfort and convenience.
Like other affordable and mid-ranged single-serve Nespresso machines, Inissia also offers only two programmed brew sizes; 1.35 espresso and 3.70 lungo. Also, I found the entire interface of this Nespresso machine very simple and convenient.
Nespresso Inissia is a very compact machine with a sleek design to fit into even the smallest of counter spaces. There is a capsule container that is easily approachable with an ergonomic lever. Moreover, Inissia also has an interior container for used capsules with a capsule capacity of 10. There was a folding drip tray too for making larger coffee drinks like lattes.
Inissia does not have a built-in milk frother, but I paired it with my aeroccino and it worked fine. You can do the same to enjoy milky coffee beverages like Cappuccinos and Lattes. Also, I found the machine a bit loud and had no fancy features. However, it is a very affordable option so the unavailability of features can be justified.
| | |
| --- | --- |
| | |
| A budget-friendly option | Noisy |
| Easy to use | The plastic exterior doesn't give a high-end feel |
| The machine heats up quickly | |
| Compact and lightweight | |
| It comes in different color options | |
| Energy-efficient | |
| Compatible with third-party capsules | |
Things to Consider Before Buying Nespresso Inissia
Though we went through a brief tour of what you can expect from Inissia, it doesn't mean you should go and buy the machine asap. You will have to consider a few factors to know if Inissia is the right pick for you or not. From design to programmability to capsule compatibility, Nespresso machines have different variations. Therefore, it is essential to closely analyze all the features before purchasing a machine.
As always, I am here to give you a helping hand. Let's go through all the features and specs of the Nespresso Inissia in detail!
Design
As I mentioned above, Inissia is a very compact, simple, and stylish espresso machine. It is almost 12 cm wide and the weight is only 5.29 lbs. The machine was designed keeping in mind counter spaces of small kitchens and dorm rooms. Moreover, Inissia comes in a wide range of color options to choose from; red, white, blue, sun, cream, black, and velvet. You can choose whatever color suits best to your interior or decorum. However, I opted for the black one.
The exterior of Inissia is made of ABS plastic, and the lever is of premium-quality metal. Despite not being very 'high-end' in design, Inissia has a very robust and durable construction. There is a removable drip tray at the bottom to accommodate large cups, a capsule container at the top, and a removable water tank at the back.
The internal capsule disposal bin is also removable and very convenient to reach out to. However, I found monitoring the water tank a little hard since it is located at the back. Other than that, I give an 8 on 10 to Inissia for design and build.
Functionality
In terms of functionality, I found Nespresso Inissia very convenient and efficient. First of all, the machine truly does its thing – it produces high-quality espresso by just pushing a button or two. Moreover, the heat-up and brew time is also very quick and fast.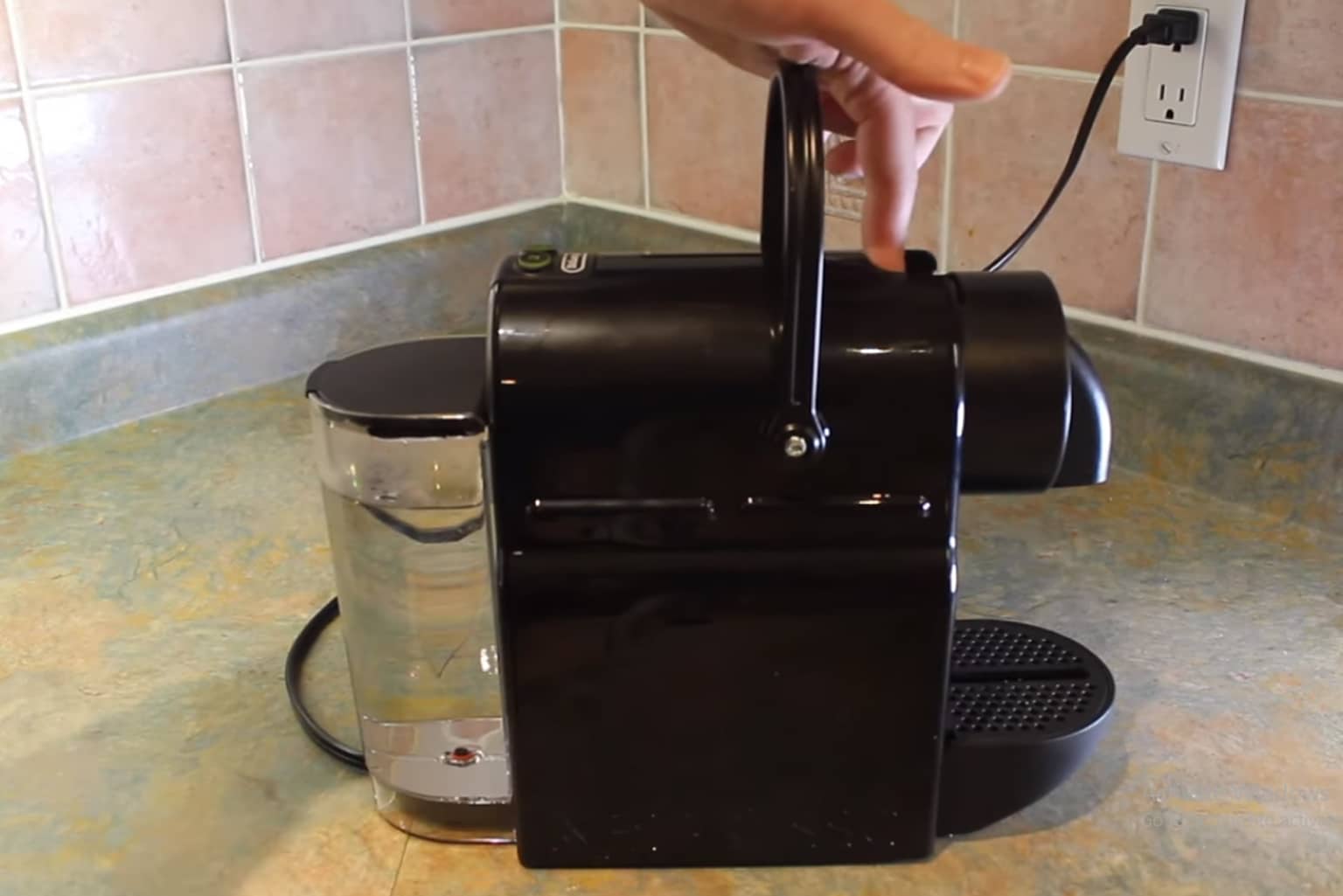 The machine has a total of two buttons and a lever that you need to use. The buttons are espresso and lungo buttons – the brew sizes you can choose from. Inissia has no fancy features or a large number of indicators. So, you will have to keep track of certain things like the water level in the tank yourself.
All in all, this coffee maker offers great and satisfactory functionality if we look at the affordable price. The only drawback I found was the loud noise it made while brewing.
How to Use Nespresso Inissia?
If you are still not convinced about how effortless and simple Inissia is, here is a step-by-step guide on how to use the machine:
Put your cup on the drip tray and under the coffee sprout.
Insert your favorite coffee capsules in the container by lifting up the lever. Push the lever down to close the container.
Choose your brew size; espresso or lungo, and heat up the machine for 25 seconds by pressing either of the two buttons. Inissia will continue blinking when it is heating and the lights will stop steadily once it is heated up.
Once the machine is heated up, it will start pouring water into the cup and will stop automatically when needed. It will brew your perfect cup of espresso in a maximum of 50 seconds.
When the machine is done brewing, just lift and close the lever once to dispose of the used capsules into the interior container.
See, told you – using Inissia was very easy peasy!
Coffee Quality
Now coming to the part I bet you all have been waiting for; does Inissia produces a good quality espresso? Well, the answer is a big YES! I fell in love with the coffee quality of this tiny yet mighty machine!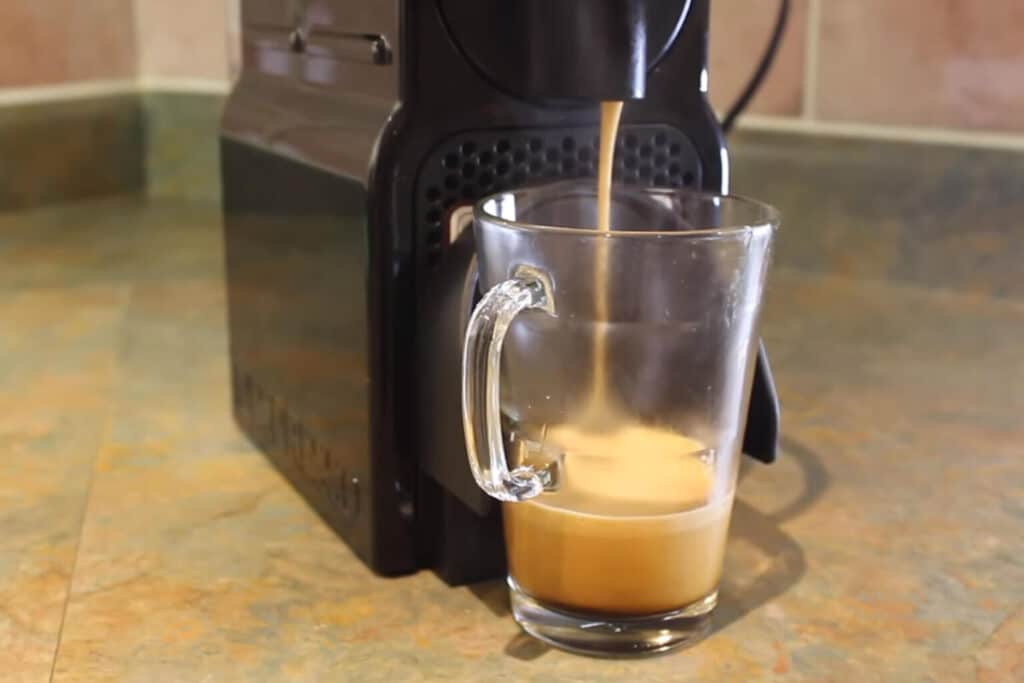 Every time I brewed the espresso, my kitchen filled with a pleasant and delightful aroma. Also, the espresso was full-bodied and well-rounded, and the crema was super luxurious, thick, and velvety. If you are a coffee lover looking for the most authentic espresso, Inissia will surely give you that!
Capsule Compatibility
Being an OriginalLine machine, Inissia is compatible with all original Nespresso Capsules. However, keep in mind that Nespresso Vertuo Capsules won't work with this Inissia, so only opt for the original ones.
Since Nespresso coffee pods can be very expensive, Inissia is also compatible with third-party coffee capsules. This flexibility allows you to enjoy a variety of coffee flavors, roast levels, and intensities from different brands like Lavazza, Starbucks, and Peet's Coffee.
Moreover, you can also use Nespresso-compatible reusable pods if you want to protect the environment and avoid wasting capsules. Reusable pods can be used for up to 2 years, and you can add your choice of ground coffee to them.
Programmability
We already know about the two basic pre-programmed brew sizes Inissia offers, right? 1.35 oz Espresso and 3.70 Lungo. However, you can also make americano with Inissia by using the two programmable buttons.
If you want to enjoy taller cups of lattes and cappuccinos, you can always pair your Inissia with an aeroccino milk frother and enjoy your milky beverages too!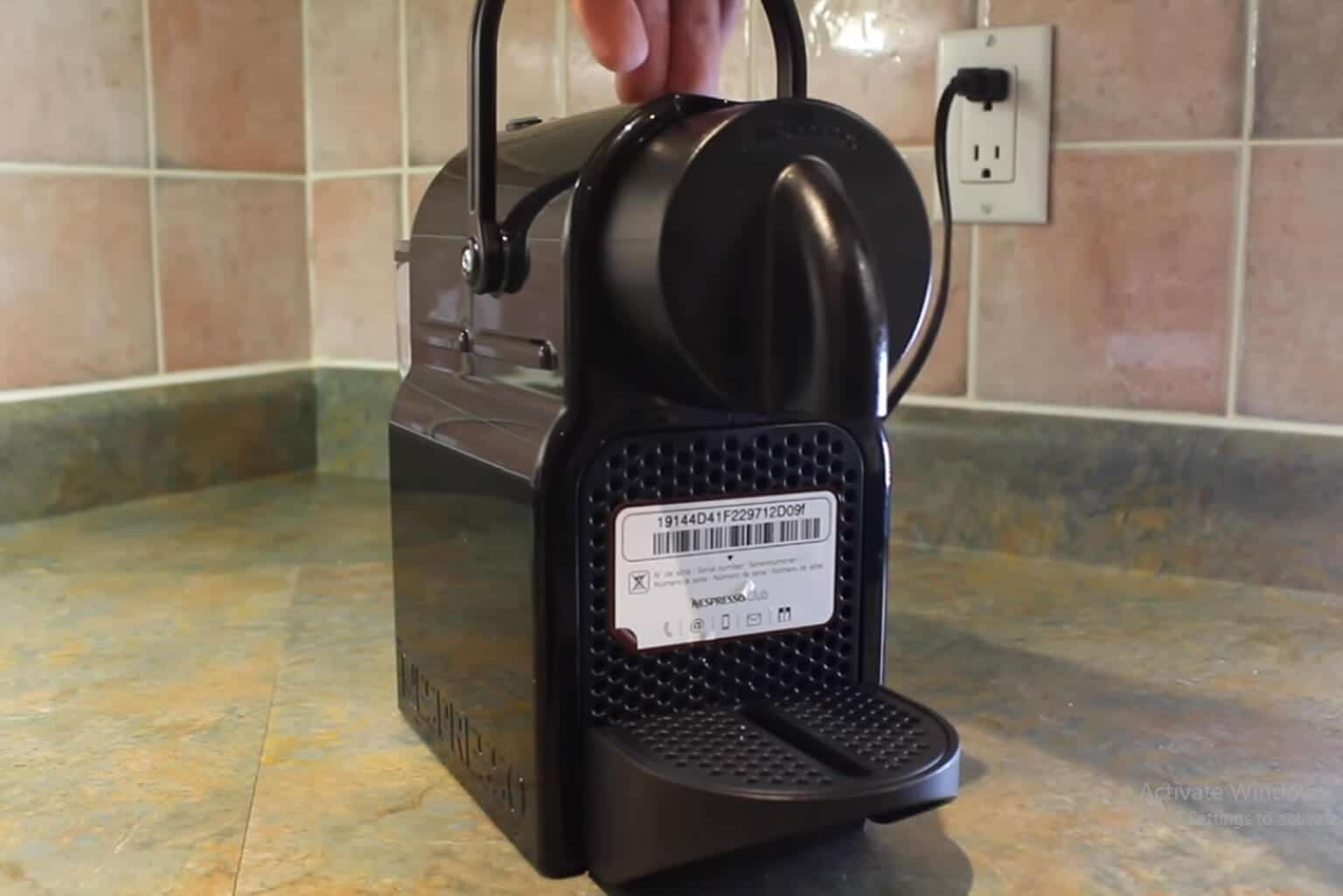 Apart from the brew sizes, you can also program the water volume using the two programmable buttons. For example, if you want to pick the espresso brew size, just hold on to the button until the cup reaches your desired water level and then release. Inissia will remember this water volume for the next brewing session.
Extra Features
As briefly mentioned above, there are no extra, fancy, or glittery features in Inissia, but the basics are still there! For example, there is an indicating light that indicates when the machine is heated up and ready to brew!
Plus, Inissia is equipped with an energy-saving mode that allows the machine to automatically turn off after 9 minutes of no use. You can further change this time to 30 minutes as well. The machine also has a self-descaling feature too.
Cleaning and Maintenance
Thanks to the uber compact and slim design, cleaning and maintenance of Inissia is not a hassle. The automated descaling cycle of this machine works like the cherry on top and makes things easier. All you have to do is purchase Nespresso's descaling solution and the machine will do the rest for you. You can take a look at the instruction booklet to understand how to activate the descaling cycle.
However, the machine won't indicate to you when it's descaling time. Therefore, try to descale after every 2 months or 1000 coffee pods. Moreover, you will have to frequently clean and rinse parts like the capsule container, water tank, and drip tray yourself.
Water Reservoir
Inissia is equipped with a 24 oz water tank, which isn't very large but not too small either. You can easily brew 9 shots of espresso with just one re-fill. Also, re-filling the tank wouldn't be a hassle since it is removable and very small.
Accessories
As repeatedly mentioned above, Inissia does not come with additional accessories like a milk frother. However, it is still compatible with an aeroccino if you plan on purchasing one separately.
Price
Inissia is one of the most affordable espresso makers by Nespresso. Honestly, I was surprised watching the machine working efficiently at this price range. Yes, you won't get a large water tank or tons of features, but it does offer basic functionality and great value for money.
So, if you are someone who is a little tight on budget and still want to try out Nespresso machines, Inissia can be a considerate option for you!
Warranty
Like all other Nespresso machines, Inissia also comes with a 1-year warranty. In this time period, Nespresso will cover necessary replacements and repairs. You can also get a substitute machine if your Inissia is in their warehouse for repairs!
Final Verdict
So, what is the final verdict? Well, Inissia is undoubtedly a stylish and functional machine at a very affordable price range. The design is outstanding, the interface is effortless, and it is very easy to clean.
If you are looking for an espresso maker with basic functionality and nothing too extra, Inissia is for you!
However, if you want a large water tank and a machine that allows you to make larger cups, I would suggest you look for alternatives.
Alternatives of Nespresso Inissia
If you think you still want to explore more options, here are a few alternatives of Inissia that you might like:
It is a small and mighty machine with a 24 oz water tank capacity and incredible coffee quality. Essenza Mini also offers two brew sizes; espresso and lungo. The water reservoir is smaller than Inissia, but it is much more affordable and stylish looking!
It is a more advanced version of the Essenza Mini with a 34 oz water tank, high-end design, and a few extra features. Plus, Essenza Plus offers 4 brew and cup sizes; espresso, lungo, ristretto, and americano!
Nespresso pixie is a compact and sleek machine that offers brew sizes; espresso and lungo. There is a 24 oz water tank capacity like Inissia and a premium-quality aluminum exterior. Pixie is a mid-range model by Nespresso with incredible functionality.
FAQs
Can you brew a full cup of coffee with Nespresso Inissia?
No. Unlike Vertuo Line machines, Inissia is not capable of brewing full cups of 14 ounces coffee. You can make an americano by going through a long process, but nothing else.
If you want a full cup of coffee in the most convenient manner, we would suggest opting for Nespresso Vertuo Line machines or high-end models of Original Line like Gran Lattissima or Creatista Plus!
Who makes the Inissia Espresso Machine?
The functionality, specs, and features are by Nespresso, but the machine is finally manufactured by two different manufacturers; Breville and DeLonghi. Both variations work the same with just a few differences in their exterior, design, and color options.