Coffee Quality

Design & Features

Durability

Ease of Use

Brand Reputation
The Bottom Line
A great and compact machine with a sleek design and satisfactory functionality to offer! It offers two brew sizes to choose from and brews a rich and flavorful espresso – just like the signature Nespresso style!
Today, I am here with a compact and efficient single-serve coffee maker that people are going crazy over – the Nespresso Pixie machine!
Since you all know that I love experimenting with Nespresso Machines, trying out the illustrious Nespresso Pixie espresso maker was a hard-to-miss chance for me! I spent days and nights with this machine testing its functionality, coffee quality, and usability to curate an in-depth review for all my coffee lovers. After all, recommending you the best of the best is my top priority!
Keep reading to see if this Nespresso Pixie is worth your money or not!
Features of Nespresso Pixie
Product Line: OriginalLine
Brew Mechanism: Pressure
Brew Sizes: 2 – 1.35 oz espresso and 3.70 oz lungo
Heat-Up Time: 25 seconds
Water Reservoir: 24 oz
Auto Shut-off: 9 minutes
Spent Capsules: 10
Build Material: Aluminum
Third-Party Capsules Compatibility: Yes
Warranty: 1 year
Machine Weight: 6.6 lbs
Nespresso Pixie Overview
As we already know that Nespresso launches its coffee machines in two prominent lines; OriginalLine and VertuoLine.
OriginalLine machines use the standard pressure and 19-bar pump method to brew the coffee capsules. While VertuoLine machines use a more innovative technology like Centrifusion that rapidly spin the capsules to extract shots.
If you ask me, I would recommend opting for Nespresso OriginalLine machines for people who like their espresso more authentic and hotter. With that being said, the Nespresso Pixie gives us that flavorful espresso since it's an OriginalLine model!
The Nespresso Pixie is a very compact yet sleek and stylish coffee machine with a 24 oz water tank and all the necessary features that a coffee enthusiast needs. It has a premium-quality plastic and aluminum exterior that screams class and durability! This tiny yet mighty machine fits into even the smallest of counter spaces and suits every decorum.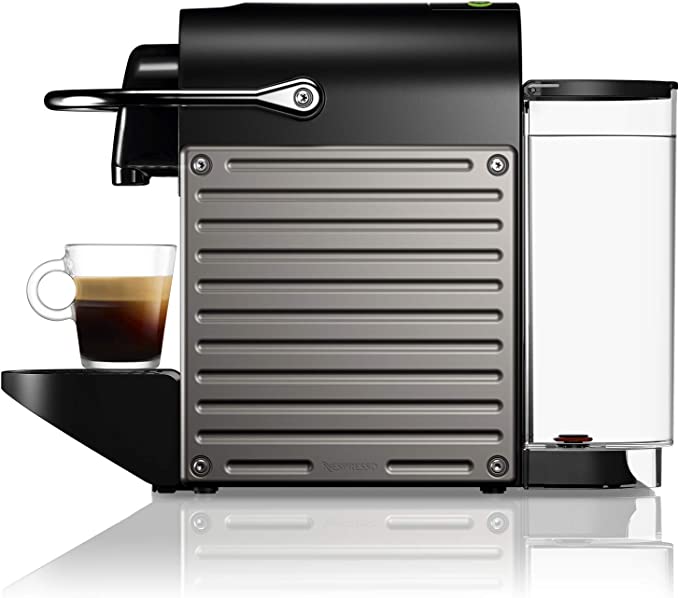 Since it is an OriginalLine machine, it gives only two brewing options; 1.35 oz espresso and 3.70 oz lungo. Moreover, Pixie has no built-in milk frother so you will have to buy a separate aeroccino if you want to enjoy milky drinks like Cappuccinos and Lattes. However, I found this machine very easy to use. I just had to push one button and my espresso was right in front of me within seconds!
This Nespresso machine does not have fancy features like Bluetooth connectivity, Wifi, etc. The water tank is also relatively small since it is an uber-compact model. Still, the basic functionality and quality are up to the mark. However, keep in mind that Pixie is slightly more expensive than other compact options by Nespresso like Essenza Mini and Inissia. But again, it offers great value for money if we look at the quality and performance.
| | |
| --- | --- |
| | |
| Excellent design and durable construction. | Slightly pricey, but offers great value. |
| One-touch usability for utmost comfort and convenience. | Small water tank |
| Compatible with third-party capsules. | You can't brew plain coffee. |
| Very compact for convenient portability. | |
| Quick heat-up and brewing time. | |
| Produces rich espresso with a 19-bar pressure brewing mechanism. | |
Things to Consider Before Buying Nespresso Pixie
What you read above was just a brief tour of what you can expect from the Nespresso Pixie Machine. Now, it is time to dive deep into things to consider before buying this machine. After all, Pixie might be a superb option for some people, but may not be the right pick for a few.
So, are you excited to know more about the build, functionality, and features of the Nespresso Pixie? Read on!
1. Design
As I have briefly mentioned above, the Nespresso Pixie has a very compact, sleek, and somewhat cute overall design. Moreover, the machine also comes with two design variations; one by Breville and the other by DeLonghi.
Both the variations have just one slight difference; the Breville models have a rounded top and DeLonghi models have a square. The rest of the functionality, technology, specs, and features are the same. I opted for the Breville model for my testing, known as the Nespresso Pixie Titan.

Now coming to the design and build, Nespresso Pixie is equipped with classy metallic sides that give a unique and classy touch to the machine. Moreover, you will find two programmable buttons and flip-up cup support on the machine.
Additionally, you will find an ergonomic lever on the machine to open and close the capsule container. Lift the lever to open the container and push it down to lock it. A foldable drip tray at the front panel allows you to make taller drinks like an americano.
In the end, 70% construction of the Nespresso Pixie contains ABS plastic, therefore, you won't get a very high-end feeling from the exterior. Still, I found the machine very durable and well constructed, and excellent in terms of portability and storage.
2. Programmability & Usability
Honestly, I found Nespresso Pixie very simple and seamless to use. It literally has a one-button programming system to make your morning coffee effortless. To give you an idea, here is a step-by-step tour of how you use the Nespresso Pixie machine.
Fill up the water tank.
Press any button to start the heat-up process. The machine will only take 25 seconds to heat up.
Insert the coffee capsule into the container and lock it.
Place your coffee mug on the drip tray.
Decide what size of shot you want to brew (1.35 espresso or 3.70 lungo), press one of the two brew buttons, and your delicious cup of coffee will be ready in less than 40 seconds!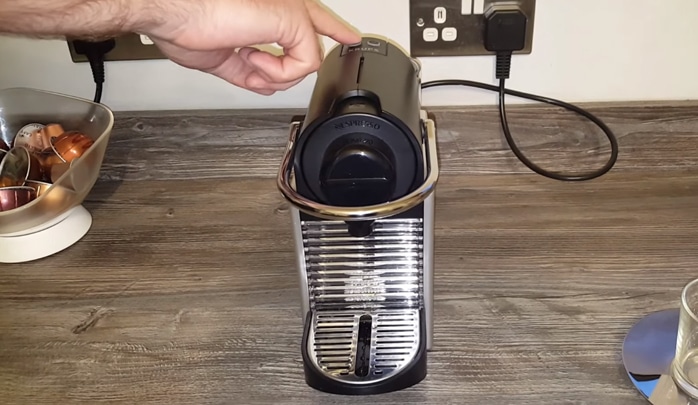 See, it was easy, right? I give 10 on 10 to Pixie in terms of convenient usability!
2. Features
Despite being compact, the Nespresso Pixie is equipped with some amazing features that can make your life easy. First of all, there is a space to store 10 used capsules at one time. The used capsules will automatically drop into the storage tray after you are done brewing. Moreover, Pixie has an auto shut-off feature as well for energy-saving purposes. Yes, it will automatically shut down after nine minutes of no use.
I know that there are no extra features, but what else a person needs? I recommend Pixie to everyone who is looking for a basic espresso machine.
3. Water Reservoir
Though the Nespresso Pixie Espresso Maker has a relatively small 24 oz. water tank as compared to most Nespresso machines, I still find it sufficient for people who just want to make espresso shots. Yes, the removable water tank of the Nespresso pixie espresso machine could make 17 espresso shots with just one fill!
The water reservoir is located at the back of the machine, so I understand that it will be hard to monitor the water level. However, Pixie has a solution for this too! It alerts you to refill the tank with red indicating lights!
All in all, I would recommend Pixie to only those people who are fine with having a small water reservoir!
4. Brewing
Honestly, this espresso machine has a very comfortable and swift brewing process. Also, as it is an OriginalLine machine, it brews with the classic mechanism and produces the most authentic espresso! However, keep in mind that Pixie will only brew espresso for you – no other drinks like drip coffee, etc.
Still, this Nespresso offers a lot of customization brewing options. You can choose between espresso and lungo brew sizes, and you can also customize the amount of water you would like to use in every shot. Moreover, the temperature and pressure for each drink are already pre-programmed so you don't need to worry about the taste and quality of your coffee.
5. Coffee Quality
Are you wondering how flavorful your espresso is going to be with the Nespresso Pixie? Well, I'm delighted to announce that this espresso machine produced a rich, delicious, and creamy shot of espresso that was a treat to my taste buds!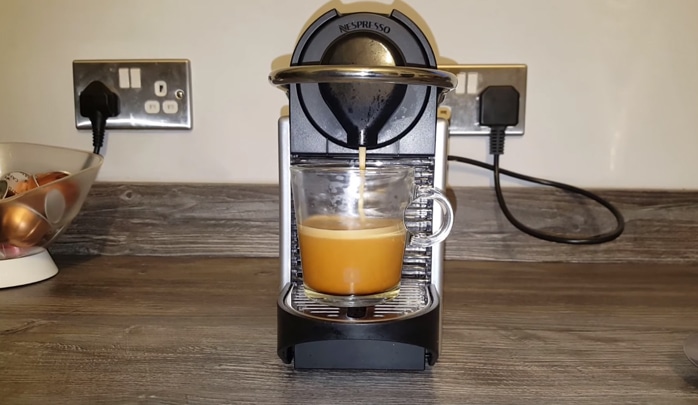 I tried almost 15 different coffee from different brands and trust me; the crema was to die for every time! Again, I give 10 on 10 to Pixie for providing an incredible coffee quality!
6. Cleaning and Maintenance
Like every coffee machine, Nespresso Pixie also requires regular cleaning and maintenance for it to remain of top-notch quality! However, the compact and simple design of this machine will make the process effortless for you! Moreover, there is no milk frothing system so that is kind of a plus too!
Now, let's come to the most interesting point; Pixie has a self-cleaning and descaling system! The machine will blink a red indicating light when it is time for descaling. Just purchase a descaling solution from Nespresso's website, fill it in the tank, and run the mechanism. The whole process will hardly take 15 minutes.
Though there is a self-cleaning feature, there are some parts of the machine that will require personal attention. For example, try to frequently clean the capsule container, clean the coffee outlet, and rinse the drip tray. All in all, you won't have to spend much time on the cleaning and maintenance of Pixie!
7. Variety of Beverages
It is obvious now that you can brew espresso and lungo shots with Pixie. However, if you want to enjoy lattes, cappuccinos, or other milky drinks, you can always purchase a separate aeroccino milk frother for that!
You can also brew long coffee drinks like an americano, but that requires some extra effort. There is no default program or button for Americano, but you can still make one using the two buttons. Set your preferred shot size with one button and set the hot water volume with the other button. However, keep in mind to eject the capsules in between pressing the buttons. For milky drinks, you can take the help of the foldable drip tray to adjust the cups.
8. Capsules Compatibility
As Pixie is an OriginalLine machine, it is compatible with all Original Nespresso Pods. However, Nespresso Pods can be a little heavy on your pockets sometimes, right? But, do you know what the best part is? Pixie is also compatible with third-party capsules from other brands like Starbucks, Lavazza, Peet's, etc. This means that you will have the freedom of enjoying a wide range of coffee flavors and brands!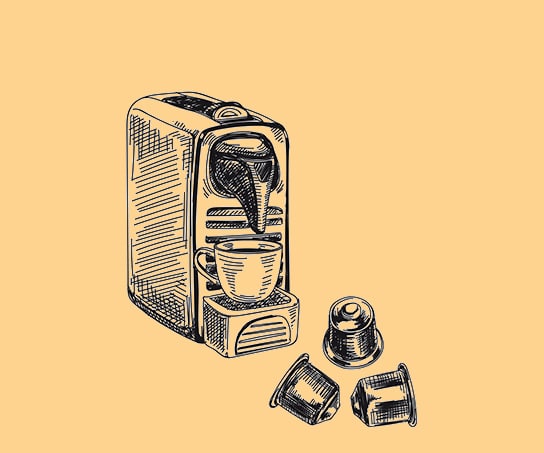 Moreover, if you are someone who cares about the environment and hesitate on wasting coffee capsules, you can also use reusable coffee pods with Nespresso Pixie and fill them with your ground coffee. Reusable Nespresso Pods can be used for up to 1 or 2 years before they go to waste.
9. Value for Money
One thing that I am absolutely sure about is that the Nespresso Pixie offers great value for money! You will find the machine in between the price range of $210 to $220. However, you can even find it at a sale price of $160 at some places if you are lucky. Yes, I know that the price is a bit higher than other compact options by the brand, but it has a premium design too so I guess you are paying for that! If you are ready to compromise on the design, you can opt for the Nespresso Essenza Mini.
10. Warranty
Like all the other espresso makers by Nespresso, Pixie also comes with a 1-year warranty! You can claim free replacements and repairs during this time. If your machine takes a long time to repair, Nespresso will also give you a temporary machine for that time period. Moreover, Nespresso's customer service is also remarkable!
Is the Nespresso Pixie for You?
Well, the answer to this question totally depends on your personal needs and preferences. If you ask me, I could not find anything wrong with the machine; it just lacked some fancy features and a large-sized water tank. Other than these, the machine is robust, functionality is great, and the coffee quality was amazing.
So, if you are someone who is looking for a mid-range coffee maker with fewer features but excellent functionality, the Nespresso Pixie is for you! The heat-up and brewing time are good, and honestly, it will look cute sitting on your countertop!
FAQs
Can you make a latte with Nespresso Pixie?
Yes, you can make a latte with Nespresso Pixie by purchasing a separate aeroccino milk frother.
How to use the Nespresso Pixie?
All you have to do is put a capsule in the container, choose your brew size, and Pixie will brew your espresso in seconds!
How quiet is the Nespresso Pixie espresso machine?
Unlike some pod machines, I found Nespresso Pixie very quiet during operation. There will be a subtle sound of the motor, but nothing too disturbing.