Price

Design & Features

Durability

Ease of Use

Brand Reputation
The Bottom Line
An advanced version of the Essenza Mini with a 34 oz water tank and 4 cup sizes to choose from; 1.35 oz espresso, 3.70 oz lungo, 5.05 oz Americano, 6.75 oz Americano XL. This machine gives a new name to comfort, style, and convenience!
This is a review of one of the most compact and versatile Nespresso machines – the Nespresso Essenza Plus!
I am a coffee lover and experimenting with Nespresso machines is my forte. So guess what I did? I bought the best-selling Essenza Plus espresso machine and brewed a variety of drinks to curate a detailed review for my readers! I spent days paying attention to the quality, taste, and functionality of this Nespresso machine.
So, is Nespresso Essenza Plus worth buying? Keep Reading to know!
Features of Nespresso Essenza Plus
Product Line: OriginalLine
Brewing Mechanism: 19-bar Pressure
Weight: 7.9 lbs
Brew Sizes: 1.35 oz espresso, 3.70 oz lungo, 5.05 oz Americano, 6.75 oz Americano XL
External Material: ABS Plastic
Water Tank Capacity: 34 oz
Spent Capsule Capacity: 11
Milk Frother Included: No
Removable Drip Tray: Yes
Third-Party Capsules Compatibility: Yes
Wireless Connectivity: Yes
Auto Shut-off: 9 Minutes
Nespresso Essenza Plus Overview
Essenza Plus is a Nespresso OriginalLine machine, which means it uses the traditional pump and pressure brewing mechanism to provide the most authentic espresso. Having that said, I must say that the taste of espresso was truly better than in my local coffee shop!
I found this machine a little advanced version of the Essenza Mini, but still very sleek and compact. The whole unit is already 4.7″ inches wide and extremely lightweight. It comes with 4 preset brew sizes; 1.35 oz espresso, 3.70 oz lungo, 5.05 oz Americano, 6.75 oz Americano XL, and a water tank capacity of 37 oz.
The machine also has a hot water function, which I found incredible. Like other capsule-based espresso machines, this one also comes with a used-capsule container with a capacity of 11. The 34 oz water reservoir also saves you from frequent refills.
Also, the coffee machine was very simple and easy to use. It is also equipped with some basic and necessary features a good coffee maker should have. The machine does not come with any milk accessory, but you can purchase an aeroccino milk frother separately to enjoy beverages like cappuccinos and lattes. Other than this, I didn't find anything really wrong.
| | |
| --- | --- |
| | |
| Powerful brewing system | Only brews espresso |
| Sleek, compact, and lightweight design | Does not feature a metal exterior |
| Features a wireless connectivity function | No milk frothing capabilities |
| Compatible with third-party capsules | |
| Offers 4 brew sizes | |
| Produces flavorful and authentic espresso | |
| Features a descaling alert | |
Things to Consider Before Buying Nespresso Essenza Plus
You have gone through a brief tour of the features of the Nespresso Essenza Plus – however, there is still much more to see! Every espresso maker has different qualities and capabilities, and every coffee drinker has different needs. Therefore, it is essential to consider a lot of factors before buying a machine to ensure it is the best pick for you.
To give you a helping hand, I am sharing all the features and specifications of Nespresso Essenza Plus below. By the end of this post, you will know if you are buying this product or not. Read on!
Design & Appearance
Nespresso Essenza Plus has a very modern, minimalist, and compact design. The machine is available in 3 color options; cherry red, black, and white. I ordered the white one, but you can choose whatever that suits best to your kitchen decorum.
The machine was super lightweight and the exterior plastic material has a glossy and eye-catching finish. Just like most Nespresso models, the removable water tank is at the back, the drip tray and cup holder are at the front, and the capsule container is at the top. There is an accessible used capsule container too with a capacity of 6 pods.
The dimensions of Essenza Plus are 5.3″ x 16.5″ x 9.4″, which means it will easily fit into the smallest of countertops. All in all, I give 10 on 10 to this machine in terms of seamless design and an aesthetically pleasing appearance.
Water Reservoir
As briefly mentioned above, Nespresso Essenza Plus is equipped with a transparent 34 oz water reservoir. The size of the reservoir is larger than most coffee machines and helps you brew many cups of coffee in one refill.
Moreover, the transparency of the reservoir helps you conveniently measure the water level. Also, the water reservoir is removable and adjustable – which is like a cherry on top!
Programmability
Essenza Plus is equipped with 3 pre-programmable buttons on the top to select your brew sizes. One button brews the 1.35 oz espresso, one brews the 3.70 lungo, and the third hot water button brews 5.05 oz Americano and 6.75 oz Americano XL shots. For espresso and lungo, all you have to do is insert a Nespresso capsule, push the button, and your coffee will be ready in seconds, For Americano and Americano XL shots, here is what you need to do:
Espresso button + Hot water button = Americano
Lungo button + Hot water button = Americano XL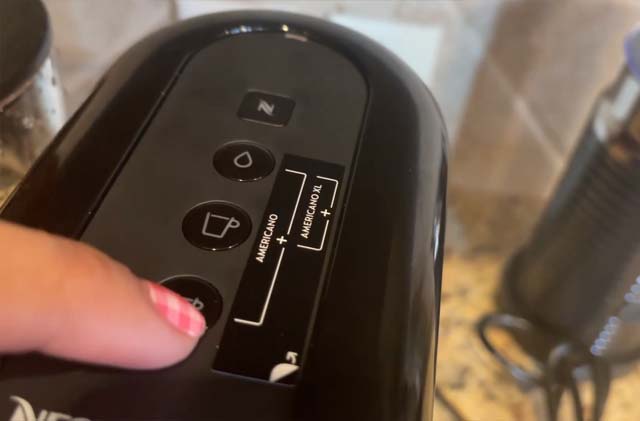 You can also program the water hardness and volume as per your liking! Moreover, you can also use the hot water feature to brew tea.
Additionally, the coffee machine also offers wireless connectivity; you can connect and control the machine with your phone, brew your coffee by adjusting the cup sizes, and order new Nespresso capsules using the Nespresso application.
Usability
If you ask me, I consider the Nespresso Essenza Plus a very luxurious model that was designed keeping convenience and comfort in mind. Having that said, I found this machine very easy and effortless to use.
The machine heats up in 25 seconds, and brew time is almost the same too. All I had to do was just insert my Nespresso Capsule, and push a button, and my coffee was ready within seconds. Also, Essenza Plus automatically ejects the used capsules into the container.
Apart from this, there is an auto shut-off feature as well. The machine automatically turns off after 9 minutes of no use to save energy and avoid accidents. On top of that, you can also change the auto shut-off time to 30 seconds when needed.
The whole process was entirely automatic and super comfortable for me!
Capsule Compatibility
Being an OriginalLine machine, Nespresso Essenza Plus is compatible with all Nespresso Original Capsules – just not the vertuo ones. I tried almost 6 different Nespresso capsules, and they all brewed perfectly.
However, do you know what I loved the most about the Essenza Plus? Since Nespresso capsules can be very expensive, this machine is also compatible with third-party compatible capsules from brands like Starbucks, Peet's Coffee, and Lavazza. These third-party capsules are not only affordable but also offer you a wide range of new and exciting flavors.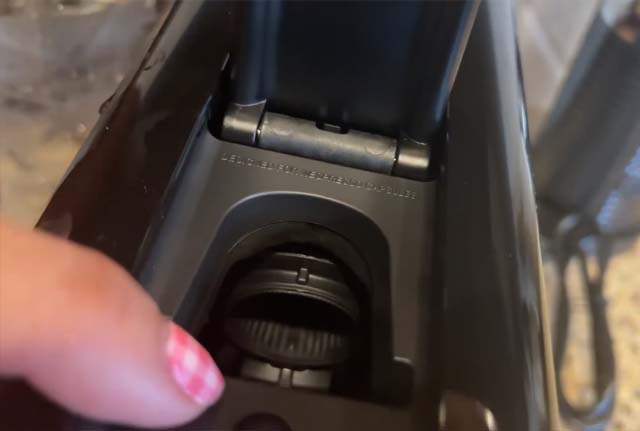 Moreover, if you are concerned about the environment, you can also opt for reusable and refillable pods with this machine.
Just make sure not to buy VertuoLine pods.
Quality of Coffee and Crema
Nespresso machines are known for their perfect flavor and signature crema – fortunately, Nespresso Essenza Plus is maintaining the streak. The flavor and quality of all types of coffee were definitely unmatchable and to die for! The taste of the espresso was super delicious and authentic.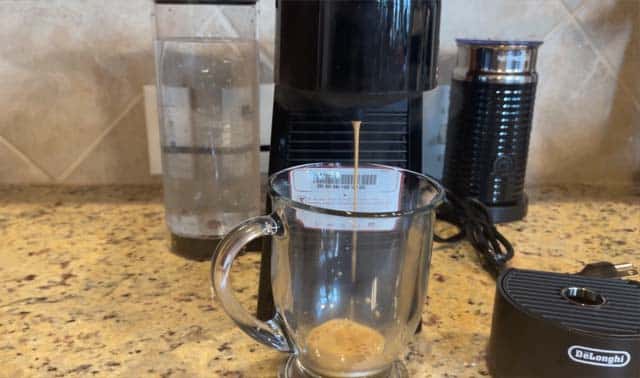 There was a thick layer of rich and foamy crema on top of the coffee – the signature Nespresso style! I even paired the Essenza Plus with my aeroccino milk frother to try out a latte, and the outcome was again delicious, as expected.
Cleaning and Maintenance
I found the cleaning and maintenance of Nespresso Essenza Plus simply effortless. The whole model is compact, and all the parts can be easily removed. I just removed the capsule container, water reservoir, and drip tray, rinsed them with soap, and we were good to go! Just make sure to frequently clean these parts.
For utmost convenience and comfort, the Essenza Plus features a descaling alert as well. The light on the button will become red when it is time to descale. Luckily, the machine is equipped with a self-descaling mode too.
All you need to do is purchase the descaling solution from Nespresso's website or Amazon, fill it in the water reservoir, push together the 3 buttons for 5 seconds, and Essenza plus will start the descaling cycle. The whole process hardly takes 15 minutes.
Accessories
Nespresso Essenza Plus does not come with any milk frothing accessories. However, that doesn't mean you can't enjoy milky coffee beverages like cappuccinos and lattes. You can always purchase a milk frother separately with your Nespresso Essenza Plus machine to enjoy a variety of drinks.
Manual
The Nespresso Essenza Plus comes with a detailed and handy manual with all the necessary information you need to conveniently operate the machine. From set up to programming to cleaning to troubleshooting to resetting, you will find everything!
Price
Essenza Plus is an affordable Nespresso machine with luxurious and exciting features to offer. The build is durable, coffee quality is amazing, and usability is very convenient. With that being said, Essenza Plus is truly a catch at this price range!
Warranty
The Nespresso Essenza plus comes with a warranty of 2 years for repairs, replacements, and troubleshooting problems. Moreover, Nespresso will also offer you a loaner machine in case your machine is taking too long to repair in the warehouse.
Environmental Impact
Many people hesitate to buy Nespresso machines because of one common reason – throwing the pods after using them and the negative impact it leaves on the environment. However, Nespresso has a solution to this problem too!
The brand has a free pod recycling program. All Nespresso capsules are made of recyclable material; Aluminum. All you have to do is store your used capsules in a recycling bag, and Nespresso will come to take the capsules from you. The brand will then recycle the capsules for other purposes.
I found this program very thoughtful for a sustainable future for this world and the betterment of our environment.
Final Verdict
So, Is Nespresso Essenza Plus the right pick for you? Well, the answer depends on your personal preferences.
If you are looking for a compact and sleek espresso machine with a large water reservoir, functional features, and wireless connectivity, this machine is totally for you!
However, if you don't need a large water reservoir and extra features, you can opt for other options.
During my experience, I found nothing wrong with this machine. It works great, produces great espresso, and has excellent quality.
Alternatives of Nespresso Essenza Plus
I loved the Nespresso Essenza Plus – However, if you still think it is not the right pick for you, here are some alternatives that might work for you:
A very compact OriginalLine machine by Nespresso with a 23 oz water reservoir, a cute design, and a very easy-to-use interface. It offers two brew sizes to choose from; 1.35 espresso and 3.70 lungo.
Another OriginalLine machine with a 24 oz water reservoir and an automatic brewing and flow stop technology is Nespresso Pixie. It also offers 2 brew sizes; espresso and lungo. However, the model is a bit expensive.
This single-serve machine has a stylish design with a 34 oz water reservoir. It offers quick heat-up time and many functional features. CitiZ also offers 2 brew sizes; espresso and lungo.
FAQs
How many cup sizes does Essenza Plus offer?
Nespresso Essenza Plus offers 4 brew sizes; 1.35 oz espresso, 3.70 oz lungo, 5.05 oz Americano, 6.75 oz Americano XL.
What is the difference between Nespresso OriginalLine and VertuoLine?
Nespresso has two types of machines; OriginalLine and VertuoLine. OriginalLine machines use the standard pump and pressure method to extract coffee from capsules. While on the other hand, the VertuoLine machines use centrifusion technology that rapidly spins the capsule to extract coffee. Because of the different brewing mechanisms, the coffee pods are also different for both machine types.