So, did you just buy a brand new Nespresso machine and can't wait to have the perfect cup of coffee it brews? If yes, then the first thing you will need to have that coffee is Nespresso Pods!
Now you must be wondering, "Where to buy Nespresso Pods?" right? Luckily, I am here to solve that maze for you! Since I am a die-hard coffee enthusiast, I am jotting down the most detailed and handy guide on buying Nespresso Pods you can ever find!
You will find everything from places to buy Nespresso Pods to the best options available in the market! Now without making you wait any further, let's move ahead!
What are Nespresso Pods?
Before moving to the details, let's briefly go through what Nespresso Pods are (just in case you don't know). Nespresso pods, also known as Nespresso capsules, are used with all Nespresso machines to brew flavorful cups of coffee. These capsules contain ground coffee with different flavor options to choose from. Also, these capsules are super convenient to use.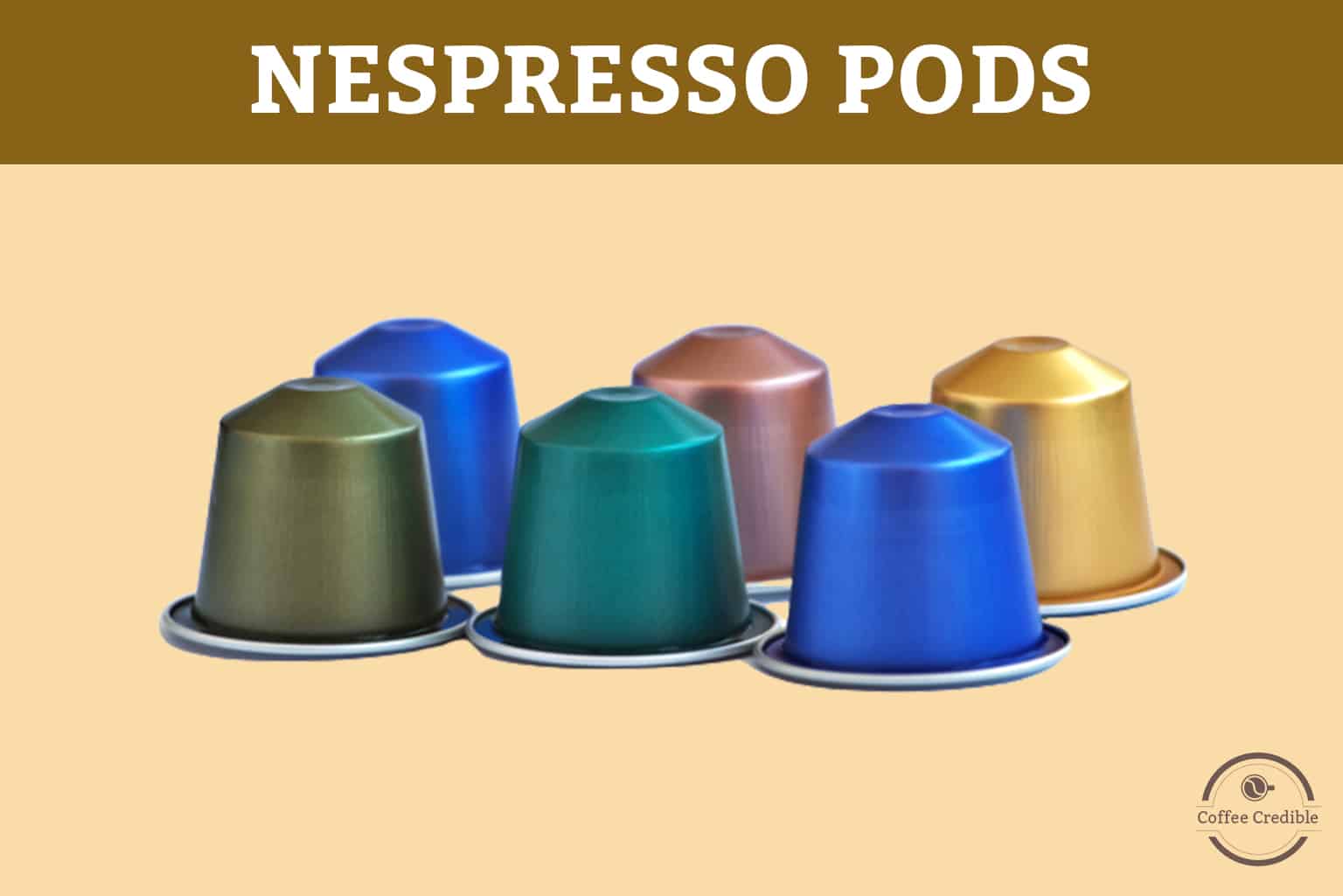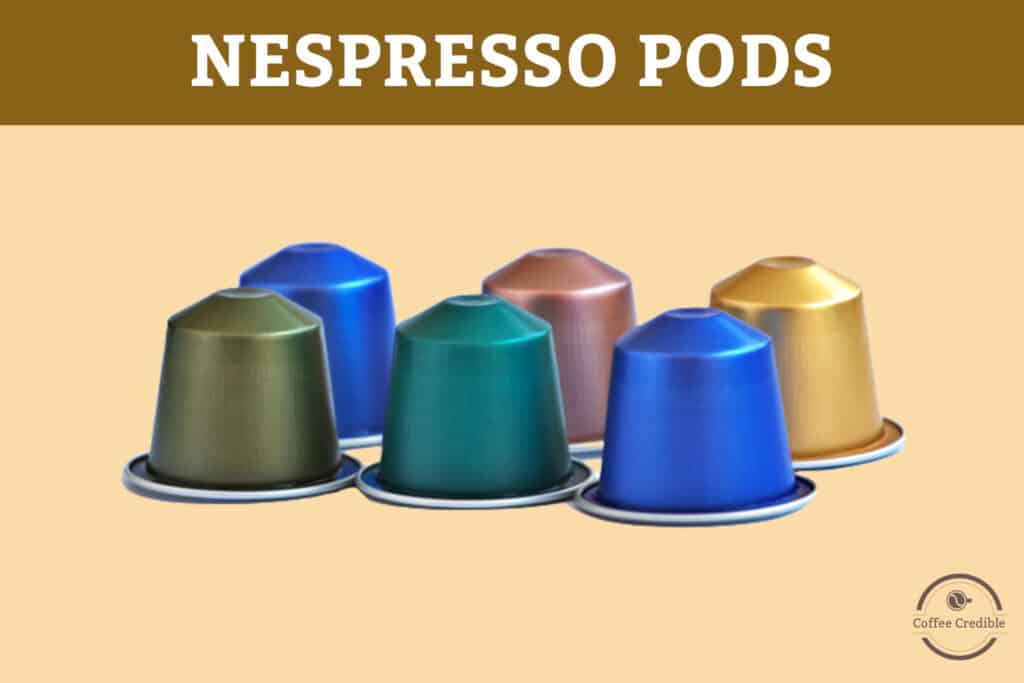 All Nespresso machines have a built-in container to store the capsules and a mechanism to brew the coffee. Nespresso launches pods and capsules in a wide range of flavors for coffee lovers to experiment and enjoy. You can find coffee capsules from other brands too in the market. But trust me; nothing can beat the authenticity and flavor of Nespresso Coffee Capsules!
Why does Nespresso have Different Types of Pods?
As briefly mentioned above, Nespresso Pods are available in a wide range of types and varieties. You will find different flavors, intensity levels, and roast levels. Having this variation in Nespresso Pods is just to cater to all types of taste preferences. Also, the brand did this to offer countless options to try and choose from.
Types of Nespresso Pods
Now that we know how incredible Nespresso pods are, it's time to learn about the two prominent types of Nespresso Capsules; OriginalLine Pods and VertuoLine Pods. Let's go through these two main types in detail:
Nespresso Original Line Pods
OriginalLine Pods are specifically made for Nespresso OriginalLine machines. These pods can brew espresso in three cup sizes; Lungo, Espresso, and Ristretto.
Nespresso Vertuoline Pods
Nespresso Vertuo Pods are specifically made for VertuoLine machines. These pods can make different types of coffee and offer a wide range of cup sizes; Espresso, Double Espresso, Coffee, Gran Lungo, Pour-Over Style, and Alto.
Nespresso Original Line vs VertuoLine
Here is a detailed table for you to understand the differences between Nespresso Original Line and VertuoLine machines and usage of pods: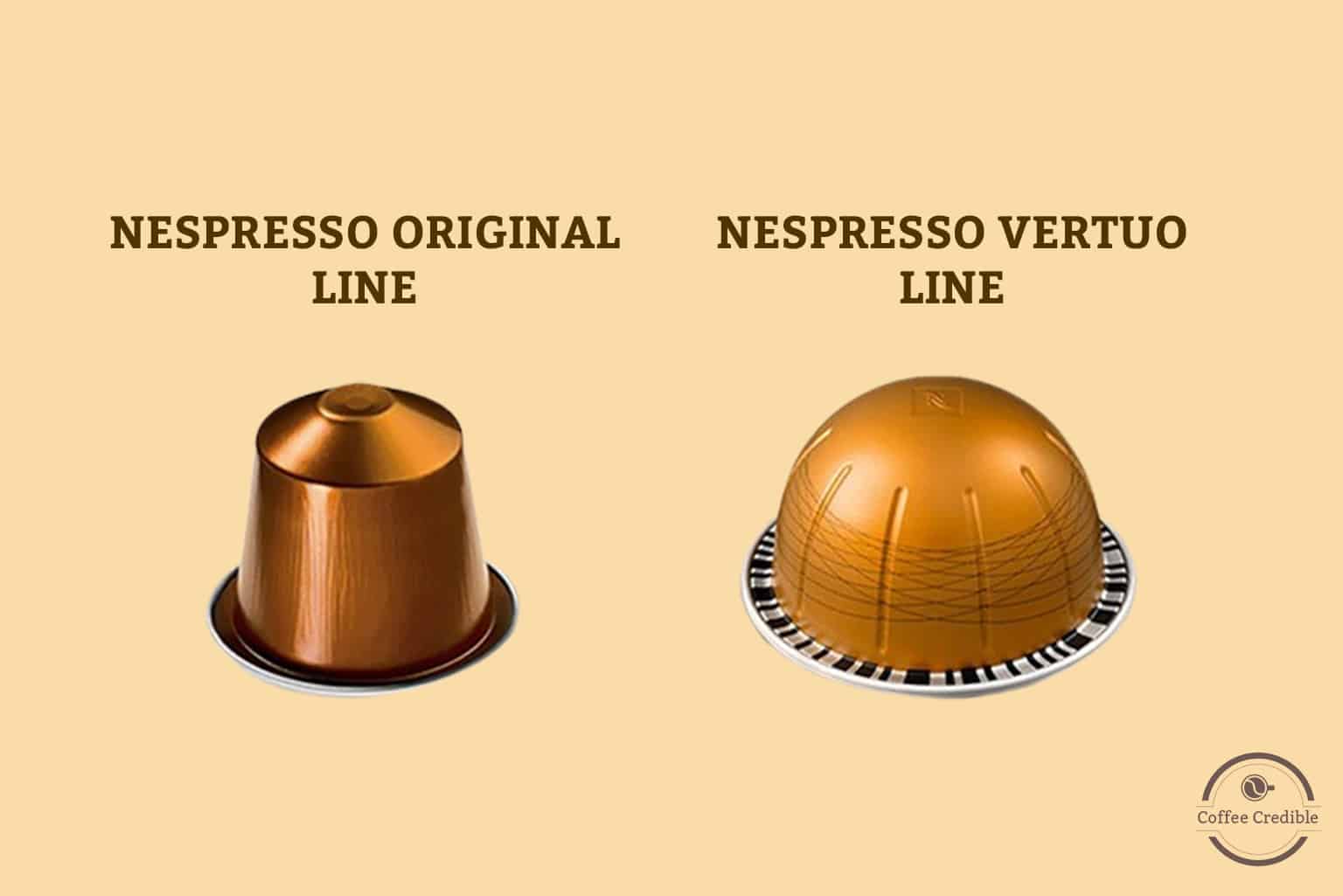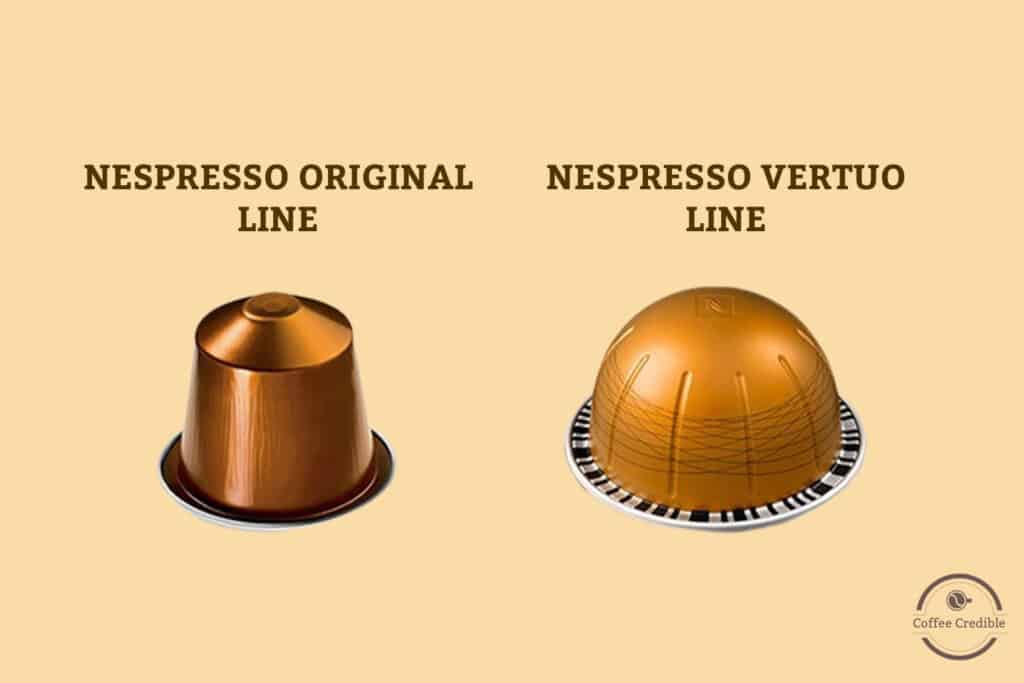 | | | |
| --- | --- | --- |
| Things to consider | Original Line | VertuoLine |
| Type of Coffee | Brews Espresso | Brews both Espresso and Regular Coffee |
| Brewing Mechanism | Use Pump Pressure to Brew Coffee | Uses Centrifusion (Rapid Spinning System) to Brew Coffee |
| Third-Party/Compatible Capsules? | Yes | No |
What are Nespresso Compatible Pods?
Nespresso Compatible Pods or Third-Party Capsules are the alternatives to Original Nespresso Pods by other brands. Compatible pods are usually cheaper in price than the Original Nespresso Capsules and work with all Original Line machines. Moreover, Nespresso Compatible Pods are also available in a variety of delicious flavors for customers. Some of the most common brands selling Nespresso Compatible Pods are Starbucks, Peet's and Lavazza.
Nespresso Pods vs Nespresso Compatible Capsules
There are some major differences between the original Nespresso Pods and Nespresso Compatible Capsules. Let's learn about these two types to understand how they differ from each other, and which one is the best!
Nespresso Capsules:
Original Nespresso Capsules are expensive, high-end, premium-quality, and are made of aluminum for convenient recycling. Moreover, Nespresso has reusable pods, so you can also send the capsules back to the company and they will turn them into new ones. Not only this but the aluminum in Nespresso capsules can also be reused for other purposes.
Nespresso Compatible Pods:
On the contrary, Nespresso Compatible Pods are usually made of plastic or other materials that are not recyclable. The unique selling point of these pods is that they are affordable and cheaper than the original Nespresso capsules. Moreover, Nespresso Compatible Pods work with all Original Line machines. However, they won't be compatible with the VertuoLine ones.
Where to Buy Nespresso Pods in Stores?
Do you think if you can buy Nespresso Pods physically and in stores? Well, the answer is yes. However, you will only find them in Nespresso boutiques or stores. You will find the whole range of capsules and pods for both OriginalLine and VertuoLine machines in these stores. To find your nearest store, you can use the store locator feature available on the official Nespresso website.
If you can't find a store nearby your location, you can opt for third-party capsules available in almost all retail stores like Walmart, Bed Bath and Beyond, Target, and Starbucks.
What Is A Nespresso Boutique?
If you want to see heaven on Earth, you need to visit a Nespresso Boutique! Nespresso Boutiques are exclusive outlets for Nespresso Club members that allow them to experience all the flavors and excitement of the Nespresso Pods. In Nespresso Boutiques, members can try out the Nespresso machines, try the coffee flavors, and purchase all the original Nespresso products. If you are willing to purchase Nespresso Pods yourself and in stores, then a Nespresso Boutique should be your go-to place!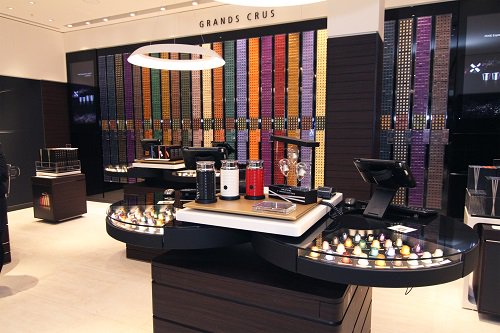 Where to Buy Nespresso Pods Online?
This is the era of online shopping, so why not do the same with Nespresso Pods? If you want to purchase original Nespresso capsules and can't find a store nearby, you can conveniently find them on online platforms. To give you a helping hand, I am sharing a list of all the online platforms where you can find Nespresso Pods conveniently. Keep Reading!
Amazon has everything that a human being might need while living in this world. With that being said, you will find all types of Nespresso machines and pods on Amazon too. Not only this, but you will also find compatible pods in a variety of flavors, intensities, and roasts.
As your convenience is my utmost priority, I am jotting down some of the top original Nespresso Capsules available on Amazon that I have tried and tasted myself!
Coffee Credible Recommendations:
Hazelino Muffin: These coffee capsules contain Brazilian Beans and flavors of almonds, hazelnuts, and biscuits to brew a delicious and mesmerizing cup of coffee. Hazelino muffin is a light roast with an authentic taste, and the capsules are only compatible with Nespresso Vertuoline machines.
Stormio: Nespresso Stormio Capsules are also compatible with the VertuoLine machines and contain 100% Arabica beans for the heavenly taste! It is a dark roast with a spicy and bitter taste and contains a high amount of caffeine for people who like their coffee intense and strong.
Nespresso Ispirazione Ristretto Italiano: It is a perfect blend of Robusta and Arabica beans with an intensity level of 10, specifically designed for Nespresso Original Line machines. The blend gives subtle flavors of dark chocolate, fruits, and citrus and is a dream come true for every dark roast lover!
Nespresso OriginalLine Ispirazione Palermo Kazaar: I can't get enough of dark roasts, and this perfect blend of Arabica, Central, and South American beans is proof of that! The Nespresso Palermo Kazaar blend has a delicious dark-chocolate flavor and a rich and velvety texture to satisfy the desires of every coffee lover!
You can always buy Nespresso Pods from the official website of Nespresso and enjoy tons of other perks other than your purchase as well. You will get a variety of exclusive flavors on their website, buy single-sleeve pods to try out different flavors, and you will get free samples with every purchase. Moreover, you will find frequent deals and promotional offers on the Nespresso website, and the perk of free delivery on every order above $35.
Bed Bath and Beyond is an online platform that offers a wide variety of capsules for both Nespresso Original Line and Vertuoline machines. You will have the freedom to choose and buy single capsules, multi-packs, and variety packs. Moreover, you will also find Nespresso Compatible Capsules on the Bed Bath and Beyond website from brands like Starbucks, Lavazza, and Peet's.
Walmart has Nespresso capsules and pods from both unauthorized and authorized Nespresso sellers on their website. From Nespresso Original Line Pods to Nespresso VertuoLine Pods to Third-Party Capsules, you will find tons of options and flavors to choose from!
Macy's is another online store that has a wide range of original Nespresso pods in a variety of flavors. They also have third-party capsules of Peet's, Starbucks, and Lavazza for Original Line machines.
eBay is just like a mini Amazon that has a wide range of household products. They also sell Nespresso original capsules and third-party capsules with many flavor options to choose from.
Costco.com has a wide range of Nespresso Original Line capsules. However, you won't find VertuoLine pods. Other than that, you can buy third-party capsules from Starbucks and Peet's Coffee.
Sam's Club also does not have VertuoLine Pods. However, you can shop Original Line Compatible Capsules by Starbucks from their website.
Where to Buy Nespresso Compatible Capsules?
You can find Nespresso Compatible Capsules on almost all the platforms we mentioned above; Sam's Club, Costco, Amazon, eBay, Macy's, Walmart, and Target. For in-store purchases, you can visit the physical stores of Target, Costco, and Walmart.
Things to Consider Before Buying Nespresso Pods
Now that we know where to buy Nespresso Pods, it's time to go through some technical details. Yes, the things we need to consider before buying Nespresso Pods to avoid inconveniences and waste of money. Buying Nespresso Pods is not a piece of cake; you need to think about a lot of factors and personal preferences before a purchase. As always, I am mentioning everything you need to know. Read on!
Cost of Nespresso Pods
You will find Nespresso Pods in different price ranges; $10 to even $200, depending on quantities and other variations. If you are planning to buy the original Nespresso Pods, you need to be prepared to spend a little bit extra than the price of third-party capsules. Therefore, we would suggest you buy packs, as they are more affordable than buying single capsules.
Caffeine in Nespresso Pods
Caffeine content is another important thing you need to consider before purchasing Nespresso Pods, and this decision depends on your personal taste preferences. You need to identify if you want your coffee high in caffeine or low and then make a purchase accordingly by paying close attention to the caffeine content of the pods. You will also find some decaffeinated options in Nespresso Pods, just in case.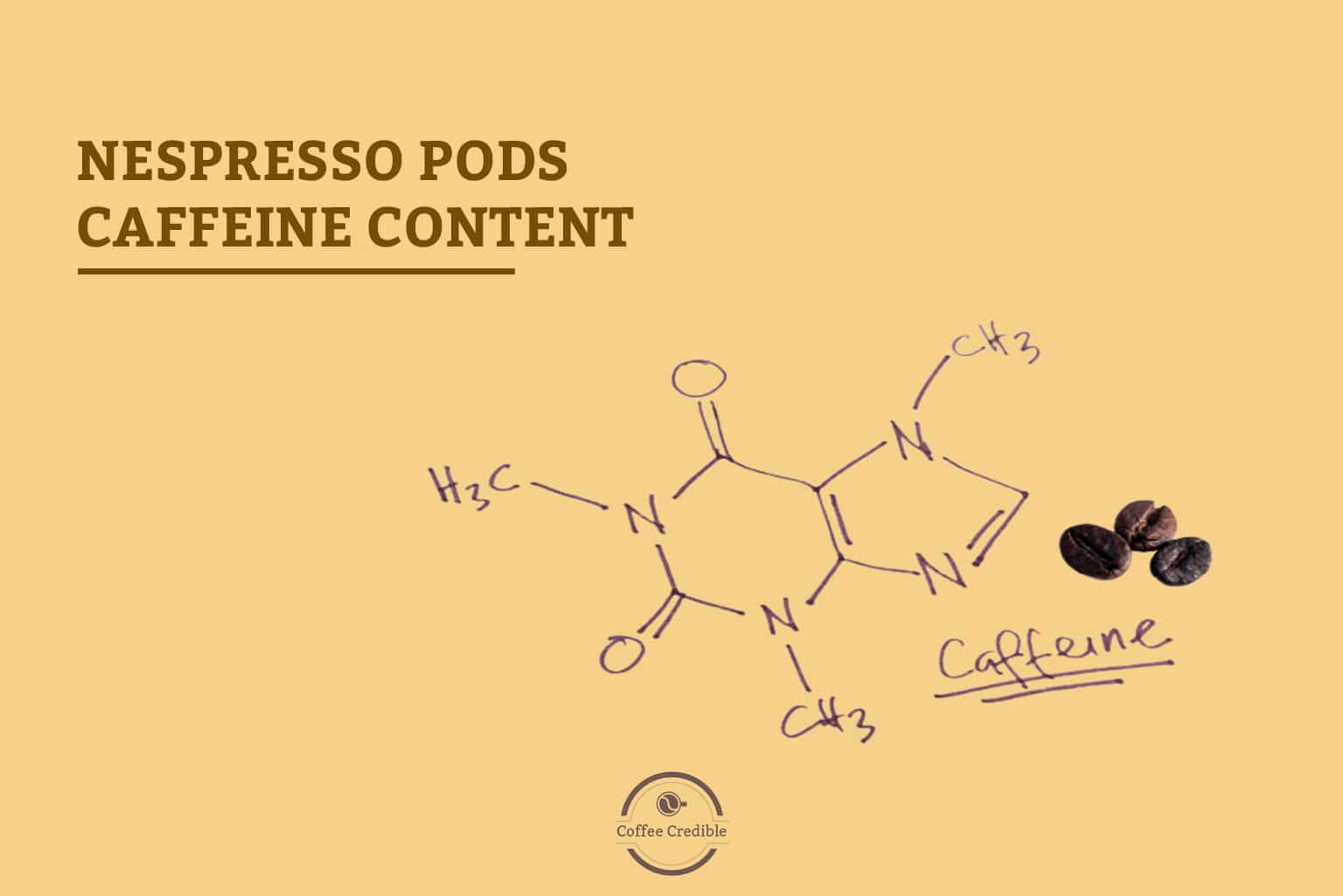 What Type of Coffee Do You Prefer?
Nespresso Pods come in a variety of flavors, roasts, and intensity levels. You will find flavors like chocolate, dark chocolate, citrus fruits, nutty, and much more. Similarly, you will find intensity and roast levels starting from low to high. Low intensity means light roast and sweet coffee. High intensity means dark roast and bitter taste. Now, you need to identify what type of coffee and flavors you prefer and then pick the pods accordingly.
How to Save Money on Nespresso Capsules?
Nespresso Capsules are definitely expensive, but that does not mean you can't save money and buy them at the same time. You can look for frequent deals, offers, and coupons by Nespresso to enjoy dollar-off and percent-off discounts. Moreover, you can also pick third-party capsules that taste as good as original Nespresso Capsules and are relatively cheaper.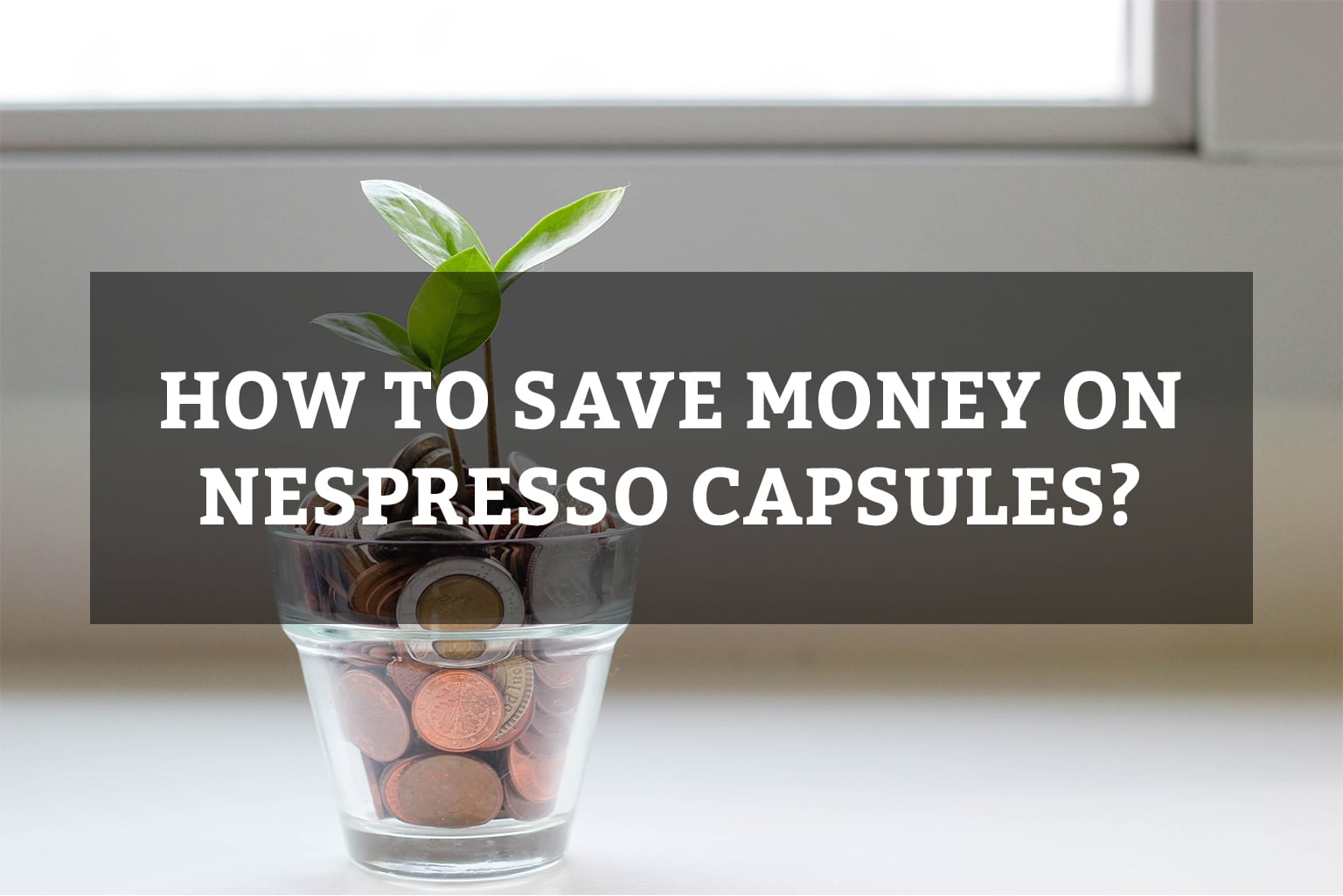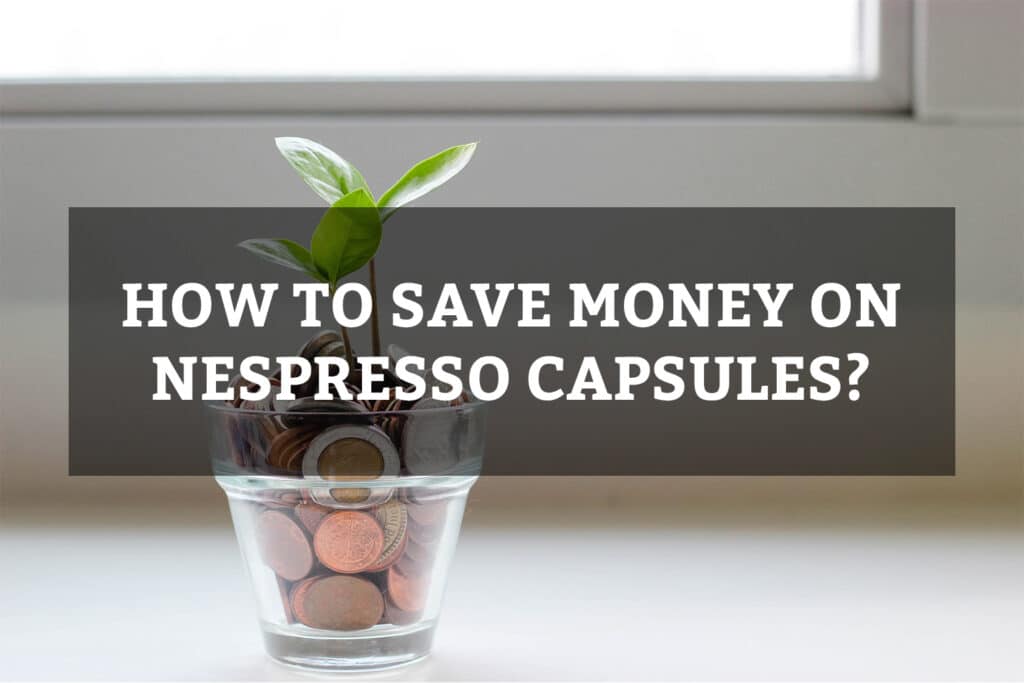 Nespresso Pods Compatibility
There are two types of Nespresso Pods; Original Line pods and VertuoLine pods. So, make sure to identify what machine you have and then purchase the pods designed specifically for it. Because a Vertuo Pod will never work with an Original Line machine and vice versa.
Nespresso Pods Recycling
We all know that Nespresso makes recyclable pods to protect the environment. You will get two types of Nespresso Pods to choose from; Reusable and Resealable. I would always suggest you opt for reusable pods as they are cost-effective and essential for the betterment of the environment at the same time.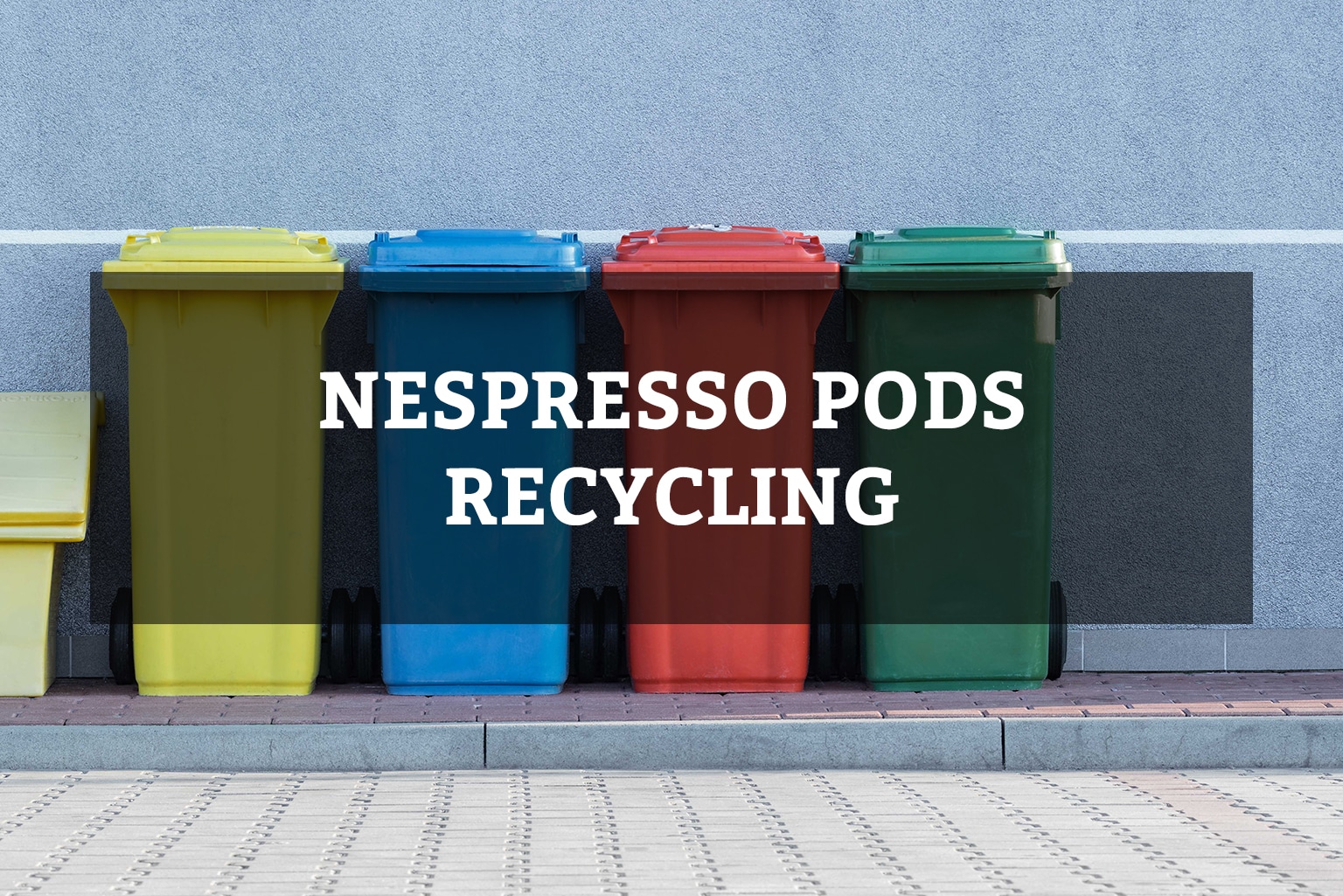 The Bottom Line
I hope that this post covered all your needs and answered all your questions regarding where to buy Nespresso Pods. Just make sure to pick the right coffee capsules according to your taste preferences, machine type, and, most importantly, budget. If you are a little tight on budget, there is no harm in trying the third-party compatible capsules for your Nespresso machine. Trust me; they taste fine!
FAQs
Why are Nespresso Pods not sold in stores?
Original Nespresso Capsules are exclusively made by the brand only. Therefore, you won't find them anywhere except in Nespresso stores and boutiques. However, you can conveniently purchase them from various online platforms.
Can you use your own coffee in Nespresso?
Yes, you can use your own coffee in Nespresso, but you will still need an Original Nespresso or Compatible Pod to fill the coffee.
How many times can you reuse a Nespresso Capsule?
You can use the capsules two to three times, but the brand suggests only using them once to have the best taste, flavor, and texture of the coffee.
How long do Nespresso Pods last?
The brand recommends using the capsules within one year after the purchase to enjoy the most authentic brew and freshness.
Why are Nespresso Pods so expensive?
Nespresso Pods are expensive because of the taste, quality, and convenience they offer. The quality and texture of Nespresso Pods coffee are still unmatchable.
Does Starbucks carry Nespresso Pods in stores?
Starbucks does not sell Original Nespresso Pods. However, they do have their own Nespresso Compatible Capsules for Original Line machines in stores.
Can I use Starbucks Pods in Nespresso Vertuo?
Starbucks has partnered with Nespresso and produces high-quality Compatible Capsules, including for VertuoLine machines.