To be crazy for a latte and owning a Nespresso is like the dream combination one could have.
If you depend on your coffee to make or break your mood, a Nespresso machine can help you make the most delicious latte. Imagine it's chilly outside, you are not in the mood for an iced drink or cold brew, and you make your latte to warm you up. Sounds fascinating, right? That's how simple it is to make it if you own a Nespresso machine and have a latte recipe.
Making coffee with Nespresso Machines can save you from being ripped off by the local coffee shops and save your time and energy spent on the coffee runs. Typically a drink from a coffee shop costs more or less around $4.00. On the other hand, if you make coffee at home from the original capsules, it costs $0.70 each, and the Vertuo pods cost $1.00. To sum it up, even after adding the cost of toppings and milk, a homemade coffee costs up to $2.00.
What is a Latte?
Traditionally, a latte consists of steamed milk, espresso, and foamed milk.
For its base, a latte consists of espresso shots: single or double. Then for its creamy texture and subtle taste, milk is added to it with a ratio of 1:2. Then comes the foamed milk. You can change the latte recipe according to your liking. Additionally, you can add toppings like caramel, vanilla, or hazelnut syrup to enhance the flavor.
Nespresso Latte Recipe
Nespresso Latte
Equipment
A Nespresso Machine

Coffee Pods

Milk Frother
Ingredients
Nespresso Capsule of choice

1

Whole Milk cup
Instructions
Make sure your machine is clean and ready to use.

Turn on your machine.

Put a mug on the drip tray.

Insert a capsule and press the brew button.

Pour milk into the frother and press start.

Let the milk sit for a few seconds.

Pour the espresso over the frothed milk.

Your perfect cup of latte is ready!.
Notes
You can add milk of your choice (alternatives given above).

Change the quantity of milk according to your liking.

Don't over froth the milk to make perfect milk layers.
What are the Essentials for Making a Latte?
Just grab these essentials, and you are ready to make a darn good Latte:
1. A Nespresso Coffee Machine
Compared to traditional espresso machines, using a Nespresso machine is simple, and there are few chances of error. The machines are programmed to do all the jobs, and you do not have to learn about the technicalities.
Nespresso has a wide range of excellent coffee makers, you can use any for a latte. We have come up with a few options for you.
Our Recommendations:
Nespresso Vertuo and Nespresso VertuoPlus (VertuoLine Machines):
Out of all the VertuoLine machines, Nespresso Vertuo and Vertuoplus are famous for making milk-based beverages.
We found these coffee makers perfect for making a latte. You can get a bundle package for these machines that includes an Aeroccino Milk Frother, or you can buy the frother separately. It has a variety of sizes available, and it is easy to operate.
The difference between the two machines is that the VertuoPlus has an automatic mechanism for opening and closing the lever. It also has a removable water tank.
Nespresso CitiZ (Original line Machine):
Nespresso CitiZ is perfect for preparing a Latte. It uses the 19-bar pressure technology to brew espresso. It has an integrated frother that prepares the hot milk and perfect froth for the latte. You can make a barista-style latte at home with the touch of a button .
It can use third-party capsules, So it is also quite affordable compared to other espresso machines.
2. Nespresso Coffee Capsules
Depending on the espresso machine, you will have to use suitable coffee capsules for making a latte. A VertuoLine Machine will only process Vertuo capsules, and an original line machine will use original pods or compatible alternatives.
Best Nespresso Vertuo Pods for Latte:
It contains 150 mg of caffeine which creates an intense espresso. It will make a creamy latte having a woody aroma.
Intensity: 11
For a smooth latte with a subtle taste, Voltesso is the perfect pod with a mild roast and sweet aroma.
Intensity: 4
Use an Altissio pod for your latte if you like it to have a strong flavor with thick crema. It makes full-bodied coffee with a cereal aroma.
Intensity: 9
If you want a large latte, use a double espresso scuro. It contains highly roasted coffee beans, the aroma of vanilla and cocoa, and makes twice as much espresso as a single capsule.
Intensity: 8
You can use this pod for preparing large caramel-flavored lattes. It contains dark roast beans and makes a creamy coffee.
Intensity: 6
You can make an iced latte with any pod of your choice, but this one is especially for iced drinks. It has been made with a cooling sensation to make iced coffee taste better. It has a light roast and fruity flavor.
For people who prefer decaf drinks, decaf Altissio makes a creamy latte.
Intensity:7
Best Nespresso Original Pods for Latte:
For a latte with fruity flavor yet strong taste, this pod is the best choice. It contains a mixture of South American and East African beans that adds a diverse taste.
Intensity: 10
This pod makes the latte creamy and sweet. As the name suggests, it has a caramel flavor with hints of vanilla and coconut.
Intensity: 6
It contains dark roasted beans with a strong aroma. It will make a creamy and velvety latte with a thick crema.
Intensity: 9
The lightly roasted beans make a light and subtle tasting espresso. It will make a latte with a sweet taste and biscuity aroma.
Intensity: 4
For an iced latte that tastes like cereal and has a woody aroma, Freddo Intenso does the job. It has a mix of beans from Indonesia and South America.
It is another option for making the best-iced latte. It contains a light roast and has a sweet flavor.
This original pod makes a creamy and velvety decaf latte. It contains 3mg caffeine content and dark roasted beans and makes a strong espresso.
Intensity: 9
Our recommendations:
Ristretto
Ristretto capsules are the best choice if you use an OriginalLine machine for your Nespresso latte recipe. It has the perfect ratio of sweetness to Intense flavor that makes it different from other capsules. It makes a latte that is neither very sweet nor bitter but has a perfect balance.
Double Espresso Scuro
For people using a Vertuo machine to make a Latte, Double Espresso Scuro will make it for you in large quantities. With notes of vanilla and cocoa, it balances the flavor and makes a strong latte.
4. Milk for making Latte with Nespresso
Most widely used in coffee shops.


It contains 3.25% fat which is ideal for the perfect taste and texture of coffee.

It is not suitable for people with lactose intolerance.

Contains as much protein as cow's milk.

Not suitable for people with soy allergy.

Suitable for people allergic to dairy or nuts.

Contains more calories than other alternatives.

A source of Vitamin C and E.

The production process is considered harmful to the environment.

Doesn't taste good with the coffee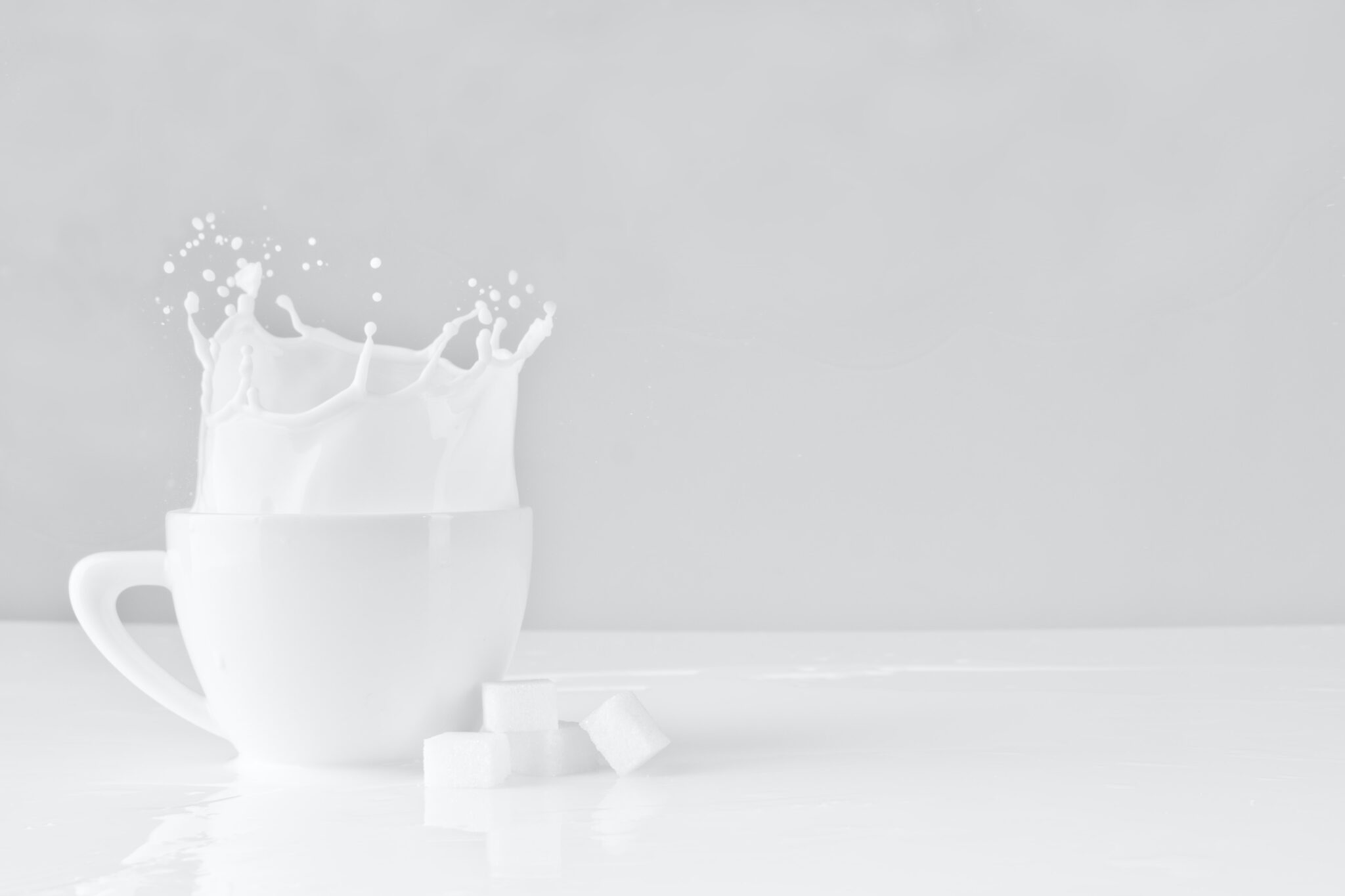 Our Recommendation:
We recommend whole milk. It is the most commonly used, cheaper, and easily accessible. It goes well with the coffee, providing the perfect taste and texture. It contains the ideal fat percentage for steaming and frothing.
Nespresso & Starbucks: Do they make the same Latte?
Nespresso and Starbucks latte is quite similar, which can be understood easily through the following points:
Recipe
The process and latte recipes are pretty much the same everywhere, so there is no particular difference.
Coffee Beans
Both Nespresso and Starbucks use arabica and Robusta beans in their coffees.
Roast
Nespresso has both light and dark roasts, while Starbucks uses dark roasts.
Machines
Both Nespresso and Starbucks make lattes using the same methods and technology.
The Verdict:
Nespresso makes lattes that taste similar to Starbucks.
Golden Latte Ratio
Balancing the ingredients defines the taste. You can always change the quantity according to your liking, but if we look at the bigger picture, a good cup of latte contains more milk with less espresso. Ideally, it has ⅓ part espresso shot and ¾ part milk, and you can add your favorite condiments. Use a Nespresso coffee maker, so you don't have to compromise on the quality of the brew. Depending on the coffee recipe, you can choose from the range of Nespresso Original and Vertuo pods. Another factor that matters is the milk which should not be over-frothed to get the perfect layers.
The Perfect Milk Froth for a Latte
There can be different methods to froth the milk, depending on your convenience:
Aeroccino milk frother
The most convenient method to froth milk is to use a milk frother. You have to put milk in the frother, press the button and wait for about 20 seconds. The perfect froth for your latte is ready!
Hand whisk
It can be helpful if you don't own an electric frother. Pour milk into a container and whisk vigorously till you see bubbles.
French Press
Add milk to the french press and press the pump fastly until it creates bubbles in the milk. It takes around 30 seconds.
The Bottom Line
Making a Nespresso Latte is not only cost-effective but also super delicious to indulge in. use the correct latte recipe, the best latte pods, and the suitable machine, and you are good to go.
FAQs
Is latte art possible with Nespresso Machine?
Making latte art depends on you and not the machine. Nespresso can make a latte, but not art. Nespresso milk frother can froth the perfect milk for latte art, but it requires a technique to make art on a latte. Take milk in a milk jug with a small spout. From a height, pour it slowly over the latte for the desired design.
Which Nespresso Machine makes the best Crema?
The Essenza Mini from the original line machines makes good espresso with the best crema. The crema is thicker than what most of the VertuoLine coffee makers produce. It is a low-budget machine and easy to use.
Can I use Nespresso Pods twice?
We don't recommend using a Nespresso pod more than once. The pod loses its taste after the first extraction. However, you can use a coffee pod twice if you are ready to compromise on the coffee quality. Remove the pods once and insert them to brew a second cup, or it might get stuck in the machine.
What do you drink your lattes in?
Lattes are usually served in glass tumblers to show off the beautiful layers it consists of. It has three layers: the espresso shot, steamed milk, and milk foam.