Buying a single-serve Nespresso machine is expensive, so you should make a decision based on the factors most important to you. While investing in an espresso machine, look for its convenience, coffee quality, long-term cost, features, and functionality.
Nespresso dominates the espresso industry globally but comes with a hefty price tag, so is Nespresso worth it? To figure this out, we have explored its pros and cons in this article to help you make an informed decision. This article gives you all the details required to understand the value of a high-end Nespresso coffee machine.
By the end of this article, you will be able to decide if you should keep making those runs to your local coffee shop or if a Nespresso is in your future.
What are Nespresso Machines?
Nespresso machines are among the most popular coffee machines in the espresso industry. Nespresso has a range of coffee machines that provide the perfect combination of convenience and the best-tasting espresso.
A Nespresso machine is a single-serve coffee machine that uses coffee capsules to produce coffee within seconds. Generally, these machines are easy to operate, and they work by adding a Nespresso capsule in the front of the machine and filling water in the tank at the back. When the machine turns on, it pierces the coffee pod and pumps the water with pressure to dispense coffee.
Nespresso coffee is known for the most authentic flavor compared to other options available on the market. So, is Nespresso worth it? A Nespresso machine saves you from the hassle of making coffee the traditional way, which involves grinding, tamping, and pulling an espresso shot. The convenience is what truly makes Nespresso machines invaluable.
Let's break down the pros and cons of Nespresso Machines
Nespresso Machines Pros:
1. Variety of Flavors
Nespresso offers enough variety in coffee capsules to cater to any palate. It has a fantastic array of flavors with different intensity levels and caffeine content.
2. Great tasting coffee
You can replace commercially produced coffee using your Nespresso Machine. The Nespresso capsules will keep the flavor intact over a long period, and you'll be guaranteed to have fresh, tasty coffee every time you use it.
3. Ease of use
Nespresso coffee machine's incredible convenience ensures that a good espresso shot is just a button away. Insert a Nespresso pod, press the brew button, and the machine dispenses a great cup of coffee.
Nespresso Machines Cons:
1. Cost of Machines
The price of a Nespresso Machine ranges from $150 to $300, and your expense doesn't end there. You will have to purchase Nespresso pods to continue brewing coffee regularly.
2. Environmental Impact
The coffee grounds are packed in capsules using aluminum, which is hard to recycle. You must return the discarded pods to the Nespresso recycling facilities to avoid negative environmental impact.
3. Maintenance
The machine requires descaling every three months. You will also have to eject the pod and empty the drip tray after every use.
Factors to consider before buying a Nespresso Machine:
Purchasing Nespresso Machine should be an informed decision. Before investing in a high-end single-serve machine, you must be aware of a few things.
Coffee Quality
While investing in a top-quality coffee machine, the coffee quality should also be a top priority. These machines come with a hefty price tag, and the investment would only make sense if the coffee you used reflected that.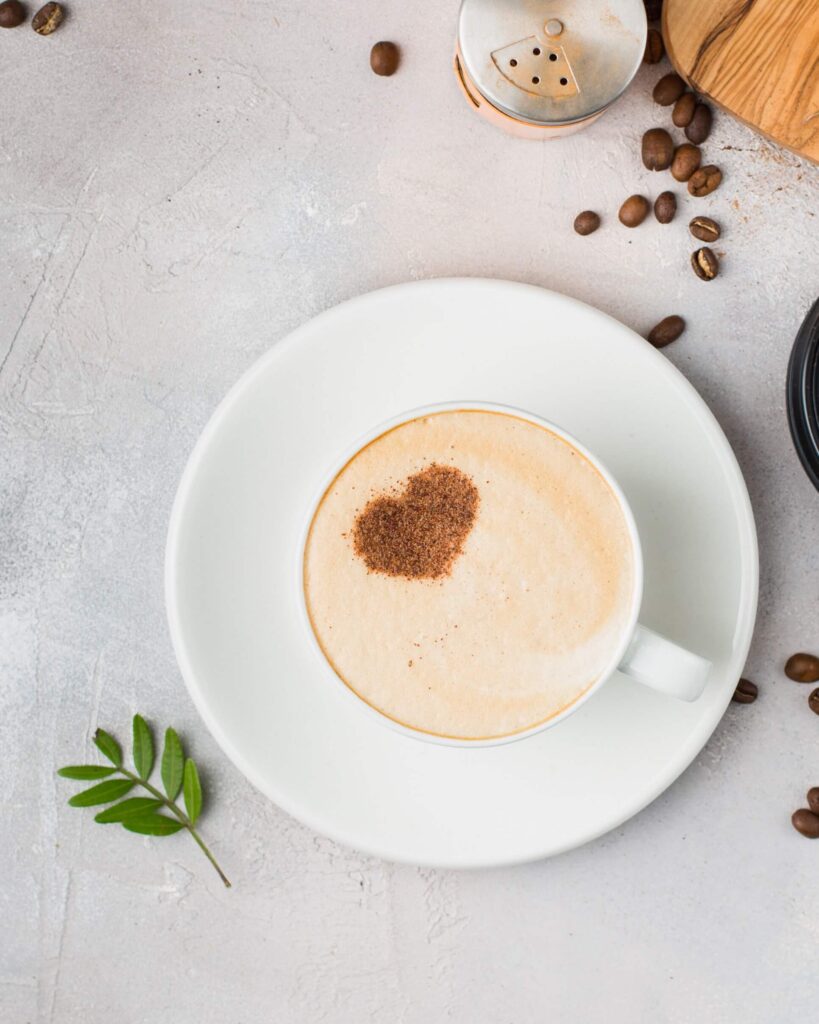 So, is Nespresso worth it? Nespresso has backed up its claim of making the best brew within a few seconds and has maintained its reputation in the market.
Nespresso uses coffee capsules filled with quality coffee grounds to make the most authentic and fresh cup of espresso. The coffee capsules have a long shelf life, so you should be fine buying quality coffee in bulk.
Usability
The coffee machine must be simple to use and last a long time. The idea that anyone can have a delicious-tasting cup of coffee at the touch of a button is one of the main reasons for getting Nespresso. With the whole thing built for simplicity, you insert a pod, press a button, and enjoy a high-quality coffee.
Maintenance
To avoid any issues, you must pay attention to their maintenance. Nespresso machines provide great-tasting coffee throughout the day but require daily cleanup and monthly descaling.
A Nespresso machine requires descaling every three months minimum or after using 300 capsules. The coffee residue and dirt can affect the machine's functioning and the brew's taste. Dirt can clog the heating system, producing coffee that is either not hot enough or doesn't taste the same as before. When the coffee residue accumulates in the capsule holder, it will be hard to pierce through new coffee capsules to extract coffee properly. The machine must have a proper cleaning regime, depending on its usage. Nespresso has its descaling kits available to make the process easy.
Convenience
What is the advantage of buying a coffee machine if it requires special skills and occupies a lot of your time? It certainly is not worth it. In that case, a quality espresso from the nearest coffee shop sounds like a better idea because of its convenience.
The monthly coffee cost can burn a hole in your pocket, but you still like your coffee runs because of the convenience of running to your local coffee shop.
Nespresso machines make it even more convenient without having to sacrifice quality. Insert a capsule, check the water level, and press the brew button. Within a few seconds, your espresso-style coffee will be ready.
Nespresso Pods
Before buying any coffee machine, keep in mind the capsule expense. Purchasing a Nespresso is not a one-time investment. To make coffee, you will have to purchase new coffee capsules routinely. You can plan to stock up on your favorite pods during the mega sales, as these coffee capsules have a shelf life of over two months, so you don't have to worry about them going stale.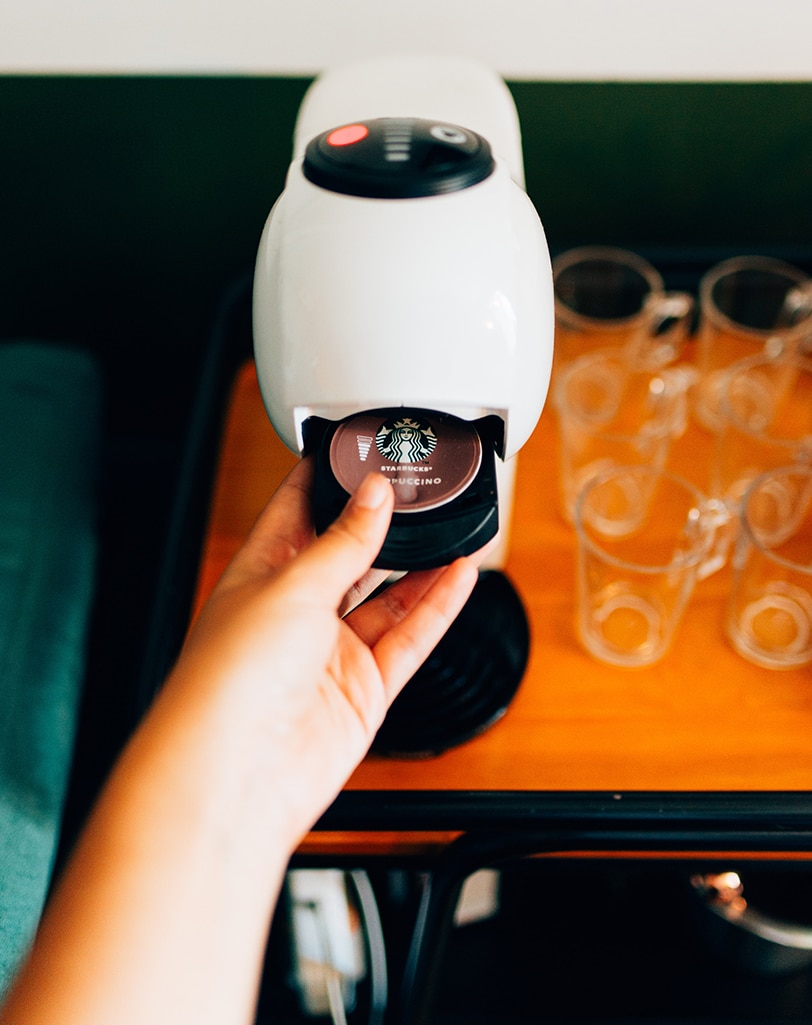 The Nespresso pods retail for $0.54 to $0.75 each. Depending on the machine, you will buy Nespresso-compatible pods for your coffee. The OriginalLine Nespresso has some alternative capsules that are way more cost-effective than Nespresso ones. For VertuoLine, there are no third-party options available, so purchasing Vertuo capsules can get pricey.
| | |
| --- | --- |
| Capsule | Cost per Serving |
| OriginalLine Capsules | $0.70 to $0.85 |
| VertuoLine Capsules | $0.90 to $1.25 |
| Gourmesso (third-party option for OriginalLine machine) | $0.50 |
Environmental Impact
The capsules used in coffee machines should be recyclable and not end up in a landfill. To decrease the negative impact on the environment, Nespresso has introduced recycling facilities. The Nespresso capsules are aluminum, so if disposed of correctly, they can stay out of landfills. Nespresso has designed a recycling program and urges people to return discarded pods to them to recycle.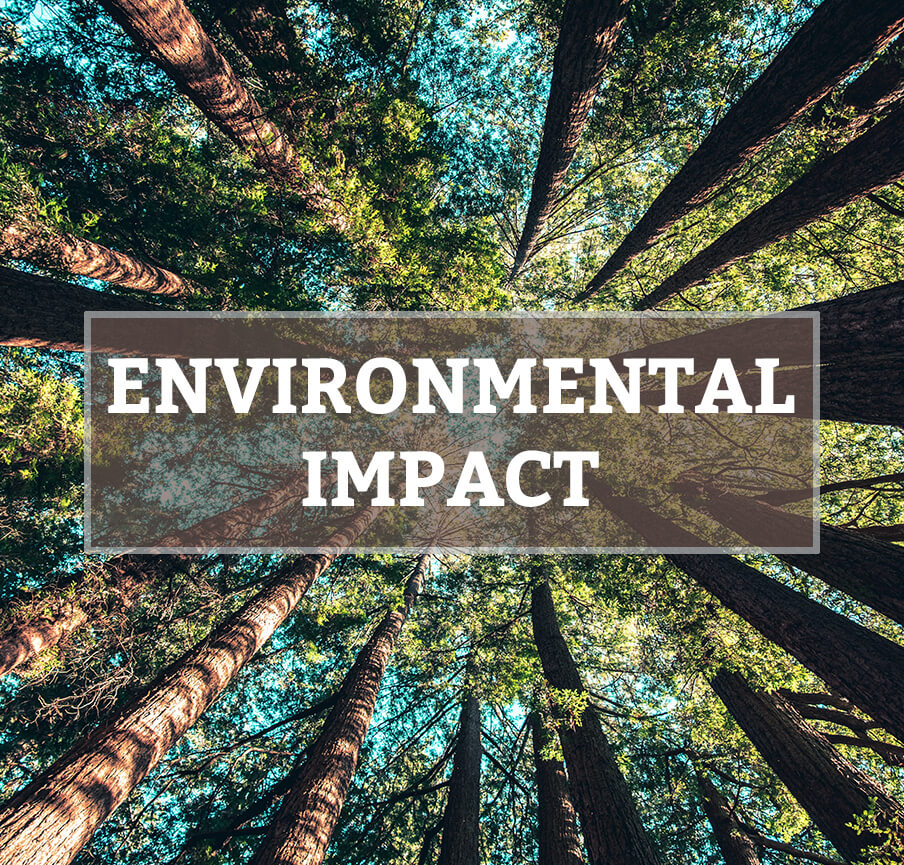 Currently, only 30% of the pods are recycled. This can be due to the lack of awareness or the lack of access to recycling facilities.
Accessories with the Machines
There are a few accessories that pair nicely with your Nespresso machine that can make the experience that much more enjoyable.
Here are a few ideas to accessorize your coffee machine:
1. Capsule Dispenser
The Nespresso capsules have good packaging that keeps the coffee grounds intact but must be stored properly to avoid any leakage. Use a capsule dispenser to stock your favorite flavors.
2. Milk Frother
If you like adding milk to your espresso shot, investing in a milk frother will not disappoint. Aeroccino Frother is a great choice to go with a Nespresso machine.
3. Drinkware
Keep your espresso hotter for a longer time by investing in good quality drinkware. It can add value to enjoying a great-tasting cup of coffee at home. Some drinkware also comes with measurements to make whipping up your favorite drink that much easier.
Nespresso VertuoLine vs OriginalLine
In 2014, Nespresso released its new and improved VertuoLine capsule coffee line after years of development. There is a difference between Vertuo line and original line machines in terms of the type of drinks they make. A Vertuo machine is used for larger drinks. Capsules for both machines differ as well. Vertuoline is compatible only with Vertuo capsules, unlike the original line that can use third-party pods.
The details of the differences are in the table below
| | | |
| --- | --- | --- |
| Considerations | Original Line | VertuoLine |
| Barcode Scanning System | No | Yes |
| Cost per capsule | $0.70-$0.85 per capsule | $0.90-$1.25 per capsule |
| Brew Sizes | 3 brew sizes 0.7-oz ristretto 1.4-oz espresso 3.7-oz lungo | 5 brew sizes Espresso 2.7-oz double espresso 5-oz gran lungo8-oz mug of coffee14-oz alto XL |
| Extraction Method | 19-bar pressure-based system | Centrifusion |
| Pod Size | Small same size | Large different sizes |
| Pod Shape | Cup Shape | Dome shape |
| Type of beverages | Focuses on espresso | Focuses on espresso and coffee |
The OriginalLine Machines
The original line of coffee machines are single-serve coffee makers that make exceptional coffee. Each has unique features, but all are simple and easy to operate. These machines use a high-pressure system to brew coffee. The Original line machines use Original capsules, but third-party pods can be a cheaper alternative.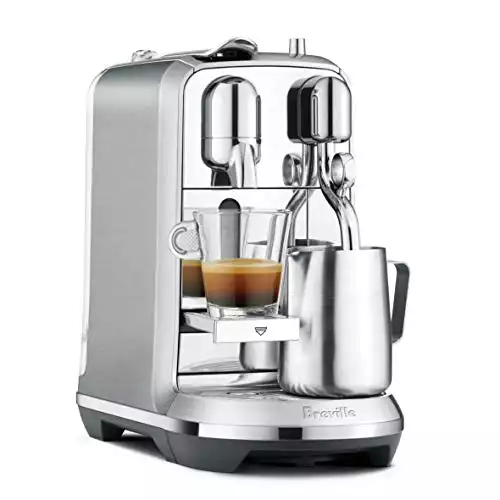 We earn a commission if you make a purchase, at no additional cost to you.
In addition to making a simple espresso shot, Creatista Plus is widely known for making lattes, macchiatos, cappuccinos, flat whites, ristretto, and lungo. It comes with a steam pipe for milk frothing and creating latte art. With its premium design and digital display, it takes up to 3 seconds to heat up, and it's ready for you to make barista-style coffee recipes.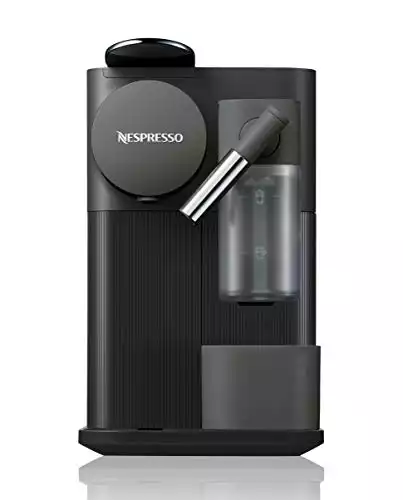 We earn a commission if you make a purchase, at no additional cost to you.
It is a compact coffee machine that makes espresso, lungo, and all your favorite milk recipes with just one touch. Lattissima One is a light, stylish single-serve coffee maker with a dishwasher-safe milk jug.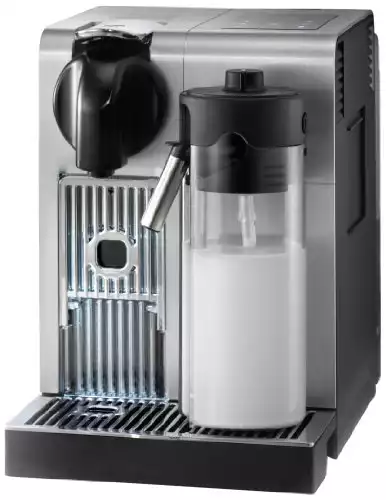 We earn a commission if you make a purchase, at no additional cost to you.
Lattissima Pro can make up to 9 recipes including Latte macchiato, Cappuccino, ristretto, an espresso shot, or hot water for tea. The machine is made of stainless steel, comes with an in-built descaling alert system, and has a large milk container.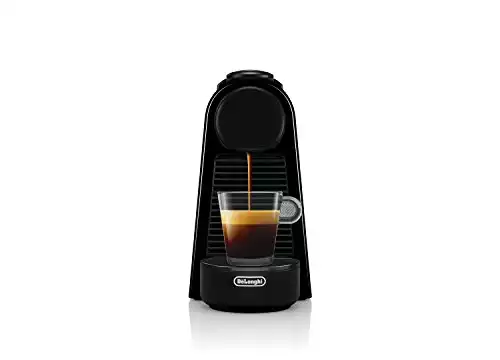 We earn a commission if you make a purchase, at no additional cost to you.
Essenza Mini is the most compact and ergonomic espresso machine. It's small in size but does not compromise on the coffee quality. Essenza Mini has two cup sizes and can make up to 1.35 ounces of espresso and 5 ounces of lungo.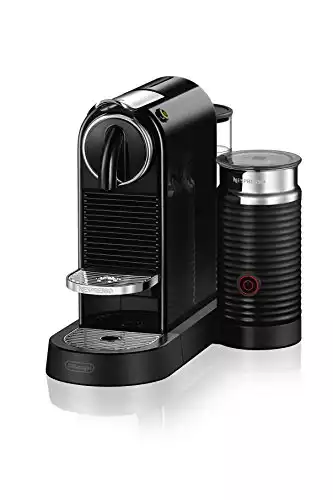 We earn a commission if you make a purchase, at no additional cost to you.
Nespresso Citiz has a sleek and retro design. The Machine has two cup sizes and can make both espresso and lungo. Buying a milk frother with it depends on your preference.
The VertuoLine Machines
The VertuoLine machines have some innovative features that differentiate them from the Original line Machines. VertuoLine uses centrifugation technology to brew coffee and bar code reading for extracting coffee beans from the capsules. The only capsules compatible with Vertuo machines are the vertuo capsules, and there are no third-party alternatives. None of these machines have a milk frother, so it would be up to you to buy it separately.
Our Pick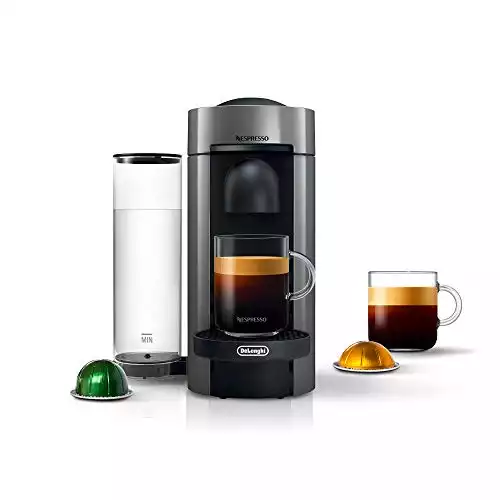 We earn a commission if you make a purchase, at no additional cost to you.
The machine offers 4 cup sizes, an automatic opening system, and an adjustable water tank. It auto-ejects the capsule in the drawer after coffee beans are extracted. VertuoPlus is not only convenient but also stylish and sleek.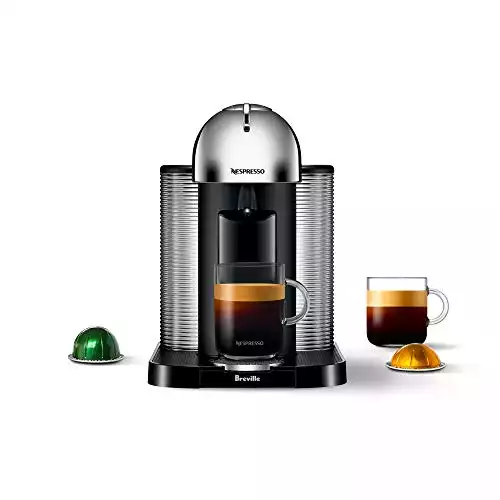 We earn a commission if you make a purchase, at no additional cost to you.
The launch of Vertuo in 2014 brought a revolution in the espresso industry. Its water tank is not movable but it does not take up much space on the counter. It offers 4-cup sizes.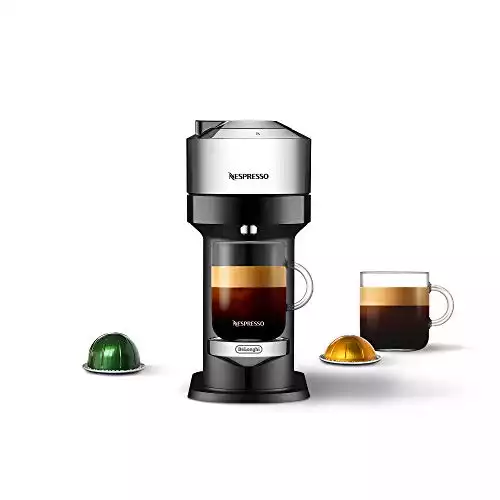 We earn a commission if you make a purchase, at no additional cost to you.
It is the smallest Vertuo Machine. Vertuo Next can brew 18 ounces of coffee. It offers up to 5 cup sizes, a Bluetooth option, and doesn't take up much space on the counter. The machines are from 54% recycled materials. Its biggest drawback is that there have been some reported reliability concerns.
Is Nespresso Worth it?
Nespresso Machines are expensive, but if you're an avid coffee drinker, the convenience and quality are unmatched for a consumer device that can brew excellent coffee at a touch of a button. Is Nespresso worth it? It's a yes from us.
If we look at the price range, we must also look at the advantages and the luxury of having a Nespresso machine. All machines give similar results, so it's unnecessary to splurge on the most expensive ones.
Including the cost of machines, coffee capsules, and maintenance, the total expense of using a Nespresso in a year would be approximately $894. It is 80% cheaper than buying a coffee from a coffee shop daily.
FAQs
Is Nespresso better than Keurig?
Nespresso and Keurig are two of the leading names in the espresso industry. Both are world-famous for their single-serve coffee machines. But which one is better? Nespresso is widely known for its coffee quality, convenience, and variety of flavors. It is better than Keurig due to its credibility, reliability, quality, and recycling.
Can Nespresso make Lattes?
Nespresso machines do not directly dispense a latte. However, lungo capsules brew espresso, and milk can be added separately using an Aeroccino frother.
Can you use regular coffee in Nespresso?
Yes! You can use different capsules in a Nespresso machine, but this is only applicable for the original line. For the vertuo line, no third-party alternatives are compatible with the machine.
Is Nespresso as good as real espresso?
Commercially made espresso is more flavorful than Nespresso. The Nespresso is a little less intense and not as flavorful.