Spending a tremendous amount of money on Nespresso machines is worth every penny; however, that does not mean you need to pay a lot of dollars to get Nespresso pods too. Nespresso pods can be costly, and sometimes people are fooled by thinking they can't use any other capsule brand with their Nespresso machines.
Well, that is where Nespresso-compatible capsules come to the rescue! These capsules are basically cheaper alternatives by other brands that work perfectly fine with almost all the Nespresso machines. All you need to do is pick the best and the most compatible ones. As always, I have done the hard work for you!
To give you a helping hand, I tried and tested some famous Nespresso-compatible pods and picked out the best 7 for you all! Keep Reading!
Starbucks Mild Variety Pack

Roast Level: Light to Medium

Intensity: 6,7,8

Roast Level: Medium to Dark

Intensity: 6 to 12

Roast Level: Medium to Dark

Intensity: 4 to 10

Bestpresso Intense Capsule Variety Pack

Roast Level: Medium to Dark

Intensity: 6 to 8

Roast Level: Medium

Intensity: 6

Roast Level: Dark

Intensity: 11

Peet's Coffee Variety Pack

Roast Level: Medium to Dark

Intensity: 8 to 11
How I Tested the Products?
Since I am a coffee enthusiast and love everything about it, I decided to try some of the most famous Nespresso-compatible capsules available on the market and review my top picks out of all those coffee pods! I already had a Nespresso machine; now, all I had to do was pick out the Nespresso compatible capsules with high ratings on Amazon.
I brewed and tested each of the flavor and coffee pods in every form possible; with milk, without milk, with cream, without cream, etc. I took notes about their intensity levels, taste, aroma, balance, and bitterness. I also tested all the products on the basis of their quality, price, and the value of money they offer.
In the end, I picked my seven most favorite coffee capsules and curated in-depth reviews for all my coffee lovers. Trust me; I take full guarantee that you will love all the products!
7 Best Nespresso Compatible Pods
As promised, here are the detailed reviews of the 7 best Nespresso-Compatible Pods, according to my weeks of testing and tasting:
The first product on my list is the Starbucks Mild Variety Pack, an all-in-one package for every coffee lover out there! This variety pack is a dream come true for every light and medium roast lover!
First of all, I loved the packaging of this pack; so bright, chocolaty, and regal! Moreover, the pack included 3 blends; Colombian Bean (Intensity 7), Starbucks Blond Espresso (Intensity 6), Pike Place (Intensity 8), and House Blend (Intensity 8). All these blends are ultra-light to medium roast. All the capsules in this pack are made of aluminum and brewed perfectly in my Nespresso machine!
I tried every blend in this variety pack, and I must say, there is an option for every flavor preference out there. All the coffee capsules in this pack are made of 100% arabica beans, and their aroma was delightful. Not just the aroma, but the coffee produced was also rich in texture, velvety, creamy, and delicious.
The first sip felt like I was sitting in a Starbucks Cafe and enjoying one of their signatures. All in all, I fell in love with the variation of this variety pack and recommend it for Nespresso coffee machines. However, remember that these pods are only compatible with Nespresso Original Line machines, not the Vertuo ones.
| | |
| --- | --- |
| | |
| Incredible tasting notes | A bit on the expensive side |
| Not very acidic and bitter | |
| Works perfectly with Nespresso machines | |
L'OR has been a well-known brand making Nespresso-compatible capsules for years now, and it is remarkably good at it. This L'OR Variety pack contains 50 capsules of 5 medium and dark roast blends by the brand; Profondo Lungo, Absolu, Columbia, Ristretto, and Onyx.
The intensity levels of the blends start at 6 and end at 12; you can enjoy different levels of medium and dark roasts in one package. All the coffee capsules produced rich, velvety, and creamy espressos with my Nespresso machine. Also, the coffee was full-bodied and extremely tasty.
Almost all the flavors had subtle hints of dark chocolate, nuts, and citrus fruits. Moreover, the aroma of these L'OR capsules filled my room with a pleasant vibe. The Ristretto, Profondo, and Columbia capsules are my top favorites if you ask me. They were creamy, foamy, and incredibly tasty. Not to forget, Profondo also tasted like almonds and anise, which I loved.
However, if you are someone who likes their coffee bitter and spicy, you will love the Onyx and Abolu capsules more. They can be a treat to the taste buds of every strong coffee lover!
| | |
| --- | --- |
| | |
| Eco-friendly and recyclable capsules. | The coffee was not very consistent |
| The pack offers a wide range of flavors. | |
| Specifically made for Nespresso machines. | |
Next on my list is this variety pack of 20 capsules and 12 packs of 5 different coffee flavors by the famous Lavazza! Lavazza is a well-known Italian brand producing rich and delicious Arabica-Robusta coffee blends for us, and all their capsules are compatible with Nespresso machines.
This Lavazza variety pack contains medium and dark roasts coffee capsules like; Armonico, Avvolgente, Deciso, Leggero, and Decaffeinato Ricco. The intensity levels of these roasts start at 4 and end at 11. So, you will conveniently find an option according to your taste preference.
The Leggero and Avvolgente are lungo coffee while the rest are espressos. Leggero was very mild with fruity and flowery flavors. Avvolgente had a higher intensity, was spicy, and had hints of cocoa. Armonico and Deciso also had high intensity with flavors of caramel, cereals, woodiness, and cocoa.
The thing I loved the most about this variety pack is the decaf option: The Decaffeinato Ricco. All the coffee pods had a pleasant aroma, and the taste was Classic Lavazza, rich and delicious. All, in all, I totally recommend this variety pack for all high-intensity coffee lovers!
| | |
| --- | --- |
| | |
| Suitable for all taste preferences | Some flavors might not be ideal for light roast lovers. |
| Premium quality coffee capsules | |
| Excellently compatible with Nespresso machines | |
If you are someone who enjoys having bold and strong coffee, then this Bestpresso Intense Nespresso Capsule Variety Pack is what you need to have! This pack contains various Nespresso-compatible pods with robust and intense flavors.
You will find a total of 120 pods and six boxes of Ristretto, Lungo, and Intenso. This means you will have options for both coffee sizes and flavors. Moreover, the price of this variety pack is very affordable if we look at the quality and taste!
I would not rate this pack as the best option, but it can be a considerable one. Ristretto and Intenso flavors were very intense, with intensity levels of 11 and 12. Ristretto tasted very sweet and chocolaty at the first sip and was very creamy and velvety.
While on the other hand, Intenso had a very mild acidity level and tasted like citrus berries. Talking about Lungo, it was the least intense flavor out of the three options and had chocolate and caramel notes. Moreover, there were disposable bags in each box to dispose of capsules.
| | |
| --- | --- |
| | |
| Very affordable | Very acidic and bitter |
| It offers three different size options | |
I'm sorry, but I couldn't resist adding Nespresso pods on this list. After all, they are compatible with Nespresso machines, too, right? Also, the list of best Nespresso-compatible pods would be incomplete without the brand's own creations. This Nespresso Melozio medium roast blend is one of the best products by the brand, with an intensity level of 6.
If you are someone who likes their coffee light yet delicious, Melozio is your dream come true! My overall experience with the Melozio capsules was delightful. It had a vibrant, rich, and nutty taste, and the aroma made my soul and mind fresh.
Moreover, the Nespresso Melozio coffee capsules are a blend of Central American and Brazilian Bourbon beans, and one pod can produce one full size of coffee. The unique part about Nespresso coffee pods is their regal packaging – you instantly want to rip it open and try out what is inside.
However, keep in mind that these capsules are only compatible with Nespresso Vertuoline machines. Also, the pack only contains 30 pods, which can be a low count for some people.
| | |
| --- | --- |
| | |
| It has a bold and rich taste. | Significantly less quantity considering the expensive price tag. |
| Ideal for morning and night coffee. | |
| Not very intense and bitter. | |
After Melozio, I have the Nespresso Diavolitto on my list, a more intense and delicious option. The coffee has an intensity level of 11 and is compatible only with Nespresso Vertuo Line machines.
It is a unique blend of Brazilian Arabica beans and Central and South American Robusta beans. If you like to start your day with a bit of bitter and intense coffee, then Diavolitto can be a viable option for you! Also, you will get a total of 50 coffee pods in this pack!
Honestly, the first sip of the coffee was ultra-delicious, like every Nespresso one does. Moreover, its aroma had subtle notes of leather and oakwood that was pleasant! The texture was very fine, smooth, and full-bodied too.
The coffee was definitely very strong and bitter, so make sure you are a high-intensity lover before purchasing it. All in all, I would declare the Nespresso Diavolitto as the best coffee for Nespresso Vertuoline machines!
| | |
| --- | --- |
| | |
| Strong and delicious flavor | Very expensive |
| Recyclable capsules | |
| Ideal for high-roast lovers | |
A coffee containing 100% Arabica beans, dark chocolate flavor, and frothy crema – sounds tempting, right? Well, this is what this Peet's Coffee variety pack offers. Peet's is one of the biggest competitors of Nespresso, and all of its coffee pods are Nespresso-Compatible.
This Peet's variety pack contains 40 capsules of the brand's 4 best-selling coffee flavors: Ricchezza, Ristretto, Crema Scura, and Nerissimo Espresso. The intensity levels of these Nespresso-compatible capsules range from 8 to 11.
All the 4 flavors in this Peet's variety are made with 100% Arabica beans and were definitely bold and robust with some bitterness. Ricchezza had taste notes of flowers, sugar, and berries – Ristretto was chocolaty, spicy, and fruity – Crema Scura had a subtle taste of nuts – Nerissimo had the most intense yet sweet flavor.
Moreover, the pods produced a rich, thick, well-balanced coffee full of crema. There was some bitterness, but not of the burnt kind. The pack is a bit expensive but worth every penny you spend.
| | |
| --- | --- |
| | |
| Recyclable capsules | It might be too intense for people who like their coffee light. |
| Rich and flavorful | |
| Incredible tasting notes | |
Things to Consider Before Buying Nespresso Compatible Capsules
Now that we have gone through the top picks of the best Nespresso Compatible Pods, I hope you have already shortlisted a few favorite flavors in your mind. However, it does not end here. There are many features and factors you need to take into consideration before finally making the purchase.
Finding the perfect coffee according to your taste and roast preference can be hard. You can't just buy 'any' Nespresso Compatible Pod your first lay your eyes on. There are countless factors like roast level, intensity level, brew sizes, flavors, and the number of capsules that you need to thoroughly focus on.
So, are you confused at this point? No worries. To provide you assistance through this final step, I am sharing a detailed buying guide below containing all the essential factors you need to consider, and how to pick the best Nespresso Compatible Pods for yourself.
Now without making you wait any further, let's dive right in!
Nespresso VertuoLine vs. OriginalLine
I think we all already know that there are two signature lines of Nespresso coffee machines; the Nespresso VertuoLine and the Nespresso Original Line.
The main differences between the two lines are their capsule extraction methods and cup sizes. Original Line machines use the traditional pumping and pressure method to brew the coffee, while Vertuoline machines use centrifusion – an advanced brewing method that incorporates pod rotation. Moreover, Original Line machines offer small cup sizes, while the VertuoLine offers relatively larger. So, first you need to identify which Nespresso Line machine you have or plan to buy, and then purchase the compatible pods.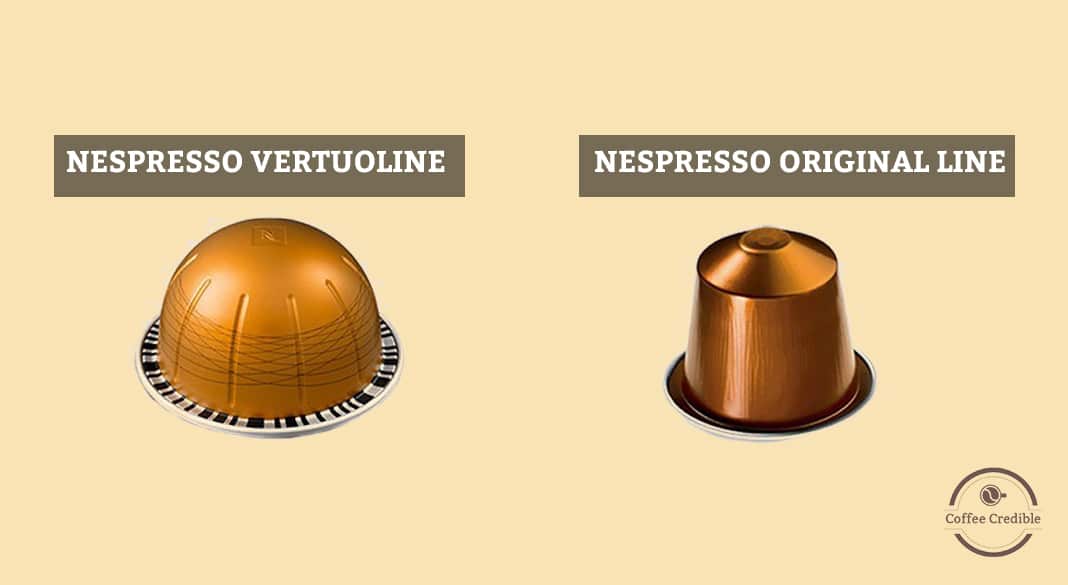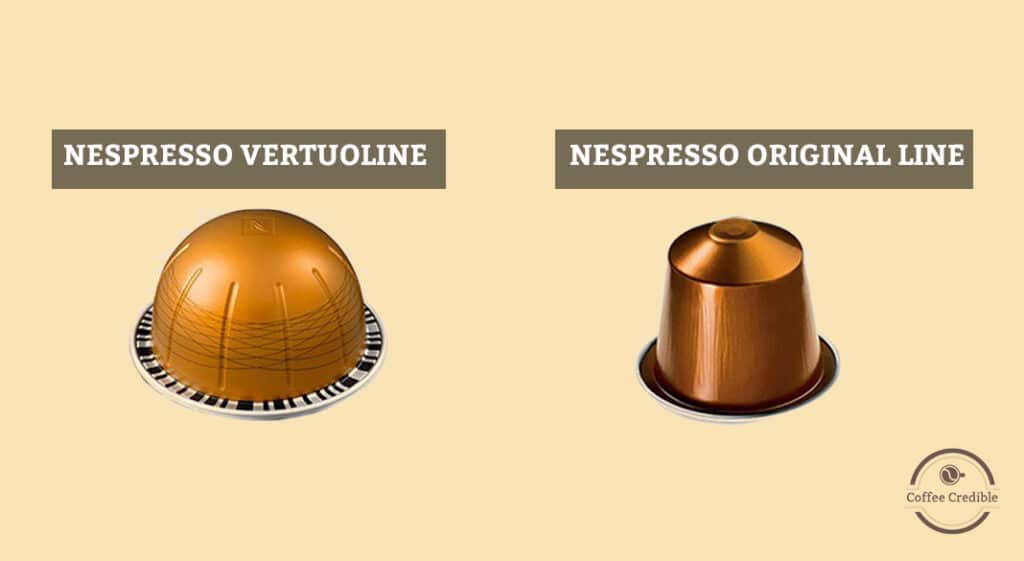 If you have an Original Line Machine, then you will be able to find many third-party Nespresso Compatible Pods to work with it. However, if you are a Vertuoline machine, then you need to keep in mind that only original Nespresso Capsules will work with it; no third-party pods.
Almost all the third-party options on my list are compatible with Nespresso Original Line Machines. However, only the Nespresso Melozio and the Nespresso Diavolitto are compatible with VertuoLine.
So, make sure to keep this fact in mind while making the purchase.
Intensity vs. Roast
You will find intensity levels written on the packaging of all coffee capsules in the market, but not the roast levels. Luckily, these two things are interlinked with each other, and you can conveniently determine the roast level by looking at the intensity. I will tell you how.
Intensity levels basically tell the body, concentration, bitterness, and roast level of coffee pods. They range from 1 to 12, and the roast levels vary within these numbers.
Coffee with intensity levels of 1 to 4 are considered light roasts, 5 to 8 are medium roasts, and 8 to 12 are dark or extra-dark roasts. Light and medium roasts will have a mild body, less bitterness, and a sweet flavor. While on the other hand, dark and extra-dark roasts have high concentration, heavy body, and more bitterness.
Now the decision of what intensity level and roast to opt for totally depends on your taste preference. If you like your coffee bitter, go for dark roasts. If you want your coffee light and sweet, go for lower intensity and roast levels.
I have covered almost all intensity and roast levels on my list. All you have to do is identify your taste preference and pick Nespresso Compatible Pods accordingly.
Flavor
Flavor profiles of the coffee pods play a huge role in how much you are going to love and enjoy your coffee. For that, we would recommend you to focus on the brand and coffee freshness more than the origin or roast levels. Always opt for well-known and trustable brands to ensure that the coffee will be freshly roasted.
Next, identifying your favorite flavor profile is not easy; you will have to try out different flavors to finally find what you like and prefer. This is exactly why I have many variety packs on my list. Variety packs allow you to experiment with different flavors and see which one suits the best to your taste preferences.
However, if you are someone who has their favorite flavor profile already figured out, make sure to pick Nespresso Compatible Pods accordingly to enjoy the most out of your coffee.
Brew Sizes (Lungo, Espresso, Ristretto)
If you have an original line machine, you will be able to brew 3 types of coffee and brew sizes: Lungo, Espresso, and Ristretto. Lungo will be the more diluted one, Ristretto will be the more concentrated one, and you already know what an espresso means, right?
So, first you need to identify what type of coffee and brew size you want to make. All the Nespresso Compatible Pods and Capsules clearly mention what kind of coffee they are best suited for to provide with the best flavor, concentration, and intensity i.e. Lungo, Espresso, Ristretto.
However, that does not mean you can't use a Lungo To make a Ristretto. You can. The only drawback is that you won't get the right and perfect taste by doing so. Therefore, we would recommend always using pods according to their styles to enjoy the best coffee possible.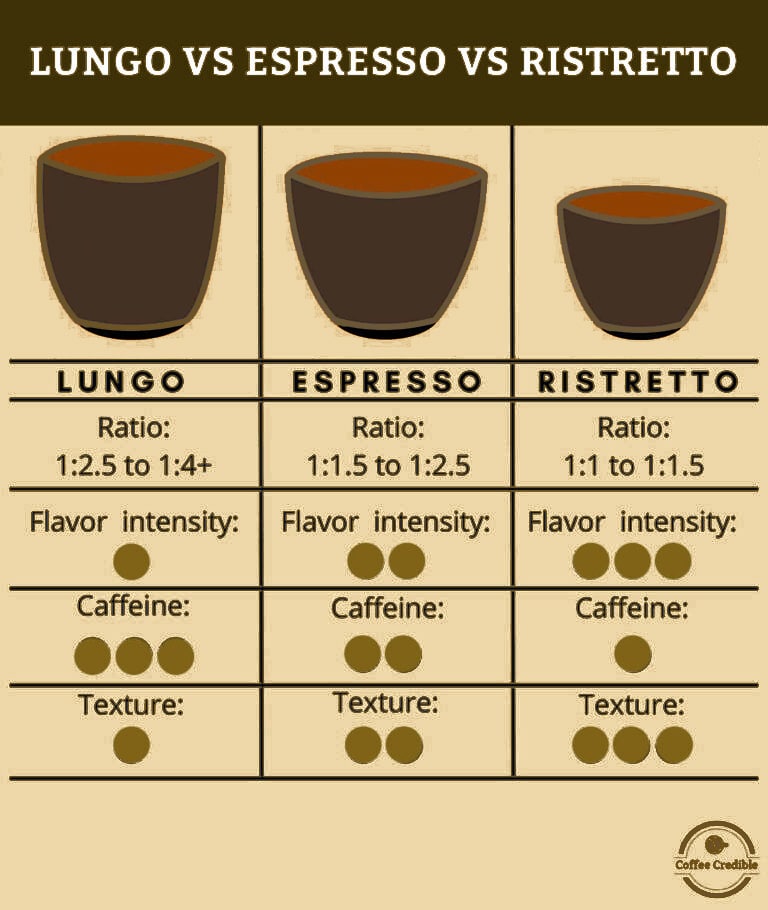 Origin of Coffee Pods
Coffee beans originate from different parts of the world; USA, Colombia, Brazil, Ethiopia, and many more. Some coffee pods are single origin, while some are a blend of two or more areas. Now, the decision of what origin to opt for totally depends on your personal preference. If you are someone very serious and sensitive about their coffee, make sure to consider this factor before buying Nespresso Compatible Pods.
Capsules in the Pack
How many capsules come in one package is very essential to consider to ensure convenience and the overall cost per unit. The more capsules in one package, the more you will cut down on the price. Moreover, buying many capsules in one go can also save you from frequent purchases. If you ask me, I would recommend you to opt for a package that contains at least 50 capsules. Moreover, you can also opt for variety packs that contain 120 capsules like the Bestpresso Intense Capsule Variety Pack on my list.
Nespresso Original or Third-party Capsules?
This is a very basic and brief factor to consider; Nespresso Original or Third-Party Capsules, which ones to buy? The quality of Nespresso Original capsules is definitely unmatchable, but they are very expensive. In this case, third-party Nespresso compatible capsules can do the work too. So, it is totally up to you what you want to buy.
However, if you have a Vertuoline machine, you are stuck with Nespresso Original Capsules.
Storage of Coffee Capsules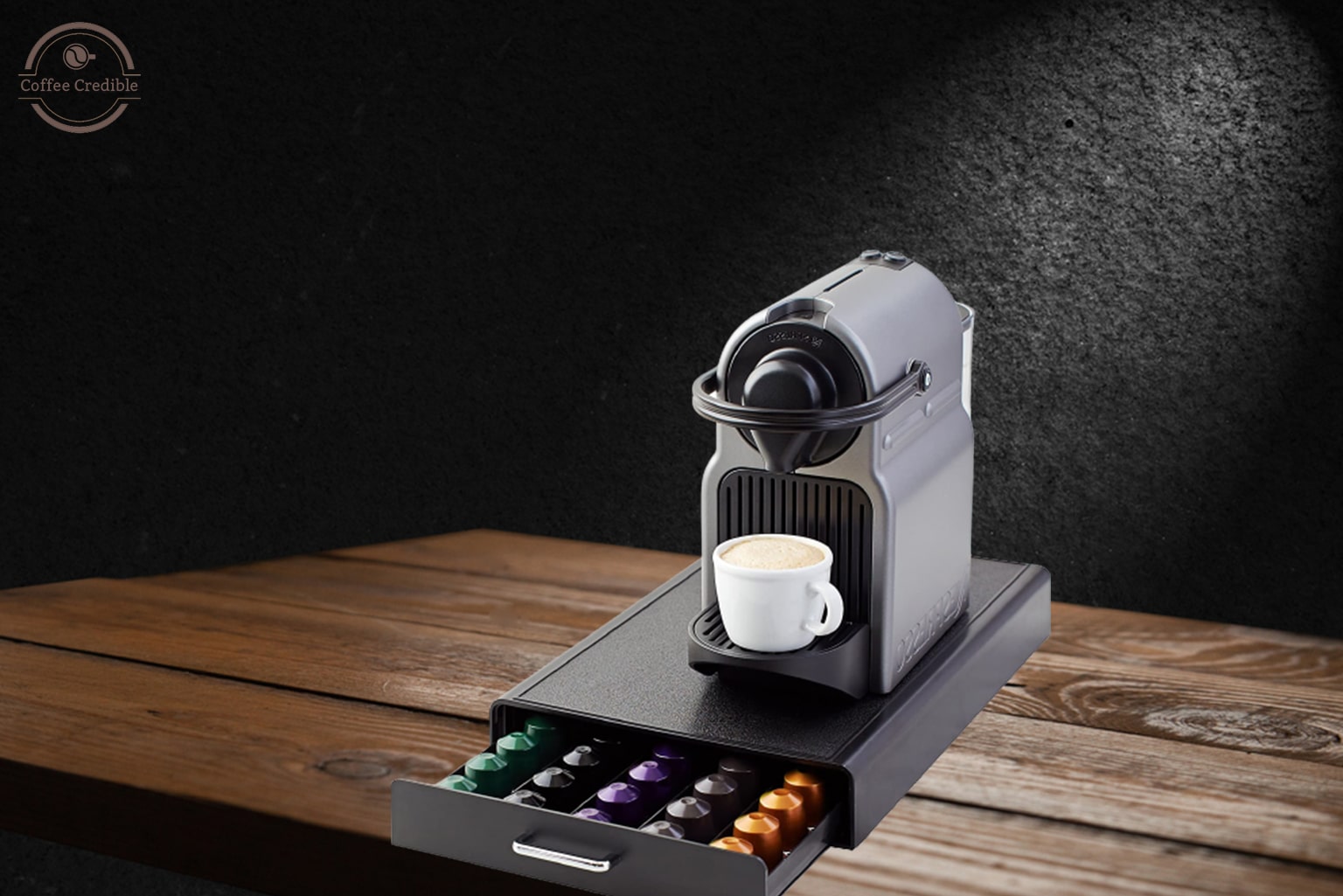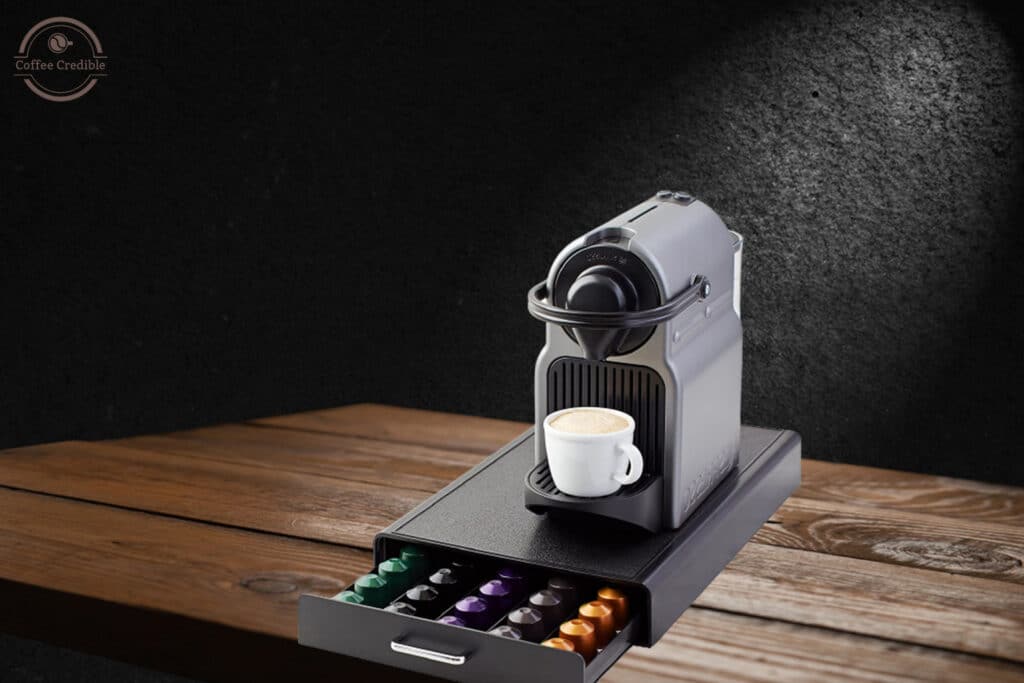 You can store most of the coffee capsules for up to 24 months, only if stored the right way! To ensure that you are storing your coffee capsules the right way, make sure to keep them away from sunlight, avoid putting them in the refrigerator or under the cold air, and use them as soon as you can. Also, make sure to not open the seal of a capsule until you are ready to use it. The seal is what protects the quality and taste of the coffee.
Nespresso Compatible Capsules Impact on Environment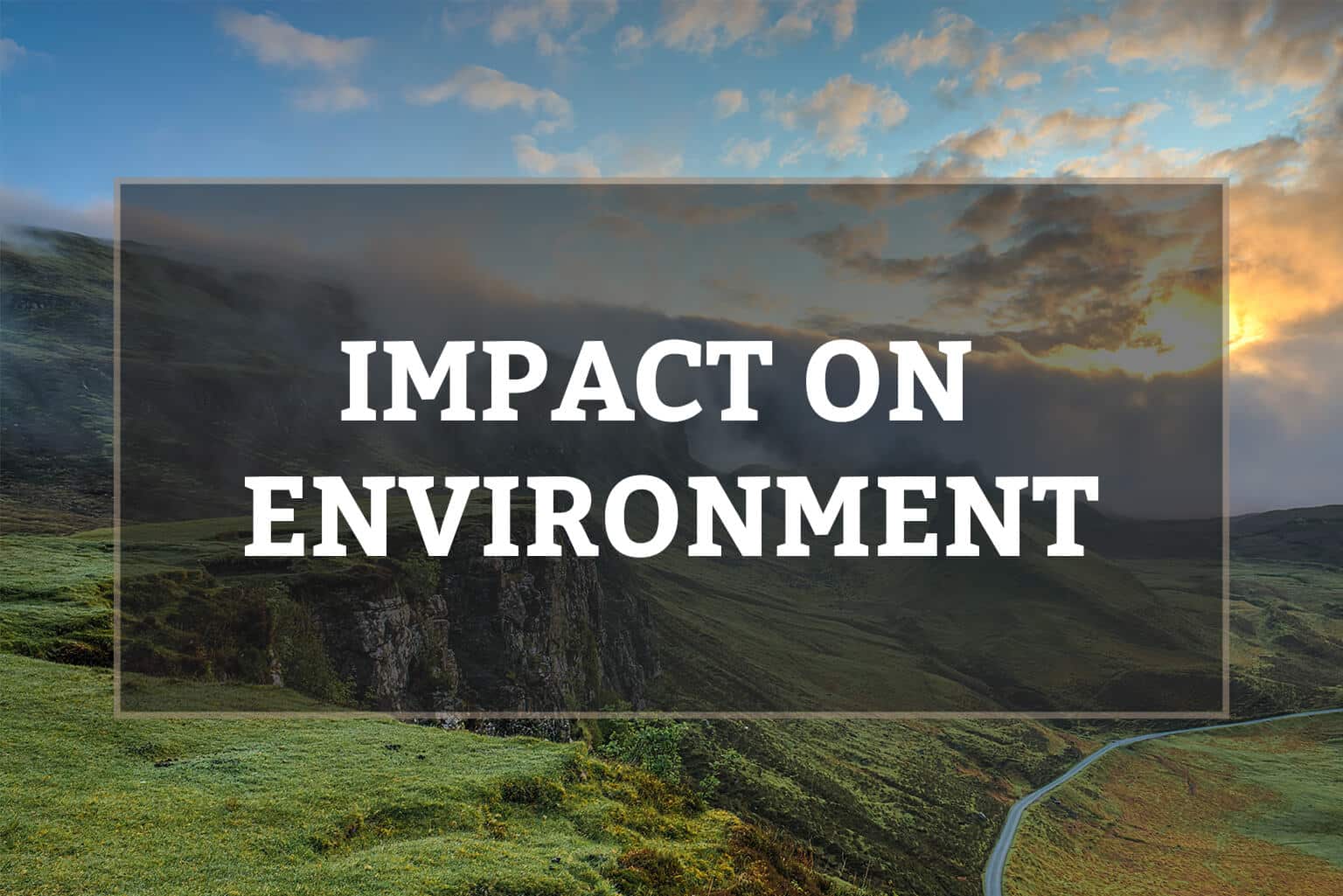 If we look at Nespresso Original Capsules, they are environment-friendly and recyclable. Therefore, we would recommend you to keep this factor in mind while looking for third-party Nespresso Compatible Capsules too. All the products that I reviewed above are made of Aluminum, recyclable, and environmentally friendly. So, you can blindly pick a product from there.
The Bottom Line
In the end, the Best Nespresso Compatible Pods are the ones that will give you the perfect and the most delicious cup of coffee.
If you ask me, my top pick from the above list will be the Peet's Coffee Variety Pack. It offers a variety of blends and flavors, and has intensity levels for every taste preference. The rest is on you!
FAQs
Where can I buy Nespresso Compatible Capsules?
You can find Nespresso Compatible Capsules online conveniently. I have mentioned the trusted Amazon links for each product that I used myself. If not from there, you can purchase the capsules from the brand's official website too.
Are Nespresso Capsules expensive?
Yes, Nespresso capsules are relatively more expensive than third-party ones. However, their quality is also amazing.
Can you use Starbucks Capsules in Nespresso?
Yes, Starbucks partnered with Nespresso a long time ago and made compatible capsules for all Original Line machines. With that being said, you can trust the quality and taste of Starbucks capsules for your Nespresso machine.
Why does Nespresso coffee have foam?
Nespresso coffee is not supposed to be foamy. If you find foam in your coffee, it is probably because your machine needs some repairing or maintenance. Therefore, it is recommended to thoroughly clean the machine every often.
Can a Nespresso pod be used twice?
The brand does not recommend using the same Nespresso capsules twice. Doing this can affect the taste, aroma, and overall quality of your coffee.
Can I make Lattes and Cappuccinos with these capsules?
Yes, you can make Lattes and Cappuccinos with most of the Nespresso Compatible Pods we mentioned above.
How do Nespresso compatible capsules impact human life?
Nespresso has been trying to ensure a better and more sustainable coffee ecosystem for years now. Therefore, they are producing recyclable coffee capsules for the betterment of the environment and human life.