A caffeine fix with a delicious cup of coffee first thing in the morning sounds like a great idea if it is quick and fuss-free.
Making a cup of coffee becomes time-consuming and a lot of trouble if you have to measure coffee grounds every time you brew a cup. The invention of single-serve coffee pods saves us from all this trouble.
The credit for introducing coffee capsules goes to Nespresso.
Nespresso machines and capsules seemed impressive only to office-based consumers, but in the 1980s and 1990s, Nespresso pods became popular in Europe and the United States. With each pod retailing for $0.70 to $1.20, it soon started replacing the coffee shop espresso because it was a cheaper yet delicious alternative.
The invention of coffee pods changed the dynamics of the espresso industry. Before coffee capsules, the baristas had to put in extra effort to adjust pressure with the lever of espresso machines and extract coffee in different ways to preserve the taste and texture.
There are several flavors, strengths, and styles of coffee pods, each falling in a different price range. The type of coffee pods you need to purchase depends on your espresso machine. The pods must be compatible with your espresso machine, or you will be wasting money. The pods have several shapes but are usually small and dome-shaped with a flat surface. It contains nicely packaged ground coffee beans, full of flavors, and is ready for use directly.
Using coffee pods in espresso machines is a quick and affordable alternative to buying coffee from the local coffee shop. It saves time, energy, and money that goes into getting standing into a ques to get a Starbucks. The plus point is that it is close to tasting like commercially made coffee if you make it by following the proper instructions of your machines and pods.
How are Coffee Pods and Coffee Capsules Different?
Most coffee drinkers think Coffee pods and Coffee capsules are the same things. However, they're also partly right. Even though these terms should refer to different things, we use them interchangeably. Have trouble understanding? Let's go over it.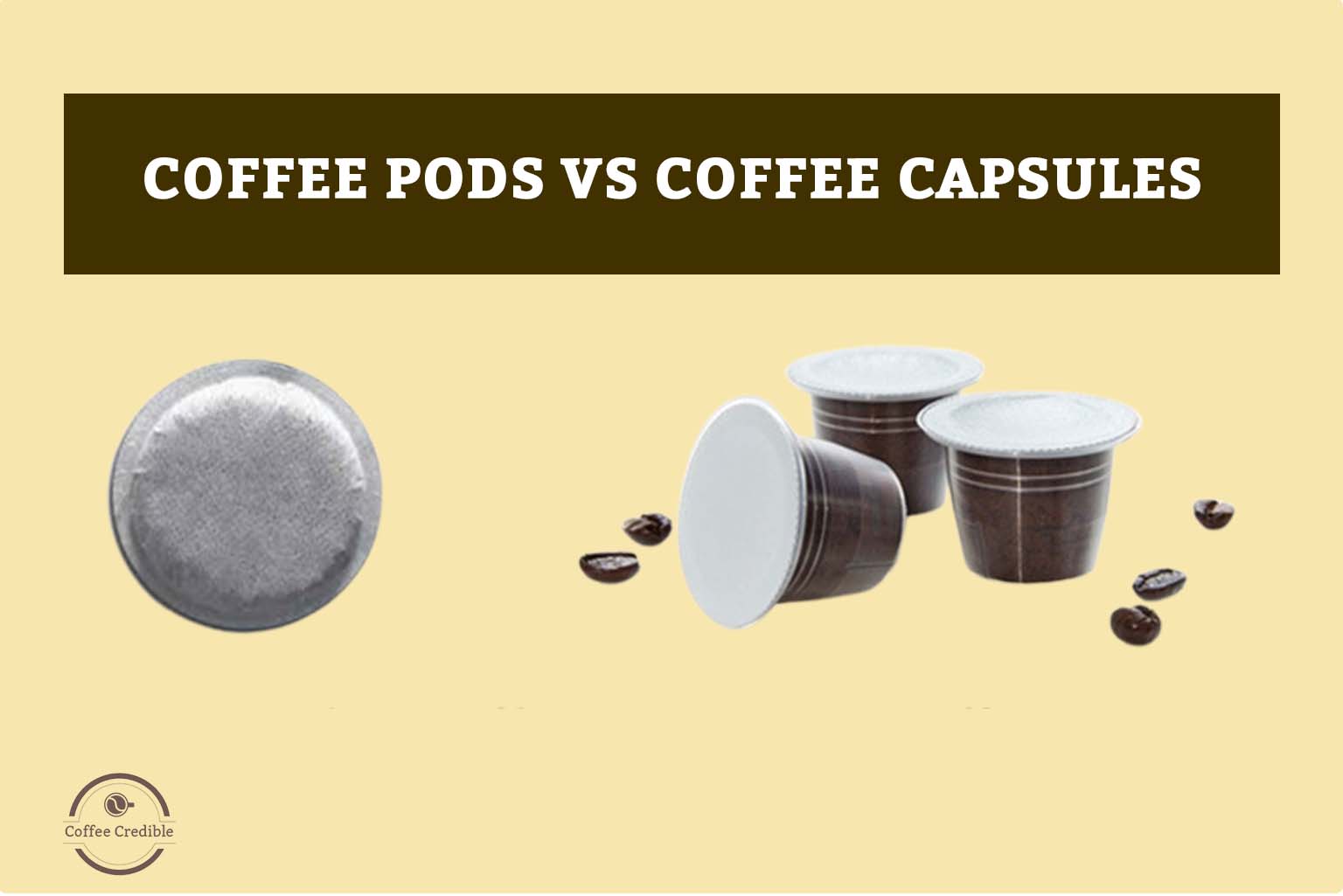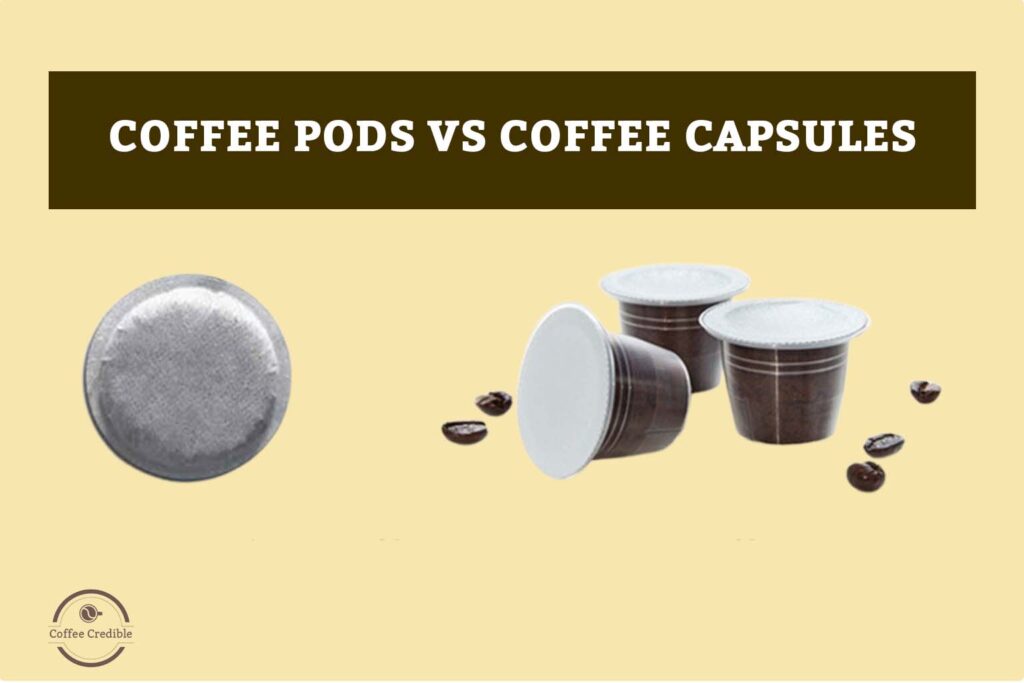 Coffee Pods:
Coffee pods are pre-packaged doses of ground coffee in a paper filter, similar to a tea bag. They come in two types: soft and hard. Various non-pressurized machines (but not Keurigs) make drip coffee using soft pods. On the other hand, pump machines use hard pods to make espresso, also called Easy Serving Espresso (E.S.E.).
Coffee Capsules:
Coffee capsules are aluminum or plastic containers containing coffee grounds. Depending on the brand of capsules, they make different styles of coffee. Nespresso capsules make espresso. On the other hand, Keurig makes drip coffee using Keurig capsules called K-cups.
Types of Coffee Pods and their Compatibility:
| | |
| --- | --- |
| System | Machines |
| Nespresso OriginalLine | Maestria, Le Cube, All CitiZ models, All Pixie models, All Essenza models, All Lattissima models, L'OR coffee machines, and Inissia coffee machines. |
| Nespresso VertuoLine | Nespresso Evoluo, Nespresso Vertuo, Nespresso Vertuo Plus. and Nespresso Vertuo Next. |
| Keurig | All Keurig models, Keurig 2.0, Sboly coffee maker, Dnsly coffee maker, Meuller coffee, Sunvivi coffee maker, and Gourmia 3 in 1 coffee maker. |
| Keurig 2.0 | Keurig 2.0 |
| Caffitaly | Cilo coffee brewer, Murex S07, Venus S08, Diadema S16, Ambra S18, Amphora S15, Gaggia K111D, Gaggia Evolution, and all models from S03 – S05. |
| K-Fee | K-Fee, K-Fee One, K-Fee Square, K-Fee twins II, K-Fee Grande, K-Fee Empire, K-Fee Lattesnia, and K-Fee Preferenza. |
| Lavazza Blue | All Lavazza Blue models. |
| Modo Mio | Extra Saeco, Saeco Mini, Lavazza Jolie, Lavazza Simpla, Minu Cafe Latte, Electrolux Favola, Electrolux Magia, Electrolux Fantasia, Electrolux Espira, Favola Easy, and Favola Cappuccino. |
| EspressoCap | Milex Cafe Barista |
| Dolce Gusto | Genio, Krups, Circolo, Esperta, Dolce Gusto, Krups Piccolo, Krups Melody, Krups Creativa, and others. |
| Seal Pods | Nespresso and Dolce Gusto machines. |
| Vittoria Espresso | Nespresso OriginalLine Machines. |
| Soft Pods | Illy, Briel, Dualit, Gaggia, Breville, DeLonghi, Kenwood, and others. |
When you use capsules, your options are limited to those that fit your machine. Each machine has a set of pods that may fit in, and the coffee machine can process them. Some coffee makers give you the liberty of using alternative and cheaper options, but like the VertuoLine range of espresso machines, some don't have that advantage.
To make the coffee experience successful, only the suitable pod can do the job.
We have devised a list of the most popular coffee capsules and their compatibility with specific coffee machines. Read on to know more.
Nespresso OriginalLine Capsules
With Nespresso Original capsules, you get an authentic coffee experience. These capsules make coffee with a distinctive character and aroma. Original machines can use third-party compatible capsules, but the flavors will be limited.
Nespresso compatible coffee pods are made with aluminum and get recycled by Nespresso's recyclable facility. Each pod measures 37 mm long and 30 mm high. It has straight sides and a shallow angle at the top, keeping the coffee grounds secure and fresh.
Nespresso Original Capsules are compatible with the following machines:
Nespresso VertuoLine Capsules
In addition to a smooth taste, full-body, and rich crema, Vertuo pods offer a different coffee experience. In a larger cup, too. They have various flavors, from mild to dark roasts.
The vertuo pods are dome-shaped and have different sizes, depending on the brew size. They make various sizes of drinks with different flavors. The VertuoLine machines use a barcode scanning method to extract coffee, which makes it impossible to replace vertuo pods with an alternative.
The following machines can use the Nespresso Vertuo capsules:
Keurig K-cups
Keurig's K-cups are cartridges containing coffee grounds and sealed with aluminum foil to resist moisture, keeping it fresh till you brew a cup. They are 2 inches in diameter at the top, 1.5 inches in diameter at the bottom, and 1.5 inches in height.
Each pod contains 10 to 13 grams of ground coffee. The single-serve Keurig machine has two needles that puncture the filter of K-cups. The water flows through the cup and extracts coffee, creating the perfect coffee brew.
The K-cups are compatible with the following machines:
Keurig 2.0
Keurig 2.0 pods are compatible with Keurig 2.0 machines. Keurig 2.0 machines have a pod scanning system to brew coffee. It does not allow any third-party pods to work in the Keurig machine. This Keurig did not work well in the market, so the company had to cease production.
Caffitaly Pods
The Caffitaly machines, originally from Italy, are famous across Europe. These machines use Caffitaly pods for brewing.
The pods are u-shaped, 45 mm in length and 25 mm in height. Here is a list of machines that can use Caffitaly Pods:
K-Fee Pods
K-fee pods have exciting flavors in coffee, making them stand out. The K-fee machines make the water flow through the pod to create an authentic espresso with the perfect crema.
K-fee pods are compatible with the following machines:
Lavazza Pods
Lavazza Pods have different variants, each made for separate machines. There are three types: Lavazza Blue, Espresso Cap/Mile Cafe Barista, and Espresso Cap.
1. Lavazza Blue
Lavazza pods are only compatible with Lavazza Blue. They are tub-shaped plastic containers of 27 mm in height and lids of 47 mm. These pods are only compatible with all models of Lavazza Blue machines.
2. Modo Mio
Modo Mio is a 17 mm high soft plastic pod with a lid of 47 mm diameter. These capsules are different from Lavazza blue and work in various machines.
Some of the machines that can use Modo Mio pods are as follows:
3. EspressoCap
The pods are compatible with all Milex Cafe Barista EspressoCap brewing machines. These hard plastic pods are tub-shaped and have lids of different colors. These pods are compatible with Milex Cafe Barista brewing system.
Nescafe Dolce Gusto Coffee Pods
The dolce gusto pods are U-shaped plastic pods 54 mm in diameter and 36 mm in height. The pods have plastic lids and contain a spout at the bottom.
Dolce Gusto pods are compatible with the following coffee machines:
Seal Pods
SealPods are reusable coffee pods made of stainless steel. These pods let you choose your coffee beans and your favorite flavors. These pods are compatible with Nespresso and Dolce Gusto machines.
Vittoria Espresso Pods
Vittoria Espresso pods originated from Central and South America. They contain honey flavor with toasty notes. Each pod has an intensity level of 14 and a dark roast of 100% Arabica coffee beans. It delivers a smooth, intense flavor that evokes traditional Italian espresso.
The Vittoria Pods are compatible with All Nespresso OriginalLine machines.
Soft Pods
In 2001, Philips Espresso and Coffee Systems' Senseo brand came up with soft coffee pods. Soft pods make espresso-style coffee. It contains fresh ground coffee and comes in various flavors.
Each pod contains 2.5 grams of freshly ground coffee and makes 80 to 110 ml of coffee. However, the coffee beans quantity may differ in pods for making a latte or cappuccino.
These pods are compatible with the following machines:
What is the difference between Nespresso OriginalLine and VertuoLine?
Nespresso OriginalLine and VertuoLine are two categories of Nespresso machines, each having its coffee pods. The OriginalLine and VertuoLine differ in their specifications and working as well as their types of pods.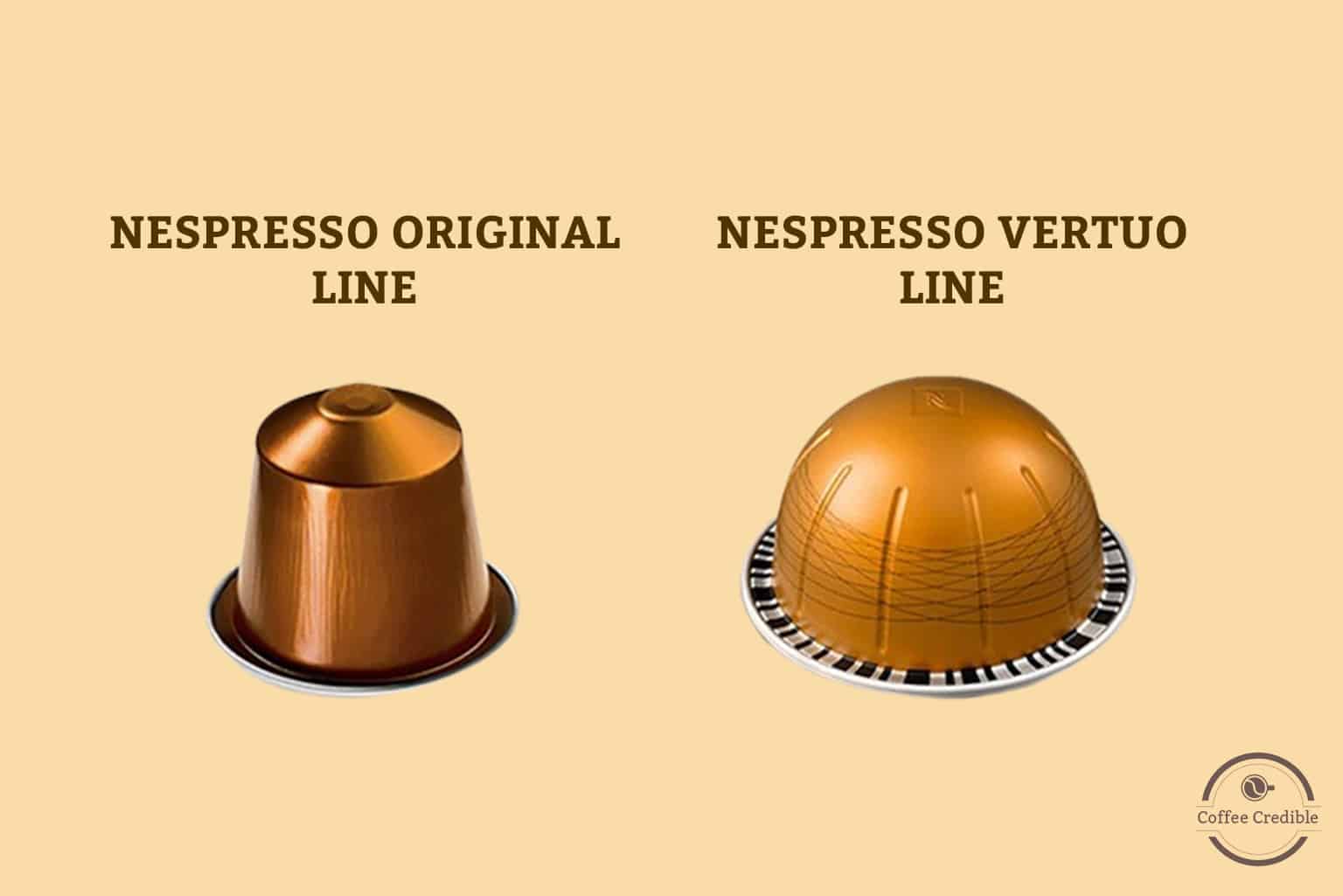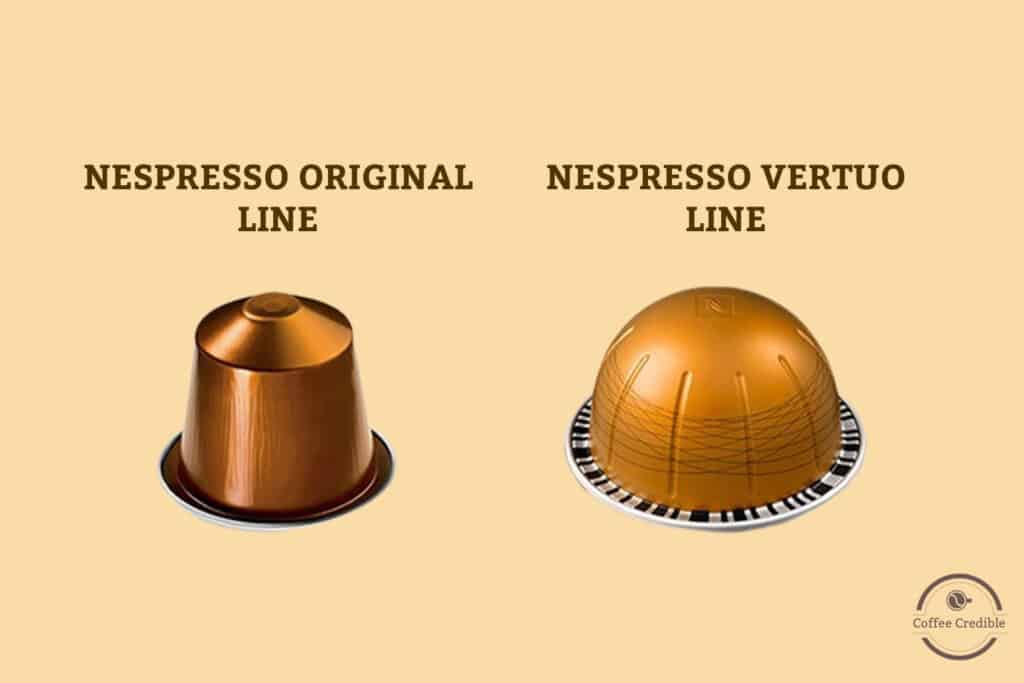 Both lines use pods to brew coffee but have different brewing methods and styles of pods. Their coffee pods are limited to use in the respective machines, and you can not use them interchangeably. The original machines use Original coffee pods, and the VertuoLine coffee machines use Vertuo pods. You can substitute original pods with a cheaper alternative, but Vertuo machines do not accept alternative pods.
FAQs
What are Nespresso Capsules made of?
Nespresso has always used aluminum for its capsules. Each brand-new pod uses 9.2% less aluminum material than the previous one and is therefore 8% lighter. Aluminum provides a reliable barrier against oxygen, light, and humidity, protecting the freshness and aroma of coffee.
How long does Nespresso Capsules last?
The design and quality of Nespresso capsules ensure keeping the coffee fresh, for them to last for a minimum of 4 months from the date of purchase.
How much caffeine content does each Nespresso Capsule contain?
The caffeine content in Nespresso capsules varies from one another. On average, an Original pod has 55 to 5 mg of caffeine, and a Vertuo pod contains 170 to 200 mg of caffeine.