Kudos to Eric Favre, who invented the idea of putting coffee into a sealed capsule or pod easing the froth lovers to enjoy their cup of coffee with a luxury frothy espresso.
If you are using a regular coffee maker, I bet you will be switching to this because these pods ideally come in a dome-shaped container containing ground coffee. They are much more convenient, time-saving, and bring the tastiest drink to the table.
These pods come in small and large sizes, applicable to two different kinds of machines. If you are using Nespresso Original, you have to go for smaller cup size, whereas Nespresso Vertuo users will use a larger cup size.
Below you'll read a brief comparison of both Original and Vertuo lines, and by the end, I bet you'll match your compatibility with your chosen one!
Key Takeaways
Nespresso Vertuoline consists of a Centrifugation Brewing system and Nespresso barcoded capsules, volumized crema coffee from espresso to Lungo.
Nespresso Original offers a simple brewing coffee brewing system and various third-party pods providing espresso or lungo coffee shots.
Vertuoline pod sizes start the lowest from Espresso 1.35 oz to the highest Carafe or Alto XL, which is 14-18 oz.
Original pod sizes start from Espresso 1.35 oz to Lungo 3.7 oz only.
Every Nespresso model is calibrated through the same method.
You can reset Nespresso machines back to their default settings.
Things you must know about Nespresso Vertuoline:
Firstly, while considering Vertuo pods, you must have the Nespresso Vertuoline machine for the best results, as it follows a unique brewing system than the Original.
Also, these pods are only available on Nespresso, so they are branded! By brand, you can estimate it to be pricey if you have a low budget.
Further, the Nespresso Vertuo machine has automated capsule recognition ability. You don't have to choose the cup size. Just put the pod in, and it will read its barcode and select the correct size accordingly.
You can see the barcode around the rim of the pod that signals the machine to measure the correct amount of water. So let's say if you are going for a single espresso, the machine will use less water than a wholesome coffee.
There are 4 different Vertuo Machines, each offering a variety of cup size ranges with creamy taste and aroma. The Vertuo espresso machine uses a small pod and dual cup size compared to other Nespresso having 4-5 cup size dimensions while using bigger coffee pods.
As mentioned above, Vertuo pods are round, larger, and provide different sizes. The distinction in pod sizes implies the intensity of flavor and the amount of water added.
In total, the machine brewed six Vertuo pods, starting with the strongest Espresso, then a double espresso, Gran Lungo, Coffee, Alto XL and Carafe. Also, these pods exist for milk-based drinks, so you can check on that!
You can enjoy an alto (414ml), a mug (230ml), a gran lungo (150ml), a double espresso (80ml), and an espresso (40ml). With the Nespresso Vertuo Next, you can also go for a 535ml carafe.
Finally, if you always dreamt of bathing yourself in a cup of coffee, VertuoLine is the best possible match for you.
Things you must know about Nespresso Original Line:
While using Original line machines, it's all your responsibility to sensibly insert pods and click the button because here, my friend, there are no barcodes.
Here you have two buttons, one for selecting cup size and another for choosing the coffee types you want, i.e., espresso and lungo. Keep in mind while choosing these buttons that if you want to brew espresso, select a small cup and for lungo, select a large cup size.
Interchanging the pods with the sizes can lead to bitter coffee because the machine can't return to what's right! The reason is that every pod has its brewing capacity, and over-extracted a pod or, for instance, brewing espresso pods for a lungo can lead to fewer grinds and hence make your coffee taste worse than ever.
The originals consist of 7 different models offering different functionality in every model. It offers 2 Nespresso cup sizes in Pixie, Essenza Mini and Citiz.
These capsules are smaller, giving you a smaller shot of coffee. This is most suitable for coffee drinkers who think they can live up to smaller coffee cups. You can easily make an americano (150ml), lungo (90ml), espresso (30ml) or a ristretto (22ml), depending upon the original model you have.
Original doesn't limit you to the branded Nespresso pods. You can insert pods of different companies and varied blends at a comparably low price. So, if you resist sticking to one brand, using Original pods is the option.
Nespresso Vertuoline Pod & Cup sizes
Looking at the table, you may have gotten the idea about Vertuo Pods and their Nespresso cup sizes, but here's a brief explanation of each pod so that you know which is your best shot!
| | |
| --- | --- |
| Vertuo Pods | Brew Size (oz) |
| Espresso | 1.35 |
| Double Espresso | 2.7 |
| Gran Lungo | 5 |
| Coffee | 7.77 |
| Alto XL | 14 |
| Carafe | 18 |
Espresso:
Espresso is a highly concentrated serving of small volume shot used in making various flavored drinks.
You can have a Ristretto by drinking the espresso shot as it is. Adding some hot water can turn it into a special Americano.
Swipe the water with steamed milk and have your Macchiato drink there. Increasing the amount of steamed milk can pave your way to tasty Cappuccinos.
And if you want to take further steps, you can add more milk foam into the macchiato and modernize it into a Latte. A Mocha will make it more memorable for you by adding some chocolate to the latte.
Double Espresso:
You can get it from its name, doubling the amount of espresso shot. So, if you think a single espresso shot does not meet your needs, you can have a double espresso.
Gran Lungo:
This Espresso shot volume has already indicated to you about its potential brewing in giant Nespresso cup sizes as it contains a 5oz volume that is double the amount of water in an espresso shot and thus will have more quantity and taste.
Also, you might have some idea that adding more water reduces the intensity of caffeine, but if that's what you're looking for, Gran Lungo is the one.
Coffee:
You can have a full coffee mug with volumized foam without adding excess milk. Espresso coffee pods are available in a mix of flavor and unflavor capsules. So you have a choice to select from the branded ones.
Alto XL:
If you are looking for a much bigger coffee mug, then Alto XL is the best as it is 14oz bigger than a typical coffee pod.
Carafe:
This giant volume 18oz pod caters for a potential group audience. So it's best to serve at a meeting or an event. You must have a Vertuo, Next Model while preparing for an upcoming group meeting at your home. You should opt for this machine.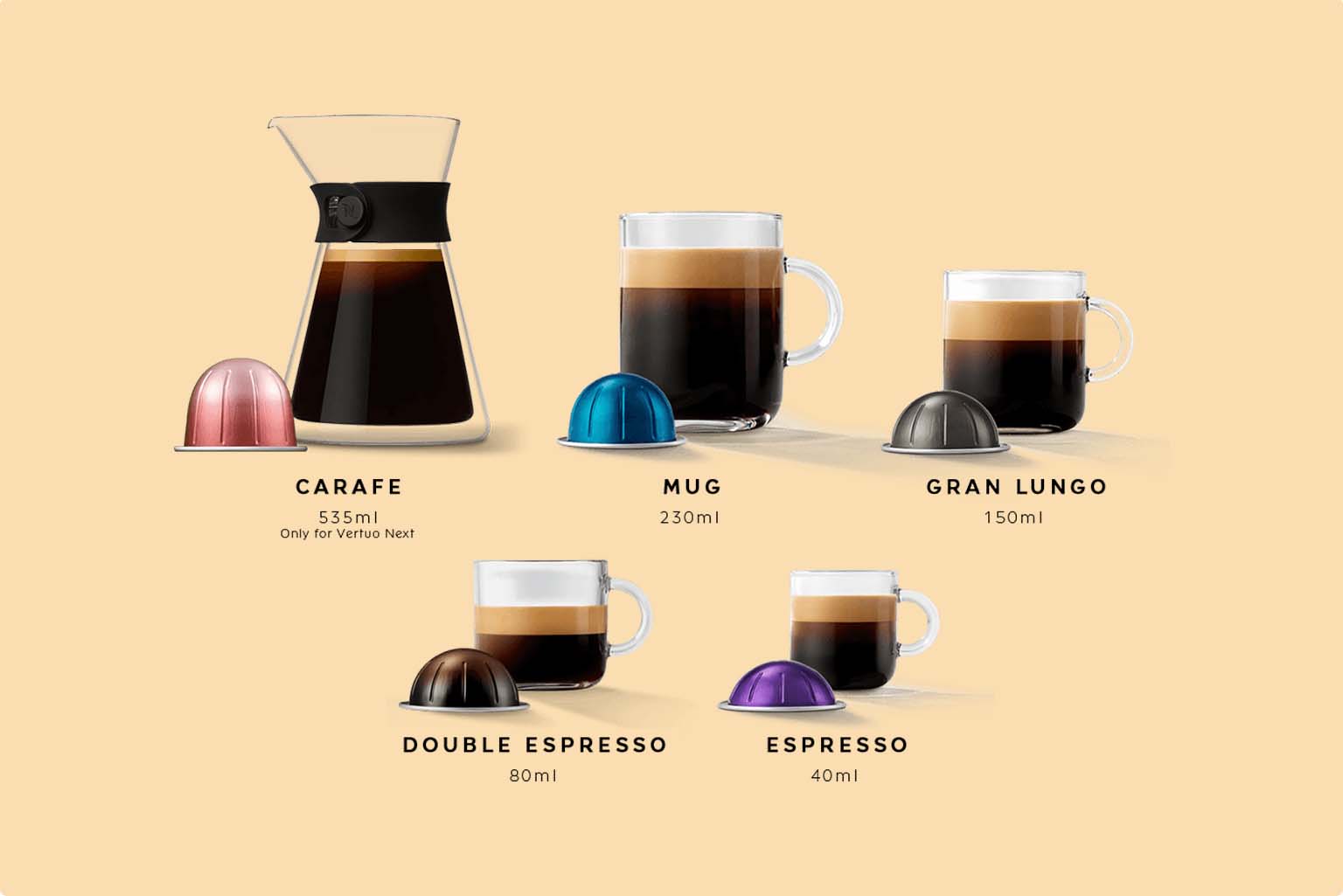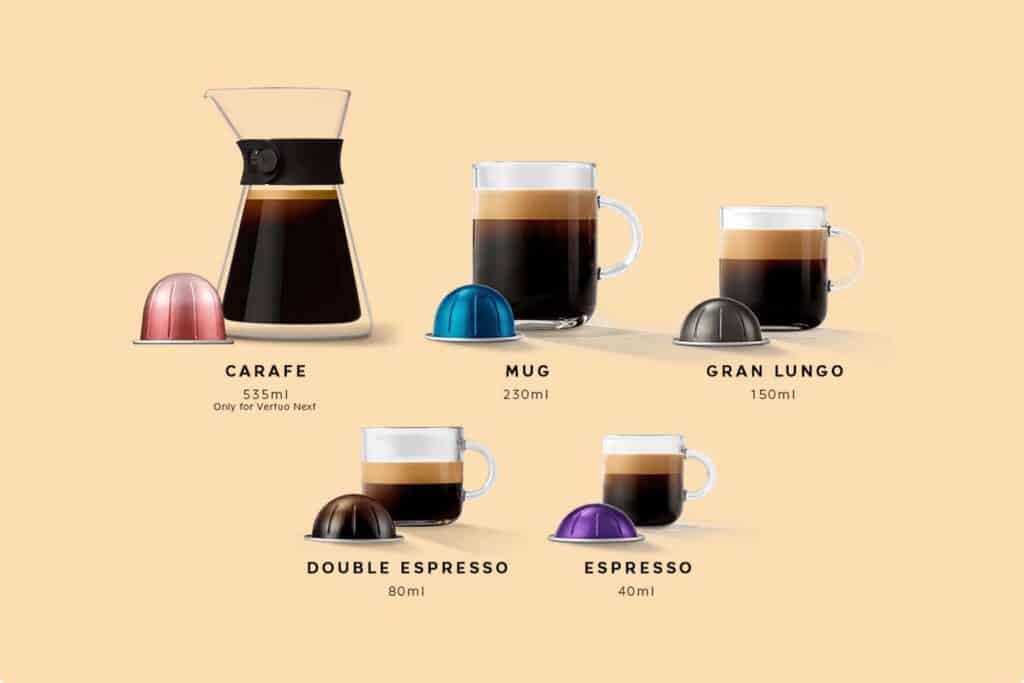 Nespresso Original line Pod & Cup sizes:
| | |
| --- | --- |
| Original Pods | Brew Size (oz) |
| Espresso | 1.35 |
| Lungo | 3.7 |
| Ristretto | 0.85 |
Espresso:
You can play with espresso coffee capsules by trying it with different recipes as that of a Virtuo pod because of its same brewing size, i.e. 1.35 oz. But if you mind the milk foam layer on your Espresso, the original espresso is suitable for you.
Lungo:
Searching for a smaller lungo, the Nespresso cup size is the right one as it offers 3.7 oz of an espresso shot brewed with water and less caffeine, making it less bitter and lighter to have in the morning.
Ristretto:
Ristretto is a concentrated 0.85 oz espresso shot and can be made in original machines, including Lattissima Pro, Creatista Plus or Creatista Pro. If you are a fan of flat white like me, you'll go for double ristretto shots and yes!
Can a Nespresso Machine be Calibrated?
Appreciate the Nespresso coffee makers who created this freedom feature of adjusting the cup sizes. It will automatically read the customization made and set the amount of water for brewing each pod.
Don't worry about different models because the basics of calibrating Nespresso machine cup sizes are the same.
The basic Nespresso pixie contains espresso and lungo cup sizes. With new models, the number of cup sizes increases for making a bigger and frother coffee.
How to Calibrate Nespresso Machine Pixie!
To be honest, calibrating your Nespresso Pixie is very simple to perform. First, you have to follow the process of inserting the capsule and don't worry. I am going to remind you of it for you!
Switch on the machine and fill the water container.
Wait for the light to stop flashing, indicating that the water is hot and ready.
Insert the capsule in its place, and here comes the action: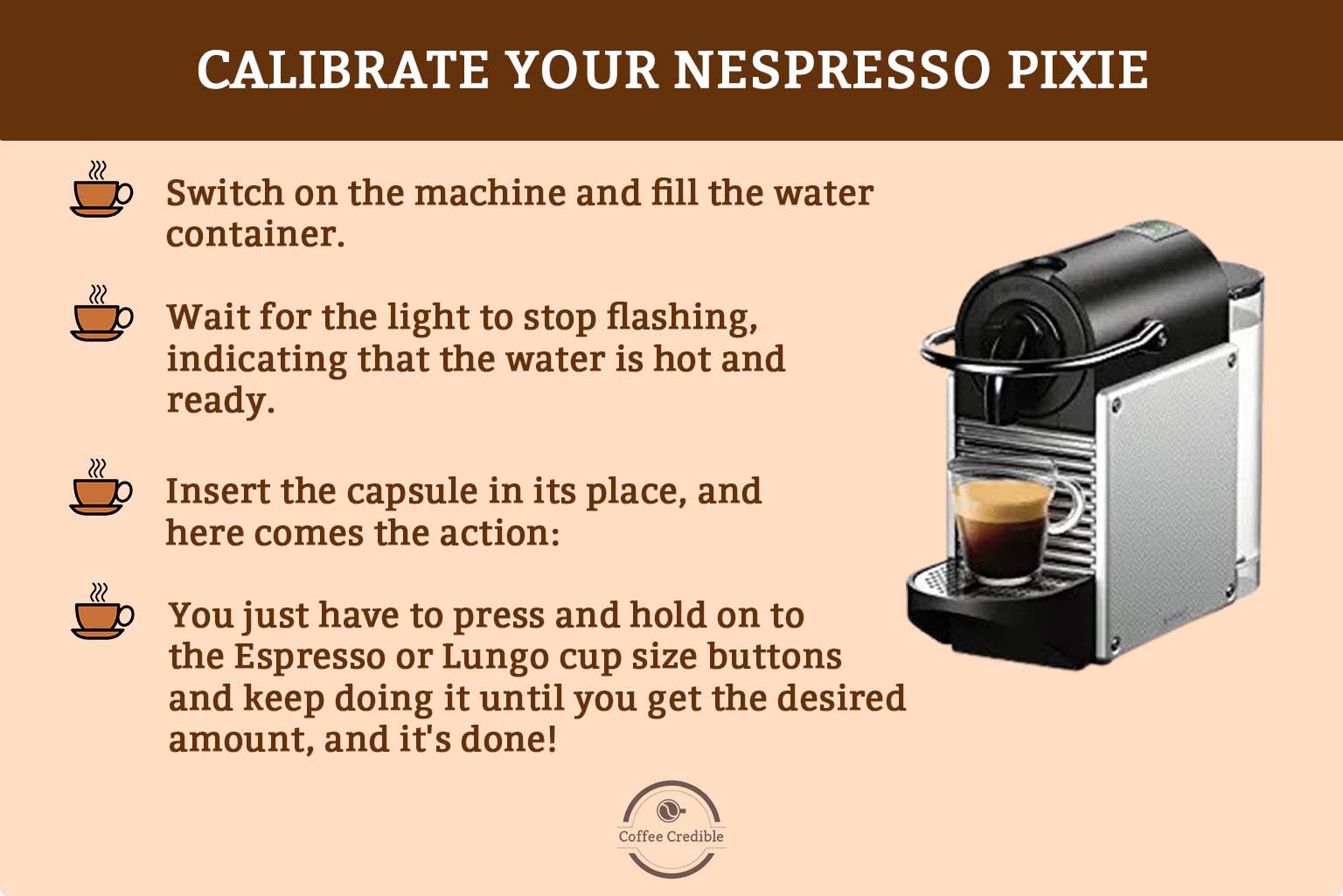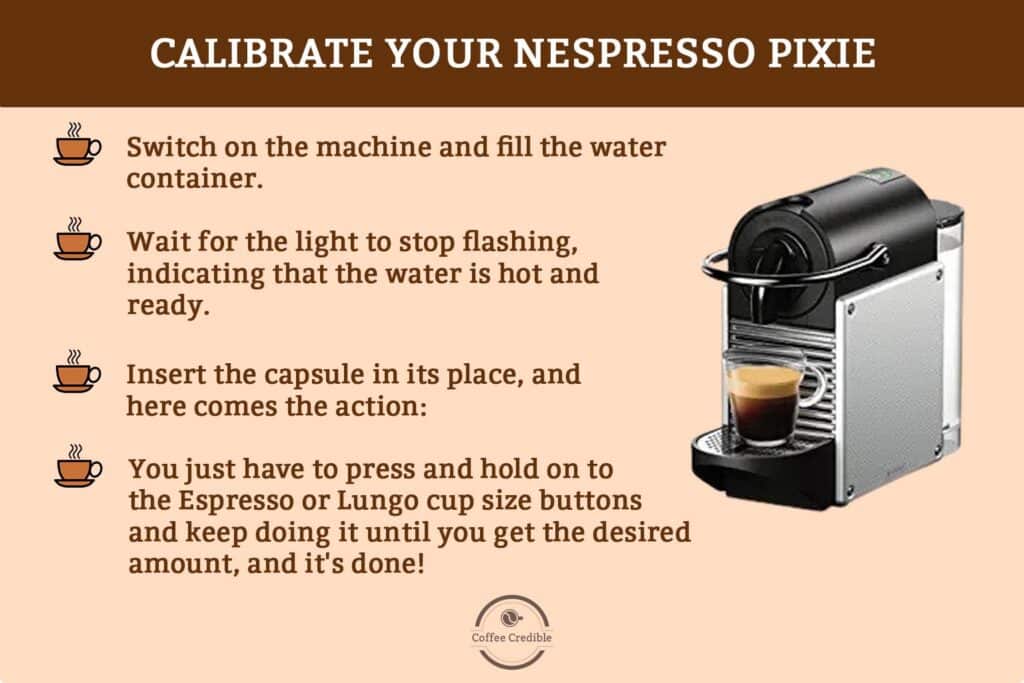 You just have to press and hold on to the Espresso or Lungo cup size buttons and keep doing it until you get the desired amount, and it's done!
Now it will memorize your preference and keep providing the same cup size until you calibrate its settings.
How to program your Nespresso Inissia?
To calibrate your Nespresso Inissia, follow these steps religiously:
Turn it on and fill the water tank.
After heating up, allow the machine to warm up and insert the espresso pod.
Now press the desired lungo or espresso button and keep it on hold until you reach the desired amount.
Here you go. Your Inissia cup size is programmed as per your preference.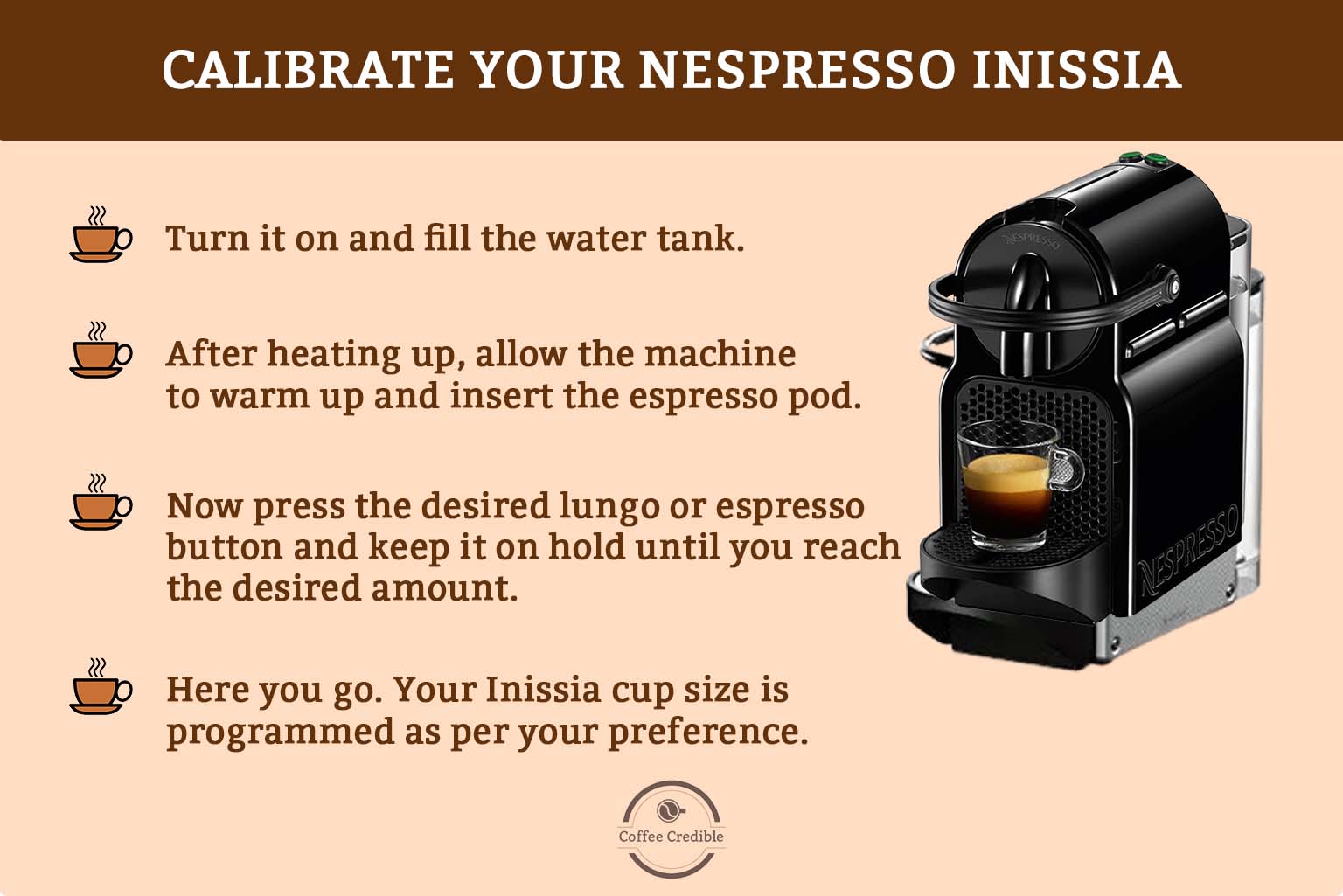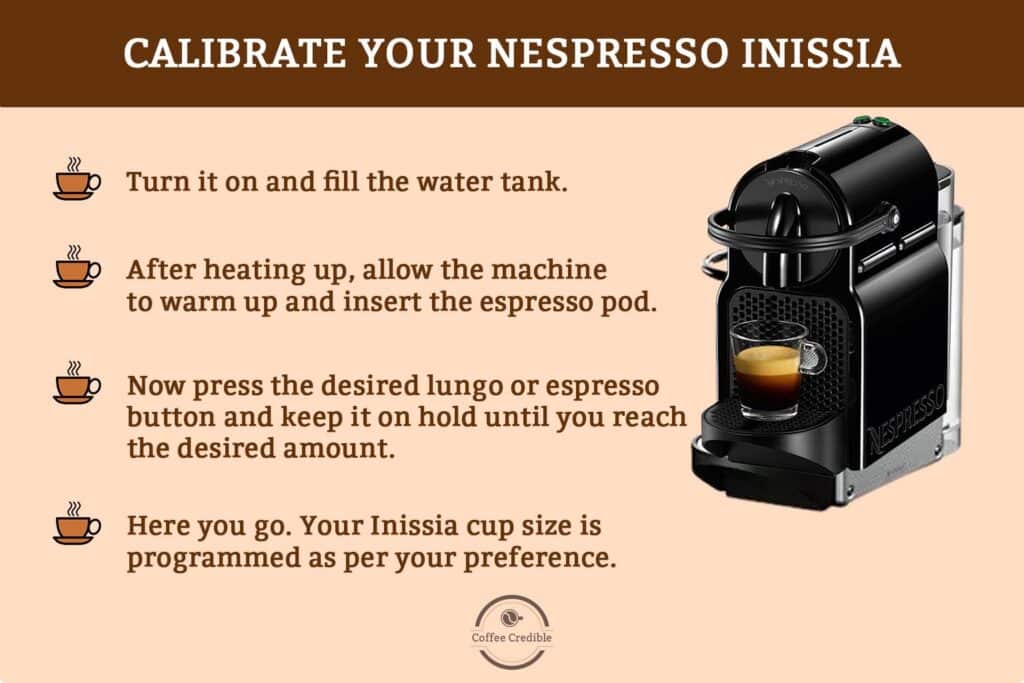 How to calibrate your Nespresso Citiz?
The Nespresso Citiz follows the same steps as Nespresso Inissia, but don't worry. I can repeat that for you.
Turn it on and fill the water tank.
Wait for it to warm up a bit, and then insert the espresso pod in its place.
Now press the desired lungo or espresso button and keep it on hold until you reach the desired amount.
And your Nespresso Citiz cup size is programed as per your preference.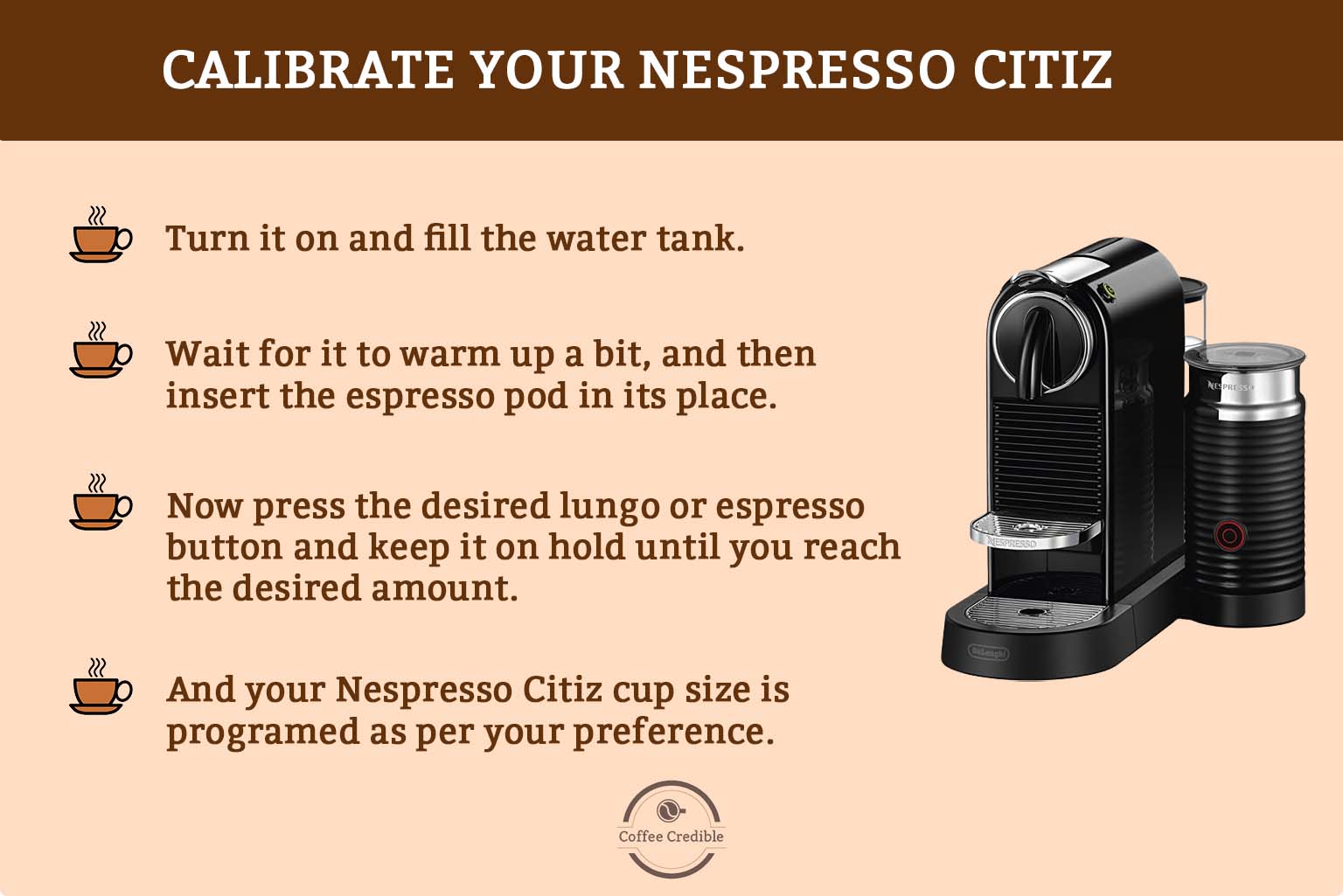 How to Calibrate Nespresso Essenza?
Although Nespresso Essenza has four Cup sizes, it follows the same programming method as any other Nespresso. Following these steps, you need to consider:
The machine is on, and the water container is full.
When the light stops blinking, it is ready.
Insert your coffee pod and hold the function/button until you reach your desired brewed coffee.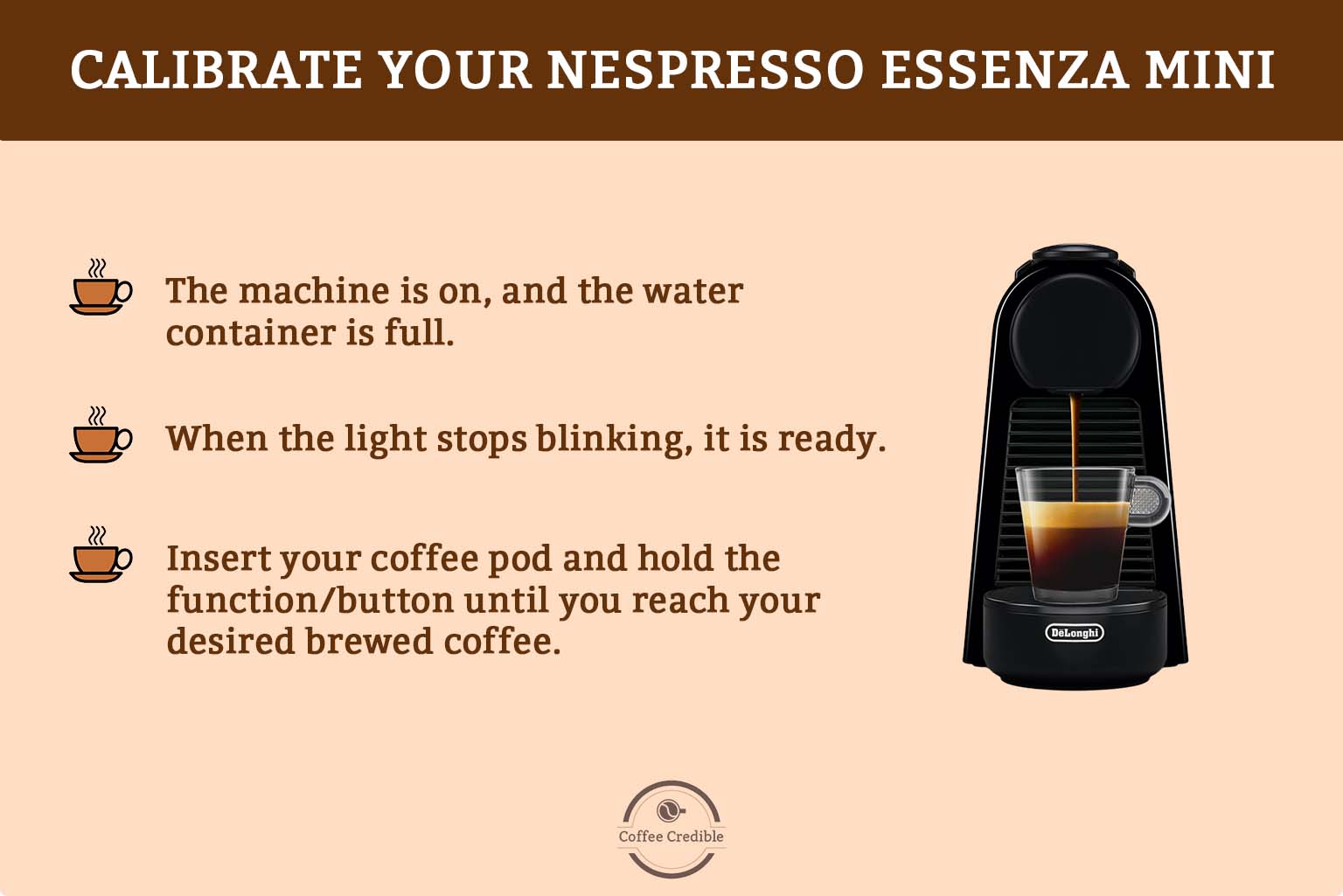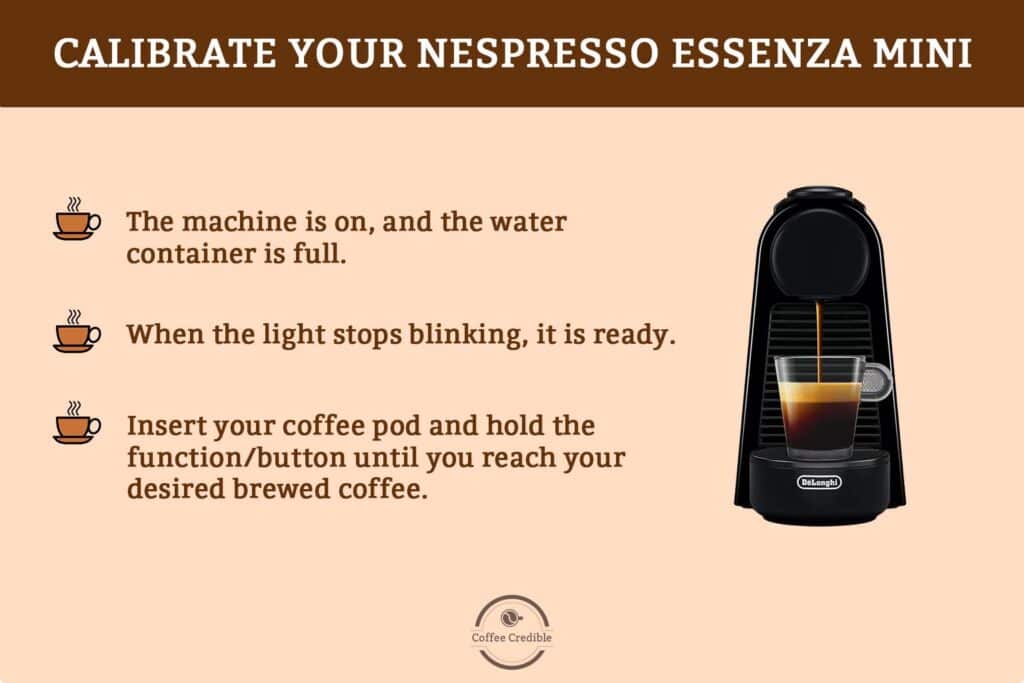 How to program Nespresso U?
Nespresso U offers the three cup sizes, i.e., lungo, espresso and ristretto, yet follows the same process of calibrating Nespresso.
Keep the machine on and make sure to fill the water tank.
Insert the pod when it is warm enough.
Keep holding the button/function of your favorite cup size until you think this is the amount you want.
Enjoy the coffee as your Nespresso is here to deal with your preferences.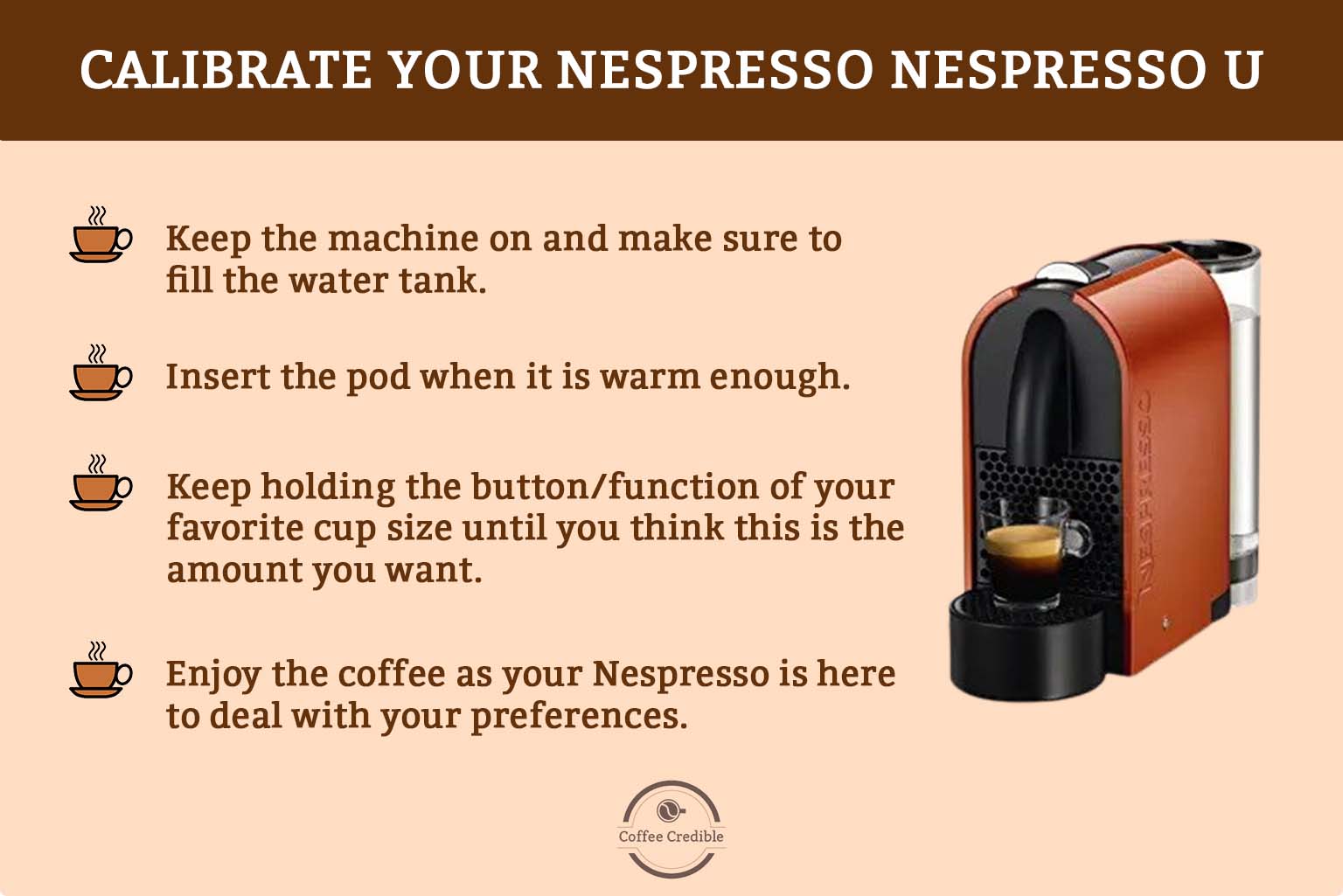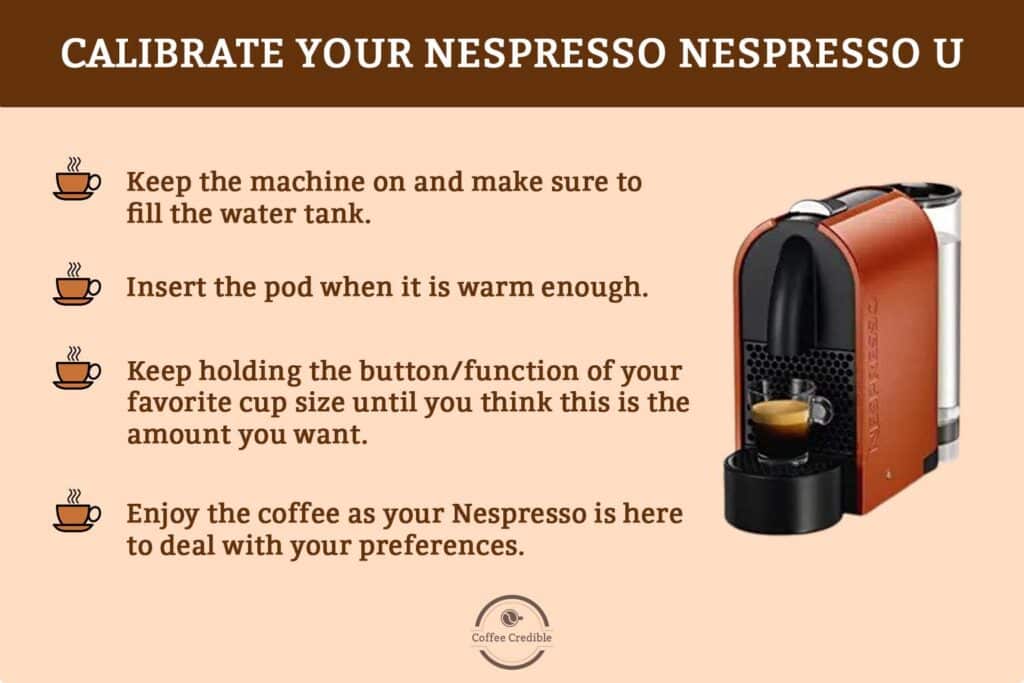 How to program Lattissima Touch?
Do you have your Lattissima Touch Nespresso offering 6 cup sizes/buttons but don't know how to calibrate it?
Here's what you need to follow while making Lungo, Espresso or Ristretto,
Turn it on and fill the water tank.
Wait for it to warm up and place the pod into its placement.
Hold the button until you get a suitable amount of water.
The button will blink three times to indicate that it has read your instructions.
Some additional steps for making latte, macchiato or cappuccino, calibrate the machine by
Press the button until you reach the desired amount of coffee.
Release the button, turn it off and enjoy your coffee.
Resetting Nespresso Machines:
Are you confused that you can't alternate the settings you previously preferred? Yes, you can always do that by resetting your Nespresso. This will make the machine function back on its default settings. Remember, you can calibrate it to your settings, whichever suits the best for you!
The Bottom Line
So, by the end of this, you have gotten the idea that Nespresso capsules have made a coffee lover's life easier, even though they seem intimidating at first glance.
We can conclude from the fact that if you deserve to have a large coffee cup with cream taste buds and you can keep up with expensive Nespresso capsules, don't waste your time thinking more and make the Vertuo line at home.
Finally, the espresso shot coffee lovers who can't stick to buying expensive Vertuo pods and think solely spending money once than the original is the favorable option you can avail yourself of.