For Regular coffee hustlers looking for a full coffee mug rather than a shot, Nespresso Vertuoline is here to give you that cup of coffee.
Nespresso Vertuoline features its centrifugation technology to extract any type of coffee, whereas Nespresso Original has a high-pressure functionality to make espressos only.
What's a regular coffee? A regular drip coffee brewed with hot water and milk with ground coffee beans, including Arabica beans. Arabica is mostly used in making regular coffees as it has a light or medium roast with a sweet flavor and less caffeine.
Key Takeaways
Because of its Centrifugation brewing system, you can make a regular drip-over coffee using Nespresso Vertuoline.
While using your coffee in reusable pods, remember that the taste can be affected.
VertuoPlus, Deluxe, and VertuoNext are used to make regular coffee.
You need to know how to make a regular coffee in Nespresso Vertuo.
Using some of the best OriginalLine machines, you can make delicious espressos.
Difference Between Nespresso OriginalLine & VertuoLine:
The original line consists of cup-shaped Nespresso capsules brewed with high pressure to extract the espresso flavor and taste. You can buy Original pods through Nespresso or any third-party brands.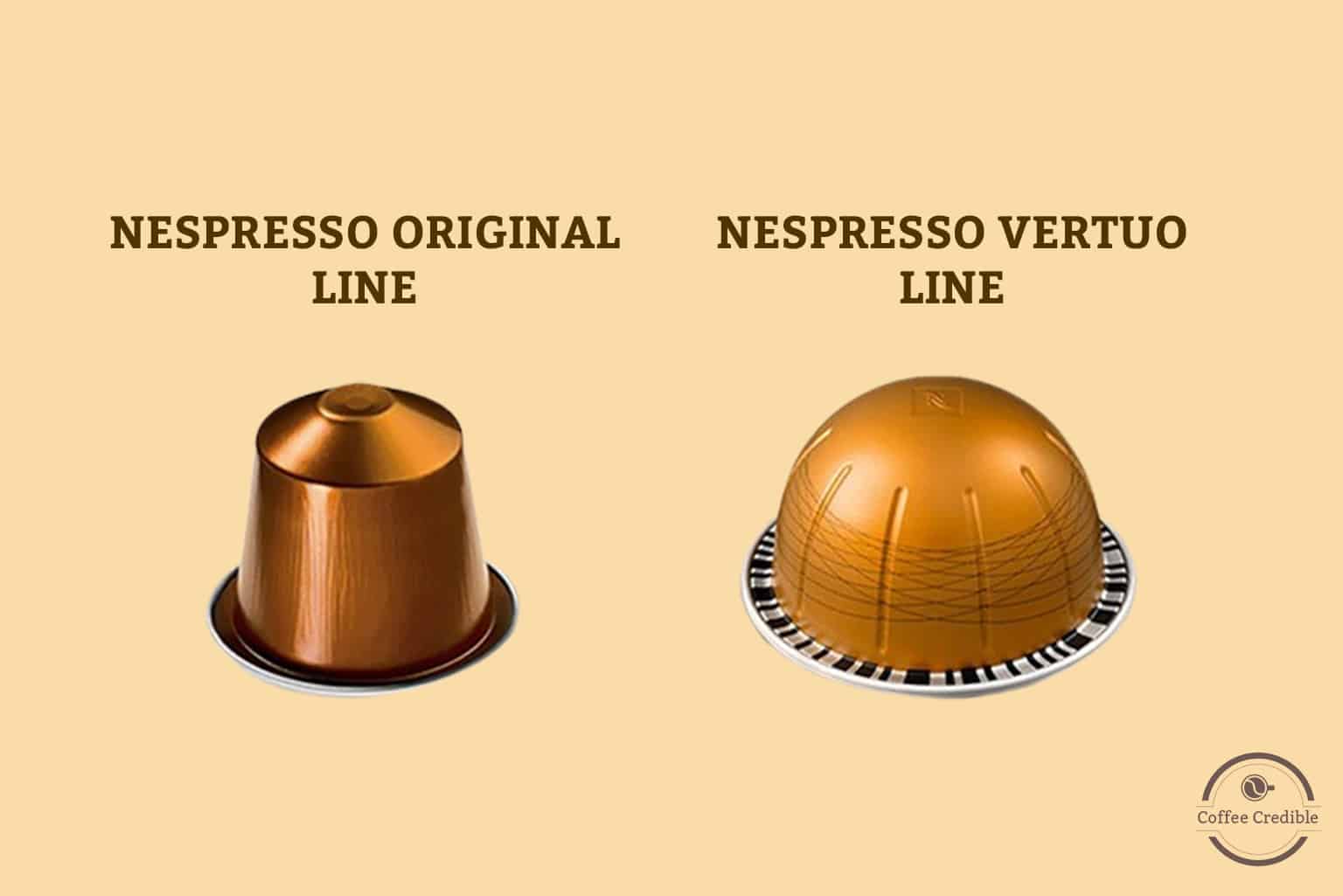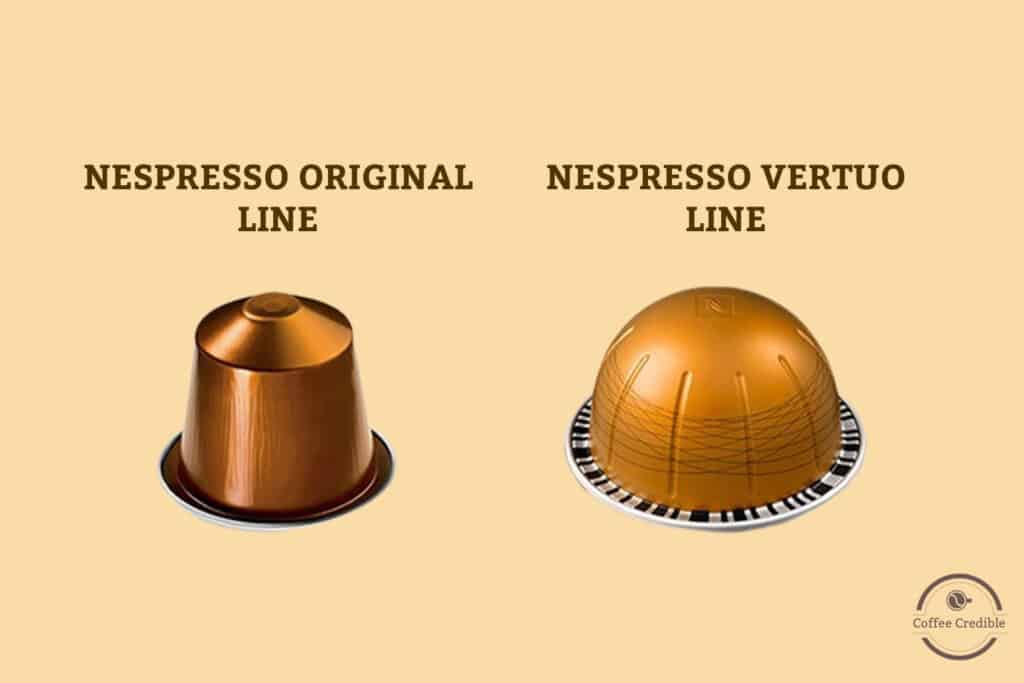 Vertuo line offers dome-shaped Nespresso capsules brewing with a Centrifugation technique to give a rich layer of crema. Its unique feature includes a barcode automatically setting the coffee with the required coffee intensity, water or milk added, and temperature.
Use Your Own Coffee with Nespresso Machine VertuoLine:
You can use your coffee in the Nespresso Vertuoline. However, Nespresso recommends using their Vertuoline capsules for the best results.
There lies a plus point: you are saving money rather than buying expensive pods and customizing your eco-friendly reusable capsules filled with your favorite coffee roasters, but keep in mind the quality is in your hand.
There are some things to consider while brewing your coffee in Vertuoline reusable pods:
The process is time-consuming as you are going for a harder option than using Vertuo capsules that take less than 60 seconds to prepare your espresso.
Nespresso doesn't offer reusable capsules, so buying them from a third party might compromise the coffee quality or may not be able to fit in because Vertuoline has its customized pods.
The taste can worsen or dilute due to weakly extracted coffee beans.
Which Machines Make Regular coffee?
You can brew your drip-over or pour-over Nespresso coffee in Vertuo machines. Here are some of the best pods you can use for a regular light-roasted Arabica coffee.
Bianco Doppio is a light roast milky coffee that originated from the Arabica blend to give a creamy profile with biscuity, caramel, and fruity notes. Using this pod, you can make a long milky coffee of 80ml as a double espresso. If that's what your taste sounds like, buy it from Nespresso.
Vanilla Custard Pie offers a medium-intense mug of 7.077 oz, originating from Brazilian Arabicas, to give a velvet coffee with almond and biscuit notes. If that's your flavor, you can buy it from Nespresso or Amazon.
To make a regular coffee, you can use the following models.
VertuoPlus Design And Functionality:
It offers a slim body and a convenient coffee experience with a wide range of espressos or double espresso and premium coffee sizes 5oz to 8oz. It doesn't take up much of your kitchen space as you can adjust its water tank position too.
The machine automatically opens for insertion and ejection of pods, making it easy and less time-consuming. You just need to insert the capsule, automatically setting the coffee's required brewing system.
If you are making up your mind, check out the VertuoPlus available on Nespresso and Amazon.
VertuoPlus Deluxe Design And Functionality:
It offers a stylish body with a wide range of espresso and double espresso sizes, 5oz to 14oz. Plus, It features an automatic system with easy insertion and ejection of capsules with a precise brewing system, set in the machine to produce coffee with the required extraction of the coffee pod.
The machine is quite adjustable as you can remove the water tank to make more space on your table and place it back while making coffee. It's available in various colors on Amazon and Nespresso, so you are the one you find more aesthetic.
VertuoNext Design And Functionality:
It offers espresso, double espresso, and a carafe that ranges from 5oz to 18oz.
It comes in slim size body, and there is no adjustability option. Also, there is no such need, as it can easily be placed on your counter space. The machine has its automatic brewing system as it can follow the requirements for the pod inserted.
It stands distinctive from other machines by being the first one to be made from 40% recycled plastic. So, if you are an environmental freak, you can get this in various colors and as a set with Aeroccino milk frother on Nespresso and Amazon.
Making Regular Cup Of Coffee With Nespresso (Step by Step):
Before making the coffee, you must have a Vertuoline machine and your favorite pod.
Plug the machine.
Insert the capsule.
Place a standard cup under its brew head.
Select the button from coffee flavors and press it once with which you want to go.
Wait 30 seconds for the coffee to brew and be poured into your cup.
Enjoy your perfect cup.
What kind of coffee can I make using Nespresso's originalLine?
Using Nespresso Original Line, you can make an espresso or a lungo in various third-party flavors. Here are some of the Nespresso Original models that can give you with best espresso and latte.
Nespresso CitiZ is a sleeky body, a user-friendly high-pressure espresso machine that provides two programmable buttons for an Espresso or Lungo with automatic flow-stop buttons. Its removable drip tray makes it flexible to use mug cups for pouring dense crema latte. You can get it from Nespresso or Amazon.
Essenza Mini is one of the compact Nespresso weighing 5 pounds without compromising on taste. It has a user-friendly interface, including a removable water tank, and programmable and automatic energy-saving features. Check it out from Nespresso or Amazon.
Creatista Plus helps you create the top lattes at home due to its advanced milk texturing technology, which helps users easily select from its high-resolution touch display, customize the milk amount and temperature, and perform cleaning. It also comes with a stainless barista jug to successfully get the creamy foam you want in your delicious cappuccino. Buy it from Nespresso or Amazon.
Pixie is an Original with the fastest heating process in 25 seconds. It offers advanced features, including one touch with 2 programmable espresso and a lungo button, automatic turn-off of inactivity, and a removable water tank with 11 capsule capacity in this compact machine. It is available on Nespresso and Amazon.
Bottom Line:
Vertuo line is the best option for making regular coffees because it is more affordable than buying a separate drip coffee maker with a coffee machine. Plus, in the long run, if you might get tired of regular coffees, you can switch to other coffee options using the Vertuo.
Also, the rich crema coffee you get using Nespresso pods cannot be achieved while using Reusable pods, so keep that in mind while taking the risk!
FAQs:
How do Nespresso and Espresso Machines Differ?
Nespresso is owned by Nestle and provides us with two coffee models: Original Line and Vertuo, in which the original follows the high-pressure coffee system, whereas Vertuo follows a unique centrifugation brewing system. Nespresso uses its pods for both machines, especially Vertuoline.
Luigi Bezzera invented espresso machines that only use high bar pressure to brew intense espressos with various pods.
Can I use my own Coffee in Nespresso Machines?
You can use reusable coffee pods to fill your coffee and use it in Nespresso, but the flavor and taste of espresso will be at a timely risk.
You can buy CAPMESSO Espresso Refillable Capsules for OriginalLine and CAPMESSO Refillable Vertuo Capsules for Vertuoline.
Do VertuoLine offer Reusable Pods?
Yes, you can reuse Vertuoline pods twice. You just have to refill the pod with new coffee grounds, and it's ready to be inserted into your Nespresso.
Or else, you can buy CAPMESSO Refillable Vertuo Capsules from Amazon.
I already have Nespresso. Is there a need to buy a separate Regular Drip Coffee Maker?
There is no need to buy a separate drip coffee maker if you have Nespresso Vertuoline because it has its drip-over brewing functionality to make your regular coffee.
However, if you have the Original line, you need to buy a separate drip maker because it brews coffee with high-end pressure. With original Nespresso, you can buy this in-budget Capresso 5-Cup Mini Drip Coffee Maker from Amazon.
Is Ground Coffee available on Nespresso?
Yes, Nespresso sell finely ground coffee beans in the form of Nespresso Vertuoline and Original pods.
Keurig vs. Nespresso, which one is better?
Cost and flavor are the key distinctions between Keurig and Nespresso capsules. Although more expensive, Nespresso produces coffee or espresso with more flavor. Keurig pods have a lower price tag, less taste, and no espresso brew option.
Without inserting the pod, can I run Nespresso?
Yes, you can run Nespresso without inserting the pod. This function is mainly used while cleaning or descaling.