Coffee Quality

Design & Features

Brand Reputation

Warranty
The Bottom Line
VertuoPlus is one of Nespresso's 5 VertuoLine models, which brews 5 types of capsules for coffees ranging from 0.3-17 ounces, providing flexibility for brewing short espresso to a tall coffee. It is a Nespresso machine with various features built for the aim of providing cafe like coffee at the comfort of your home.
| | |
| --- | --- |
| | |
| | |
| | Nespresso Vertuo capsules |
| | |
| Discarded Capsule Capacity | |
| | |
| | The machine turns off after 9 minutes of non-use |
| | |
| | |
| | |
| | |
| | |
| | |
| Manufacturing Partners(US) | |
| Manufacturing Partners (UK) | |
This article reviews Nespresso Vertuo Plus, which makes an exquisite blend of coffee that is smooth and silky to the touch.
Being a coffee fanatic, I have always splurged on coffee from the local coffee shop for its quality and convenience. Choosing Nespresso Vertuo Plus for my kitchen was the best investment I made. My first experience with an at-home brewer yielded some of the smoothest coffee I've ever tasted, with a rich flavor and silky texture. With its specialty in brewing a wide range of coffees, it is my go-to espresso machine.
Anyone looking for a luxurious but still convenient pod-based coffee maker should try the Nespresso Vertuo Plus. If you are an espresso fan, there's good news for you. This smart coffee maker makes espresso and double espresso shots full of rich flavors and aroma. It uses centrifusion technology, makes coffee within a few minutes, and tastes scrumptious.
| | |
| --- | --- |
| | |
| Produces high-quality espresso and coffee. | Expensive than the original line of machines. |
| Offers large coffee cup sizes. | Vertuo Capsules are expensive. |
| Ease of use. | No third-party alternatives for pods. |
| Heats up fast. | |
| Recyclable coffee capsules. | |
| Huge capsule bin. | |
| Huge water capacity. | |
| Energy saving automatic shutoff. | |
What things to consider before buying a Nespresso Vertuo Plus?
Coffee Quality
The Nespresso VertuoPlus uses Centrifusion technology to make a brew. As no pump and pressure are used in the brewing process, the espresso does not taste quite how it is supposed to. If you prefer regular coffee, Nespresso VertuoPlus is a good choice, but if you can't compromise on the espresso quality, Nespresso Essenza Mini can do the job.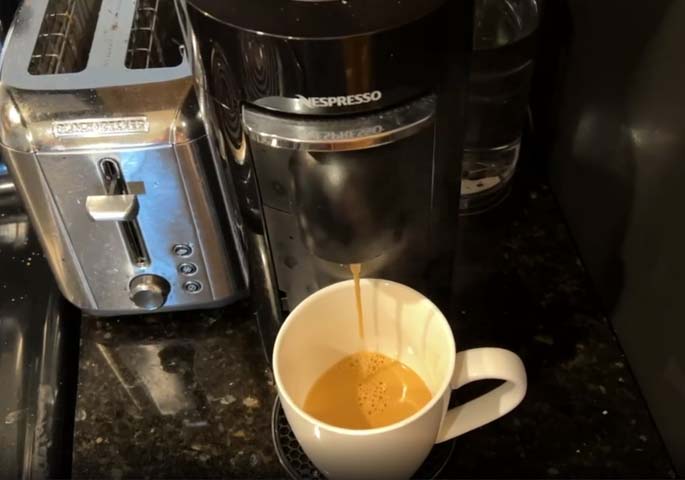 Cup Sizes
Having variety in the type of drinks your coffee maker can brew is an advantage to show off. As mentioned earlier, Nespresso Vertuo Plus offers five cup sizes for your preferred cup of coffee. All espresso cups will use a different pod to dispense the required volume. On the other hand, the OriginalLine machines have three cup sizes to offer: Ristretto (25 ml), Espresso (40 ml), and Lungo (110 ml). So, you can go for the VertuoPlus if you like more cup options for your brew.
Working
The vertuo plus machine uses the centrifusion method for brewing. A combination of pressure and water infusion pierces the capsule to extract coffee. It positions the pod for the water to pass through the center and produces the smoothest and great-tasting cup of coffee with a foamy crema.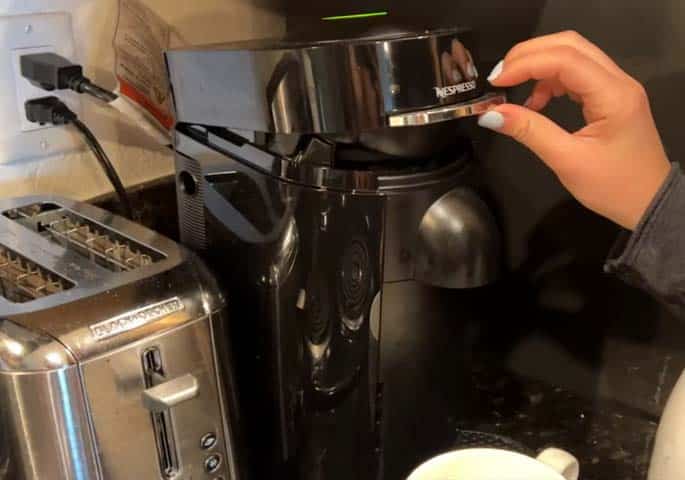 The machine uses aluminum sealed pods that keep the flavors intact and avoid any leakages. Insert a pod of your choice into the machine, press the button, and trust your Nespresso to make you the perfect cup of coffee. The volume of the drink depends on the pods you use. For instance, if you put out a gran lungo pod, you'll get a five-ounce drink.
Design
If you are looking for a coffee maker with exceptional functionality, covers less counter space, and is worth each penny, Nespresso Vertuo plus would be perfect. With a shiny body, it comes in different colors: gray, black, silver, and titanium. It is easy to move around due to its small size and the water reservoir that can maneuver comfortably. Another attractive part of this machine is its lid. It needs a push to open automatically to show you the capsule holder. Its minimalistic and sleek design is drool-worthy.
Another factor that makes it appealing is that your coffee is just one button away. Its convenience makes it even more special and convincing. It doesn't involve any technicalities in the brewing process. If you don't have a Nespresso vertuo plus, it is the most hassle-free coffee maker you're missing out on!
Capsules
VertuoPlus has an exceptional range of sizes. It makes espresso shots, double espresso, mug, gran lungo, and extra-large alto. Three different capsule sizes dispense the following volumes of a cup:
Espresso shot (40 ml)
Double Espresso (80 ml)
Gran Lungo (1500 ml)
Mug (230 ml)
Alto (414 ml)
The only capsules compatible with this machine are the Vertuo capsules. If you put a third-party pod in the machine, it detects and rejects it. The range of pods and the flavors they offer are quite a lot. There are 29 aromas, with espresso shot having four different flavors, double espresso in two flavors, and mug having a range of 11 flavors. Depending on what you would like to have, there is a long list of choices to enjoy.
Cost
Given all the features, Nespresso vertuo plus has a reasonable price tag. It might be more expensive than the traditional coffee makers in the market, but one of the most affordable machines is the Vertuoline. If we compare its functionality to the cheaper options, the price of this machine is worth the money.
Nespresso VertuoPlus by DeLonghi retails for $159
Nespresso VertuoPlus by Breville retails for $189
Warranty
Nespresso vertuo plus has a two year warranty if you provide proof of purchase to the company. The warranty covers all necessary repairs or replacements required by the machine. The Nespresso customer service is excellent. They repair it within the deadline and help you with all the queries.
Water Tank
It comes with a large water tank with a capacity of 40 ounces. The tank is adjustable and can be moved around easily. Due to its large water capacity, the machine can brew up to 14 ounces.
The Aeroccino Milk Frother
You can enjoy a cup of cappuccino or latte with your VertuoPlus, but it does not come with a milk frother. You can buy a frother separately, and Nespresso Aeroccino 3 can be its perfect partner.
Bluetooth compatible
The VertuoPlus does not have the bluetooth facility.
Final Verdict
Nespresso vertuo plus is known as the brand's best product to date. It has a hefty price tag but wouldn't all luxuries it brings be worth every penny? I think yes. Paying for the quality of the brew, the convenience, and the variety of flavors makes it worth the experience. If you can't compromise the quality of your espresso, the ease of making it without a fuss, and customizing the size according to your mood, this model is the perfect fit.
The only drawback that may make you double-minded about the purchase is the expense of pods. The machine comes with a starter pack for you to enjoy it. Once you run out of them, you will have to buy new pods. Because Vertuo machines do not accept any alternative pods, it can be frustrating. So, if you think you can't bear the expense of coffee pods, this machine is not the perfect choice. You can go for an OriginalLine Machine , it is cheaper and can process third-party capsules.
The people who survive on their daily coffee run to the nearest coffee shop can save their time and energy. Why go through so much struggle when you can make the best brew at home? Bringing Nespresso Vertuoplus home will provide you with numerous choices for coffee, and you will not regret buying it. When there is a list of flavors, great-tasting coffee, and a fuss-free machine at home, it will be worth each penny. Nespresso VertuoPlus is surprisingly affordable for the high-end feel and range of features that it offers.
Nespresso Vertuo Plus comparison with other Vertuo Line Models
| | | | | | |
| --- | --- | --- | --- | --- | --- |
| Feature | VertuoPlus | VertuoPlus Deluxe | Vertuo Next | Vertuo | Evoluo |
| Serving Sizes | 0.30-17 oz | 0.30-17 oz | 0.30-17 oz | 0.30-17 oz | 0.30-17 oz |
| Capsule Bin | 10 capsules | 10 capsules | 10 capsules | 12 capsules | 15 capsules |
| Water capacity | 40 oz | 60 oz | 37 oz | 40 oz | 60 oz |
| Heat Up Time | 20 seconds | 15 seconds | 25 seconds | 15 seconds | 15 seconds |
| Dimensions(WxDx H) | 8.7 x 12.8 x 12.8 | 8.7 x 12.8 x 12.3 | 5.5 x 16.8 x 12.4 | 8.3 x 11.9 x 11 | 9.0 x 12.2 x 12.3 |
| Weight | 10.1 lbs | 10.1 lbs | 8.8 lbs | 10.9 lbs | 11 lbs |
| Power | 1300 W | 1300 W | 1350 W | 1350 W | 1350 W |
Nespresso VertuoPlus Alternatives
If Nespresso VertuoPlus doesn't meet your requirements and expectations, some alternatives can help you figure out what Nespresso machine would work the best for you.
If you like coffee with milk, you can go for Nespresso CitiZ from the OriginalLine. It comes with an Aeroccino Milk Frother. It makes great-tasting espresso and also has 28 capsules for you to choose from. The Original capsules are cheaper than the Vertuo pods and have third-party alternatives. The machine costs half the price of Nespresso vertuo plus.
For a coffee maker with lesser heating time, a larger capsule bin, and a longer cord, you can get Vertuo Next instead of VertuoPlus. The VertuoPlus has the capacity of 10 capsules in its capsule bin, whereas the vertuo next can store up to 13 used capsules. The VertuoPlus takes 20 seconds, while the Vertuo next takes 15 seconds to heat up.
Keurig K-cafe can brew up to 60 ounces of drink. It has a fixed milk frother and can brew freshly ground beans. On the other hand, VertuoPlus can make up to 40 ounces of coffee, does not have a frother, and is not compatible with fresh grounds. These three factors are what differentiates it from VertuoPlus. So, if you think the points mentioned affect you, you must go for Keurig K-cafe instead of Nespresso VertuoPlus.
FAQs
What's the difference between Nespresso VertuoPlus and Vertuo Next?
Some of the differences between VertuPlus and Vertuo Next are that Vertuo Next takes less time to heat up, It has a larger capsule bin, and it is heavier than the VertuoPlus. VertuoPlus is lighter and also has a removable water tank, so it is easy to move around and takes less counter space.
Does Nespresso VertuoPlus brew Espresso?
Yes! It offers a wide range of drinks, from espresso to coffee. Not only does it brew espresso, but it also gives 30 blends to experience. From light espresso shots to intense ones, it makes the best brew.
What to do if Nespresso VertuoPlus overflows?
If your Nespresso VertuoPlus overflows, it is possibly due to the coffee residue dried up in the machine. It is an indication that your coffee maker needs cleaning. Your coffee maker should be descaled, and if it doesn't fix the issue, contact Nespresso customer service.
Does Nespresso VertuoPlus come with any accessories?
Nespresso VertuoPlus doesn't come with any accessories. However, you can buy an Aeroccino milk frother separately for your milk coffees. They both work perfectly together.
How to turn off my Nespresso VertuoPlus?
Open the head of the machines and remove the used pod. Push the lever down for three seconds, it will turn off the machine.
Why is my VertuoPlus not making a full cup?
It is possibly due to the error in the programming of the machine. If you push ON the button during the brewing process, it may change the pour settings. For adjusting the volume according to your preference, you can factory reset your machine.