Coffee Quality

Design & Features

Durability

Ease of Use

Brand Reputation
The Bottom Line
The first ever Bluetooth enabled model by Nespresso with innovative features to offer. By offering great functionality and three brew sizes to choose from, the Nespresso Prodigio will bring nothing but convenience to your lives!
This is a review of an innovative coffee machine by Nespresso – the Nespresso Prodigio!
The Prodigio became quite the talk of the town with its tech-savvy features and innovative technology. So, I couldn't resist getting my hands on the machine to experiment and review it for you all! I spent many days with this espresso maker and tested every aspect possible.
So, is this machine worth your money? Keep Reading to find out!
Features of Nespresso Prodigio
Product Line: Original Line
Weight: 7.0 Pounds
Watts: 1160 W
Water Tank Capacity: 27 oz
Brewing Mechanism: 19-Bar Pressure
Cup Sizes: Ristretto (0.85 oz), Espresso (1.35 oz), and Lungo (3.70 oz)
Heat-up Time: 25 Seconds
Auto Shut-off: 9 Minutes
Spent Capsules: 18
Third-Party Capsules Compatibility: Yes
Milk Frother Included: No
Nespresso Prodigio Overview
Do you desire to make your perfect cup of coffee with your phone? If yes, then the Nespresso Prodigio coffee maker can fulfill that desire!
Prodigio is a Nespresso OriginalLine machine that uses the 19-Bar Pump and Pressure brewing mechanism to extract coffee from the capsules. It has a sleek and compact design with all the basic features and functionality a good espresso maker should have.
However, let's get to the main catch: Prodigio is Nespresso's first ever model that offers smartphone connectivity through Bluetooth and the Nespresso app. This means you can start brewing your coffee even when you are lying down on your bed. The Nespresso application also offers other features like indicators, conveniently ordering the Nespresso capsules, and much more!
Prodigio can brew three cup sizes; Ristretto, Espresso, and Lungo. There is a rotating water tank with a capacity of 27 oz, which is undoubtedly smaller than other models. Moreover, there is no accessory for frothed milk. However, you can always purchase a separate aeroccino to enjoy milky beverages like cappuccinos and lattes.
| | |
| --- | --- |
| | |
| The machine can be controlled through smartphones. | No milk accessory included |
| Features a rotating water reservoir | Small water tank |
| Compact and sleek design | The app only works when you are close to the machine |
| The machine maintenance is effortless | |
| Equipped with many notifications and indications | |
Things to Consider Before Buying the Prodigio Nespresso
Just like other espresso makers, the Nespresso Prodigio is also equipped with specific specs, features, and settings. Depending on individual needs and requirements, these features might work great for some people but may not be suitable for others.
Therefore, it is essential to consider all the aspects of the Prodigio before finally making the purchase. To give you a helping hand, I am jotting down every teeny tiny detail about Prodigio to see if it is the right pick for you or not!
Design
The Nespresso Prodigio has a very minimalistic yet eye-catching design. There is a capsule container at the top and a rotating water reservoir at the back. The 27 oz rotating water reservoir helps you to place and adjust the machine in any corner you want! Yes, the tank can move to the back and to the sides as well – whatever you want!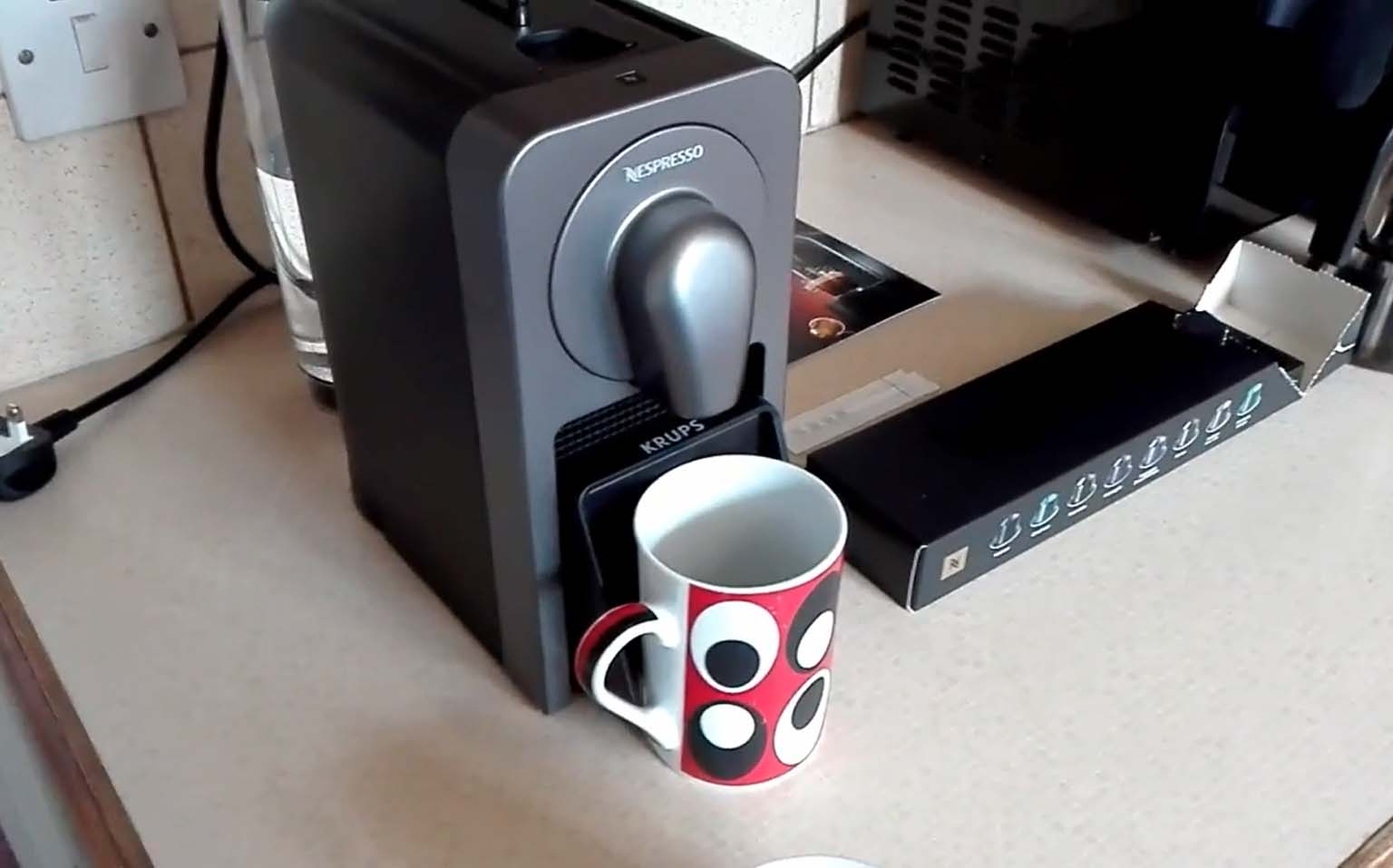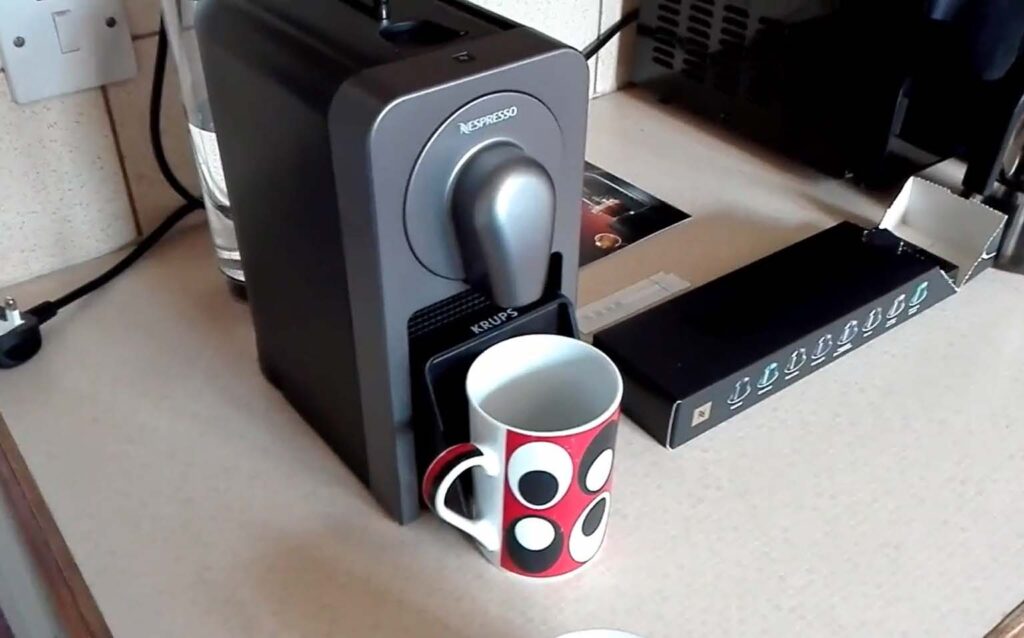 There are 3 buttons at the top, one for each cup size. Plus, there is a used capsule container as well with a capacity of 18 OriginalLine capsules. Also, the sleek-looking drip tray is at the front to provide cup support. The exterior of Prodigio is made of plastic, which was not looking high-end, in my opinion. However, the construction and quality of the machine were still very durable.
All in all, I found the design of Nespresso Prodigio very accessible, sleek, and, most importantly, space-saving!
Price
Prodigio is a mid-range model by Nespresso, which means the price is not too high but not too low either. Well, this slight hike in price is due to the advanced features and Bluetooth connection. So, I think the price of Prodigio is totally justifiable!
Bluetooth & Nespresso App Connectivity
As mentioned above, the Nespresso Prodigio coffee maker allows you to connect the machine with the Nespresso app on your mobile device with Bluetooth. This is an innovative feature that you will rarely find in other single-serve coffee machines.
After connecting the machine with the app, you will be able to enjoy tons of cool features like getting a descaling alert on your phone, refilling the water reservoir alert, and start brewing your espresso by making a few clicks on your phone. Yes, you can conveniently choose your brew size (espresso, ristretto, or lungo), click the start button, and your coffee will be ready in 30 seconds. Also, you can order Nespresso pods through the app. Moreover, you can also monitor machine status. You can see the user manual for more detailed information on accessing the app.
However, I found this Bluetooth feature not very convenient. The app and the Bluetooth only work when you are very close to the machine. For example, it worked when I was in the room next to the kitchen. But the Bluetooth disconnected if I went a little farther from the kitchen.
So, keep this point in mind before purchasing the machine.
Programmability
Apart from the application, you can program your brewing sessions using the three programmable buttons on the machine; one button for each brew size. Honestly, the whole interface was very easy. All I had to do was insert a coffee pod, select my brew size, and my espresso was ready in a half minute.
Moreover, you can also stop the coffee flow in between the brewing session and program a different water volume too. After the brewing session ends, Prodigio automatically ejects the coffee capsules and disposes of them in the used capsule compartment.
Moreover, the machine is also equipped with an energy-saving feature – it shuts off automatically after 9 minutes of no use. What, you don't find the time long enough? No worries. You can even program and change this shut-off time to 30 minutes.
Overall, I found this coffee maker satisfactory in terms of programmability and functionality.
Coffee Quality
So, does the Nespresso Prodigio produces delicious and flavorful coffee? Well, the shortest and most straightforward answer to this question is YES! The espresso was super delicious, hot, authentic, and had the signature thick Nespresso crema on top!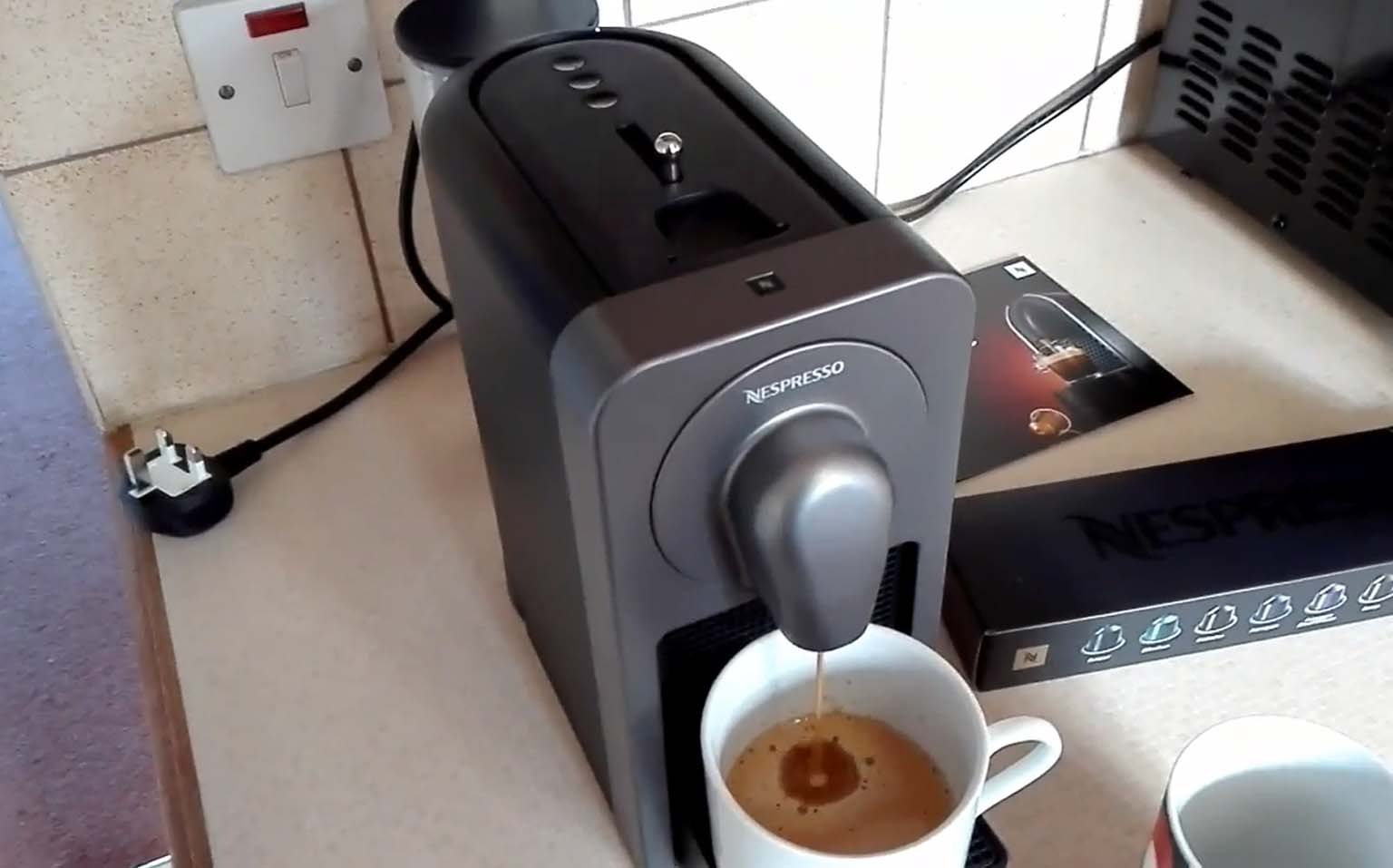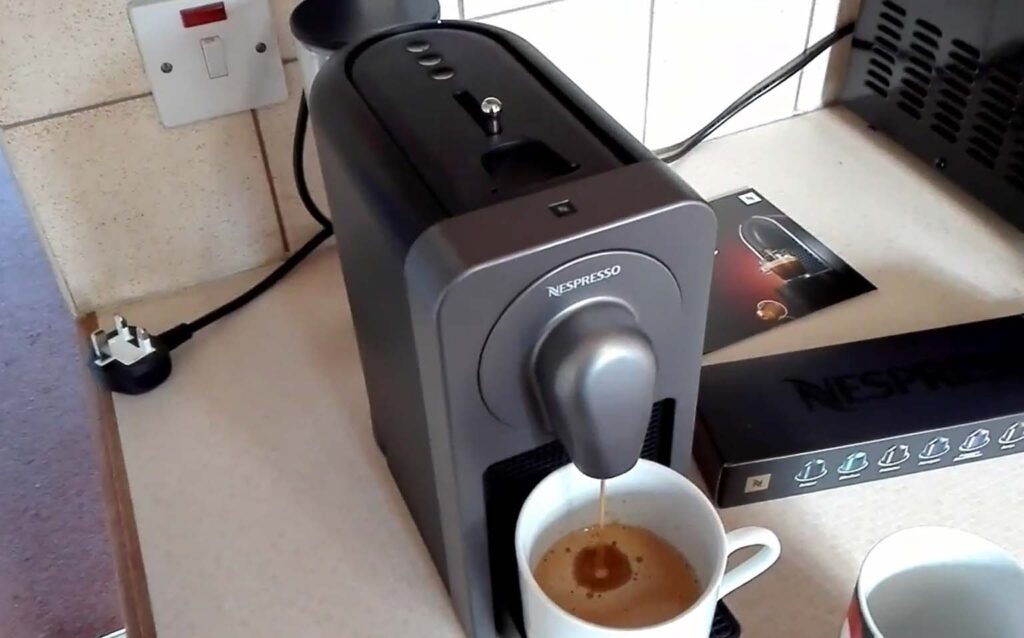 Pod Compatibility
Since Prodigio is an OriginalLine machine, it is compatible with all Nespresso OriginalLine capsules. Just make sure not to purchase the VertuoLine capsules.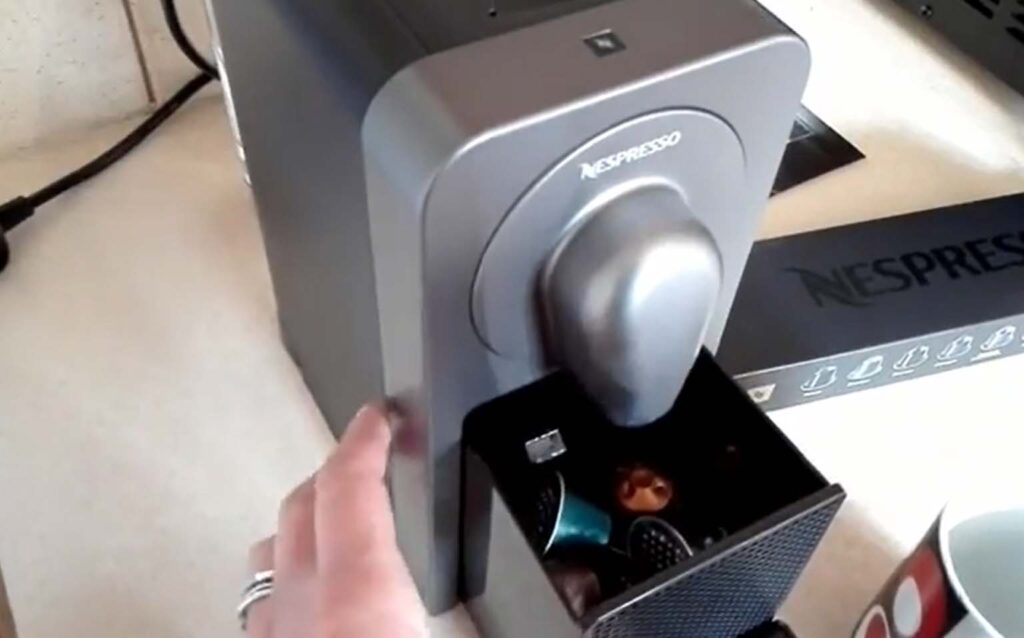 Since Nespresso Pods can be a bit expensive sometimes, you can also use third-party compatible capsules with the machine from several other brands like Starbucks, Lavazza, and Peet's coffee.
If you are concerned about the environment, you can also use reusable coffee pods that are cost-effective as well.
Cleaning and Maintenance
With the application and accessible parts, cleaning and maintaining the Nespresso Prodigio is super convenient and effortless. The machine indicates to you on your mobile device when it is time for descaling and cleaning. If you are not able to access the indicator somehow, keep in mind to descale it after every 1000 coffee shots.
Luckily, the coffee machine is also equipped with an automatic descaling mode. All you have to do is purchase a descaling solution from Nespresso's official website, pour it into the water tank, and start the cycle.
Apart from descaling, try to frequently clean the parts like capsule compartments and the drip tray for hygienic and safe brewing sessions.
Accessories
The machine comes with test strips for you to monitor and check the water's hardness. No milk accessory is included in the bundle, but you can still purchase an aeroccino and pair it with your Prodigio.
Warranty
Just like every other Nespresso machine, this one also comes with a 1-year warranty for repairs and replacements. Moreover, you can also get a substitute machine for the time frame when your Prodigio is in the warehouse being repaired.
Final Verdict
Overall, I found Nespresso Prodigio a great product as it offers great value for money! But the question is, is it the right pick for you? Well, the answer to this question depends on your preferences.
Keep in mind that this product is not very affordable, and honestly, you are paying more amount just for the extra features. If you want to experience the convenience of brewing coffee with your mobile device and enjoy some extra glittery features, this product is for you!
However, suppose you are a little tight on budget and want a coffee maker with basic functionality and features. In that case, you can opt for other budget-friendly models like Nespresso Essenza Mini or Nespresso Inissia.
Alternatives of Nespresso Prodigio
If you think the Nespresso Prodigio is not the right pick for you, here are a few alternatives that might work well for you:
A Nespresso OriginalLine model with a very low price tag, compact design, and superb functionality. The machine is lightweight and has a small 20.03 oz water tank. It is a very basic machine with no extra features and offers only 2 brew sizes; espresso and lungo.
Another affordable OriginalLine model with a whopping 34 oz water reservoir. It also offers two brew sizes to choose from; espresso and lungo. The coffee machine also has a very small footprint and lightweight design.
This OriginalLine model has a 24 oz water reservoir and offers two brew sizes; espresso and lungo. It is a very affordable coffee maker with all the necessary features a coffee lover desires.
FAQs
Can you make a latte with the Prodigio?
Yes, you can conveniently make a latte with Prodigio. However, you will need to purchase a separate aeroccino milk frother.
What espresso sizes can you make?
The Prodigio allows you to make three espresso sizes; Ristretto (0.85 oz), Espresso (1.35 oz), and Lungo (3.70 0z).
Does the Prodigio work with full-sized coffee cups?
You can somehow fit full-sized or larger cups in the machine. However, keep in mind that Prodigio was specifically designed to brew smaller cups, so try to stick to that.
How do I reset my Nespresso Prodigio?
You can reset the machine by pushing the three programmable buttons together.