Coffee Quality

Design & Features

Durability

Ease of Use

Brand Reputation
The Bottom Line
Evoluo is one of the best-selling and most affordable Vertuo Line models by Nespresso with an extra large water tank of 54 oz and amazing functionality to offer! It allows choosing between 5 cup sizes, ranging from espresso (1.35 oz) to alto (14 oz).
This is a review of a versatile and innovative Nespresso Evoluo coffee maker!
As a coffee lover, I can't resist experimenting with different coffee makers and enjoying the delicious coffee they brew. Since Nespresso is my forte, I decided to try out their tiny and mighty Evoluo model and curate an in-depth review for all coffee enthusiasts. I used Nespresso Evoluo for days and nights judging its every aspect.
So, is this machine worth your money? Keep Reading to know!
Features of Nespresso Evoluo
Product Line: Vertuo Line
Weight: 11 pounds
Watts: 1350 W
Cable Length: 29.13 inches
Water Tank Capacity: 54 oz
Brewing Mechanism: Centrifusion
Cup Sizes: espresso (1.35 oz), double espresso (2.7 oz), gran lungo (5 oz), coffee (7.8 oz), and alto (14 oz)
Heat Up Time: 15 to 20 Seconds
Auto Shut-off: 9 Minutes
Spent Capsule Capacity: 17 (Large Capsules)
Third-Party Capsules Compatibility: No
Milk Frother Included: No
Nespresso Evoluo Overview
We all know that Nespresso launches its capsule-based coffee machines in two major lines; Original Line and Vertuo Line.
Having that said, Nespresso Evoluo is a Vertuo Line model and uses the innovative brewing mechanism of centrifusion to brew espresso and coffee. In this brewing process, the machine rapidly spins the capsules to extract coffee shots. Moreover, Vertuo Line models can brew both espresso and regular coffee!
Evoluo had a little bulky design but still felt very lightweight. It features a whopping 54 oz water tank on one side that I found very easy to fill and monitor. Moreover, it offers 5 cup sizes for brewing to fulfill the needs of all types of coffee lovers; espresso, double espresso, gran lungo, coffee, and alto. You will also get a sufficient-sized used capsule container for the disposal of pods.
I loved the effortless usability of this Evoluo. Also, the machine is equipped with some incredible features and still, the price is very affordable. It literally has a one-button interface for the convenience of users. Do you know the thing I loved the most? Evoluo brewed all types of coffee in just 15 seconds. Crazy, isn't it?
The machine does not come with a milk frother, but you can separately purchase an aerroccino to enjoy milky beverages. The machine is somewhat bulky and will take a good space on your counter top, but the design is still very aesthetic. Also, keep in mind that Evoluo is only compatible with Nespresso brand capsules for Vertuo Line machines.
| | |
| --- | --- |
| | |
| Super affordable | Not compatible with third-party pods |
| Extra Large water reservoir | No milk frother included |
| The option to choose various cup sizes | A little heavy |
| Produces the best coffee and espresso | |
| Easy-to-use interface | |
| Super quick heat up and brew time | |
Things to Consider Before Buying Nespresso Evoluo
The main purpose of single-serve coffee and espresso makers like Evoluo is to add comfort and convenience to your life. However, the meaning of convenience is different for everyone. For example, a large coffee maker is convenient for some people, while a small one is for others.
Therefore, it is important to closely pay attention to the features, programmability, and functionality of the product you are planning to purchase.
Now, let's go through all the teeny tiny details of Nespresso Evoluo to see if it is the right pick for you or not. Read on!
1. Design and Functionality
Evoluo has a block-like shape and a bulky design as mentioned above. There is a water tank on one side and a capsule container on the other. You will also find an easy-to-access internal container for used pods with a capsule capacity of 17.
The machine is available in two eye-catching colors; black and cherry red. I opted for the black one for my review.
It has an ABS plastic external build, which may not feel very high-end. However, the build is very durable and robust.
There is a cup holder in the front as well to hold different cup sizes. All in all, I loved how prominent and accessible every part of the machine was.
Now talking about the functionality; the machine literally operates with the touch of a button. The whole interface was super convenient, the machine heated up fast, and the whole brewing time was 15 seconds.
The coffee maker features plenty of indicator lights for descaling, refilling the tank, and monitoring the whole brewing process. Evoluo can also clean and descale itself.
All in all, I had a great time with this coffee maker and honestly, I was impressed by the practical functionality at a low price tag.
2. Settings & Programmability
As you know Evoluo can brew 5 cup sizes; espresso (1.35 oz), double espresso (2.7 oz), gran lungo (5 oz), coffee (7.8 oz), and alto (14 oz). All the recipes are pre-programmed, and Evoluo will scan the barcodes on pods and start brewing accordingly. Moreover, Evoluo will adjust the water volume and coffee type itself too.
Just insert the pod, push the start button, and the machine will do all the work for you.
However, there are still some settings that you can customize according to your needs. For example, you can stop the flow of the coffee whenever you want to and even control the water volume as per your requirements.
3. Coffee Quality & Crema
Nespresso machines never disappoint when it comes to coffee quality, and the same is the case with the Nespresso Evoluo coffee maker.
Honestly, I was impressed with the consistency of the coffee it produced. I even tried lattes and cappuccinos with the help of my aeroccino milk frother and the results were simply outstanding!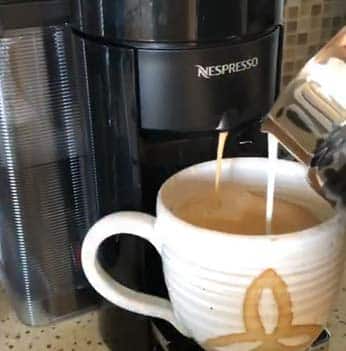 The coffee was consistent and the taste was super nice and smooth. The signature and thick Nespresso crema was also present at the top of every drink. However, keep in mind that the taste of espresso was not very authentic since Evoluo is a Vertuo Line machine. The taste of the plain coffee was perfect. Also, the crema was definitely thick but not very foamy.
So, if you are someone who can't compromise on the taste and authenticity of their Nespresso, opt for Original Line machines.
4. Pods Compatibility
Nespresso Evoluo is only compatible with Nespresso Vertuo Line pods and capsules. You can not use Original Line capsules or third-party compatible capsules. Vertuo machines use the bar scanning system and centrifusion to brew coffee – so you will be kind of stuck with specific pods.
This factor may become a little heavy on your pockets since Nespresso pods can be very expensive. Moreover, you won't have a variety of coffee flavors to choose from. But again, it is what it is!
4. Cleaning and Maintenance
As briefly mentioned, Nespresso Evoluo is equipped with automatic descaling and rinsing programs. This means that you won't have to care much about the machine's maintenance. Both these programs can be activated by just pushing one button – you can read the user manual for detailed procedures.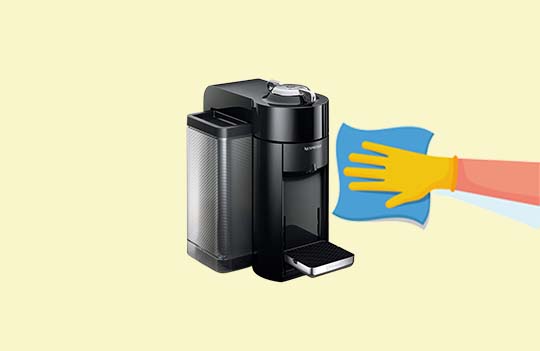 The self-rinsing cycle takes almost 5 minutes to complete, while the descaling cycle can take up to 20 minutes. However, make sure to purchase a descaling solution from Nespresso's website only to keep your coffee maker in perfect condition.
The descaling indicator on the machine will start blinking to remind you that it is time to clean asap!
Apart from this, you will have to pay a little attention to small parts like the cup holder, water tank, and capsule container. These parts are not dishwasher safe, so you will have to frequently rinse, clean, or wipe them quickly.
5. Warranty
Like all Nespresso machines, Evoluo also comes with a 1 years warranty for repairs and replacements. The customer service is very quick and efficient, and the company might offer you a substitute machine to cover up for the time your coffee maker is in the warehouse for repairs.
Do you know what the best part is? You can also register your Evoluo online to frequently enjoy perks like free coffee capsules and much more!
Final Verdict
Now that you have gone through the entire Nespresso Evoluo Review, I am sure you have already made up your mind about the machine, right?
If you are still unsure, I will make it easy for you. Evoluo is an affordable and bulky Vertuo Line machine that offers incredible functionality and ease of use. The machine has an extra-large water tank, offers many cup sizes, and can brew both espresso and regular coffee. However, the espresso won't be very original and hot.
If you are someone who is tighter on their budget, like their espresso more authentic and doesn't want regular coffee, you can opt for something else.
But if you are looking for a mid-range coffee maker with several coffee options, Evoluo is what you need! The 5 brew sizes are like heaven for me, and I am sure for all coffee lovers.
Nespresso Vertuo Line Models Comparison
We all know that Nespresso has a total of 5 machines in the Vertuo Line series, right? Let's quickly go through a comparison of these models and how they differ from each other:
Alternatives of Nespresso Evoluo
If you still think Nespresso Evoluo is not the right option for you, here are some alternatives that you can opt for:
Nespresso Vertuo is the first model of the VertuoLine series with a 40 oz water tank, super compact design, and a very low price tag. The machine offers 5 cup sizes to choose from; espresso, double espresso, gran lungo, mug, and alto.
Nespresso Vertuo Plus features a 37 oz water tank and a sleek and stylish design. This machine is undoubtedly a more advanced version of simple Vertuo with few extra features. It offers 4 brew sizes to choose from; espresso, double espresso, gran lungo, and mug.
Nespresso Vertuo Next has a 37 oz water tank and offers 5 brew sizes to choose from, just like Nespresso Vertuo. It has a very sleek and compact design and the construction is very robust and durable.