Coffee Quality

Design & Features

Durability

Ease of Use

Brand Reputation
The Bottom Line
A great machine for every coffee lover wanting to add convenience to their lives! From a 1.34 oz espresso to an 18 oz carafe pod, the sleek and stylish Nespresso Vertuo Next will brew everything in between for you at a very affordable price tag.
Today, I will be reviewing a versatile coffee machine that is the talk of the town these days – The Nespresso Vertuo Next!
Since you all know I'm obsessed with Nespresso machines, I couldn't resist trying out Vertuo Next for all my coffee lovers and see if it's worth the hype or not.
I have spent almost a month with Nespresso Vertuo Next to curate an in-depth review for all my coffee lovers! After all, making sure that you guys get the best is my top priority! I tested the machine on the basis of its functionality, coffee quality, design, brewing process, and price.
Keep Reading to see if this Nespresso machine is only glitter or if there is some real gold too!
Features of Nespresso Vertuo Next
Product Line: VertuoLine
Brew Mechanism: Centrifusion
Brew Sizes: Espresso (1.35 oz), Double Espresso (2.7 oz), Gran Lungo (5.07 oz), Mug (7.8 oz), Alto (14 oz).
Heat-Up Time: 15 to 20 seconds
Water Reservoir: 37 oz.
Auto shut-off: 2 minutes
Removable Drip Tray with 4 position settings
Descaling and Cleaning Alerts
Self-Cleaning and Descaling
Customizable Brew Sizes
Spent Capsules: 10
Nespresso Vertuo Next Overview
I think we all know that Nespresso launches their machines in two signature lines; OriginalLine and VertuoLine.
Original Line machines use the traditional 19-bar pump brewing mechanism to extract ground coffee from the capsules.
Vertuo Line machines feature the new Centrifusion mechanism by Nespresso that rapidly spin the capsules to extract coffee shots. Moreover, Vertuo Line machines also offer more brew sizes as compared to Original Line ones.
With that being said, Nespresso Vertuo Next is a new upgrade in the Vertuo series with incredible versatility and functionality to offer. Moreover, you will find three variations of this model; Vertuo Next, Vertuo Next Premium, and Vertuo Next Deluxe. All three variations are the same in terms of specs, features, and functionality. The only differences you will find are build materials and color schemes. However, I opted for the simple Vertuo Next model.
First thing first, the machine has a very stylish and sleek design with incredible color tones. It was not very compact like other Vertuo models and weighs 8.8 pounds, but this is totally due to the large water reservoir. Still, the machine was aesthetically pleasing with its all-black robust plastic body and classy appearance.
Nespresso Vertuo Next does not come with a built-in milk frother, but you can always purchase one separately to enjoy a variety of drinks like Cappuccinos and Lattes. Still, it produced a very flavorful espresso with the kind of crema that every coffee lover dreams of! I tried both americanos and espresso with my Vertuo Next machine, and the flavor amazed me every time.
Now coming to the functionality; it literally has a one-button program system for the convenience of users. Moreover, it is one of the most affordable coffee machines by Nespresso.
| | |
| --- | --- |
| | |
| Quick & Easy brewing process. | You will have to purchase the milk frother separately. |
| Offers great value for money. | Can not use third-party coffee pods. |
| Offers a wide range of drinks selection. | The coffee won't be very hot since it's a VertuoLine machine. |
| Rich and smooth crema on the coffee. | |
| Bluetooth & Wifi compatibility. | |
| Solid build and construction. | |
| Scans the capsules to adjust brew settings. | |
What Things Should You Consider Before Buying Nespresso Vertuo Next?
Though I have given you a brief overview above of all the features and what you can expect after purchasing the Nespresso Vertuo Next, there is still so much more to this machine that we can't miss. So, are you excited? I am too.
Read on to see the complete list of features you will get with this sleek and versatile coffee machine!
Design: Stylish and Slim
Despite being a little heavier and having a large water tank, the Nespresso Vertuo Next still has a slim design. As I briefly mentioned above, the design and build of this machine are innovative, aesthetic, and most importantly, environmentally friendly.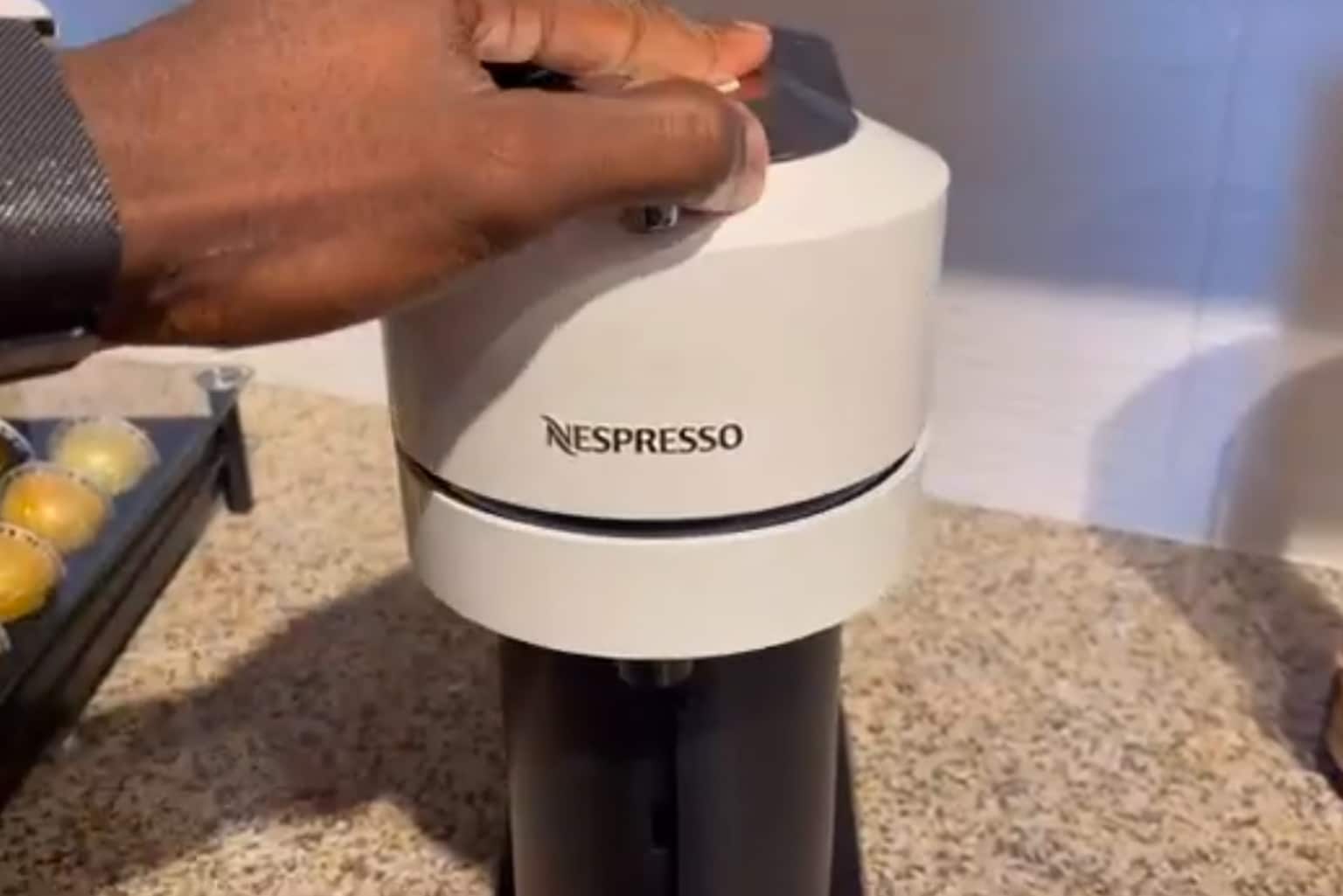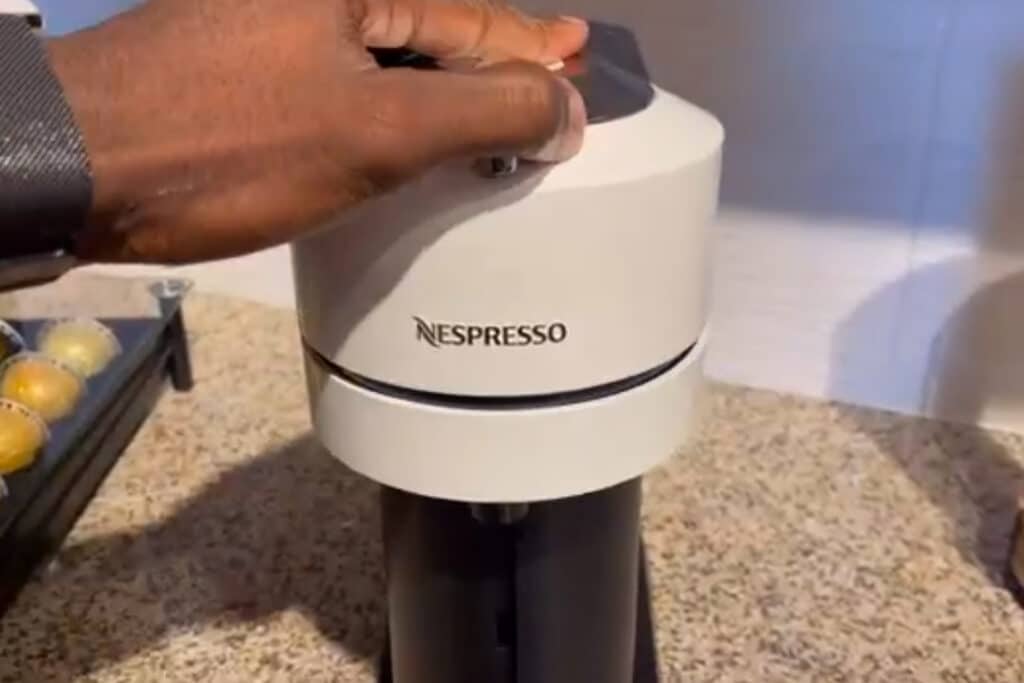 It is made of 54% of premium-quality recycled plastic to provide the users with durability and longevity. Moreover, Nespresso Vertuo Next offers five color options to choose from; cherry red, Matte Black, Dark Gray, White, and Light Gray.
This machine has everything that a good quality coffee and espresso maker should have. You will find a cup holder, a built-in bin for coffee capsules, a removable drip tray, and a 37 oz. water tank at the back.
I loved how conveniently the water tank detached from the machine for convenient re-filling. Also, the cup stand is removable and offers three different options, which I think is an ergonomic factor.
All in all, I found the Nespresso Vertuo Next great in terms of design, build, and quality. The only thing that bothered me was the absence of a milk frother, but this can be overlooked if we look at the affordable price.
Usability & Programmability: Effortless
If you ask me, I found the Nespresso Vertuo Next very user-friendly and equipped with all the necessary features that a coffee lover might need. Yes, there were not 'many' features as other high-end machines have – but you are paying less so I guess that's a win-win situation.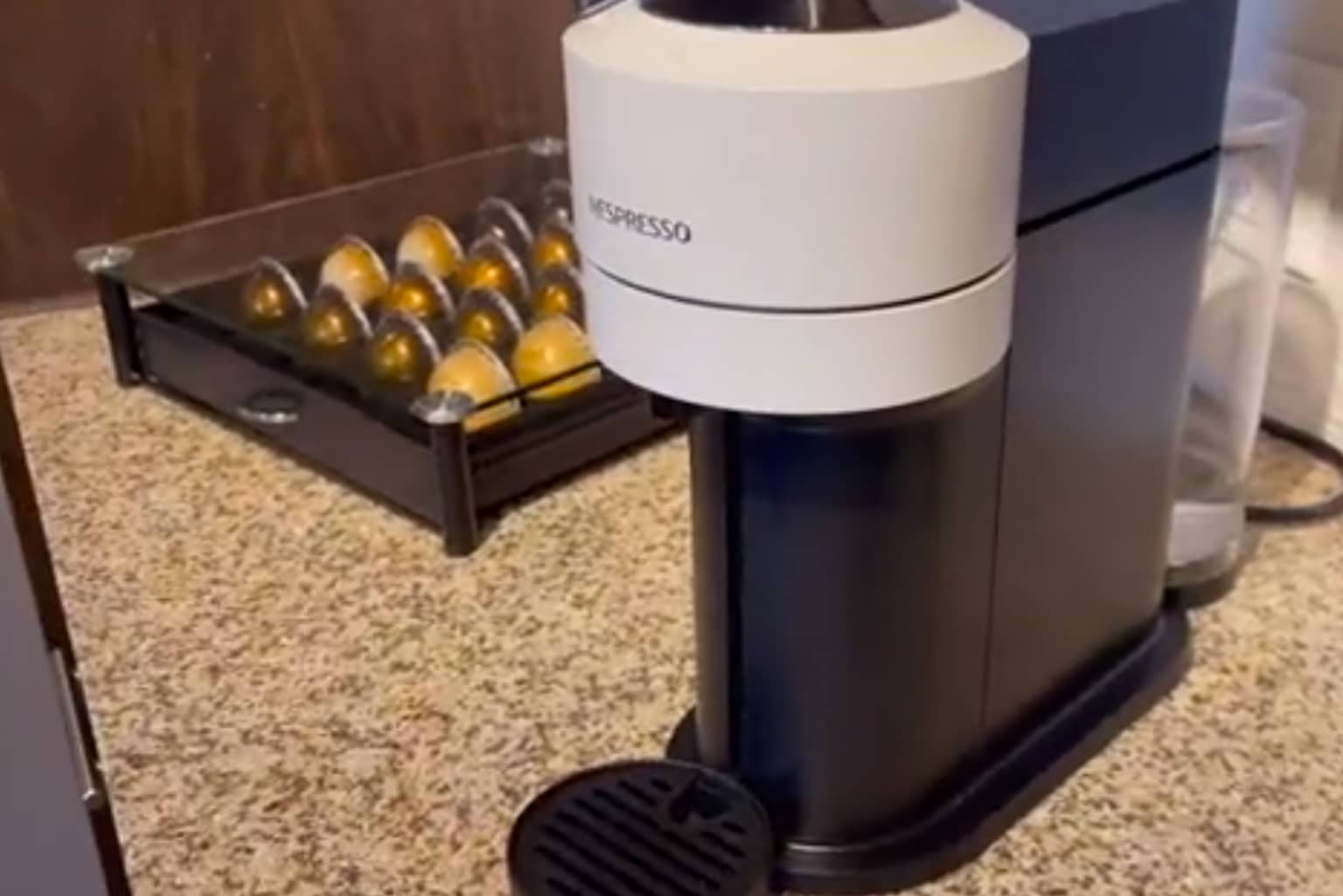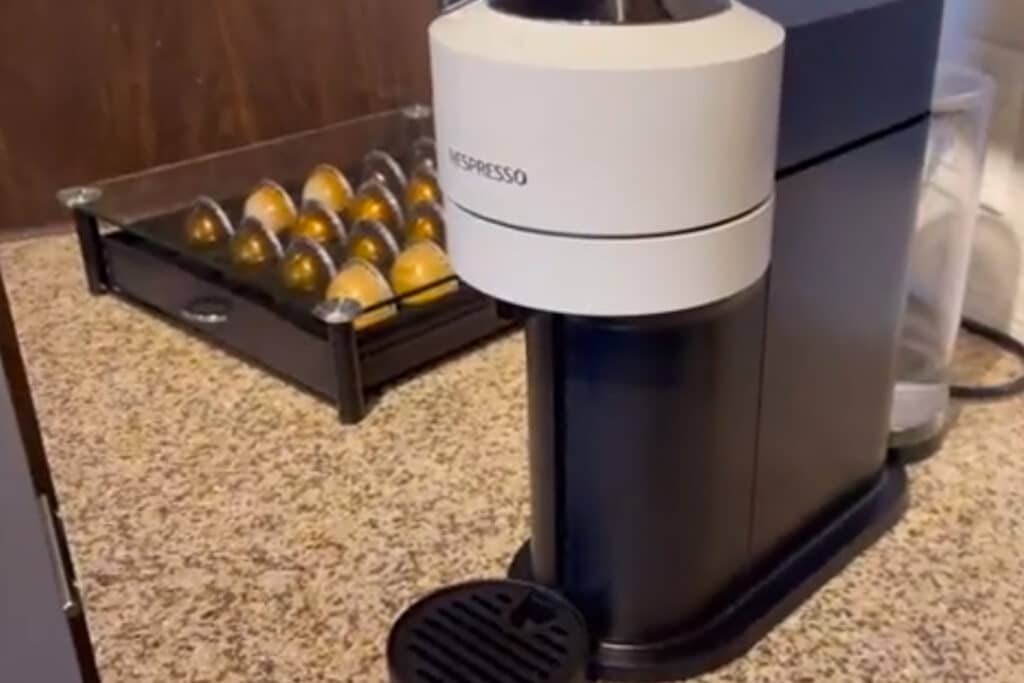 Now coming to the main part, Nespresso designed this machine keeping simplicity and ease of use in mind. The machine takes approximately 25 seconds to heat up, which is an ideal time. Moreover, Vertuo Next is also equipped with energy-saving capabilities that allow the machine to automatically shut off after 2 minutes of no use. Again, the 37 oz. water tank saves you from the hassle of frequent refills.
Do you know what is the thing I loved the most about Nespresso Vertuo Next? The fact that you can access the coffee maker through your cell phone with the Nespresso application using the built-in Bluetooth connectivity option! This means that you can start brewing your coffee even if you are not at home! Cool, isn't it? In the end, Vertuo Next also has a built-in Wifi option that allows it to upgrade its software.
All in all, this coffee machine gives a very pleasant and seamless brewing experience that I loved!
Pods Compatibility
As Nespresso Vertuo Next is a VertuoLine machine, it will only be compatible with authentic Nespresso Vertuo pods. Unlike the OriginalLine machines, you can not use third-party capsules and pods with Vertuo Next. Wondering why?
Well, because the entire brewing mechanism and pod sizes of Vertuo machines are unique. This can be a bit of a hassle for some people because Nespresso pods are known to be more expensive than third-party ones. However, it is what it is. Also, no matter how expensive Nespresso pods are, the bright side is that their quality is unmatchable.
Brewing
When it comes to brewing, I found Nespresso Vertuo Next a champion! All you have to do is put a pod inside the capsule container and just push one button to get you the delicious and perfect cup of coffee.
As you know that Nespresso Vertuo Next offers five different cup sizes to choose from; Espresso (1.35 oz), Double Espresso (2.7 oz), Gran Lungo (5.07 oz), Mug (7.8 oz), Alto (14 oz). However, the main catch here is that this machine also accepts a carafe pod (18 oz).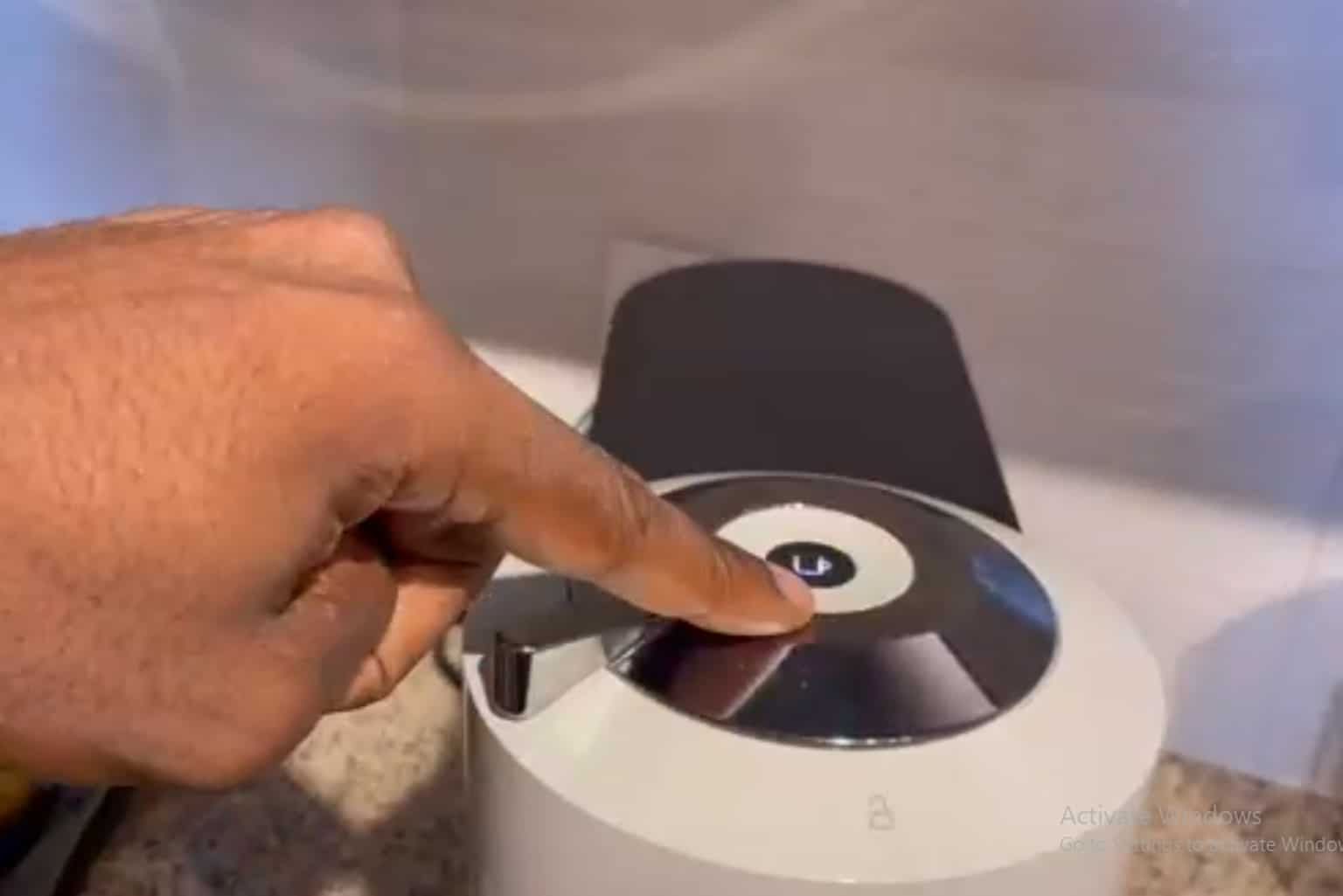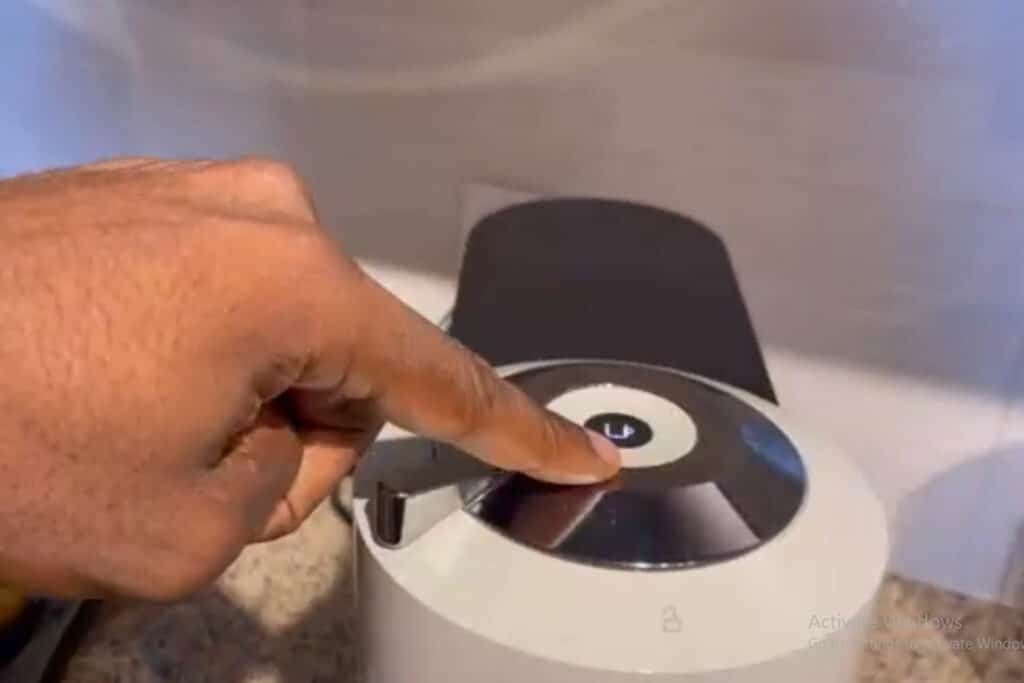 Moreover, the process of selecting your desired cup size is also effortless; you need to hold the main button until your preferred cup size appears on the LED screen. The Vertuo Next is equipped with a bar-code scanning feature, so you can rest assured that your coffee will turn as it is supposed to be!
For me, the whole brewing process took less than 50 seconds for all types of coffee drinks. So yes, I give full points to Nespresso Vertuo Next for brewing too!
Coffee Quality
I need to mention again that Nespresso Vertuo Nest does not come with a milk frother. However, you can still purchase a separate aeroccino to enjoy your milky drinks.
Now coming to the taste and quality of the coffee drinks; I will be honest that they won't be the same as compared to OriginalLine machines. Since VertuoLine machines use centrifusion technology, the result will not be 'real' espresso. The flavor is going to be very light and non-intense, and the coffee won't be very hot either.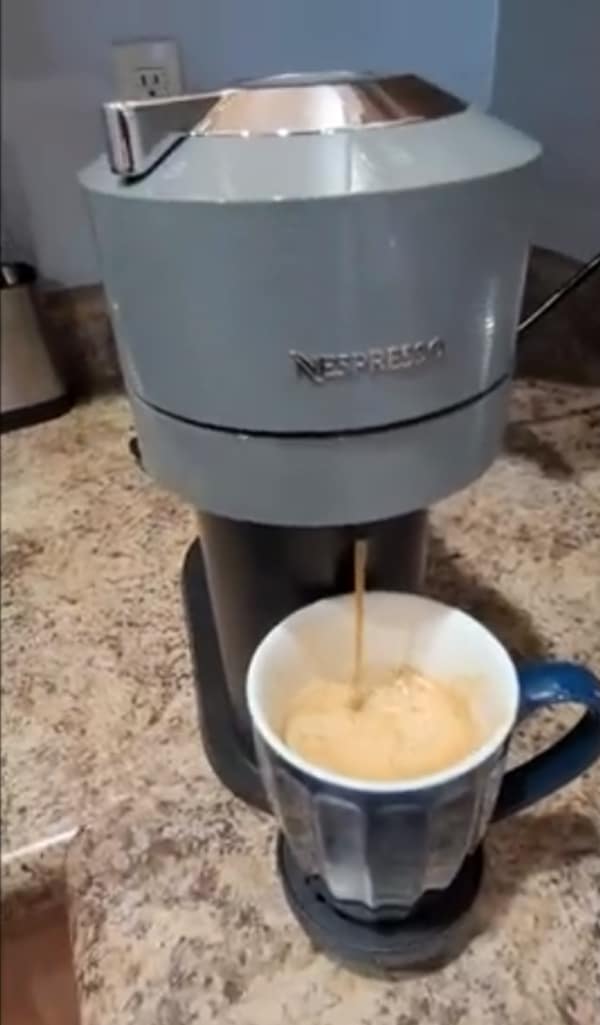 You will still get a rich and airy crema, exactly like you find in coffee shops. However, it won't be as thick as you get from the OriginalLine machines. So, if you are someone who wants a very rich espresso, we would recommend opting for Nespresso OriginalLine models and ditch all VertuoLine models, not just Vertuo Next.
Still, if we put the authenticity part aside, the coffee quality of Nespresso Vertuo Next is perfect for light coffee drinkers. Moreover, the quality of regular coffee drinks was remarkable.
Cleaning and Maintenance: Super Convenient
Again, the cleaning and maintenance of Nespresso Vertuo Next is a piece of cake! The good news is that the machine itself alerts you when it needs cleaning and descaling. For regular cleaning, all you have to do is rinse the water tank and capsule container, that's it.
However, when the machine tells you that it needs descaling, you don't have to panic. Because Nespresso Vertuo Next can self-clean and descale! It will alert you to descale by steadily blinking white and orange light. When you see the light, all you have to do is quickly press the main button 3 times within 2 seconds. After this, the descaling process will start and will end in almost 15 to 20 minutes.
In short, you will have to move just one finger to clean and descale the machine.
Final Verdict
In conclusion, Nespresso Vertuo Next is an incredible coffee machine for people who like bigger coffee drinks. It offers a wide selection of drinks and so much convenience for users. Also, this machine is a total catch at this price!
So, if you are someone who can live without strong coffee drinks, the Nespresso Vertuo Next should be your go-to option! However, keep in mind that you will be stuck with the authentic Nespresso Pods forever with Vertuo Next.
Nespresso Vertuo Next Alternatives
Even though I loved Nespresso Vertuo Next, here are some of its alternatives I like with almost the same functionality and usability:
Nespresso Vertuo Plus is a simple and great machine with an affordable price and 3 brew options to choose from. It has an extra-large reservoir and a very compact design to fit any countertop!
This coffee machine is a giant in the world of single-cup machines with a 54 oz. water tank and classy design. It has a quick heat-up time, some functional features, and offers 4 brew sizes to choose from.
This is an advanced version of the original Vertuo Plus machine with a water tank capacity of a whopping 60 oz. Other than this, the features and functionality of Nespresso Vertuo Plus Deluxe are the same as the simple Vertuo Plus.
FAQs
What is the difference between Nespresso Vertuo and Vertuo Next?
The Nespresso Vertuo is slightly larger than the Vertuo Next, has 3 ounces more water tank capacity, a quick heat-up time, and slightly more capsule container capacity. However, Nespresso Vertuo Next is better than Nespresso Vertuo in terms of extra features, brew sizes, and affordability.
What is better? Vertuo Plus or Vertuo Next?
Both Vertuo Next and Vertuo Plus machines have their unique selling points. Vertuo Plus has a flexible water tank with position settings, while Vertuo Next is compact, offers more brew sizes, and has some pretty good features. If you ask me, I would always recommend spending your money on Nespresso Vertuo Next to get great value in return.