Coffee Quality

Design & Features

Durability

Ease of Use

Brand Reputation
The Bottom Line
A high-end Nespresso machine with 6 coffee drink options to choose from. From ristretto to milky lattes and cappuccinos, you can enjoy everything! The Lattissima Pro has a large 44 oz water reservoir and a 16 oz built-in milk container!
This is the review of a high-end and top Nespresso machine; the lattissima Pro!
I am a coffee enthusiast and Nespresso machines are my area of keen interest. The lattissima pro made so much noise in town with its expensive price tag and high-end features, so I couldn't resist trying and reviewing it for all my coffee lovers! I closely looked at every aspect of this machine after days and nights of hard work.
So, is it worth your money? Let's find out in this Nespresso Lattissima Pro Review!
Features of Nespresso Lattissima Pro
Product Line: OriginalLine
Weight: 9.3 lbs
Watts: 1300 lbs
Water Tank Capacity: 44 oz
Brewing Mechanism: 19-bar Pressure
Brew Sizes: 0.85 oz ristretto, 1.35 oz espresso, 3.70 oz lungo, 3.05 oz cappuccino, 6.40 oz latte
Heat-up Time: 20 Seconds
Auto Shut-off Time: 9 Minutes
Spent Capsules: 8
Third-Party Capsules Compatibility: Yes
Milk Frother: Included
Nespresso Lattissima Pro Overview
The Nespresso Lattissima Pro is an OriginalLine machine, which brews espresso with the classic 19-bar pump and pressure method! It is the most expensive model out of all the Lattissima machines series and has a sleek and a little bulky design. Trust me; I was hooked on its luxurious appearance.
The machine offers 6 pre-programmed brew sizes and recipes; ristretto, espresso, lungo, cappuccino, hot milk, and hot water. Having that said, it comes with an integrated milk frother as well for you to enjoy delicious milky drinks. From decaf latte to espresso – I tried each and everything.
With a touch screen display for programming and several other features, this Nespresso machine screams luxury and functionality! The water reservoir has a sufficient capacity of 44 oz and all the parts are dishwasher safe too. However, keep in mind that the machine is very expensive, but it will surely give you the barista-style coffee you crave for!
| | |
| --- | --- |
| | |
| Multiple drink options. | Very expensive. |
| Comes with a milk container. | Doesn't brew carafes. |
| Small footprint and aesthetic design. | Might require extra maintenance because of the milk container. |
| Easy-to-use interface. | |
| Robust and durable construction. | |
| Equipped with high-end features. | |
| Equipped with high-end features. | |
Things to Consider Before Buying Nespresso Lattissima Pro
I gave you a quick tour of all the features above, but that is not the end. It is essential to know all the key features and aspects of Lattissima Pro in detail to understand if the machine is the right pick for you or not. From design to functionality to features to price, you need to consider a lot of things before finally making the purchase.
As always, I have done the hard work for you again! Read on to see my experience with the coffee maker and then decide for yourself!
Design and Functionality
After opening the machine, my first reaction was simply 'wow'! It had a luxurious black and silver design with a compact footprint that I absolutely fell in love with! Now you must be wondering, "why is a tiny machine so expensive?" Well, this is because of the functionality and convenience it offers.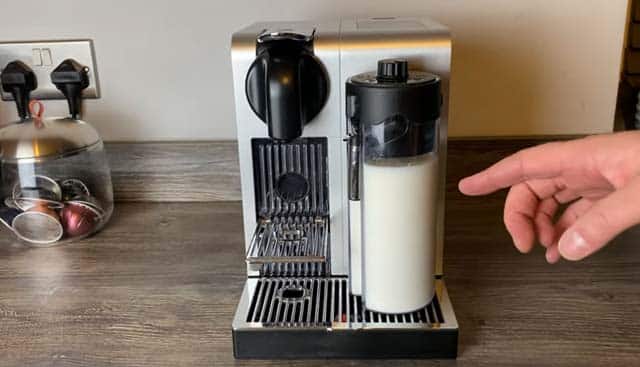 The water reservoir is at the back and the milk frother is at the front – both these accessories can be accessed conveniently. There is cup support, a metal drip tray, and a hot water spout to make your brewing process effortless. Also, the machine is equipped with many alerts including for refilling the tank and descaling.
Moreover, it had an internal bin for coffee capsules too. The built-in touch screen for programmability is what I loved the most. All I had to do is insert the coffee pod into the container, touch the screen to choose my recipe, and my perfect cup of coffee is ready!
All in all, the Nespresso Lattissima Pro will bring nothing but convenience to your life with plenty of features, and this is what you are paying for!
Coffee Quality
When it comes to the coffee quality and flavor of the coffee, I give full points to the machine! The espresso shots were truly delicious, and the crema was velvety, rich, and foamy. If you are someone who wants to enjoy the most authentic espresso, Nespresso Lattissima Pro is what you need!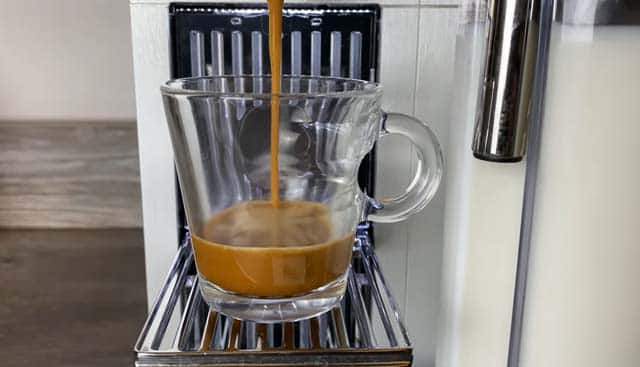 As the machine comes with an integrated frother, I got the chance to combine the coffee drinks with milk to enjoy lattes and cappuccinos. I must say, the outcomes were nothing less than what we get at barista coffee shops!
Not to forget, my kitchen was filled with a pleasant and soothing aroma after every brewing session.
Brew Settings
Like most Nespresso machines, Lattissima Pro also offers you to control your brewing sessions. The machine is equipped with an intuitive touchscreen that allows you to pick your drink type and control the settings. You can pick from ristretto, espresso, lungo, and milky beverages like cappuccino and latte.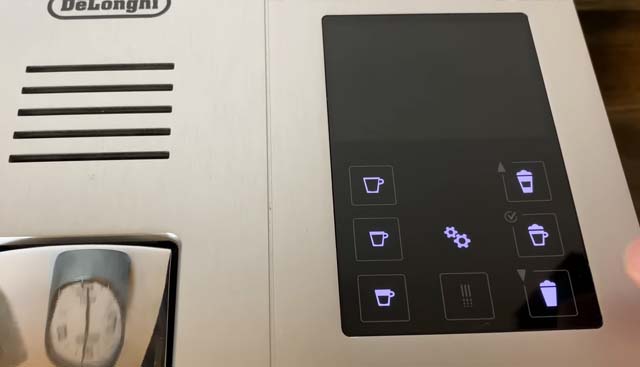 From the settings menu, you can control the water hardness, reprogram the volumes, and keep a track of maintenance. You can also choose between warm milk and hot water as per your desires and convenience.
Capsules Compatibility
The Nespresso Lattissima Pro is compatible with all Nespresso Original Line Capsules, just not the Vertuo Ones. Since Nespresso coffee capsules can be a bit expensive, you can also use third-party Nespresso compatible capsules with this machine too.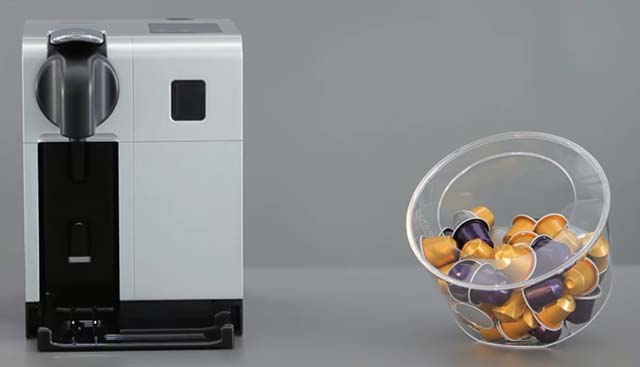 This freedom won't be just affordable – you will also be able to enjoy a wide range of coffee flavors from brands like Peet's Coffee, Lavazza, Starbucks, etc.
Not only this, but you can also use refillable coffee pods with the machine if you care about the environment a little too much.
Accessories
Lattissima Pro comes with a total of two additional accessories; a water sprout and a milk container. The hot water sprout is placed inside the machine and can be accessed through a closed door on the machine.
The milk container is connected with the water sprout, and both these accessories combine to turn the milk into the perfect foam!
However, do you know what is the most exciting part? The Nespresso Lattissima Pro also comes with 14 Nespresso Original coffee capsules for you to kickstart your brewing session without spending much!
Cleaning and Maintenance
Trust me; the maintenance and cleaning of this coffee maker are effortless and a piece of cake. The machine will alert you with light indicators when it is time for cleaning and descaling! Fortunately, the machine will automatically rinse the water tank and other parts and you won't have to move a finger! Moreover, there is an automatic descaling cycle too! All you have to do is get a descaling solution from Amazon or Nespresso's website and let the machine do its work!
The milk frother also has a self-cleaning function, but I would recommend washing it by hand after every two days to clean all the residue. Moreover, it would be best if you frequently clean and wash the capsules container too!
Price
Well, there is no denying that the Nespresso Lattissima Pro is definitely a high-end and very expensive espresso maker. However, it is equipped with a lot of functional features and convenience that mid-range models don't have. Also, it offers more brew sizes and coffee types than other Nespresso Original Lina machines.
Warranty
Like all the other Nespresso machines, the Lattissima Pro also comes with a 1-year warranty including repairs and replacements. Apart from these services, you will also enjoy the perks of outclassing customer service!
Final Verdict
So, what is the final verdict? Well, for me the Nespresso Lattissima Pro was truly love at first sight! It is pricey, but worth every dollar you spend.
So, if you are not on a tight budget and love milky beverages, then I will totally recommend this incredible coffee maker to you! The functionality is amazing, the coffee quality is superb, and the design is to die for!
Alternatives of Nespresso Lattissima Pro
Though I love every bit of Lattissima Pro, here are some of its alternatives that I found equally amazing and functional:
A functional coffee machine with a mighty 44 oz water reservoir, an integrated frother, and a little bulky design. The best part, it offers 9 beverage options to choose from!
A tiny yet mighty coffee machine with a 34 oz water tank, a milk frother, and 4 pre-programmed brew sizes to choose from! The interface is also super easy to use!
A tiny version of the Lattissima series with a 30 oz water reservoir, a 12 oz milk container, and 4 brew sizes and recipes to choose from. The machine is also very tiny and has a beautiful design.