Nespresso is renowned for its high-quality machines and delicious coffee pods. As one of the world's largest coffee machine manufacturers, Nespresso coffee is easy to love, but choosing the right machine is a little more challenging.
Each Nespresso machine has specific features that may be right for some coffee drinkers and not for others. There are so many different models and manufacturers out there that it takes a lot of time and effort to decide which one to choose.
As part of a partnership with other companies such as Delonghi and Breville, Nespresso designs their coffee machines with the utmost care and attention to detail and with exceptional coffee at the core of it all.
Nespresso has two product lines: the VertuoLine and the Original Line. They are different in their models, price ranges, brewing techniques, and coffee pods.
Unlike previous models, Vertuo can brew coffee in five different sizes and styles. Through its innovative bar code reader, the Vertuo intelligently brews coffee based on the unique codes on the pods.
We will discuss the VertuoPlus and VertuoPlus Deluxe models of Nespresso machines in this article. Though there is little difference between these models, this comparison might help clear things up about choosing the right one.
| | |
| --- | --- |
| | |
| | |
| | |
| | |
| | |
| Removable Water Reservoir: | Removable Water Reservoir: |
| Capsule Container Capacity: | Capsule Container Capacity: |
| | |
| | |
| | |
| | |
| | |
| | |
| | |
| | |
| | |
Our Pick
Removable Water Reservoir:
Capsule Container Capacity:
Our Pick
Removable Water Reservoir:
Capsule Container Capacity:
01/18/2023 07:25 am GMT

Nespresso VertuoPlus: An Overview

Our Pick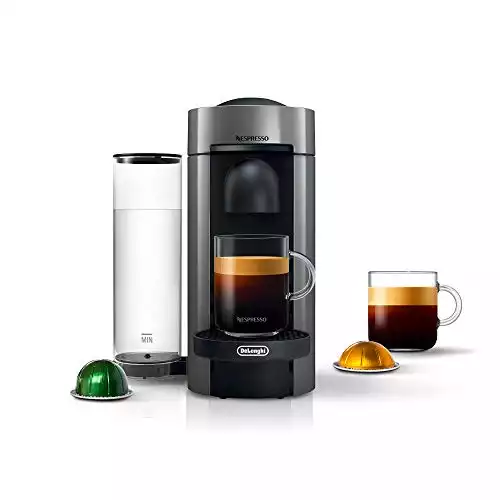 We earn a commission if you make a purchase, at no additional cost to you.

The Nespresso Vertuo Plus espresso machine allows you to enjoy luxurious yet convenient pod-based brewing. Although it isn't cheap, the brewer produces high-quality, authentic, silky smooth coffee drinks.
Vertuo Plus uses a unique centrifusion technique to brew espresso drinks using only Vertuo Pods. It is not compatible with other pods because it uses bar code scanning, which detects the coffee pod before brewing. The machine punctures holes around the edge of the circular pod before spinning it rapidly to begin the brewing process.
| | |
| --- | --- |
| | |
| It is easy to use | It only operates with Vertuo Pods |
| It offers five brew sizes | It comes with a hefty price tag |
| It has an adjustable water tank | It may cause leakage from the back |
| It makes great-tasting coffee | |
| It heats up quickly | |
Nespresso Deluxe: An Overview
Our Pick
We earn a commission if you make a purchase, at no additional cost to you.

The VertuoPlus Deluxe has all the features of the VertuoPlus, but it has a larger water capacity of 60 ounces. Its water tank can be attached to either side of the machine. The Nespresso VertuoPlus Deluxe is also a more elegant and sleek machine.
This machine makes excellent espresso and coffee drinks reliably and is very easy to use. Unfortunately, it doesn't use coffee carafe capsules. No third-party or re-usable pods are available for the VertuoPlus Deluxe like all the Vertuoline models.
| | |
| --- | --- |
| | |
| It has a single-touch operation | It is an expensive model |
| It can make coffee up to 17 ounces | It doesn't accept third-party pods |
| It heats up fast | It doesn't make as hot coffee as Original Line models |
| It has a large water reservoir | It only uses expensive Vertuo Pods |
Nespresso VertuoPlus vs Deluxe: A Comparison
We are comparing the VertuoPlus and VertuoPlus Deluxe side-by-side to give you a clear picture of their similarities and differences.
Design
The design of your coffee machine should be sleek and stylish but also practical and easy to handle. The design tells you about its efficiency, convenience, and counter space.
Nespresso VertuoPlus's small footprint and flexible water reservoir placement appeal to those with limited counter space. Mostly the water tank of the coffee machines takes up more space, so its tank being adjustable to either of its sides is a plus.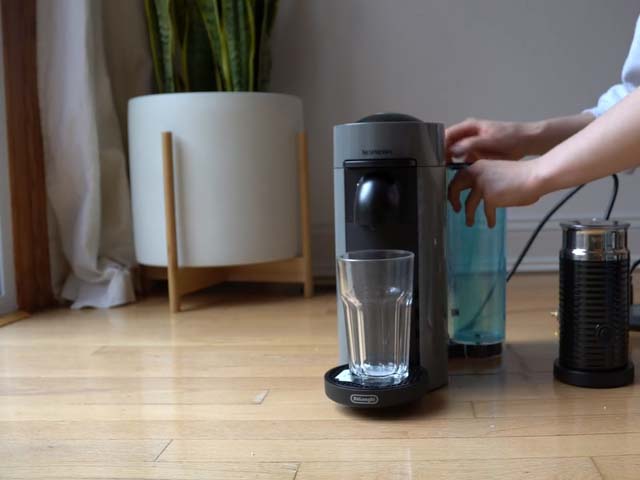 Nespresso Deluxe is similar to VertuoPlus's design except for the water tank. Its water tank can hold more water, but that doesn't significantly affect the counter space it requires.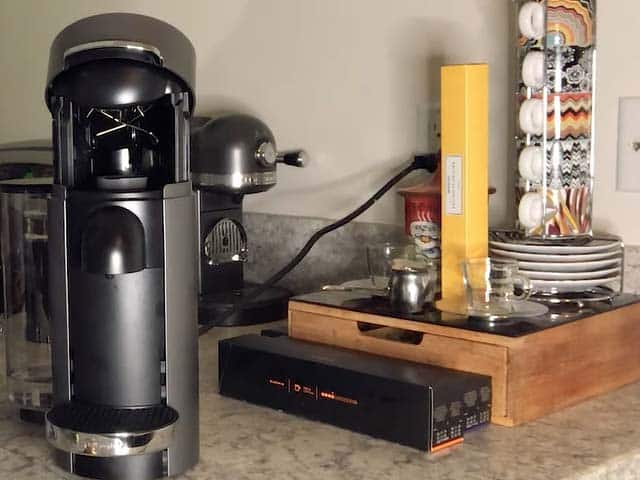 Brewing Technology
The brewing technology of coffee machines tells you more about them than anything else. Before brewing, the machine sets the temperature, technique, and water requirements according to the coffee pod. Nespresso VertuoPlus and Deluxe both use centrifusion brewing techniques and barcode scanning.
Centrifusion brewing is the combination of centrifugation and infusion. The machines rotate the pod at 7000 rpm, then penetrate water through the pod to start the infusion process. After that, it spins the pod again to extract any remaining water from it to leave it dry and clean.
The bar code scanning technique is used by all VertuoLine coffee machines, including the VertuoPlus and the Deluxe. The machines scan the coffee machine's bar code, adjust the temperature and water requirements according to the coffee capsule, and start brewing.
Coffee Capsule Compatibility
Each coffee machine works with a specific type of coffee capsule, depending on the coffee machine models, the brewing technique, and the size of the capsule holder.
The VertuoPlus and Deluxe are from Nespresso's VertuoLine product line and use similar coffee capsules. Both machines are only compatible with Nespresso Vertuo capsules and can not use any third-party alternative pods.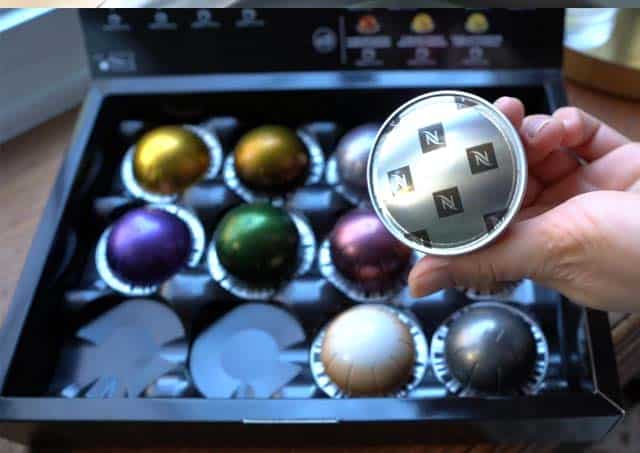 Unlike the Original line machines, both machines work only with the coffee pods designed explicitly for them. The machine scans its Vertuo Pods before brewing to know what coffee it has to brew.
Usability
A coffee machine is an appliance you use daily, sometimes in a hurry. It should be simple and easy to use, quick and convenient, and good at its job.
Nespresso VertuoPlus is a one-touch operational machine that works quickly without going through many options. It is easier to puncture capsules with this machine because it has a motorized head that does it for you. Its soft open/close mechanism makes brewing your morning coffee much more effortless.
With a single, one-button operation, the VertuoPlus Deluxe is one of the most straightforward coffee machines on the market. Unlike other single-serve coffee machines, it makes an aromatic cup of coffee with a single button push.
Water Tank Capacity
The water tank capacity decides how much coffee you can brew at a time without having to refill it.
The VertuoPlus has a water capacity of 40 ounces. Its most significant advantage is that you can move the water tank to either side of the machine to make it easy for the machine to fit on your counter space.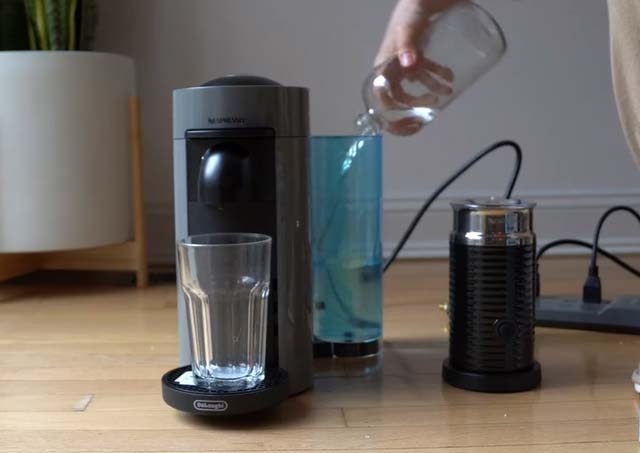 If you frequently have company over for coffee or share your coffee machine with family, we recommend you go for Nespresso Deluxe. Its water tank can hold up to 60 ounces of water so that you can easily make multiple cups of coffee.
Accessories
Coffee machines usually are good on their own and do the job, but they can work even better when paired with accessories—getting a milk frother with your coffee machine will instantly up your coffee game.
Neither VertuoPlus nor Deluxe comes with an integrated milk frother or steam wand, but you can buy an Aeroccino Frother to go with it. If you are a milky and frothy coffee fan, this frother works well with any Nespresso machine. You can create delicious lattes and cappuccinos at home in no time!
Final Thoughts
We recommend the Nespresso VertuoPlus coffee machine if you are looking for an exceptional coffee machine from Nespresso's VertuoLine. Despite the VertuoPlus Deluxe's excellent features, such as a larger water tank and a slightly faster heating system, there is little additional value for the higher price.
It is better to save the money and get the VertuoPlus unless you serve multiple people daily and need a more extensive water reservoir.
FAQs
What is the difference between Nespresso Vertuo plus and Vertuo next?
The Vertuo Plus has five brew sizes. It has a moveable water tank, takes less time to heat up, switches into a power-saving mode in 9 minutes, and can hold up to 10 capsules.
The Vertuo Next takes up to 30 seconds to heat up; it can brew an 18 oz carafe and has a Bluetooth option. The Vertuo Next is more expensive than the Vertuo Plus.
Can You Make Lattes With the Nespresso VertuoPlus?
Yes, you can make Lattes with VertuoPlus by using Latte pods by Nespresso. You can use an Aeroccino frother to create hot foam for the latte and make it creamy and full of flavors.
Can you froth milk with Nespresso Vertuo plus?
No! It's impossible to froth milk with Nespresso Vertuo Plus because it doesn't come with a built-in frother or steam wand. You will have to buy a milk frother or steamer separately to create frothed milk for your milk-based coffees.
What is the difference between Nespresso Breville and Delonghi?
Breville and DeLonghi are two of the manufacturers that make Nespresso coffee machines. The products' insides are identical, but their appearance sets them apart. Breville's machine typically has a rounded top instead of Delonghi's square one.
How do you use Nespresso machines?
Nespresso machines are the most convenient single-serve coffee machines. It requires minimal effort and time to make a barista-style coffee at home with a Nespresso machine.
All you got to do is, insert a coffee pod of your favorite flavor into the coffee machine and check if the water tank has enough water to brew coffee. Turn on the machine and press the lungo or espresso button depending on your model and what brew size you want.
The Nespresso machine will automatically stop once it brews your coffee. Lastly, discard the used pod and enjoy your coffee.