We often want to save money and make things at home rather than go out, which might be why you have been craving an americano for a long time.
Good news! You can make your coffee at your own home using both Nespresso Original and Vertuoline machines.
Also, Espresso enthusiasts looking for a bigger shot can go for an americano because it uses the same espresso but with a higher intensity.
Making an americano is simple if you have a Nespresso machine.
Read below to discover the recipe!
Key Takeaways
An Americano is a coffee that combines the least intense one-third of espresso with two-thirds of hot water.
Making a hot Americano with Nespresso's original line is simple since you just need to push one button to combine espresso and hot water in your cup.
Things are a little different with Nespresso Vertuoline machines since the machine doesn't provide hot water at the touch of a button.
Learn how to make Nespresso Americano like a pro in both models.
White, Red-eye and Iced Americanos is a type of espresso coffee that is a bit modernized from the traditional Americano.
Volluto, Giornio, and Rome are the best three pods for making a least to medium intense Nespresso Americano.
What is an Americano?
Americano is a style of coffee prepared with at least ⅓ espresso added with ⅔ of hot water.
You can make a hot Americano just like the above, but there is another type, i.e., iced americano, in which cold water is added with ice in a shot of espresso.
This cafe is derived back in World War ii when the American soldiers stationed found the Italian espresso too intense for their taste and added hot water into the shot, having a 6-ounce cup similar to their traditional American drip coffee.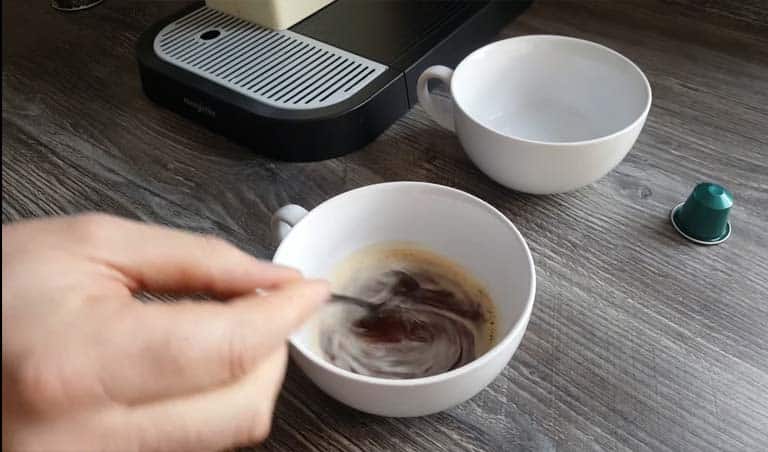 With an americano, it's not necessary to follow the above ratio. You can change it according to your taste. While going for less intensity, you can increase the amount of water; for more espresso flavor, you can double the espresso shots.
Making Americano Using OriginalLine Nespresso Machine :
With Nespresso's original line, it's easy to make a hot Americano since you can get the espresso and hot water into your cup with a single touch button. You can use models like Nespresso Pixie, Essenza, CitiZ, Inissia, and Lattissima to get the best results.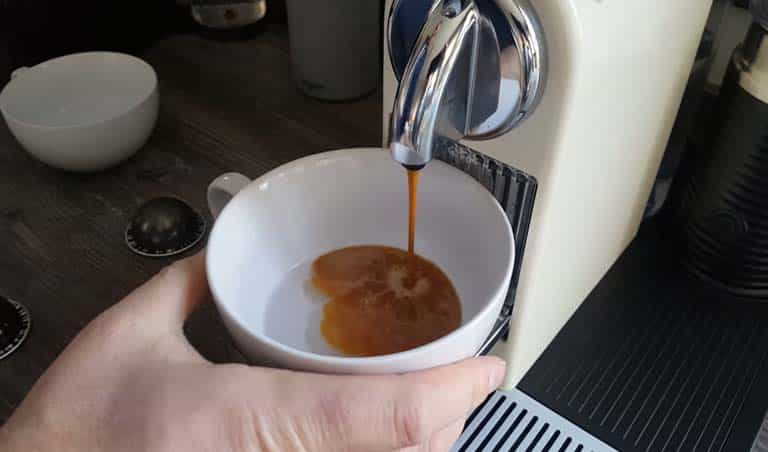 It will only take 30 seconds so let's jump into it.
Nespresso Americano
Equipment
Any Nespresso machine Original Model.

A free counter space.
Ingredients
A coffee mug of at least 6 oz.

Your favorite Nespresso original or third-party pod.
Instructions
Prepare your machine by filling the water tank and placing the cup under the brew head.

Plug your Nespresso machine.

Inject a capsule and close the lid.

Press the espresso button once.

Wait for the espresso shot to pour over into your cup.

Open the lid for the capsule to move to the pod holder and close it.

Press the button once. This time, the hot water will pour into your cup.

Remember that you can adjust the amount of hot water added to it.

Taste the coffee and enjoy your Americano if you think this is the coffee for you.

If you feel like you should make it more intense, insert the capsule into the button and press the espresso button.

Pour the espresso into the same cup.

If you think you want to make your coffee dilute, you can add more water by emptying the machine and pressing the button to get one more shot of hot water into the same cup.
Notes
You can always keep changing the espresso and hot water ratio while making the coffee you want.
Remember that your Nespresso Americano can be diluted while adding more water, resulting in a thin layer of crema. Hence, if you are a crema lover, use less water.
Making Americano with Vertuoline Nespresso Machine:
With Nespresso Vertuoline machines, things get a bit different, as the machine doesn't offer hot water at the push of a button.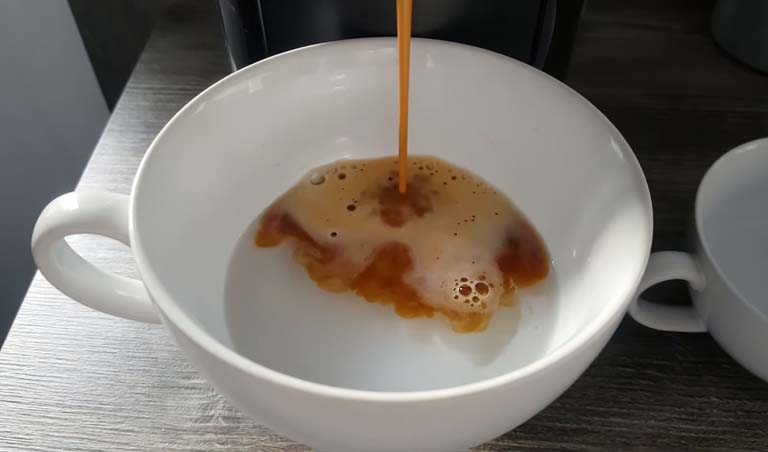 However, the hot water can be extracted from the Nespresso machine, while cleaning is difficult. A solution is using a stovetop to boil the water for making Nespresso Americano in a Vertuoline machine.
Nespresso Americano
Equipment
Vertuo Nespresso machine

A coffee mug of at least 6 oz
Ingredients
Stovetop or hot water

Your favorite Nespresso pod
Instructions
If you make a standard espresso, you need 3oz of water, whereas if you use a double espresso pod, you need to add 5.5oz of water.

On the stovetop, warm the measured amount of water to the required temperature.

Put an espresso pod—single or double—into your Vertuo machine.

Use a cup of at least 10 oz if you use a double espresso capsule.

To the espresso-filled cup, add the boiling water.

And there you go, enjoy your Americano.
Notes
It will take at least two minutes because you must warm the water first and then brew the coffee pod. So, keep this in mind while using Vertuoline.
How to make Different types of Americano:
We have already seen the traditional way of making Americano with espresso and hot water. Now due to the increase in consumer demand, market gurus have made calls for offering americanos in different variants.
How to make White Americano:
A White Americano or white coffee is just adding whole milk into the traditional Americano to give your coffee more depth, crema, and flavor.
However, while making White Americano, you must be careful about adding milk, hot water, and espresso pod ratios. You can add ⅓ of milk to ⅔ of hot water and one espresso shot.
How to make Red-Eye Americano:
The Red Eye Americano is what you need if you need a caffeine infusion.
Red Eye Americano tends to give a strong punch of espresso poured over a regular drip coffee. However, adding espresso to regular coffee helps balance the flavor and make it quite drinkable for non-bitter taste buds drinkers.
You can always add two capsules of espresso to your coffee if you feel like this isn't enough.
How to make Iced Americano:
For those who are looking for cold espresso drinks, this one is the perfect match for you.
Iced Americano replaces the hot water with cold water with a shot of espresso. While making an iced coffee, add cold water with a bunch of ice cubes to your cup and pour espresso over it.
3 Best Pods To Use While Making Nespresso Americano:
While making traditional Nespresso Americano, it is recommended to use lower-intensity pods from 1-5 on the Nespresso scale to get the iconic taste.
Volluto is an Original Line capsule from Brazilian and Columbian Arabicas, with a sweet and light aromatic flavor and a sense of cereal biscuity taste. It has a level 4 intensity with a cup size of 1.35 oz.
If you are looking for a fresh and light aroma:


Our Pick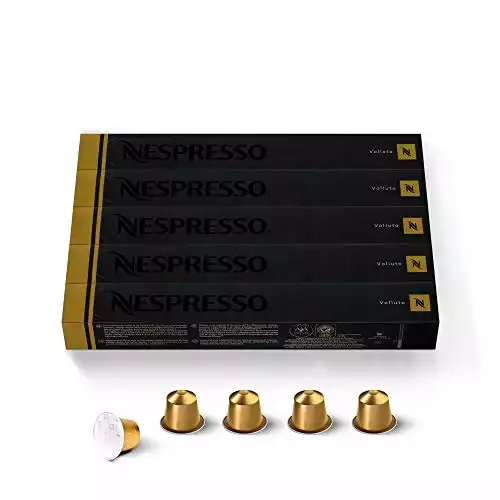 We earn a commission if you make a purchase, at no additional cost to you.
The toasted cereal notes of Solelio coffee are enriched by delicate red fruit aromas associated with Kenyan and Colombian Arabicas, giving rise to a well-balanced and lightly roasted morning blend.
This medium-intensity level 4 pod is the complete morning blend you can have in your regular good Americano.


Our Pick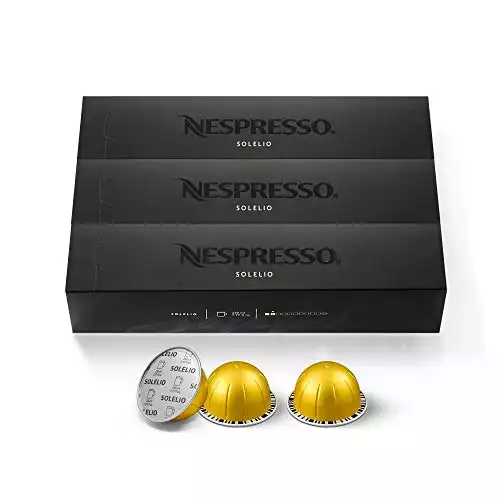 We earn a commission if you make a purchase, at no additional cost to you.
Suppose you are looking for a more intense Americano. In that case, you can use one shot of Roma's original line pod, originating from Natural Arabicas, having cereal and light woody notes with an intensity level of 8.
It serves cup sizes of 0.85oz and 1.35 oz.


Our Pick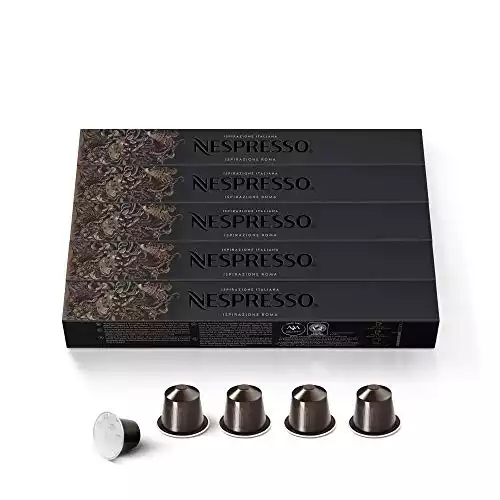 We earn a commission if you make a purchase, at no additional cost to you.
Conclusion:
You can make Americano using both Nespresso models. If you want more ease and time-savings, you can go for an Original line machine.

However, if you already have a Vertuoline machine, you can still easily make an Americano.
Choosing a pod is your preference. Those mentioned above can give you the best results for making a traditional Americano.
Plus, you can always switch to different variants of americano if you are tired of the traditional one!
FAQs:
What Is The Difference Between a Gran Lungo and an Americano?
A gran Lungo is a larger cup of espresso with more water with one intense Nespresso pod and has a thick layer of crema compared to an americano.
Can I make an Americano without a Nespresso machine?
You can make americano using an espresso machine as you require a machine to brew the espresso beans or a capsule.
However, if you are a newbie barista maker with a limited budget, you can stick with the Nespresso machines as they are easy to use and less expensive than espresso machines.
How many calories are in an Americano?
The traditional Americano made in hot water has only 5 calories. Americano with added milk makes up to 15 calories.
What is the difference between espresso and an americano?
Espresso is a highly concentrated coffee shot with greater coffee intensity. In contrast, Americano is a lighter version of espresso, where it is diluted with water for the taste to be balanced.
What is the difference between an Americano and a latte?
Latte is a longer cup of espresso shot mixed with steamed milk and topped with a light layer of foamed milk. In contrast, Americano is a regular coffee cup with hot water mixed with one espresso containing rich crema.