Nespresso has a variety of coffee machines and coffee capsules. Each Nespresso coffee machine uses specific pods, and you can't use them interchangeably. Therefore, you can't use Original Nespresso pods in Nespresso VertuoLine machines.
Vertuo machines are the newest and improved version of Nespresso machines that come with various new features. The Vertuo machines only work with Vertuo pods to brew coffee using its barcode scanning technology.
The Vertuo pods are dome-shaped containers filled with coffee grounds. The pods come in three sizes and can make five different drinks. These pods differ in size and shape from the Original pods, which is why you can't use Original pods in VertuoLine machines.
Read on to know why you can't, and you shouldn't use any other pods in VertuoLine machines than its Vertuo range.
Key Takeaways
Nespresso machines belong to two product lines, each having different pods.
The barcode scanning and centrifusion technology make VertuoLine espresso machines limited to using Vertuo Pods.
Vertuo Pods have no alternative options in the market.
Vertuo capsules have three sizes that can prepare five types of drinks.
You can use your own coffee grounds in Nespresso machines with refillable pods.
What is the difference between Nespresso VertuoLine and OriginalLine?
Nespresso is a world-known brand for its single-serve coffee machines. It has two product lines: VertuoLine and Original Line.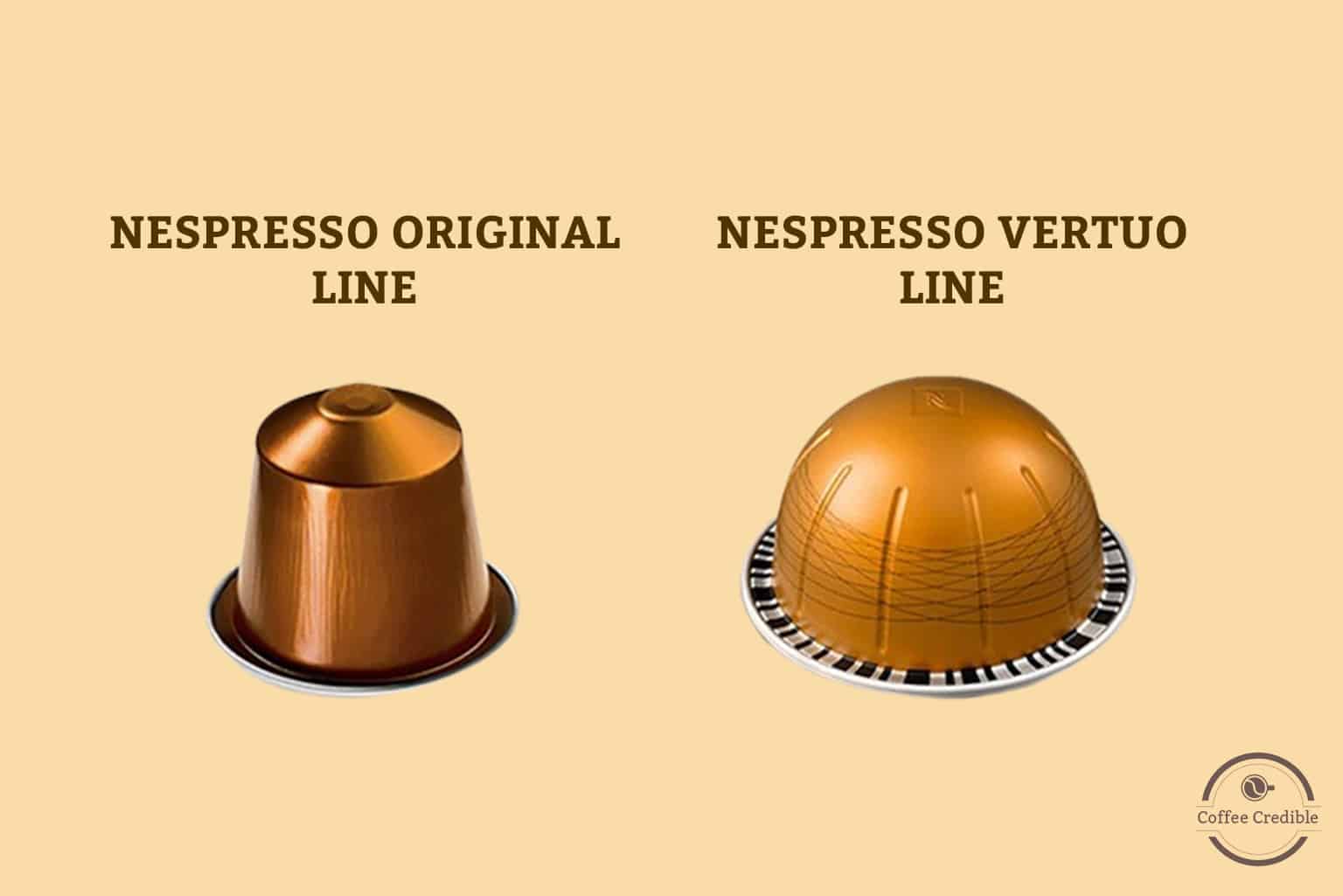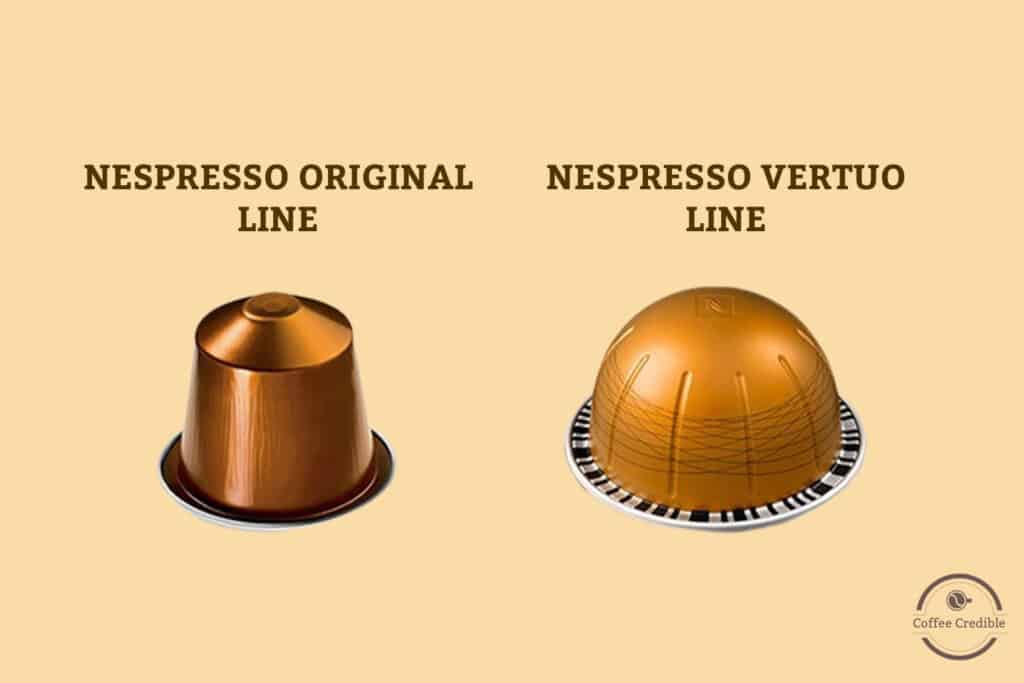 Nespresso Vertuo and Original line have coffee machines from mid to high price ranges that offer various brew sizes. Both also differ in their coffee pods and brewing technique for their pods.
VertuoLine consists of fewer but high-end Nespresso models. These espresso machines are expensive, and the capsules also cost a lot. They work with barcode scanning and centrifusion technology for brewing coffee pods. VertuoLine models only use Vertuo pods and have no alternative options for them.
The Original line has a range of coffee machines that vary from mid to high price ranges. These Original Nespresso machines have 19-bar pressure technology for brewing coffee from pods. The original pods are also relatively cheaper and can use Nespresso-compatible pods as a substitute.
Reasons why Nespresso Original Pods won't work in VertuoLine Machines
Hopefully, you understand that you can't use Original Nespresso Pods in any VertuoLine machine. There are logical reasons for it, and we will tell you why.
1. Pod Scanning
Using barcode technology, VertuoLine models recognize a coffee pod with high precision. The process starts as soon as you insert it into the holder and press the brew button.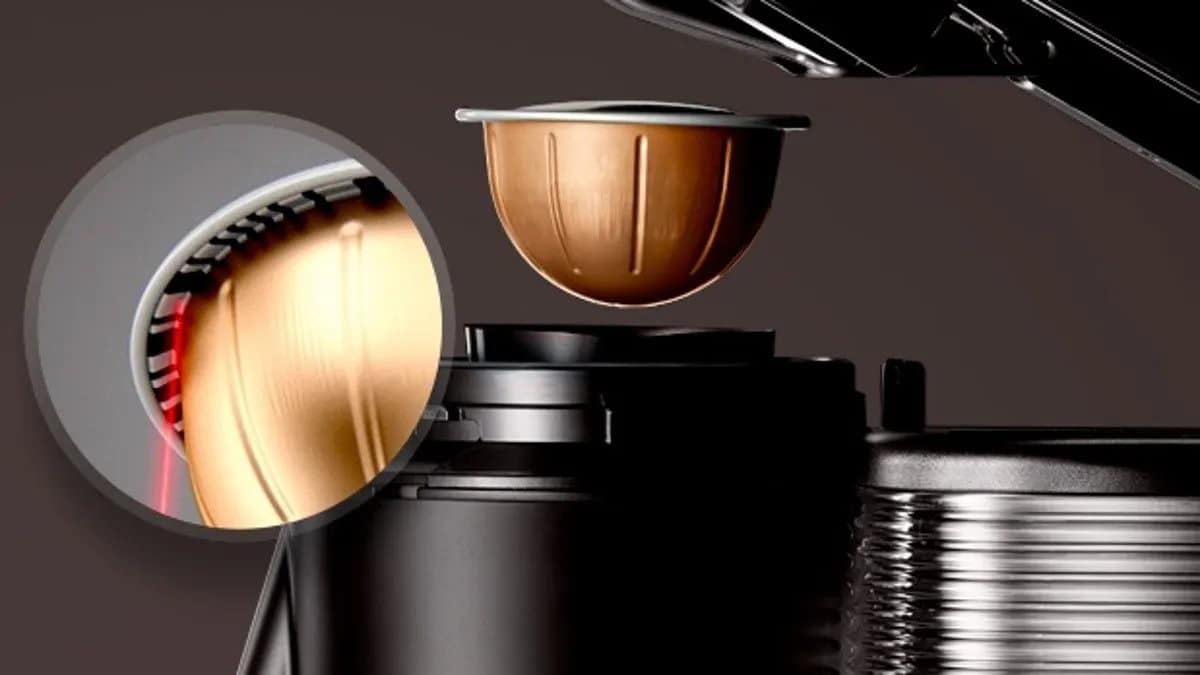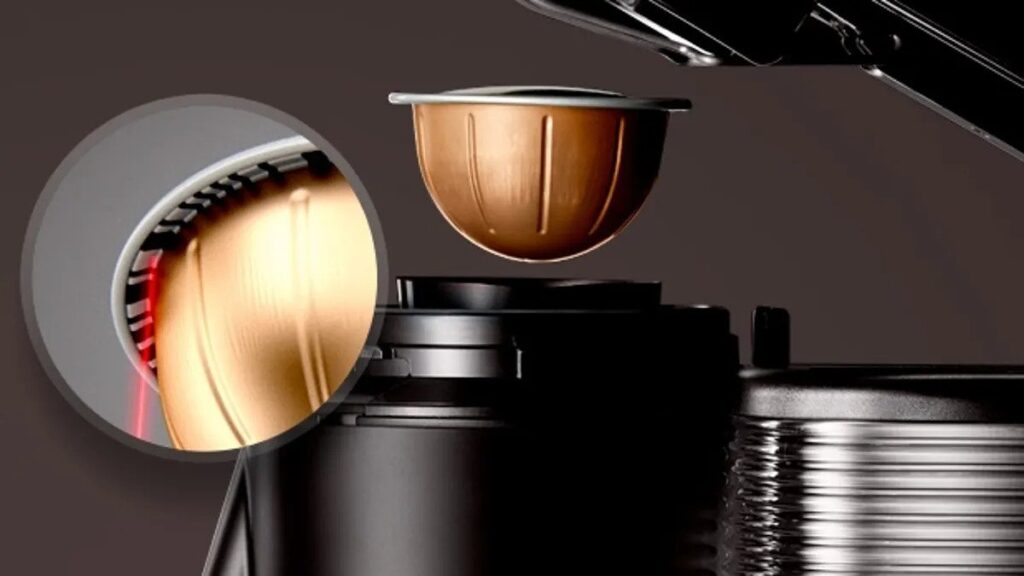 Only vertuo pods work in vertuo machines because they have codes written on the pods that the Vertuo machines scan for extraction. Upon inserting a capsule, the system adjusts the brewing settings for that capsule, including water volume, boiling temperature, capsule spin rate, flow rate, and contact time with the water.
2. Brewing Technology
Vertuoline machines use centrifuging brewing technology. This word combines centrifugal and infusion and refers to the infusion of ground coffee in the capsule using water. The flow of water extracts coffee by rotating the pod at 7000 rpm.
On the other hand, Original pods require different brewing technology. For Original Nespresso pods, 19-bar pressure does the job by pushing washing through the pod.
3. Size and Shape of Capsule
VertuoLine coffee machines use pods bigger than the Original pods and have different shapes. Their pod holders can only fit in dome-shaped pods. Vertuo pods have three sizes, each for different types of drinks.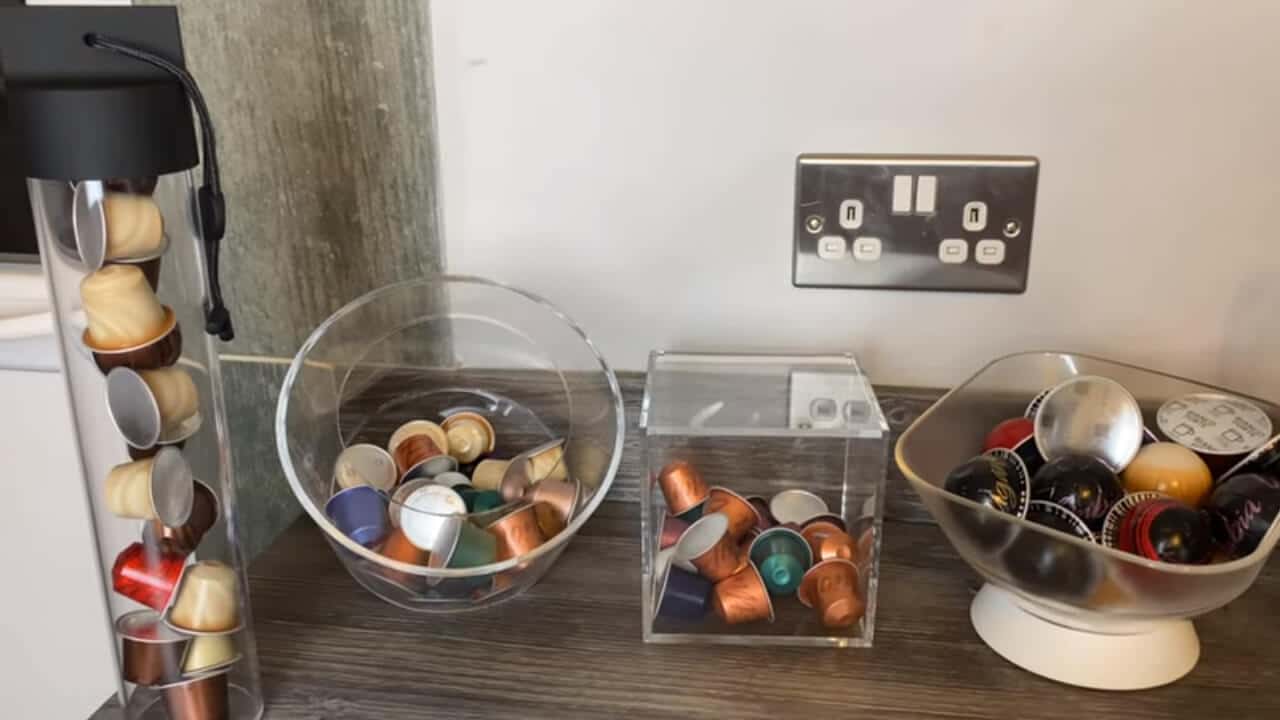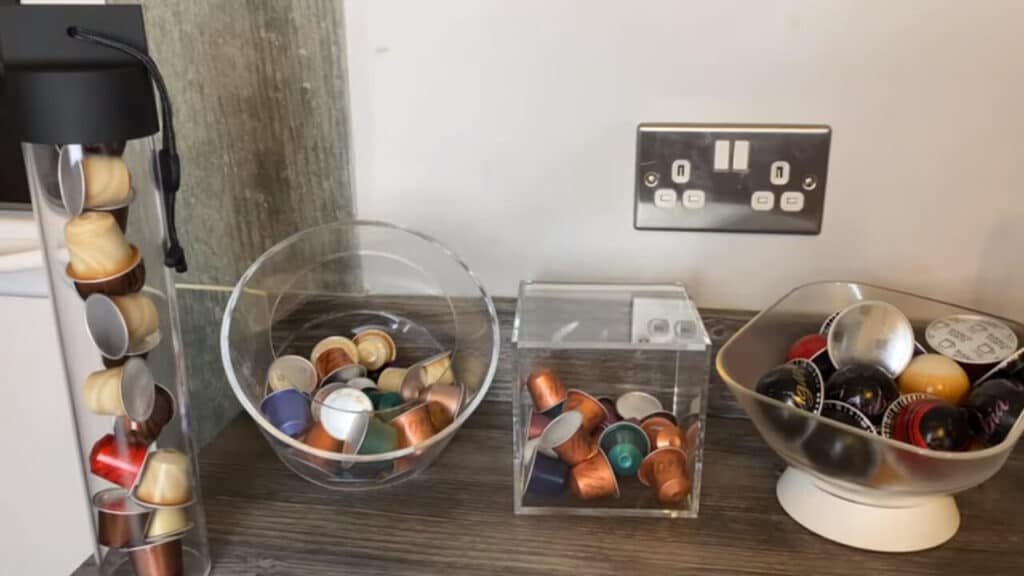 On the other hand, the Original pods have only one size and are narrow. The Nespresso pods for VertuoLine machines differ in shape, size, flavors, and intensity levels.
Can you use your own coffee in Nespresso VertuoLine?
All Nespresso coffee machines have a pod system and specific brewing technology, so you can not directly add coffee grounds to them to brew coffee. No matter what model you have, getting coffee pods is a compulsion.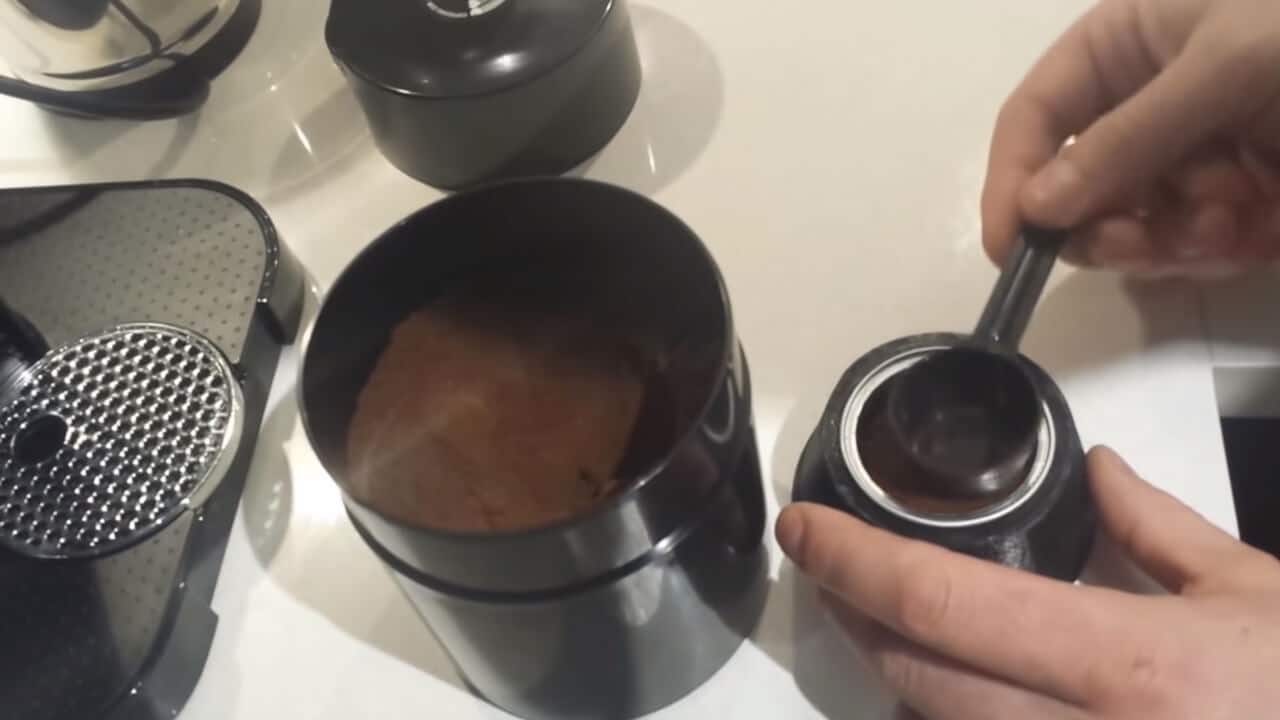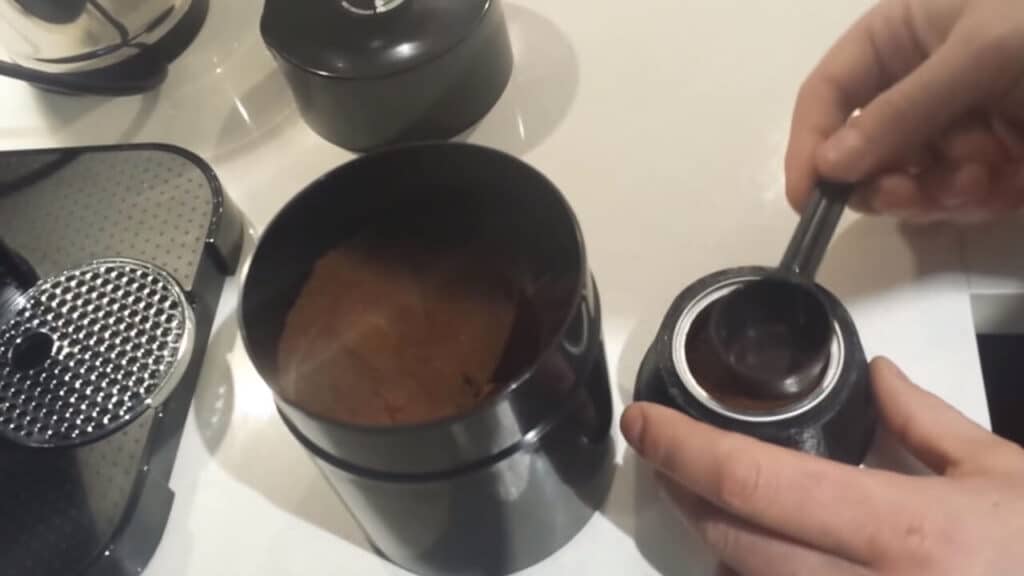 Expert Tip
Both the Vertuo and Original machines can use refillable capsules. You can fill these pods with the coffee grounds of your choice. However, Refillable Vertuo capsules don't come with optimizing brew instructions for your coffee, so keep that in mind.
How to use your own coffee in Nespresso VertuoLine?
If you plan to use your own coffee in your VertuoLine mode, you must know how to use refillable coffee pods. Following are the steps to guide you through the process:
Brew a drink using a Vertuo Pod. After brewing, eject the pod from the machine and remove its lid and filter. Clean the pod thoroughly to get rid of any coffee residue.
The pod should have no coffee grounds and must be dry before refilling.
Put the capsule in the coffee holder of your Nespresso machine to fill it with coffee.
Fill the coffee capsule with your own coffee grounds, leaving some space on the top. Tap it a little to even it all out.
Place the filter on the pod and then close it with a lid. Your coffee pod is now ready for use.
Note
You can not use the same lid and filter paper for refilling capsules. You will have to get new ones.
Espresso Pods for VertuoLine Machines: Top Picks
We have come up with our favorite picks for you to try with your Nespresso Vertuo machine. You can choose your favorite pod according to your preferred flavors, intensity, and caffeine content.
The Bottom Line
Whether you're just learning about Nespresso or planning to purchase one, understanding the differences between Nespresso pods is crucial, and we hope this article was of some help.
Nespresso has a wide range of coffee machines and pods, suitable for every coffee drinker according to their preferences. However, every coffee machine has some limitations. There is no way that Original Pods will work in a VertuoLine coffee machine. The Vertuo pods have an outstanding range of flavors with various levels of intensity and taste. Give them a try!