Ninja Coffee Bar and Nespresso are top coffee brands. That's why picking one can be a bit difficult. Let's make it easy!
Ninja Coffee Bar, owned by SharkNinja, is a sizable plastic drip coffee system compatible machine having five different brew sizes, a built-in frother, and strength adjustments to give a delicious cup of coffee.
Nespresso, owned by Nestle, produces high-end single-serve coffee makers with exclusive coffee pods to produce a unique crema topping. Nespresso VertuoLine detects the barcodes on the coffee pods and offers a centrifugation brewing system. Nespresso Original Line employs espresso brewing and is compatible with third-party pods.
You might have gotten a glimpse of what both coffee gangs offer. The only thing left is your decision. Read the article to get along with your coffee brand.
Nespresso Vs. Ninja Coffee Bar Who Is The Winner?
| | | |
| --- | --- | --- |
| | | |
| | | |
| | | |
| | Nespresso Vertuo Coffee and Espresso Machine by De'Longhi | Ninja Specialty Fold-Away Frother (CM401) |
| | Plastic with metal details | |
| | | 8.75" D x 11.99"W x 15.04"H |
| | | |
| | | |
| | | |
| | | |
| | | |
| | After 9 mins of inactivity | After 1 or 2 hours of Inactivity |
| Build-in Fold Away Frother | | |
| | | |
| | | |
| | | |
| | | |
| | | Single/XL cup, Mug/ XL Multi-Serve, Full/half Carafe |
| | | |
| | | |
Ninja Coffee Bar, All You Should Know!
Ninja is a reasonably priced brand that sells common kitchen appliances like blenders, pressure cookers, air fryers, indoor grills, coffee & tea makers, and more.
Three distinct models of the Ninja Coffee Bar exist, with different carafe systems and designs. It offers four series of coffee makers, each providing unique features, making the machine the Ninja Coffee Bar.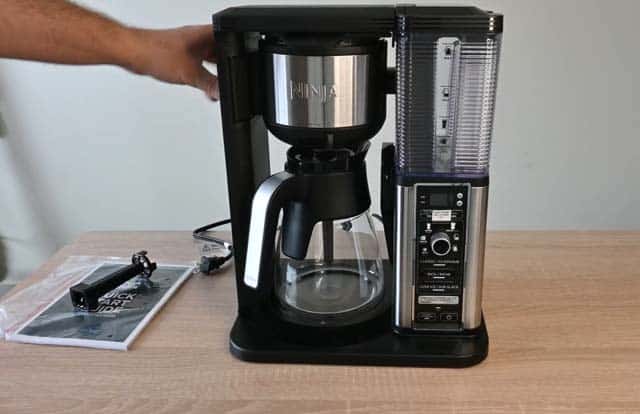 The first innovative series was a simple coffee brewer that brewed normal drip coffee for small and large cups. Then it improvised to a Speciality coffee maker, which specifically offered concentrated Over Ice and Specialty mode settings.
Another innovation in the form of a coffee bar came, which offers the Specialty Coffee Maker with Cafe Forte mode and integrated frother. The coffee bar holds a cold brew mode and a tea basket accessory for a more advanced outlook.
| | |
| --- | --- |
| | |
| Provide varied servings for small and large scoops | Acquires larger counter spaces |
| Give warning alerts for Hard water, and audible signals for readiness | Weighs greater making the machine bulky |
| Auto-IQ system, which automatically reads the water requirements for each brew | Milk frother only provides frothed milk, not hot/cold |
| Comes with an Integrated milk frother | Not user-friendly (It's not handy due to various components) |
| Nicely brew head design, including an effective permanent filter | Makes a lot of noise |
| It offers one year of warranty plan in which you can easily replace your Ninja machine components | Fine pass through the filter, making the coffee less smooth |
Nespresso, All you Need To Know:
Nespresso is a European coffee brand that mainly offers advanced technology Nespresso coffee makers and Nespresso coffee pods.
The coffee makers are divided into the OriginalLine and the VertuoLine machines.
The OriginalLine is a single-serve espresso machine that follows the simple espresso pressure brewing system and relies on Nespresso pods and other third-party pods.
The Vertuoline offers both coffee and espresso while following a unique centrifugation brewing technology that detects the coffee brew and thoroughly spins pods, which eventually generates crema on top. It only uses Nespresso pods.
| | |
| --- | --- |
| | |
| Nespresso OriginalLine offers Better-quality espresso | It's a bit expensive. (the additional cost of the pod is not added to the machine) |
| Nespresso Vertuoline brews special crema layer smooth coffee | Nespresso Vertuo is only limited to Nespresso Branded pods |
| User-friendly and Intuitive Interface | Not a good use for a crowd of coffee drinkers |
| Acquires less counter space | |
| It offers recyclable capsules, hence environmental friendly | |
| Offer various models with a milk frother that froth the milk with the required temperature entered by a user (Whether hot or cold) | |
| Gives errors and descaling alerts to the user | |
Ninja Coffee Bar Vs. Nespresso (Side-by-side comparison):
Let's understand the difference in coffee types, design, brewing system, cleaning and maintenance, price, usability, and environmental impact both Ninja Coffee Bar and Nespresso propose to us.
Coffee Kind:
Coffee Kind explains how much the brands brew various coffee, its size, and how they taste and can be felt by a coffee enthusiast.
Ninja Coffee Bar:
Ninja maker can brew coffee beans in four sizes, including a Small Cup, Cup, XL Cup, Travel Mug, XL Travel Mug, 1/4 Carafe, 1/2 Carafe, 3/4 Carafe, or Full Carafe.
It brews differently in each of its four series and makes coffee that is the absolute fit for any taste or use.
Its classic brew system offers a smooth and balanced flavored coffee. The rich brew consists of a richer and never-ending bitter taste ascending with the blended touch of milk.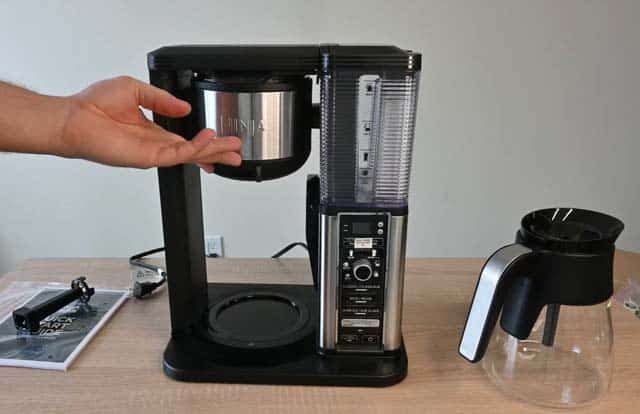 The over-ice brew provides rich, soulful iced coffee non-diluted with water. Specialty Brew system also concentrated richer taste for iced cold coffees and hot milk drinks.
Cafe Forte Brew gives a deep, fully flavored, mouthful coffee. It doesn't even require any additional sweeteners or milk.
Nespresso:
Using Nespresso, coffee fans can treat themselves to various cup sizes and flavors, as the capsule line from Nespresso offers coffee in various blends, tastes, and roast intensities.
You can also buy a milk frother to froth cold or hot milk or opt for machines like Creatista or Lattissima series with an in-built frother/ steam wand function.
With Nespresso Vertuo machines, you can make a deeply caffeinated rich crema coffee using Vertuoline Pods:
Each espresso capsule contains 60–150 mg of caffeine.
Less than 200 milligrams are in a double espresso pill.
Each capsule of Gran Lungo contains 120–125 milligrams of caffeine.
Each coffee and Alto capsule cup has 130–200 mg of caffeine.
About 90 mg of caffeine is present in the Half Caffeinato blend.
With Nespresso Original Line, you can make the best traditional espresso using OriginalLine pods:
Each brewed espresso capsule has 55–65 mg of caffeine.
Lungo mix contains 20% more coffee per pill than Espresso, or 77-89 mg, of caffeine.
The most caffeine is found in the Kazar blend, which contains 125 mg per pill.
Machine Design and Purpose:
This section will explain how the design differs in both Ninja and Nespresso machines and what they offer.
Ninja Coffee Bar:
With Ninja Coffee Bar, you have to decide upon a permanent place as it's not much transportable daily because it weighs higher.
Its user interface is full of various components, each serving different functions. However, a pro coffee drinker will better comprehend coffee settings in a ninja machine.
1. Interface:
The circular Brew dial allows you to choose the coffee and serving size from a cup to a full carafe.
Above the brew dial, there is also a Delay brew timer in which you can select the time and click on the button for the coffee to be prepared at the exact time you need.
The Classic and Rich buttons allow you to choose the coffee concentration levels. For a regular morning cup, you can select a classic.
For a strong brew or over-ice coffee setting, you can choose two options: Specialty for 4oz and Cafe forte for 8oz.
You can also click on the Stay warm button to keep your carafe of coffee hot.
There are other buttons, including Automatic cleaning, Drip stop, and Pre-heating intuitive lights.
2. Components:
Water Reservoir is made 50-ounce (10-cup) transparent plastic holder with easy-to-read measurements printed on the side, which is applied to all the cup sizes, so you don't need to do maths.
A 50-ounce dripless Steel/ Glass Carafe is connected directly with the flow of brewed coffee to the bottom of the container to keep the coffee warm throughout the brewing process.
The Warming Plate is located beneath the carafe and switches on automatically as soon as coffee is added to it. It will automatically change its temperature to keep coffee hot without burning it.
An automatic foldable Milk Frother with a detachable whisk is part of the Ninja system. Pushing the top button while holding the whisk just below the milk's surface activates it.
A two-sided Coffee Scoop is included with the Ninja Coffee Bar for simple measuring. Carafes, half-carafes, and focused settings are intended for the bigger side, while the smaller side covers cups and travel mugs.
Coffee Filter is a gold-tone permanent eco- filter that is reusable and keeps the coffee oil and intense flavor intact like a French press.
Nespresso:
Nespresso machines are well-designed lightweight machines that add an aesthetic sense to your counter space.
Its slim body made it perfectly fits anywhere. Nespresso machines are known to be user-friendly as you just have to insert the pod and push the button, and your coffee is made.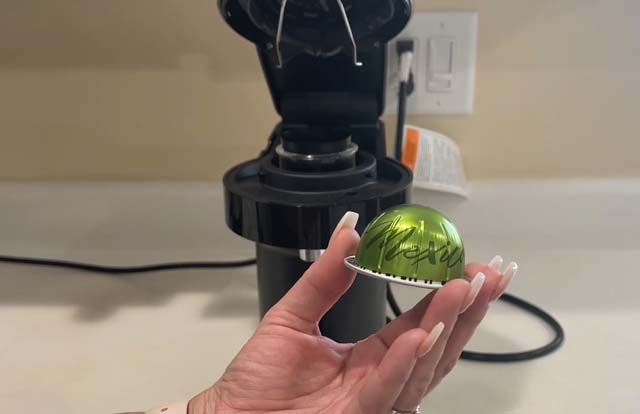 1. Interface:
Nespresso interface varies with the machine. Most models have a simple touch button and brew size buttons that signal many functions,s including showing error lights, cleaning, and descaling machine.
Some of the latest models, like Creatista and Lattisima Nespresso, offer a touch screen interface to provide options to choose the cup size and the type of coffee they need.
2. Components:
Nespresso Water tank sizes vary from different models and series. Most of them come with a larger 50oz above the extra large tank.
Then there is a pod holder which can catch up to the used pods. You can easily remove it, empty the holder and place it back.
There is also an adjustable drip tray that you can change according to your cup size.
Brewing System:
Ninja coffee bar and Nespresso both follow a different brewing system.
Ninja Coffee Bar:
The Auto IQ system sets the Ninja Coffee Bar Brew apart from conventional coffee makers, which over-extract the grounds, resulting in bitterness and sour flavor.
The IQ technology controls the water flow and temperature for the grounds to be uniformly saturated at various rates for each brew choice. It stops brewing during the process, also known as the pre-infusion cycle.
When you choose a brewing option, Ninja Coffee Bar pulls the necessary amount of water and heats it to the ideal temperature for a great cup, between 195 and 205 degrees.
Nespresso:
Nespresso produces your beverage at the ideal temperature of 172° F for coffee and 181° to 187° F for espresso. Nespresso's brewing process is robust, offering five different flavors to give you a fuller, richer taste.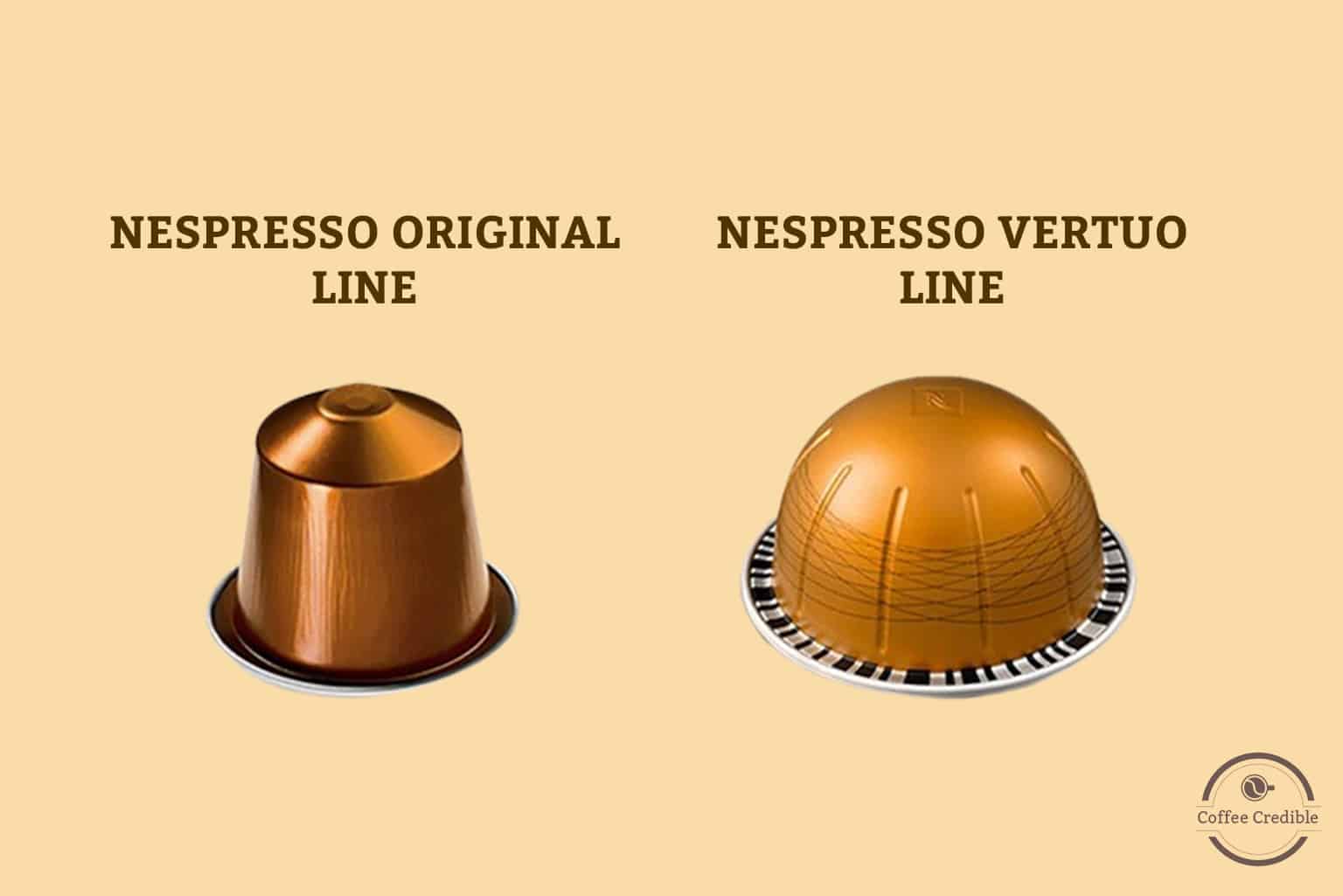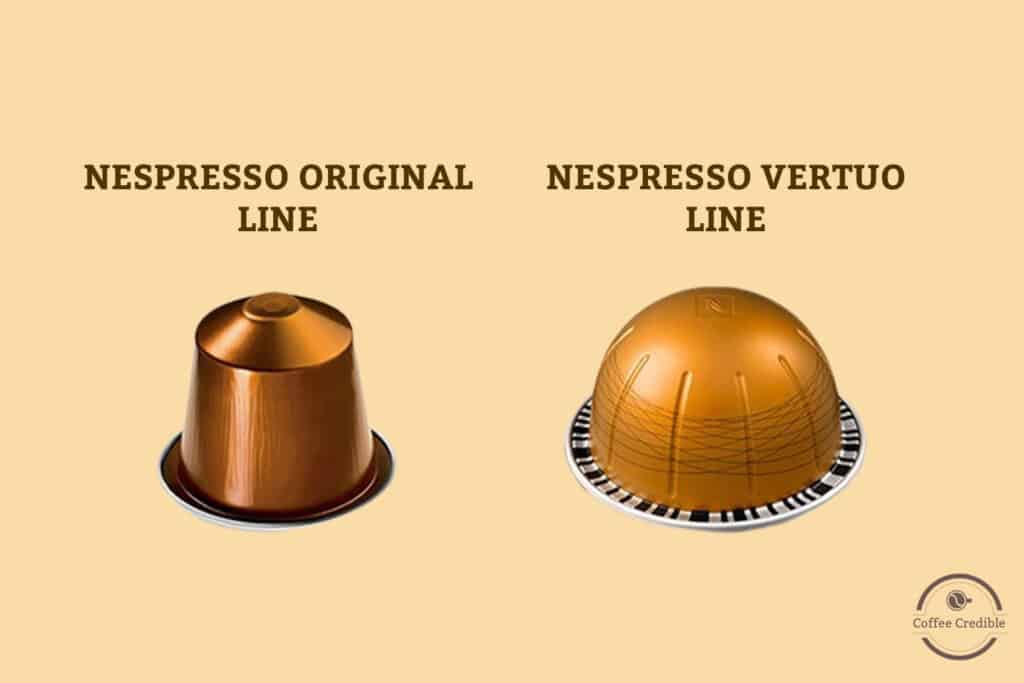 1. The Nespresso Original Line
Nespresso Original Line brews coffee with the 19-bar high-pressure extraction. You may get three sizes of coffee: ristretto, espresso, and lungo. The real ingredients of a superb espresso or coffee are time and temperature.
2. The Nespresso Vertuoline
Nespresso Vertuoline uses a centrifugation method, in which the pod is spun at around 7000 rpm by centrifugal force and water fusion. It takes roughly 1 minute and 30 seconds to prepare your coffee or espresso after puncturing the pod from the edges and in the middle.
Cleaning and Maintenance:
Cleaning and Maintaining both Ninja Coffee bar and Nespresso machine are relatively easy.
Ninja Coffee Bar:
Ninja Coffee Bar cleaning is easy because it has removable components which you can simply wash off.
Close the drip stop and gently remove and wash the permanent filter. Throw away the paper-used filter. Take the brew basket out of the brewer, give it warm water, and rinse.
Additionally, the reservoir and carafe are both dishwasher-safe. You may clean the carafe and water reservoir with a soft brush and warm, soapy water.
You can follow the instructions in the user manual to start the automatic cleaning.
Nespresso:
With Nespresso, you can quickly empty the pod holder and rinse it with water. Fill the water tank and add a Nespresso descaling liquid to run a deep internal cleaning.
Follow the instructions on the user manual, and your machine will be clean in just 30 mins automatically.
Price:
Let's look at the price range of both brands and decide which one you should go for!
Ninja Coffee Bar:
From the table comparison, you can also observe that ninja coffee bars are usually less expensive than Nespresso. It also comes with its reason because it is less user-friendly than a Nespresso machine and is favorable to coffee pro makers.
Nespresso:
Nespresso is double the price of a ninja coffee bar machine because it has a user-friendly interface and a luxurious look.
It brews espresso and other coffee types with just a button, which the ninja coffee bar doesn't offer.
Environmental Impact:
Before making up your mind about any coffee brand, you should think twice about whether the fact is environmentally friendly or not.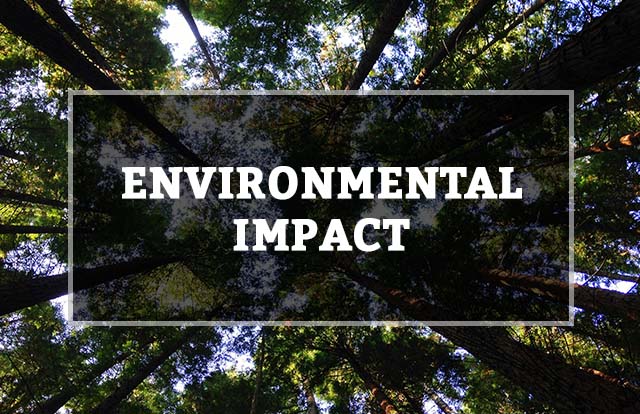 Ninja Coffee Bar:
The Ninja Coffee Bar uses a paper filter and permanent filters in its machine, which is pod free and eco-friendly.
However, Ninja Coffee Bar doesn't seem more expressive about environmental impacts than Nespresso.
Nespresso:
In their stores and shared retail locations, Nespresso has built a reliable network of recycling stations through the E-Collaboration Program, where you may dispose of your used capsules.
Nespresso promotes recycling of the capsules through TerraCycle drop-off facilities in retail partner locations around the US, Nespresso collection points in Nespresso boutiques, and through Nespresso's mail-back program via UPS.
Ninja Coffee Bar Vs. Nespresso Who won?
Ninja Coffee Bar and Nespresso are winners in their designs and specialties.
You can decide on a coffee maker from Ninja Coffee bar If you are more prone to a grounded coffee brew than a pod.
Also, if you like to try the other ranges of coffee leaving espresso, then the Ninja coffee maker is the option.
Further, if your budget lies in the ninja coffee bar range, you should get it now.
You can consider a Nespresso machine if you have an open budget. Also, if you are looking for an elegant coffee machine with a slim body, Nespresso is just for you.
Further, if you find its tech-advanced coffee brew and pod insertion system more easy and time-saving, you should go for a Nespresso.
FAQs
Can you make espresso with a Ninja Coffee Bar? Does Ninja still make the coffee bar?
NO! The Ninja Coffee Bar does not brew espresso. However, it does produce a rich coffee concentrate that works well as an espresso alternative in homemade lattes, cappuccinos, and other drinks.
Do you need filters for Ninja Coffee Bar?
You don't need a paper filter because the Ninja Coffee Bar has a permanent filter. You simply pour your preferred coffee into the reusable filter. However, you can remove the permanent filter and use the paper one but keep in mind that it can absorb coffee aromas.
Why does my Ninja make bitter coffee?
The reason might be temperature set for the brew is higher, which causes the coffee to burn and give you a bitter taste.
What is the difference between Nespresso OriginalLine and Vertuoline?
The difference between both models is the brewing and pod usage difference. The original line can use third-party pods and involves a simple espresso brew pressure system. Whereas, Vertuoline uses centrifugation technology to brew coffee only with Nespresso pods.