Hot chocolate can be the perfect way to get cozy on cold winter nights or chilly mornings, but can Nespresso make it? We know that Nespresso has global recognition for its great-tasting and quality coffee. It has various options for coffee machines and coffee pods. Still, it has yet to come up with its range of chocolate pods. However, several third-party manufacturers make a variety of chocolate pods that are compatible with Nespresso machines. You can use your Nespresso machine to make a hot chocolate cup, but is it the best option? We will get to the bottom of it in this article!
Nespresso has some coffee pods with a hint of cocoa but none specifically for hot chocolate. However, you can use alternative options. We have a list of options to help you satisfy your hot chocolate cravings. Depending on your Nespresso machine, you can use these pods to make hot chocolate. However, only original line machines have the privilege of using these pods. If you have a VertuoLine machine, you do not have a choice. The Vertuoline machines only accept Vertuo pods as it uses barcode scanning for extracting coffee pods.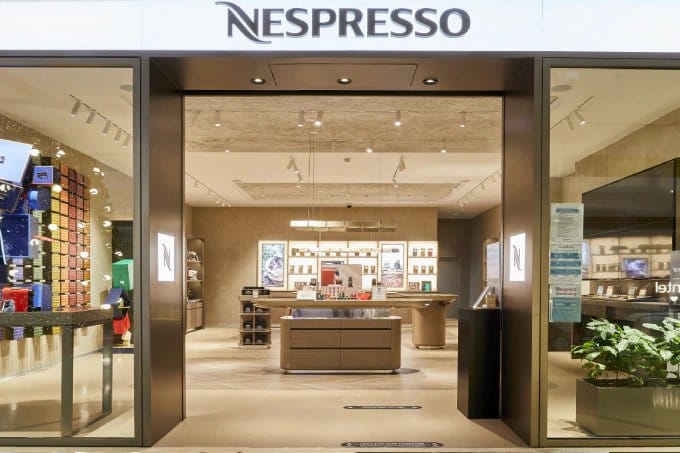 The Best Nespresso Hot Chocolate Pods for OriginalLine Machines
1. PODiSTA (Australia and USA)
PODiSTA takes the credit for being the first company in Australia to launch locally-made Nespresso pods in 2011. Since then, PODiSTA has kept the coffee experience exciting for Nespresso users with its range of unique chocolate pods. Their chocolate pods can be your go-to choice for making the best cup of hot chocolate using your Nespresso machine. Just keep in mind to follow the instructions regarding the water required to achieve the taste PODiSTA promises to deliver.
Our Pick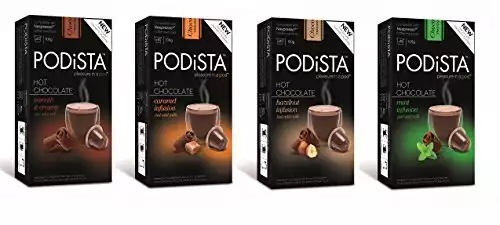 We earn a commission if you make a purchase, at no additional cost to you.

Here's a list of our favorite pods by PODiSTA from its hot chocolate range:
Mint Chocolate
Sugar-Free
Caramel and Chocolate
Hazelnut Hot Chocolate
Smooth and Creamy
2. Caffeluxe (South Africa)
A South African brand, Caffeluxe is not only famous for flavored coffee with medium to dark roasts but also for hot chocolate pods. One thing that makes it stand out from its competitors is the intensity of its chocolate pods. Caffeluxe chocolate pods are strong, intense, and contain a rich flavor. The pods are aromatic and create sweet hot chocolate if prepared correctly. Adding too much or too little water can ruin the quality, so research before prepping it.
The chocolate pods by Caffeluxe are compatible with the following Nespresso machines:
3. Primo Cafe (Australia and Tasmania)
Primo cafe curates flavored coffee and chocolate pods for Nespresso, making it easy for you to make your favorite beverages easily at home. The intensity level is around four on the intensity scale, so if you like your hot cocoa less intense, Primo Cafe pods will suit you best.
Each pack is resealable and contains 25 pods filled with cocoa flavors. The resealable bag keeps the pod fresh to make a velvety, rich, and smooth cup of hot chocolate. They also guarantee that their pods are gluten-free, so they can be suitable for people who are allergic to gluten or avoid it anyways.
4. Real Coffee (London, United Kingdom)
Real Coffee has some fantastic options for Nespresso users. It has the perfect range of hot chocolate pods in Dark hot chocolate, Sweet hot chocolate, and Classic hot chocolate. The dark chocolate pods make a delicious and intense cup of hot chocolate, which can be enhanced by adding whipped cream. When you add milk, add appropriate quantities to achieve the perfect taste.
Each package contains forty hot chocolate pods that can last a long time. These pods are compatible with the following Nespresso machines:
5. Fine Coffee Club (United Kingdom)
If you like to experiment with your hot chocolate, chocolate pods by the fine coffee club can be a good option. The same taste may become monotonous if you like having hot chocolate regularly. You can have this on its own or add cream, espresso shot, or any other condiments of your choice. The hints of rich mocha make it easy to blend with any additional flavors.
6. JomadCoffee
Café Palmieri by JomadCoffee provides pods for Nespresso machines. The pods contain more cocoa beans than the competitors, making rich hot chocolate that is not overly sweet. Each package has ten pods for you to enjoy making a cup of hot chocolate at home. You can get these pods from their website, and they will deliver them to your doorstep.
How to make Hot Chocolate with a Milk Frother?
Have you ever wondered if your milk frother can make hot chocolate? Well, it can! A milk frother makes delicious milk-based coffees and hot chocolate within a few minutes and without hassle. We have a delicious recipe and the easiest method to try making hot chocolate in your milk frother.
What you will need:
300 ml Milk (adjust the quantity according to the frother you are using)
Chocolate squares (chopped finely)
Vanilla extract, whipped cream, marshmallows. (optional)
Method:
Pour milk into the frother. It should be below the line marked on your frother.
Put the finely chopped chocolate in the frother.
Cover it and press the power button.
When you get the desired consistency, pour it into your cup and enjoy!
You can top it with whipped cream or vanilla extract.
How to prepare Hot Chocolate with a Nespresso Machine?
If you want a good cup of hot chocolate but want it to be smooth, your Nespresso machine can help you out. Use any Nespresso-compatible hot chocolate pods and milk frother to make a delicious cup at home.
What you will need:
A Nespresso machine
A milk frother
100 ml Milk
1 Chocolate pod
Method:
Insert a chocolate pod into the machine
Press the brew button
Froth the milk using your milk frother
Add frothed milk to the hot chocolate brew
Your hot chocolate is ready!
How to Improve the Nespresso Hot Chocolate Pod Flavor?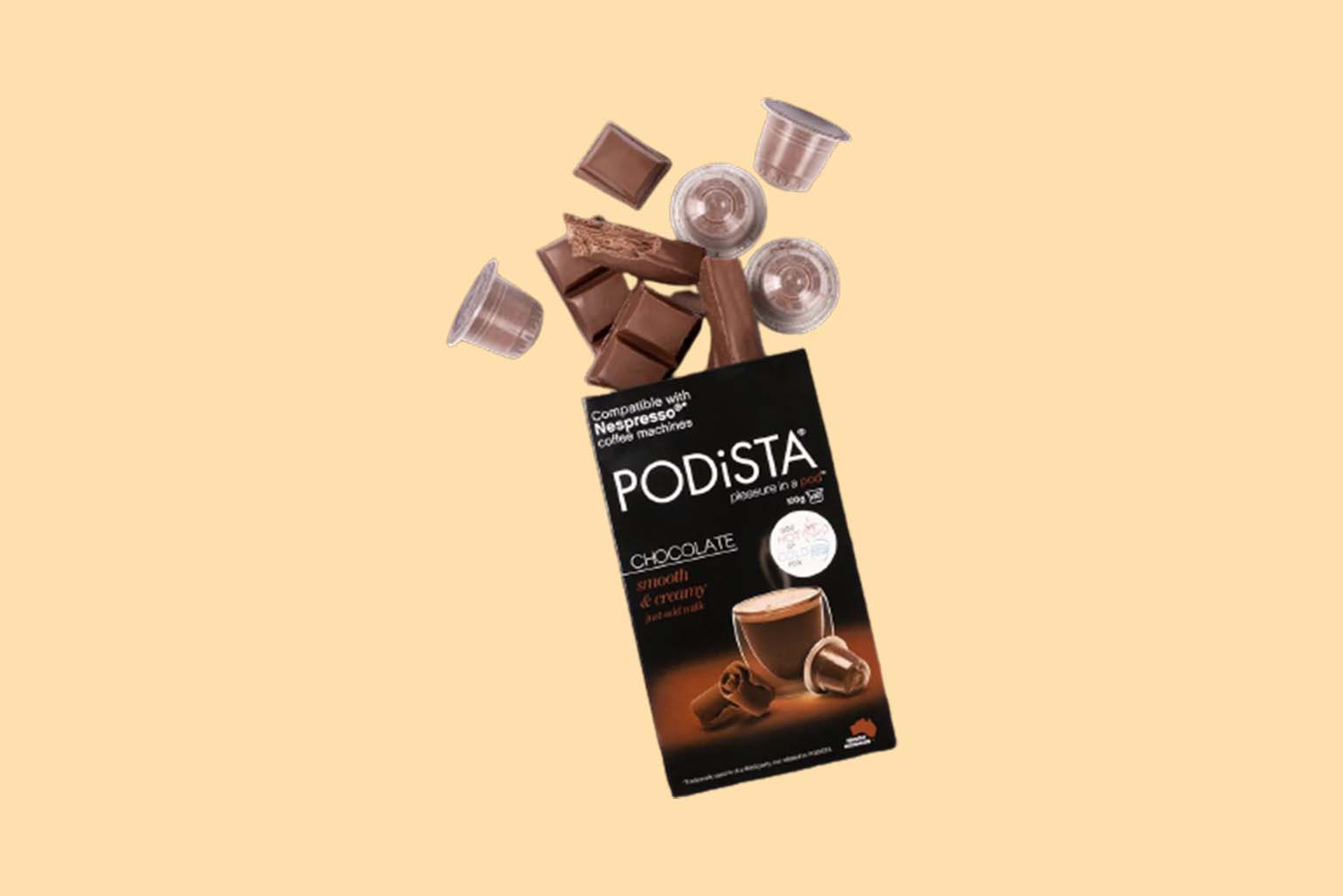 Regular hot chocolate is usually milky and thick, rich with cocoa flavor. The one you make using a Nespresso machine contains more water as it uses a certain amount of water to brew a chocolate pod. The taste and texture can be different for people who are not used to it, so you may add frothed milk to make it even better. Adding milk will instantly enhance the flavor and form a thick texture. You can experiment by adding cream, marshmallows, or vanilla extract.
Do off-brand pods damage the Nespresso machine?
Now that you know you can use chocolate pods to make hot chocolate with your Nespresso machine, you can experiment to your heart's content. Nespresso doesn't make its branded hot chocolate pods, and it is because, unlike coffee, the chocolate is too dense for their pods which makes it difficult for the water to pass through and brew it. The blockage of water can clog the machine, and it may damage some parts of it permanently.
Nespresso recommends not using off-brand chocolate pods because any third-party brand available in the market may not be suitable. Some trusted brands mentioned above can be the right choice for your Nespresso machines.
The Bottom Line
You can use a Nespresso machine to make hot drinks at home without any issues. We recommend using a Nespresso machine to make hot chocolate at home, but keep the details mentioned above in mind to enjoy a delicious hot chocolate without damaging your Nespresso machine.