Flavor

Aroma

Balance & Acidity
The Bottom Line
Odacio is a unique dark roast blend of boldness and sweetness with an intensity level of 6. The coffee is a dream come true for every dark roast lover!
Today, I will be reviewing one of the best-selling Nespresso VertuoLine Pods – Nespresso Odacio!
Experimenting with Nespresso machines and pods is my favorite thing to do. This time, I decided to get my hands on Nespresso Odacio capsules and review them for all coffee lovers. I experimented with the capsules for days and tested them on the basis of flavor, intensity, and overall quality.
So, are the Nespresso Odacio capsules worth buying? Keep Reading to know!
Features of Nespresso Odacio
Product Line: VertuoLine
Intensity: 7
Roast Type: Dark Roast
Caffeine: 165 mg
Coffee Type: Arabica
Volume: 230 ml
Nespresso Odacio Overview
Nespresso Odacio capsules are specifically for Nespresso VertuoLine machines. VertuoLine machines extract the coffee by rapidly spinning the pods. Having that said, they are definitely smaller in size than the OriginalLine pods.
First of all, I fell in love with the regal and classy packaging of the capsules. They were packed nicely, and the aroma was literally jumping out of the box.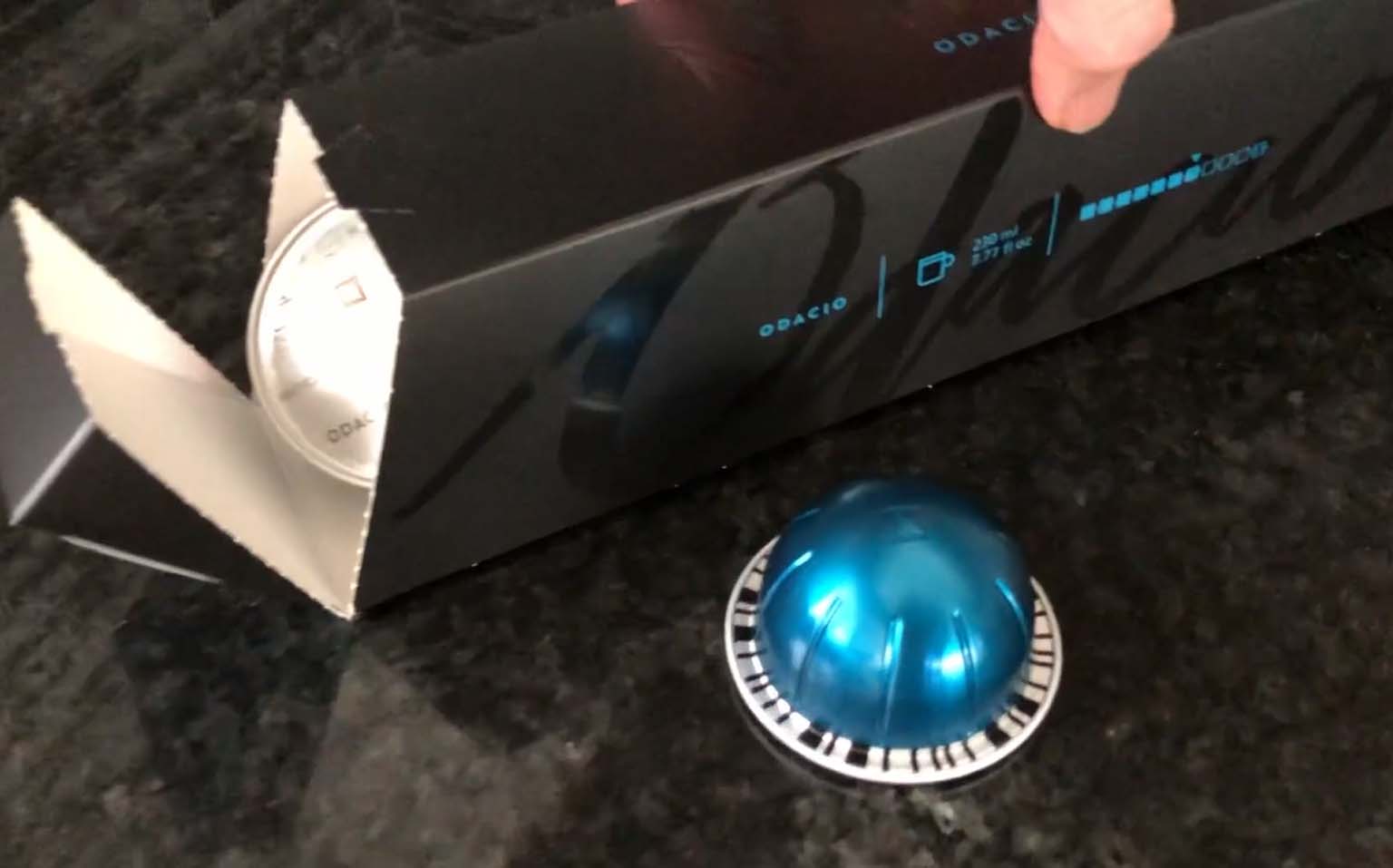 The pods are a blend of East Arabica and Nicaraguan coffee beans with an intensity level of 6. It produced a full-bodied, slightly bitter, and dark roast coffee with balanced intensity and flavors.
Apart from some bolder cereal notes and flavors, the coffee also had some fruity and floral notes too. Honestly, the fruity touch felt refreshing to my taste buds.
The acidity was also well-balanced and refined. I tried the coffee for 6 days every morning, and it gave me a boost of energy while opening my eyes wide. Not to forget, I also fell in love with the pleasant aroma of the coffee!
One single pod of Nespresso Odacio can give you 7.8 ounces of coffee. However, keep in mind that Odacio pods are expensive – and VertuoLine pods don't have any third-party alternatives. Apart from the price, I found these pods pretty good and, most importantly, flavorful.
| | |
| --- | --- |
| | |
| A unique blend of fruity and intense flavors | A bit pricey |
| Balanced intensity and bitterness | Not suitable for light roast lovers |
| Contains a pleasant aroma | |
Things to Consider Before Buying Nespresso Odacio
What you read above was just a tour of the flavor, roast type, and overall information of the Nespresso Odacio Capsules. Though these capsules are amazing, they might not be the right pick for everybody.
Everyone has different preferences when it comes to coffee; some prefer light roasts while some prefer medium. Also, some like their coffee less intense, while some want it very intense. So, you need to consider many things before finally purchasing the Nespresso Odacio coffee pods.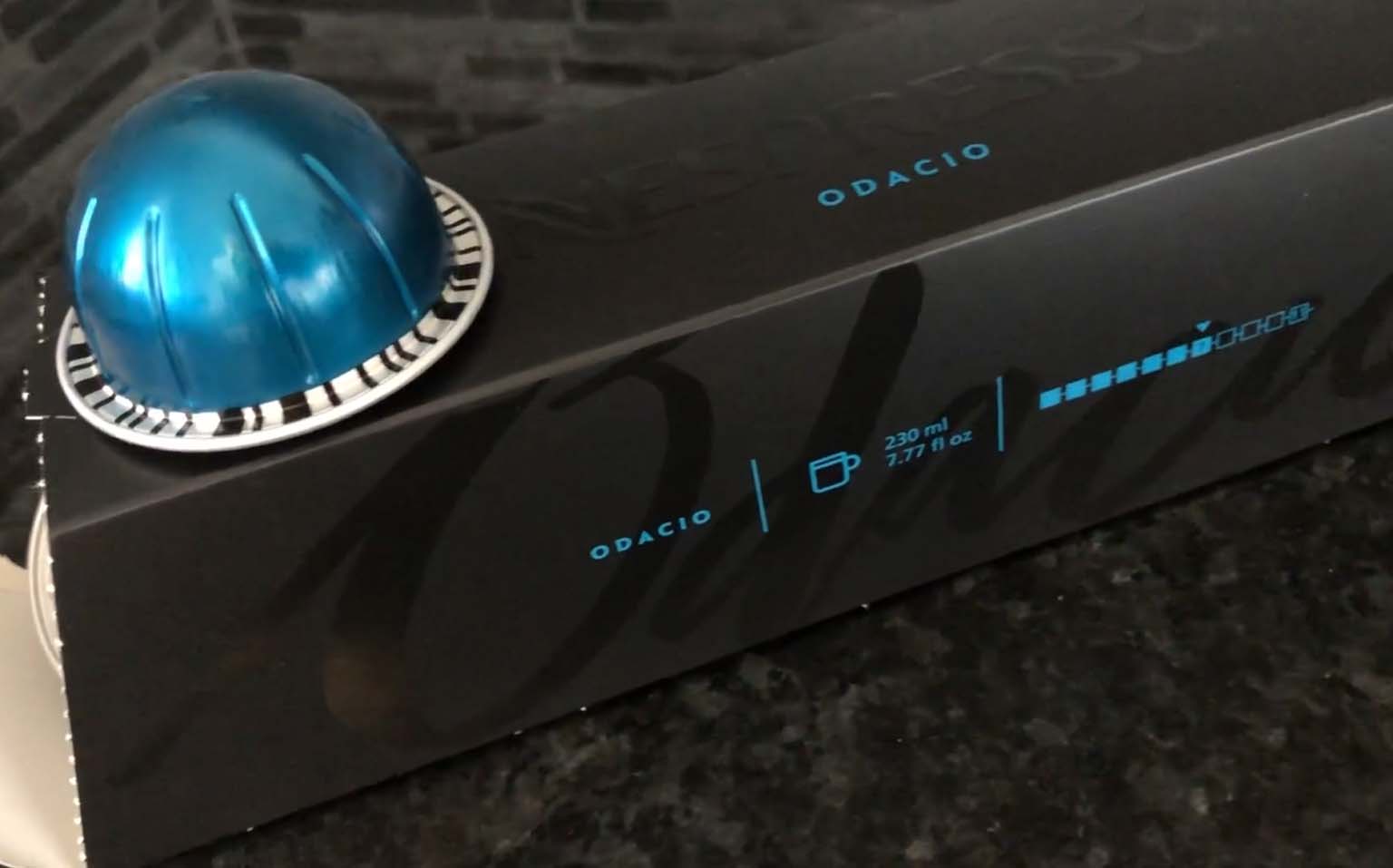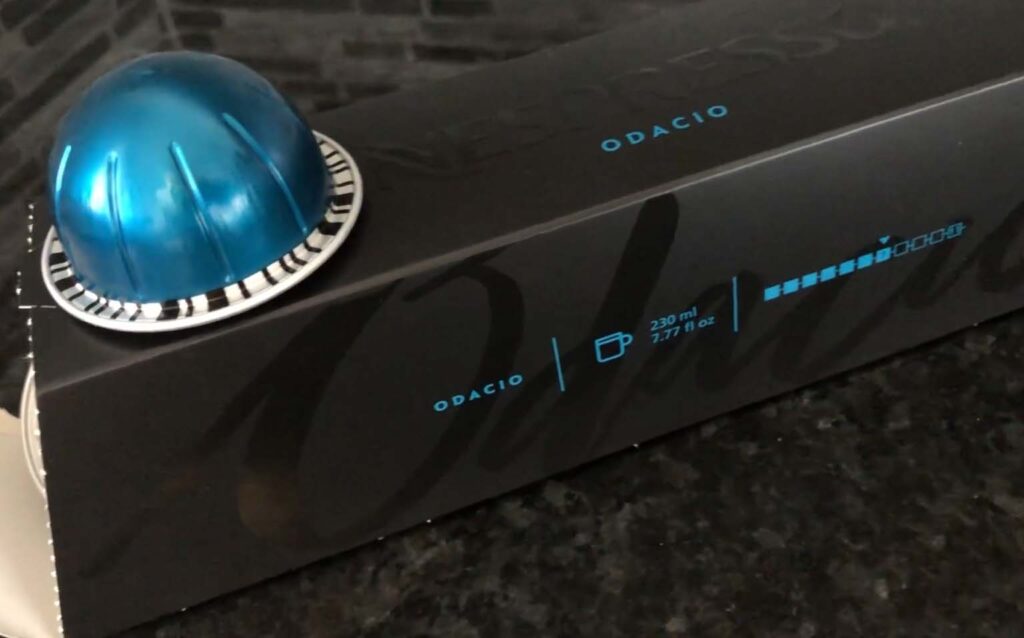 To give you a helping hand, I am jotting down a brief list of important things to consider before opting for the Odacio Capsules. Read on!
Machine Compatibility
As mentioned above, Odacio Nespresso Capsules are only compatible with VertuoLine machines. So, make sure you only have the compatible machine and not the OriginalLine one before making the purchase.
Caffeine
One Nespresso Odacio coffee pod contains 165 mg of caffeine, which may be too high for some people. This amount of caffeine can fill your body with tons of energy, vanish sleepiness, and increase alertness. So, only purchase the Odacio capsules if you like drinking this much caffeine.
Flavor
Just like caffeine content, people have flavor preferences too. Well, the Odacio capsules contain bold cereal and earthy notes with some balanced sweetness of floral and fruity flavors like green apples. Moreover, the coffee had a mild bitterness but nothing too overpowering. If you ask me, I found the flavor very elegant, full-bodied, and balanced. The rest depends on your flavor preferences.
Intensity & Roast
Odacio is a dark roast coffee with a blend of Arabica and Nicaraguan beans. The intensity level is 7, which is not too high, but now low either.
Being a dark roast coffee, Odacio is definitely bold and contains a little bit of acidity. So, only purchase the pods if you are used to consuming dark roasts. Moreover, if you are someone who prefers lower intensity levels, you should consider looking for other options.
Final Verdict
Now the question is, are the Nespresso Odacio pods the right pick for you? I have a simple answer to this question.
If you are someone who loves dark roasts and fruity flavors and likes their coffee slightly intense, Odacio is the right pick for you. It has a well-balanced taste and great quality.
However, if you are looking for affordable options with less intensity and light roasts, Odacio is not for you!
Alternatives of Nespresso Odacio
If you think Nespresso Odacio pods are not the right pick for you, here are a few alternatives you might like:
These VertuoLine pods contain medium roast Arabica coffee beans with an intensity level of 6. The taste has a perfect combination of sweetness and bitterness with close to bitterness and acidity.
These are VertuoLine capsules contain Brazilian Arabica coffee beans with an intensity level of 6. The flavor has hints of biscuits, hazelnuts, and almonds and very mild bitterness that is a treat to your taste buds!