A good espresso is a pleasure any time – morning, afternoon, or night! – all from the comfort of your own home. If you're considering purchasing a coffee maker, check out Nespresso vs. Starbucks Verismo, two of the finest single-serve pod espresso makers.
Nespresso needs no introduction. Nespresso machines are recognized globally for their efficiency, convenience, their durability, and coffee quality. Each Nespresso coffee machine can cater to your coffee cravings, according to your preference.
The Verismo machines are impressive for delivering the taste of Starbucks coffee at home. Now you can make a drink at home that tastes just like your Starbucks order. The Verismo machines are cost-effective and make delicious coffee using Starbucks flavors.
To help you decide between these well-known brands, we've compared the basics of each coffee maker, followed by a head-to-head comparison of the main features. Does Verismo make the most delicious lattes? What coffee pods work with Nespresso models? And most of all, what should be your choice for a coffee maker? Read on to find out!
Nespresso vs. Verismo: At a Glance
Let's look at some considerations to help you know more about both brands.
Nespresso Compatible pods for OriginalLine machines

It focuses on espresso and coffee

It focuses on espresso, brewed coffee, and americano

Centrifusion (VertuoLine machines)

19-bar pressure (OriginalLine machines)

One to a two-year warranty
Nespresso: An Overview
As a pioneer of single-serve coffee machines, Nespresso provides the most authentic espresso drinks through its pod system. Nespresso has various products to suit your preferences with its quality machines, coffee capsules, and authentic espresso taste.
The VertuoLine machines and OriginalLine machines are two of its product lines that have different brewing systems for preparing delicious espresso and espresso-based drinks. The VertuoLine uses centrifusion technology, and The Original machines use 19-bar pressure for extracting coffee from the pods.
The Nespresso coffee machines fall in different price ranges from mid to high. Every espresso machine is equally efficient for and fulfills the requirements of coffee lovers. The Nespresso pods have various flavors, intensities, and unique tastes, making every cup a treat.
| | |
| --- | --- |
| | |
| Nespresso has a Variety of machines. | Nespresso coffee machines come with a hefty price tag. |
| It has a variety of brew sizes. | Nespresso capsules are expensive. |
| Nespresso machines make high-quality espresso drinks. | The VertuoLine coffee machines can't use third-party pods. |
| It has a range of flavors in coffee pods. | |
| Many Nespresso models have an integrated milk frother. | |
Verismo: An Overview
It's no secret that Starbucks coffee fans love the Verismo coffee makers. The Verismo coffee machines can prepare classic Starbucks flavors to indulge in from the comfort of your home.
Starbucks manufactures the Verismo brand of coffee makers. It has four models:
Verismo 585, Verismo 600, Verismo 580, and Verismo V. It uses Verismo-compatible pods for single-cup brewing. With the introduction of Verismo pod coffees in 2011, the company entered the pod coffee market.
Verismo coffee machines like the Verismo V use swiss engineering and dual pressure technology, adjusting it to the type of drink you are making. The dual-pressure system ensures that each espresso or coffee pod brews fully and gives a rich and flavorful brew every time.
You can choose from a range of roasts and coffee blends and select your favorite flavors from their espresso, tea, and milk pods. Although Starbucks no longer manufactures Verismo pods since 2020, it makes coffee pods for Nespresso machines.
| | |
| --- | --- |
| | |
| Verismo makes drinks with Starbucks flavors. | It has limited options for coffee machines and coffee pods. |
| Verismo machines are easy to operate. | It doesn't have customization options for brew strengths. |
| The coffee machines don't take much counter space. | None of the Verismo machines has a milk frother. |
| The Verismo models shut off automatically after brewing. | |
| Verismo machines are affordable. | |
Nespresso vs. Verismo: A one-to-one Comparison
Putting Nespresso and Verismo side-by-side, let's see which fits you best.
Design
When we are looking for a coffee machine, its outlook is what catches our attention first. A coffee machine should have a nice appearance and also be compact to fit on your kitchen counter.
Nespresso coffee machines are sleek and stylish, consisting of plastic and metal exterior. Nespresso machines are good at what they do and look attractive sitting on the kitchen counter.
Verismo machines are made of plastic and don't appeal to the eyes. The plastic makes it look cheap and might put you off at first appearance.
Coffee Quality
What is the use of having a coffee machine at home if it doesn't produce good coffee? Go for an espresso machine that makes the coffee experience worth it.
Nespresso is known for its high-quality espresso. The authentic espresso taste makes it stand out from its competitors like Keurig. Nespresso coffee can easily compete with commercially available coffee that costs double the price.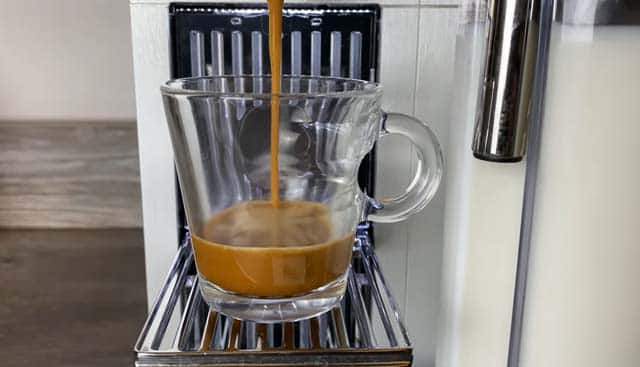 Verismo machines use Starbucks pods to prepare beverages. Those who love Starbucks coffee can find Verismo machines the best invention in the coffee world. You can enjoy Starbucks coffee without physically going to Starbucks.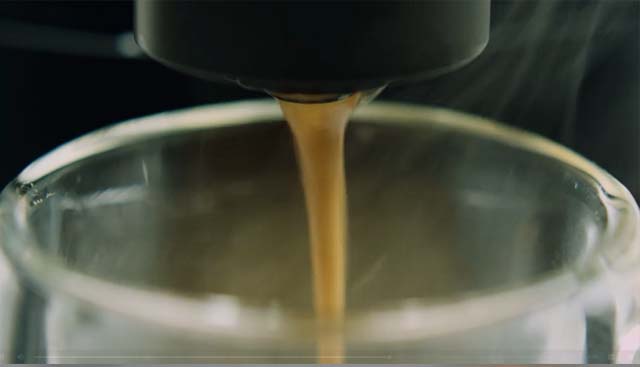 Price
Buying a coffee machine isn't a one-time investment. The maintenance of the coffee machine and restocking of its pods can become more expensive than the price of the coffee machine.
When we say Nespresso machines are expensive, we also mean their pods. When you buy a Nespresso machine, it already costs you a lot, but every time you restock Nespresso pods, you will realize the coffee experience is not affordable.
Verismo coffee machines are not as expensive as Nespresso machines and have mid-range prices. If you get a Verismo machine, it will not cost an arm and a leg to restock its coffee pods.
Coffee Pods
Coffee pods are essential to keep your coffee machine working because a coffee machine can't make coffee without a pod. The coffee pods you use for brewing must be compatible with the type of coffee machine you are using.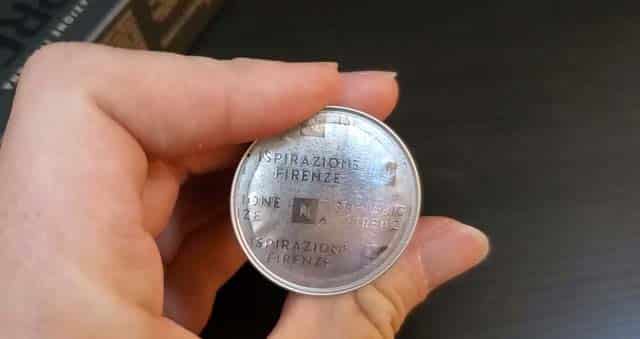 Nespresso machines use Nespresso coffee pods to prepare espresso and espresso-based drinks. All pods have various flavors, intensity levels, and distinctive aromas. Its VertuoLine only uses Vertuo pods, but its Original models can use third-party coffee pods that are compatible with Nespresso machines.
Nespresso pods are recyclable and reusable, making them a sustainable choice for coffee lovers. You can order these pods online or get them from their official stores.
Some of the popular Nespresso pods are:
Starbucks Verismo machine prepares beverages with Starbucks brand coffee pods. These pods also have a range of tea, milk, and espresso pods to enjoy different drinks. For its substitute, All K-fee and Mr & Mrs. Mill pods are compatible with a Starbucks Verismo system.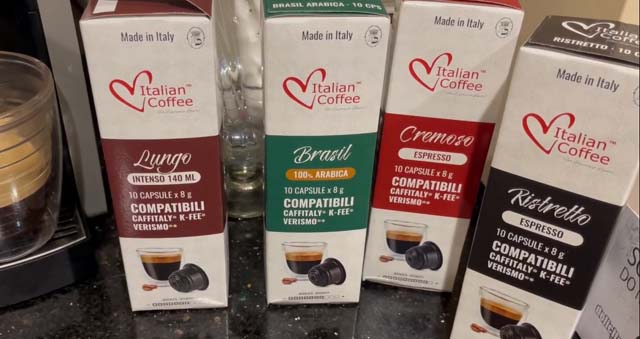 Unlike Nespresso, Verismo doesn't manufacture recyclable pods. The wastage of coffee pods is hazardous to the environment when they end up in landfills.
Some of the popular Verismo pods are:
Functionality
The purpose behind espresso machines is to enjoy a cup of delicious coffee without rushing to a coffee shop. The coffee machine you own must do its job efficiently and conveniently. It must require minimal effort and produce great-tasting and fresh coffee.
Nespresso coffee machines are not only known for their exceptional coffee quality but also for ease of use. Once you insert a coffee pod into it, switch it one, and press the brew button, it is as simple as that. It uses a brewing method depending on its model and prepares a delicious cup of coffee in no time.
Some Nespresso models come with an integrated milk frother for you to enjoy milk-based drinks like lattes and cappuccinos without hassle.
Verismo machines require no extra effort to brew espresso or coffee drinks. The buttons on it keep the brewing process intuitive. Once you insert a pod, press the required button, and it'll start dispensing coffee within a few seconds. Verismo machines are a suitable option for people who are not tech-savvy because everything is just one button away.
None of the Verismo machines has a built-in milk frother, but you can get a separate Verismo device to froth milk.
Type of beverages
Not all coffee brewers are capable of making different types of beverages. Some coffee machines can only make espresso, while some can make coffee and other milk-based beverages.
Nespresso machines are best known for their authentic espresso. They can make espresso shots, double espresso, lungo, mocha, iced coffee, cappuccino, iced frappe, and hot and cold foam, sometimes with extra steps.
Verismo machines can prepare a variety of beverages, from espresso and tea to milk-based coffees. You can make 4 to 12 ounces of drink using a Starbucks Verismo. For a larger brew than that, press the brew button twice.
Maintenance
You must not neglect the maintenance and cleanliness of your espresso maker if you want it to run longer. Otherwise, it has a high chance of having technical issues even before its warranty has expired. Poor cleanliness affects its performance and the taste of its coffee.
Nespresso machines require frequent cleaning. The brand recommends cleaning the coffee makers after every use. Simple steps like cleaning the drip tray and ejecting the used pod go a long way. For maintenance, descale your Nespresso machine every three months or after using 300 coffee pods. 
Clean your Verismo machine and descale it for it to run smoothly and make flavorful coffee. Both Nespresso and Vrism machines have a self-cleaning feature that makes it easier to maintain the cleanliness of the coffee machines.
Water Reservoir
The size of the water reservoir of a coffee machine depends on the brew sizes it is capable of making. The coffee machine will pump more water to flow through the coffee pod if it is brewing a larger cup.
The water tank capacity of Nespresso machines ranges from 43 ounces to 50 ounces. On the other hand, the Verismo machines have a larger water tank that can capacitate 77 ounces.
Accessories
None of the Verismo machines come with a milk frother, and neither all Nespresso machines have it built-in. The Nespresso and Verismo machines are great to pair with a separate milk frother to create delicious milk-based beverages.
You can pair a Nespresso machine with Aeroccino 3 or Aeroccino 4, depending on which one you prefer. On the other hand, Verismo frother is great with Starbucks Verismo machines.
Warranty
If your coffee machine has a warranty and there's some wear and tear issue, the brand will fix it for free. If it is something they can't fix, they might replace your coffee makers with a new one.
Nespresso machines have a warranty of one to two years, so it is easy to repair them by contacting customer service. On the other hand, the Verismo machines have a one-year warranty.
Final Verdict
Nespresso and Verismo are exceptionally good at brewing espresso and other beverages. Both have distinctive features, pros, cons, and a variety in their machines and coffee pods.
The Nespresso machines are great for coffee lovers who like variety in coffee flavors and can't compromise on the authenticity and taste of espresso. Nespresso comes with a hefty price, so it is suitable for people who are enthusiastic about coffee and don't mind if their obsession with coffee comes with a hefty price tag.
Verismo coffee machines are definitely for Starbucks lovers. Coffee drinkers who love Starbucks coffees are familiar with the taste, flavors, and strengths, so verismo coffee and pods will work great for them.
No matter which brand you choose, it must fit your budget, and you must take notice of the durability and reputation of the brand you are opting to buy.
FAQs:
Is Nespresso compatible with Verismo pods?
No! None of Nespresso's product lines is compatible with Verismo pods. The Verismo pods are different from the capsule sizes required by the Nespresso machines. You can't use Nespresso and Verismo pods interchangeably.
Are Verismo pods the same as K cups?
No! K-cups differ from Verismo pods and don't fit in the Verismo coffee machines. Verismo machines can use K-fee pods compatible with their coffee machines.
Are Verismo pods discontinued?
Starbucks discontinued its Verismo pods and coffee machines at the same time in 2020. However, if you own a Verismo machine or plan on buying one, you can use generic pods.