Take your coffee game to the next level and feel like a Barista at home with our simple and most delicious Nespresso recipes.
If you have a Nespresso machine, you would already know how efficient it is. It makes you capable of customizing your perfect cup of coffee according to your liking. It allows you to experiment with your coffee recipes and introduce new flavors to the world.
If you are a coffee lover but bored of having the same style of coffee daily, don't worry. We have got you covered. You don't have to be tempted by the overpriced takeout coffee. We have the best Nespresso recipes for you to indulge in without spending too much effort and money.
1. Chocolate Hazelnut Latte
For hot chocolate lovers, Chocolate hazelnut Latte sounds like the perfect coffee fix in the chilly season. It will warm you up and leave you in a good mood with its strong and sweet flavor. Devour it with your favorite condiments to make it taste better than ever.
If you have a Nespresso Lattissima Plus, it will make this recipe easier as it comes with an inbuilt frother. But if you have a different machine, you can use the Aeroccino Milk Frother.
What you will need:
1 Nespresso Lungo Capsule
¾ cup Milk
1 tbsp Chocolate Hazelnut Spread
Frother
1 tsp Cocoa powder (optional)
1 Whipped Cream (optional)
Instructions:
Add chocolate hazelnut spread to a mug.
Pour the desired amount of milk into the frother and turn it on.
Once the frothed milk is ready, pour it into the mug.
Take a lungo capsule and insert it into your Nespresso machine.
Brew the espresso.
Pour it into the mug containing milk and spread.
As toppings, add whipped cream and dust cocoa powder on it.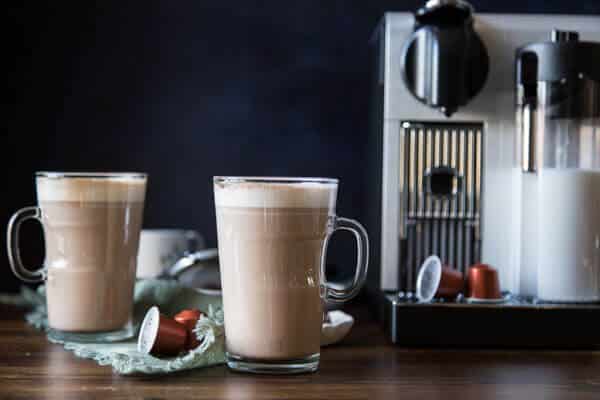 2. Brown Sugar and Cinnamon Latte
Cinnamon tastes refreshing but also has several health benefits. If we get the flavor we are craving, and it does good for our health, isn't it a cherry on the top? Brown sugar balances the overall character of the recipe and makes it too good to resist.
You can prepare this recipe with a Fortado capsule in a Vertuo machine. This Nespresso coffee recipe takes less than five minutes to prepare.
What you will need:
Fortado Capsule.
Brown Sugar Cinnamon Syrup (1.35 oz).
1 tsp Cinnamon Sugar.
Milk ( 6 oz).
Frother.
Cinnamon powder (optional).
Star anise (optional).
Instructions:
Pour Brown Sugar Cinnamon Syrup into a mug.
Froth the milk in your frother.
Add the frothed milk to the mug.
Brew a Fortado capsule over the milk.
Top your coffee with cinnamon sugar.
You can add cinnamon powder or star anise to enhance the flavor.
3. Nespresso Iced Coffee
A simple old-school iced latte has no comparison. The simplest iced coffee can brighten your mood when the blazing sun makes it too hot to handle. It contains the perfect balance of bitterness and sweetness with a hint of acidity.
Two shots of Ristretto capsules or Master Origin India makes it a perfect treat!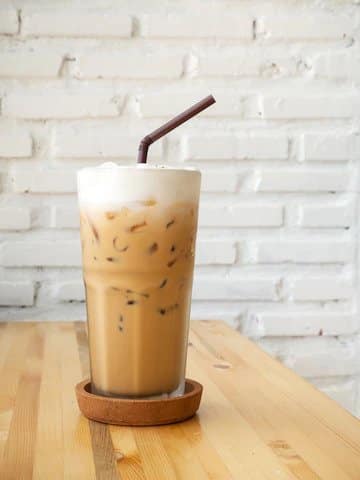 What you will need:
2 Ristretto or Master Origin india Capsules
Ice
A nespresso Machine
Instructions:
Pour lots of crushed ice or ice cubes into a glass.
Brew two shots (40 ml) of espresso directly on the ice.
Add more ice if required.
Enjoy your drink before the ice melts!
4. Iced Salted Caramel Latte
To enjoy a refreshing drink with a well-balanced flavor, try this Salted Caramel Latte Recipe. The combination of salt and caramel makes it unique and quite hard to resist.
Two shots of Ristretto espresso sets the base of this coffee recipe. You can substitute salted caramel syrup with caramel extract and salt separately.
What you will need:
Ice cubes (as required)
1 cup milk
2 tbsp Salted Caramel Syrup.
Instructions:
Add ice to a glass.
Brew two shots of ristretto espresso on the ice.
Add salted caramel syrup
Add milk as required
Stir and enjoy
5. Turkish Delight Latte
Indulge in a delicious Latte full of fragrance and velvety texture. The Nespresso's Chocotini pod brings a choco flavor to the recipe and makes it a delight.
What you will need:
Chocotini pod (preferable)
Chocolate Syrup (as per taste)
10 ml Rose Syrup (adjust according to coffee volume).
Frother for milk
Instructions:
Brew a Chocotini pod in a cup.
Add chocolate syrup.
Add rose syrup
Froth desired amount of milk.
Add milk to the glass.
Your Turkish delight is ready!
6. Peppermint Marshmallow Latte
Peppermint Marshmallow Latte tastes as unique as its name suggests. A fresh aftertaste complements its sweetness, smoothness, and creaminess.
This recipe involves two steps: making peppermint creamer and peppermint latte.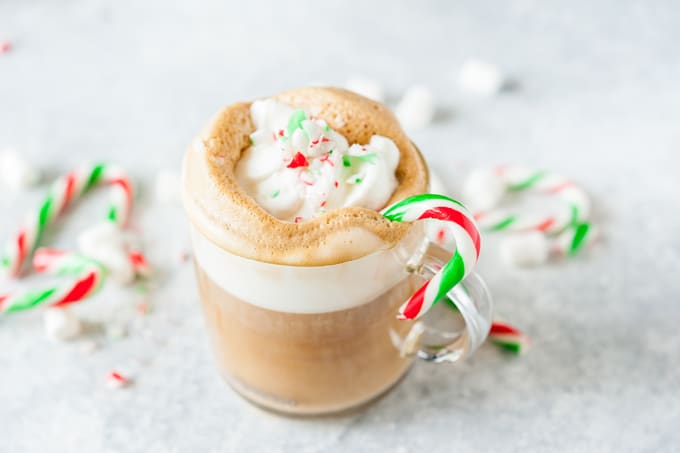 What you will need:
Marshmallows
Peppermint Extract
Half and half cream
Nespresso coffee
Peppermint whipped cream
Candy canes for garnish
Instructions:
To make the Peppermint Creamer:
Heat the half and half cream in a pan till it forms bubbles.
Add in marshmallows and stir till they melt.
Add in the peppermint extract and stir till all ingredients are well combined.
To make Peppermint Marshmallow Latte:
Brew your favorite Nespresso coffee in a large cup.
Pour the Marshmallow Creamer on the top of your coffee.
Garnish it as you want. You can add whipped cream, candy canes, or sprinkles.
Note:
You can store Marshmallow Creamer in an air-tight jar for up to one week. If it becomes thick while sitting in the fridge, heat it before adding it to your coffee.
7. Vanilla Latte
When added to the mixture of milk and cream, french vanilla flavor makes the most divine latte. With its cereal notes and sugary taste, It is one of the quickest recipes you can make with your Nespresso Machine using a Vanilla Eclair Capsule. It can give tough competition to your coffee order at Starbucks.
What you will need:
1 Nespresso Vanilla Eclair pod.
1/2 cup milk of your choice.
1 tbsp whipped cream.
Aeroccino 3 Frother.
Chocolate shavings (optional).
Instructions:
Heat the milk in the frother.
Extract espresso into a glass.
Pour milk over the espresso shot.
Add whipped cream.
Sprinkle some chocolate shavings and indulge!
8. Nespresso Velvety Mocha
This Mocha recipe is simple to make and includes a few ingredients. The contrast between chocolate and coffee brings out the most delicious flavor. The Nespresso Barista Device is the main character of this process, it will make the chocolate mixture for the recipe.
What you will need:
Instructions:
Mic chocolate squares and milk in the Barista device.
Pour it into a glass.
Brew 2 Barista Creations Leggero pods.
Pour it over the milk and chocolate mixture.
9. Choco Coco Latte Macchiato
This Nespresso recipe is a concoction of chocolate, espresso, and coconut. This latte macchiato provides a different flavor with the addition of coconut. The blend of an Arpeggio espresso shot completes the recipe with its cocoa notes.
What you will need:
1 Arpeggio capsules
1 cup milk
1 tbsp Coconut syrup
2 tbsp Chocolate hazelnut spread (as required).
Grated Chocolate
1 g Grated Coconut
Instructions:
Pour chocolate hazelnut spread at the bottom of your recipe glass.
In the Aeroccino frother, add the milk and coconut syrup to prepare the foam.
Pour the prepared milk into the glass containing chocolate hazelnut spread.
Prepare an espresso shot of the Arpeggio capsule.
Garnish it with grated coconut and chocolate!
10. Double Caramel Coffee Macchiato
For a dose of extra sweetness in the cold weather, try this Double Caramel Coffee Macchiato. Made with a few ingredients, it will cater to your coffee cravings and keep you warm.
What you will need:
3 ounces of milk (or as required).
Half an ounce of Caramel syrup.
Aeroccino Frother.
Cinnamon Powder (optional).
Instructions:
Pour caramel syrup into your recipe glass.
Brew Nespresso pods of your choice.
Add the heated milk.
Top it with caramel syrup or cinnamon powder.
11. Hot Chocolate
A cup of hot chocolate is enough to warm you up on a cold morning. You do not need to step out of the house to grab it from the local coffee shop when you can make one yourself. Nespresso has the quickest hot chocolate recipe for you!
What you will need:
100 ml cold milk.
15 g chocolate.
Aeroccino frother.
Instructions:
Pour milk into the frother.
Put the chocolate square in the milk.
Press the power button and let it mix.
Indulge in your hot chocolate before it cools down!
12. Honey Oat Cafe Au Lait
Use a Nespresso Vertuo machine to make this coffee recipe with the iconic combination of milk and honey. Using honey as a sweetener instead of sugar makes it healthier. It is perfect for caffeine lovers who don't prefer their cup of coffee to be bitter but sweet and creamy.
What you will need
6 ounces oat milk.
1 tbsp honey.
Aeroccino frother.
Instructions:
Use the latte setting on the Aeroccino frother and add milk and honey.
Pour the prepared milk into a mug.
Brew a Melozio capsule in the same mug.
Top it with some honey, and enjoy!
13. Gingerbread Coffee
If you are in search of a way to utilize the leftover gingerbread, this recipe is your savior. Cosi and Decaffeinato capsules add the needed aroma and flavor to it. If you love gingerbread, this will become your favorite Nespresso recipe.
What you will need:
100 ml milk.
½ piece of gingerbread.
1 Cosi capsule.
1 Decaffeinato capsule.
Frother.
1 tsp Maple syrup.
Instructions:
Pour the milk into a pan and bring it to a boil
Add gingerbread in small pieces.
Stir it till the ingredients are well combined.
Add a teaspoon of maple syrup.
Pour it into a cup.
Brew two espresso shots in the same mug.
Add milk foam if you like.
14. Affogato
With its Italian origins, this recipe is a combination of two delicious ingredients: coffee and ice cream.
Brew a Nespresso capsule from the intense range to balance the sweetness of ice cream.
What you will need:
A scoop of Vanilla ice cream or gelato.
Espresso shot ( preferably orafio for Original machine and firenze arpeggio for Vertuo machine).
Instructions:
Delicately put a scoop of ice cream into the recipe mug.
Brew an espresso shot directly onto the ice cream.
Top it with milk foam!
The Bottom Line
Out of all the Nespresso recipes in this article, choose your favorites and note them in a recipe book so you will never be bored of the monotonous cup of coffee. Depending on your mood, pick a recipe straight out of your recipe book and customize your coffee. If it's chilly outside, make a cup of hot chocolate or cinnamon latte and get cozy. If the blazing sun is bothering you, iced chocolate coffee and top with dark chocolate syrup will cool you down. These recipes are cost-effective and will make you forget the taste of your order at Starbucks.
FAQs
Can you use your own grounds for Nespresso?
You can use a refillable capsule to use your coffee grounds, but the pods must be compatible with the Nespresso machine. You can easily find refilling pods or third-party pods for original line machines, but vertuo machines don't accept any capsules other than their own with the bar code mentioned.
How many times can you brew a Nespresso capsule?
Nespresso does not recommend using its capsules more than once. The first brew of a pod contains all the flavor, strength, and taste, leaving it bland. If you can compromise on the coffee quality and taste, you can use it up to two times or more.
Can I put heavy whipping cream in my Nespresso frother?
It depends on the quantity of the whipped cream. It is not advisable to do so because it can overflow the frother. If you still want to try it, add the whipped cream in small portions. Keep it below the maximum level mentioned for the milk.
Can I put chocolate milk in my frother?
Yes! There is no harm in putting flavored milk in the frother. You can make a thick and creamy hot chocolate using a frother.
Can you put sugar in Nespresso milk frother?
Yes! You can add sugar and many other suitable things to mix with milk. You can create delicious recipes mentioned in this article using the milk frother.