Are you worried about your Nespresso not working or coffee tasting ergh? It's high time that you get it descaled by now.
Descaling is a deep cleaning process in which you get rid of the limescale attached to the inner of the machines that you might have tasted in your bitter coffee too.
An improved version of Essenza Mini, the Nespresso Original Inissia is a sleek espresso maker consisting of a 24 oz water tank and has the ability to hold 9–11 used capsules. With the push of a button, it creates the ideal cup.
Descaling Nespresso Inissia is trouble-free. You just have to get some time and buy yourself a Nespresso descaling kit. And the machine will do the rest of the work in the next 15 mins.
Key Takeaways
Descaling is a deep cleaning process of removing the limescale stack up during coffee brewing.
Descaling affects coffee taste and machine working system.
Before starting descaling, you need to have a Nespresso Descaling Kit, 500ml of the container, and a Nespresso Inissia User Manual with you.
Exit the descaling mode on Nespresso Inissia by pressing both two buttons for 3 seconds.
Clean Nespresso Inissia by following the instructions. For advanced cleaning, you can use the Caffenu Cleaner pods too.
Over usage of a maximum of 300 coffee capsules can lead to descale every 3-4 weeks. A normal cleaning recommended by Nespresso is after every month.
What is Descaling?
While using Nespresso Coffee makers, the calcium and lime deposits are derived from trace levels of mineral salts while brewing coffee pods.
Descaling is the process in which, when added, the descaling kit washes the inner cycles of the machine and removes dirt deposits.
You shouldn't avoid descaling due to your laziness as this limescale stuck over time makes your machine unworkable and produces a lousy coffee taste that is also not good for your health.
Essentials You require Before Descaling Nespresso Machine:
With a separate schedule, you need the following things:
Nespresso own Descaling solution Kit
A 500ml container
Nespresso Inissia User Manual (to follow a proper guide)
You can get the Nespresso 2- packet size Descaling kit from Amazon and the Nespresso website.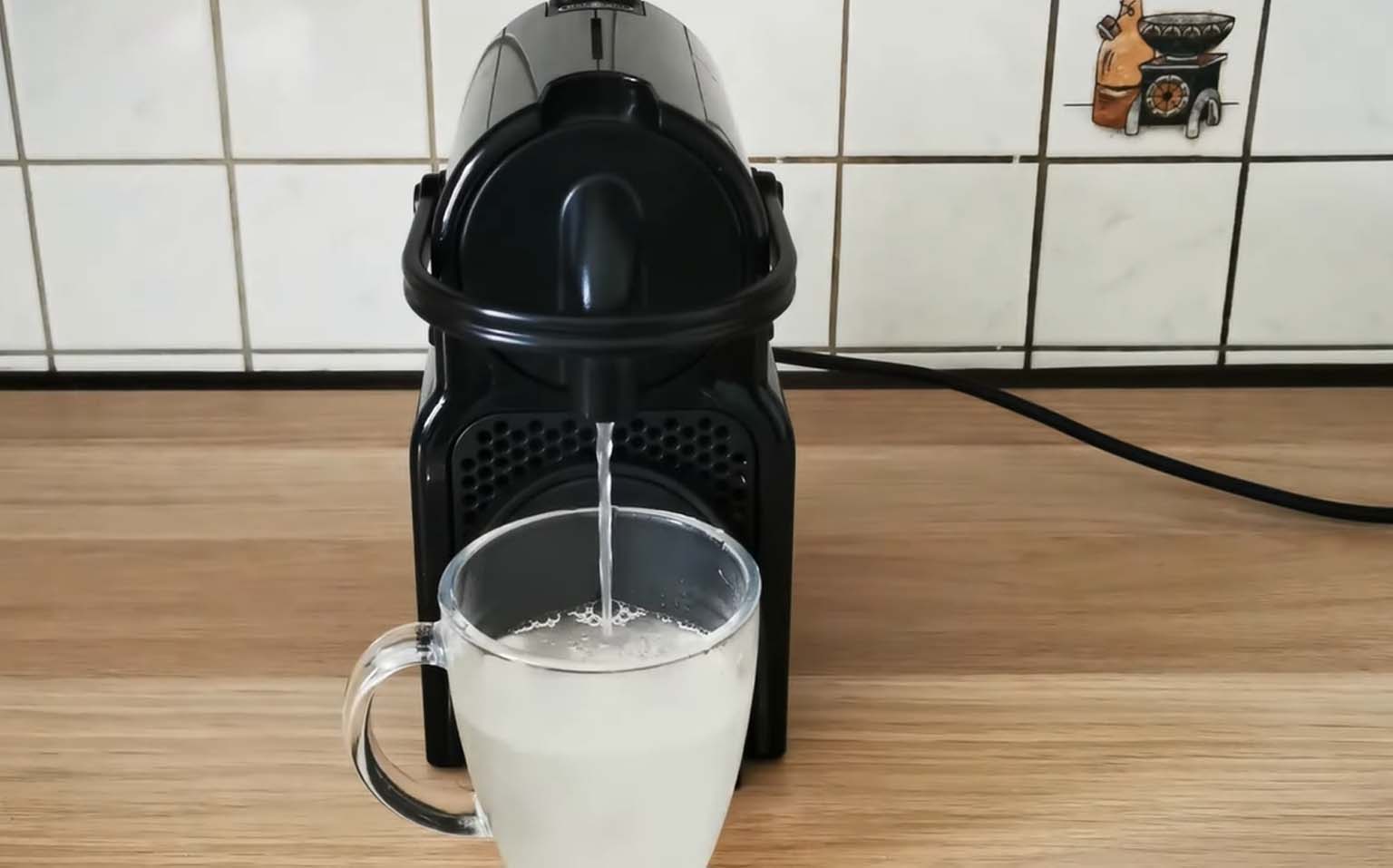 Descaling Nespresso Inissia, Easy Steps Guide:
Be sure to empty the machine before beginning the descaling procedure. The steps are as follows:
Plug the machine, and get your descaling agent.
Grab your water tank and fill 350 ml of water with 125 ml9 one pack) of Nespresso descaling packet.
To collect the liquid while descaling, remove the drip tray.
Place a 500ml container under the brew head.
Hold two buttons of espresso and lungo down for three seconds or until the light flashes swiftly, indicating the start of the descaling.
Press the lungo button to activate the descaling mode.
After 10 mins, Reuse the solution by adding it back into the water tank and repeat the process to start descaling again.
Empty the container and fill fresh water to the water tank.
Press the Lungo button and wait for the machine to rinse the water after the descaling.
After rinsing, exit the descaling mode by holding both buttons for three seconds.
Exit descaling mode by holding both two buttons for 3 seconds.
Wait 25 seconds for the machine to be at rest.
The descaling is done and dusted, and you can make an instant cup of coffee.
Unable to Exit Nespresso Inissia Descaling Mode? Here's How:
The exit mode is as simple as it sounds. You just have to make the same move when entering the descaling mode. Press both two Lungo and Espresso buttons for three seconds, and your machine will be back to its settings.
How to clean Nespresso Inissia ?
Before cleaning Nespresso Inissia, you must keep the necessary precautions in mind. Unplug the machine before starting cleaning.
Make sure not to use any sharp tools while cleaning it. Also, don't clean it in the dishwasher. Lastly, While cleaning, don't use concentrated cleaners like bleach that can damage the machine and the coffee process.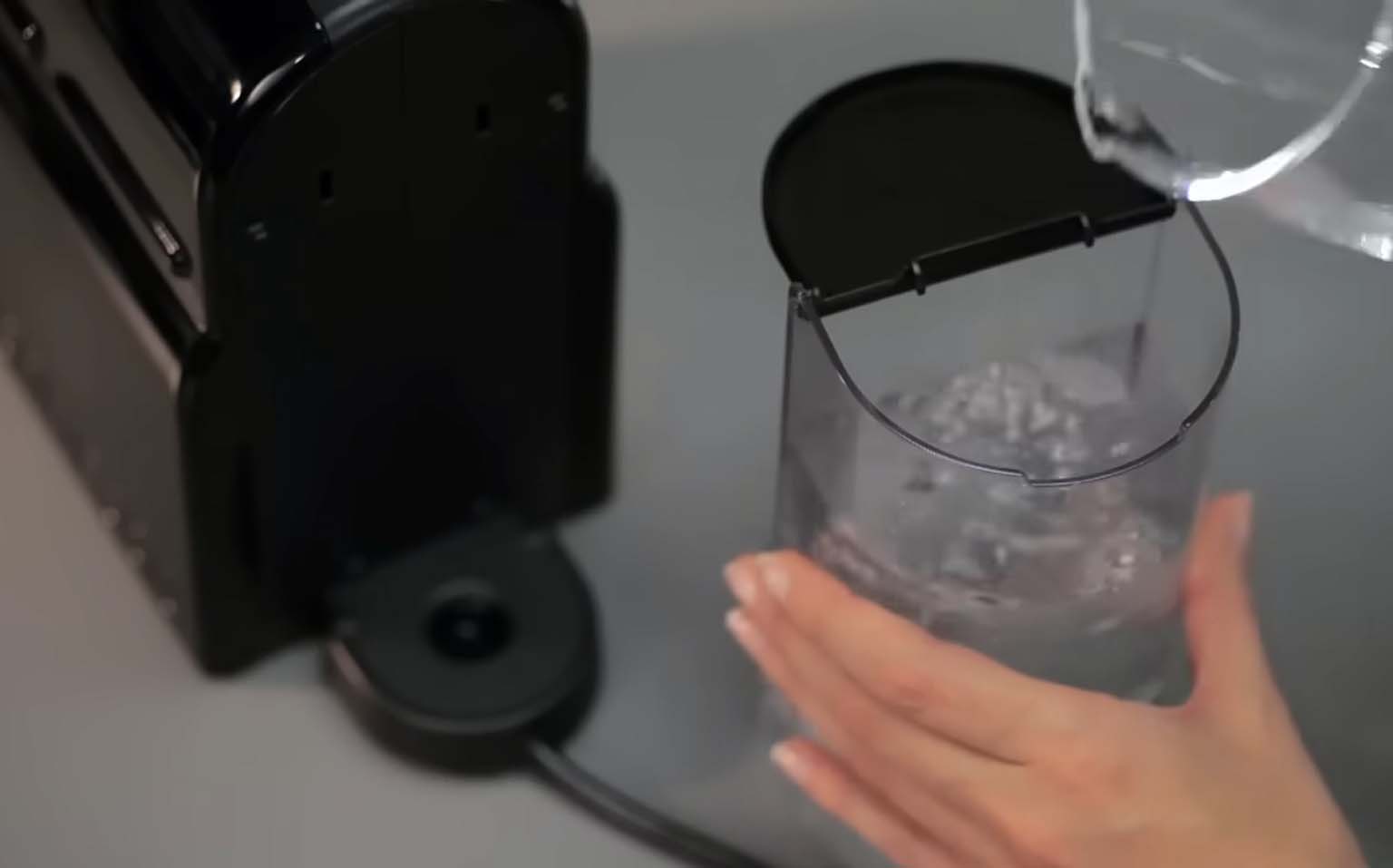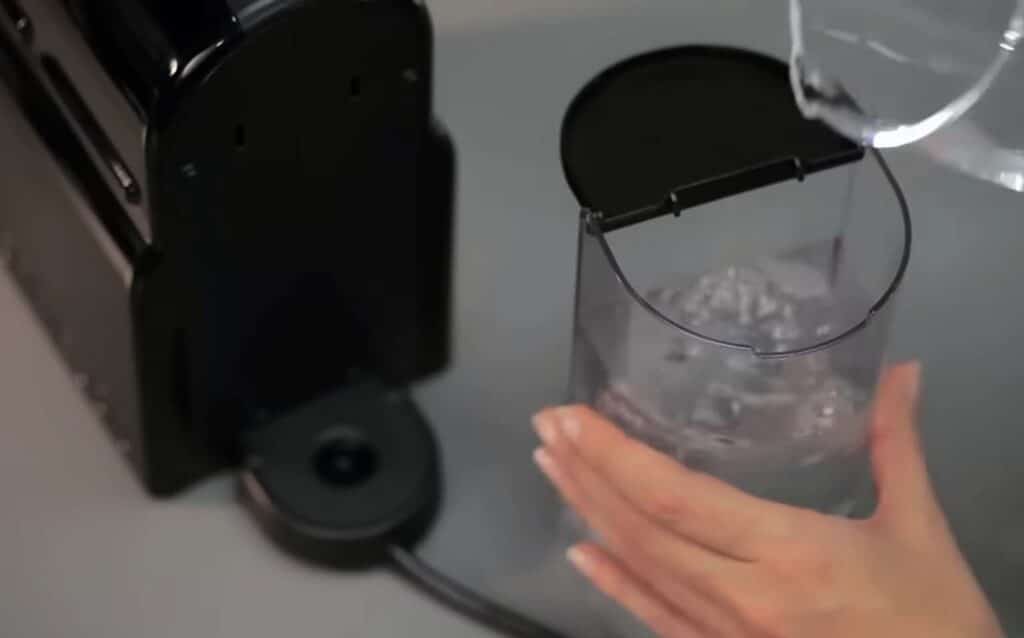 Cleaning Nespresso Inissia is simple, like any other Nespresso machine. Just follow the steps:
Unplug the machine.
Pick any mild cleaning agent and a clean cloth.
Remove the water tank, drip tray, and capsule container and rinse them under water.
Damp it with a dry cloth.
Clean the machine body with a soft, damp cloth.
Let it dry and rest for 10 mins.
You can also use Caffenu Cleaner pods that are compatible with Nespresso Original Machine models, including Nespresso Inissia.
While using Caffenu, you just have to insert the pod into the machine and make it work. This pod will clean coffee oils from the brewing chamber of the machine's front portion.
After cleaning your machine, It's ready to make another shot of coffee outlet for you again!
How frequently should Nespresso machines be descaled?
It depends upon your usage. If you use it frequently, you need to scale it every 3-4 weeks; if you use it not too often, you can descale once every month.
Bottom Line
Descaling is an essential system for the longevity of your Nespresso. It prevents the machine from stacking up lime and enhances the taste and texture of your coffee. So, be sure to descale your machine before it stops working!
FAQs
What components make up Nespresso's descaling solution?
Nespresso descaler is gentle, hazard-free, and mainly contains lactic acid. This descaling agent is mild on the coffee maker's inner sides while being quite effective at removing limescale buildup.
Sodium lactate, water, phosphonobutane, and tricarboxylic acid are other components making up the solution.
In my Inissia Nespresso machine, how much descaling solution should I use?
You can use just one packet of Nespresso descaling solution as it is enough to use twice in one descaling process.
How frequently should my Inissia Nespresso machine be descaled?
Nespresso suggests descaling every three months or using a maximum of 300 capsules brewed in the machine.
Does vinegar harm Nespresso coffee machines?
As stated by Nespresso in its manual, Vinegar harms the inner parts of the machine, so Nespresso does not recommend it. Other than that, you can smell and taste the vinegar in your coffee and have to wash it in multiple types to get rid of it.
Can you create a descaling remedy?
You can use vinegar and citric acid as a substitute in the descaling process.
Any descaler will work in my Nespresso Inissia, right?
Yes, you can go to Amazon if you wish to purchase Descaling liquid other than the Nespresso kit. Urnex Nespresso Machine Descaler is a 2-step descaling kit for Nespresso Innisia that includes a cleaning pod and 6 ounces of descaling liquid.
What occurs if your coffee machine isn't descaled?
Not descaling your machine can lead to excessive lime stacking up in your coffee maker's internal parts, affecting its working and taste.
How hazardous is the descaling solution?
Nespresso Descaling agent is hazard free. However, they don't recommend any DIY descaling solution like vinegar as it can damage the machine.
Is Nespresso capable of being descaled without a descaling solution?
No, you must use a descaling solution to deep clean your Nespresso.
Can baking soda be used to remove the scale?
Baking soda is mainly used to clean the machine. However, you can use baking soda with vinegar or citric acid to remove the scale.