The humble Keurig coffee maker is our get-up-and-go friend, our kick in the ass when we need it. Sometimes, in the bleak mid-winter, our savior and confidant that we whisper our secrets into the cups of coffee that they produce.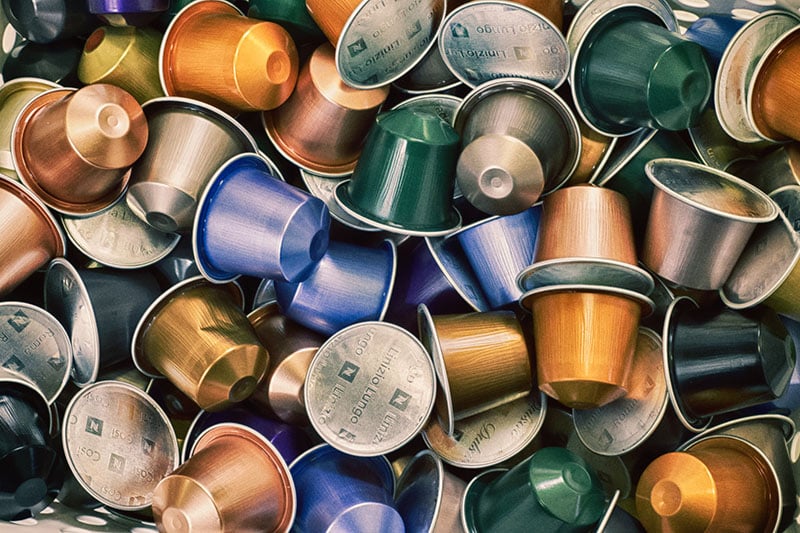 Keurigs are little miracle workers; like miracles, they come in many different forms. There are five standard Keurig coffee cup sizes that your Keurig can make – depending on the specifics of your coffee machine – 4oz, 6oz, 8oz, 10oz, and 12oz. Some Keurig coffee machines offer different cup sizes, but most are built to accommodate various cup-size options.
What Are The Keurig Cup Sizes?
Keurig Cup Sizes are the standard measurements of ground coffee that your machine will produce. They are controlled by computer and measured precisely by water content. Depending on the amount of water available in your water reservoir, you can make multiple cups of coffee of a single size.
Precisely how much coffee you can produce (before having to refill your water reservoir) will depend on the amount of water your reservoir is capable of holding.
The smallest cup size most Keurigs can produce is a six-ounce cup. This is intended for those who enjoy a small pick-me-up in the mornings or prefer stronger coffee in a smaller cup – espressos, cappuccinos, and so on. This is also a good option for coffee drinkers who prefer more concentrated coffee and are good to go with a strong black coffee without any added milk or sugar.
If you take milk or frothed milk, your milk frother will likely have measurement options, so you can get the perfectly-measured coffee with frothed milk.
Keurig Cup Size Buttons
On your trusty steed, there are usually buttons that you can press before you start the brewing process that will allow you to choose the cup size. Whether making a six-ounce or twelve-ounce coffee, you'll have designated buttons that will control the water flow into your cup and leave you with exactly the number of ounces you choose.
Make sure you check your removable water reservoir first, to see if you need to refill it before making your morning cuppa.
For a stronger brew, we recommend using one of Green Mountain Coffee's extra-strength brews in a six or eight-ounce measurement. The coffee roasters at Green Mountain are producing some fantastic hot coffee, in a smaller package with a big punch!
Most Keurigs will give you button options of 4, 6, 8, 10, and 12 ounces. Sometimes this will be a digital button on newer, higher-end models. Other times, you can expect this button be a simple press.
As Keurigs have evolved, they have decreased their flavor extraction time, meaning that you'll achieve faster brew times, with the same amount of coffee. This is perfect for commercial applications like a coffee bar or a large-chain coffee shop.
Cup Sizes of All Keurig Coffee Makers
Almost all Keurig coffee makers come with 4, 6, 8, 10 and 12 ounce cup size options. Sometimes, depending on the model, you may not have a four-ounce option. Many newer models are geared towards being able to produce more coffee in a short amount of time.
Keurig K Classic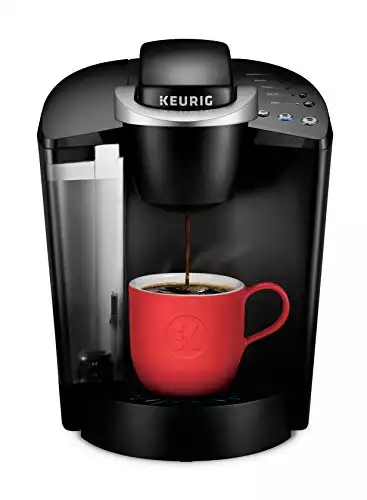 We earn a commission if you make a purchase, at no additional cost to you.
The Keurig K-Classic is one of Keurig's most affordable models. It's the O.G. of Keurig K-Cup brewer models. Packed with some of it's most basic features, the Keurig K-Classic can accommodate anywhere from 6 to 10-ounce cups.
Keurig's have come a long way since their original iteration – and the purchase price reflects this, as do their features. The Keurig K-Classic is the barebones of Keurig features that used their revolutionary Keurig K-cup pods.
As the Keurig K-Classic is on the lower end of the Keurig spectrum, you may not have the same features and many options as other Keurig machines.
Keurig K-Elite
The Keurig K-Elite offers its users several different cup sizes, and is a couple of steps up in other functions from the K-Classic. This time, coffee addicts like you and me get a 4, 6, 8, 10, 12 ounce options! If you happen to spill over, don't worry! All Keurig machines, including the K-Elite have a removable drip tray.
Keurig K-Supreme Plus & K-Supreme Plus Smart
Next on our list of Keurigs that offer the widest variety of beverages are the Keurig K-Supreme Plus and the K-Supreme Smart.
Let's start with a brief overview of the Keurig K-Supreme Plus.
Keurig K-Supreme Plus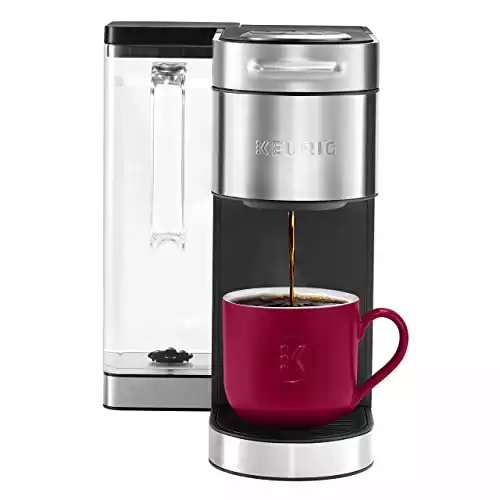 We earn a commission if you make a purchase, at no additional cost to you.
The Keurig K-Supreme Plus allows you to use Keurig's standard coffee pods, or coffee pods from another coffee roaster seamlessly. It has a massive 78oz reservoir, allowing you to make NINE 8oz coffees without having to refill your water reservoir.
Beyond that, the Keurig K-Supreme Plus also allows you to make coffee, espresso, cappuccinos, and other beverages, in sizes ranging from 6 to 12-ounce cups. It is tall enough to accommodate your standard travel mug.
Keurig K-Supreme Plus Smart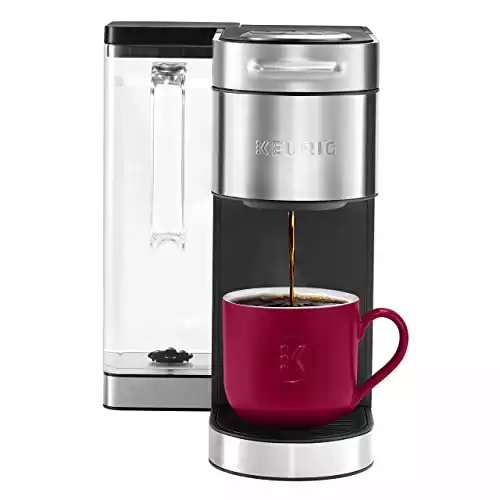 We earn a commission if you make a purchase, at no additional cost to you.
The Keurig K-Supreme Plus SMART is a huge upgrade for those who either already have a Supreme Plus or have an older model and are looking to jump through all of the Keurig hoops and go straight to the high-tech models.
Its programmable settings also allow you to make iced coffee and use it to make simple drinks like hot cocoa. You can also buy a milk frother and make a latte with your Keurig K-Supreme Plus Smart, with its temperature control allowing you to make iced lattes in a flash.
The Keurig Supreme Plus Smart can most definitely also make regular coffee, but you'd be wise to take advantage of its technological innovations like brew strength settings, and BREWID. Brew ID is a revolutionary technology from Keurig that will recognize the Keurig K-cup and optimize brewing for that specific blend.
Which Keurig Has The Most Cup Sizes?
There are several different options if you're looking for variety in your hunt for a new Keurig. Though all of them will make delicious coffee, only a few have the most cup sizes on offer. These are:
These three single-serve machines are the bee's knees regarding cup sizes for those looking to add variety to their caffeinated lives. If you're running a small coffee bar and aren't yet at the point where you can make a fresh brew, then K-Cups are your friend, and you may consider investing in one of these three coffee machines to produce fantastic fresh coffee for your customers.
Which Keurig Setting is 8 Ounces?
On most Keurigs, you'll find a digital button to press to reach the eight-ounce setting in your brew size settings. Eight-ounce cups have been the standard Keurig brew for eons and are often the standard coffee amount you'd find in almost any coffee shop, and a medium-sized coffee is almost always 8 ounces.
Does Keurig Make 12-Ounce Cups? 14 ounces? 16 ounces? Larger?
There are a few different Keurig options when it comes to 12-ounce Keurig servings, most of which we've listed already. However, when it comes to larger servings in one brew cycle – you're out of luck unfortunately!
Luckily, most Keurig models have large water reservoirs that allow you to brew several cups without refilling. If you're hocking around a large flask and want more than 12 ounces, you'll have to brew your coffee twice at different (or the same measurements), depending on how big a serving you're looking for.
What is The Tallest Cup That Can Fit Under a Keurig?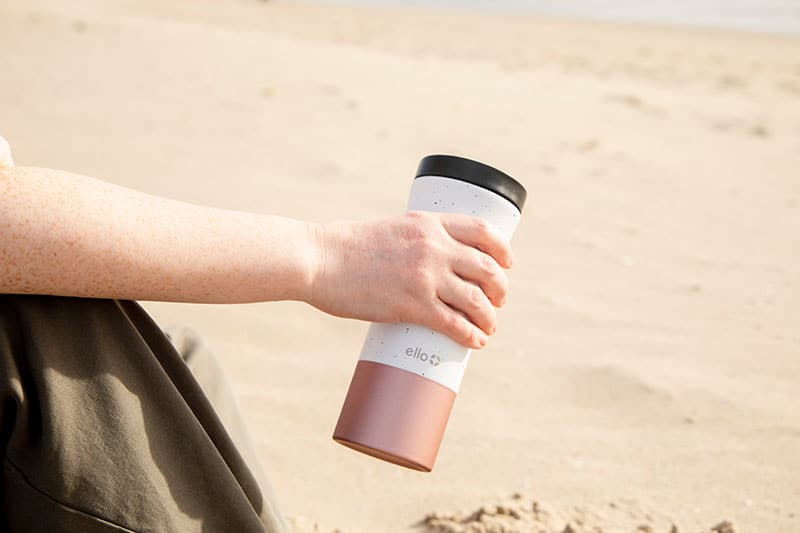 The removable drip tray of most Keurig models comes in real handy here. If you have a 14oz travel mug and remove the lid and the drip tray of your Keurig, you should have no problem fitting it underneath the brew needle.
Even Keurig's smallest model, the Keurig K-Mini, will fit a 7-inch tall travel mug with the drip tray removed.
Do Keurig Cup Sizes Affect Coffee Strength?
Because of the way that the K-cup pod is designed, your coffee's strength should remain the same throughout the brewing process, as the Keurig is designed to be a quick brewing process, rather than a sit-and-steep method.
Therefore, the strength of your coffee will come from the blend within the pod. Different coffee brands have different strengths – some are stronger than others. Depending on what you're looking for, you can find dark roast coffee in many different varieties. Some of the caffeine-connoisseur favorites have already been mentioned above.
How Much Coffee Is In a K-Cup Pod?
K-Cup pods are filled with 8 – 11 grams of coffee. This equates to roughly 1.5 to 2tbsp of coffee per pod. The standard K-Cup pods are usually medium-roast ground coffee beans. However, you can buy reusable K-Cup pods that allow you to buy and grind your own coffee and make your own K-Cups with this ground coffee.
How Do I Know What Cup Size My Keurig Is?
Your Keurig should have its cup sizes easily visible through either an interactive touch-screen, button menu or in its user manual if these aren't easily recognizable. Different types of Keurigs have different methods of selecting your cup size – from buttons to digital displays to automatic settings.
Take some time to familiarize yourself with your own machine! Nothing is worse than under-strength coffee in the morning because you picked the wrong cup size, or a spillage and wastage of the Nectar of the Gods.
How Do I Choose a Keurig Cup Size?
Choosing your Keurig Cup Size is going to depending on what the functionality is of your coffee maker and how much of a punch you want in your cup, along with how much your cup can physically hold.
Brewing a six-ounce espresso will have more caffeine than an eight-ounce medium roast. But a dark roast eight-ounce cup will have roughly the same caffeine content as the espresso.
Choosing a Keurig cup size is largely a personal choice. Choose whatever cup size gets you going in the morning!