Iced coffee is one of those things that used only to be found in bougie coffee shops during the summer, then became a year-round drink at said bougie coffee shops, and now you can make your own at home!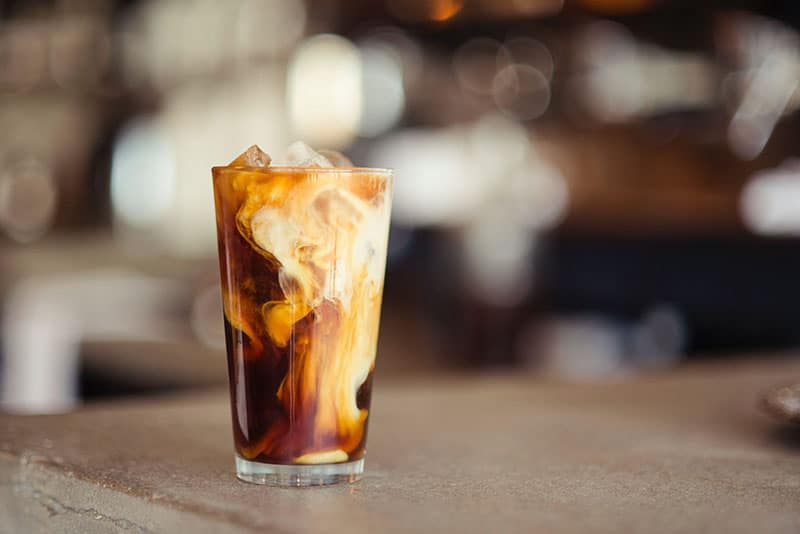 What could be better than hot coffee? Well – what if it were… cold? Similar to the guy who invented toast. He looked at a slice of bread and thought, 'Cook it again.' Genius.
Iced coffee can be made in several ways, from simple to complex – including with a Keurig coffee maker. Here's how to use your Keurig coffee maker to make the best-iced coffee around!
Iced coffee is perfect way to quench your thirst and has become the ultimate caffeinating drink in the summer months. Find out how to experience the full flavor of coffee, now on ice.
How to Make Iced Coffee with Keurig
Iced coffee is complicated to make, with or without a Keurig. But there are several ways to do so, yielding slightly different results with different tastes, strengths, and flavors.
1. Make coffee ice (optional).
One of the creative ways to make iced coffee is to create coffee ice. You'll need an ice tray, pre-made black coffee, and a freezer! You can add cold milk (almond milk or regular milk) if you prefer milk in your coffee. This is an optional step as making coffee ice can take 24 hours.
Add pre-brewed coffee to your ice cube tray and let it freeze for 24 hours. The result is ice coffee cubes that can be put into brewed coffee to cool it off or used in conjunction with beverages such as Baileys Irish Cream as a way to infuse some cold coffee into the smooth, creamy alcoholic beverage.
2. Set up your Keurig.
Your next step is to set up your Keurig. Some newer models, like the Keurig K-Slim, serve your cup of coffee at a reduced temperature with the ICED setting for those who like to pour coffee over ice rather than used coffee ice cubes.
We earn a commission if you make a purchase, at no additional cost to you.

If you don't have a coffee maker with an iced coffee setting, you can still make iced coffee with your Keurig. Other coffee machines will also have an iced coffee setting. So, if you intend to make lots of iced coffee, then you might consider one of these models.
3. Fill a glass with ice.
Instead of using coffee cubes, you can just fill a glass with regular ice. However, it may be better to use a mug than a glass, as the rapid change in temperature with the hot coffee impacting the cold glass could cause a shattering accident.
Make sure that you're aware of cup size, as don't want your coffee to spill!
4. Brew directly onto the ice.
Brewing coffee directly onto ice is another option to get 'iced' coffee. It's a fast and easy way to make iced coffee.
5. Add cream and sugar (optional).
If you have a sweet tooth, this is where you'd add your cream, sugar, chocolate syrup, caramel syrup, those pump-flavor things you buy with your drink at Starbucks for the price of a piece of your liver… You could also add vanilla syrup, if that's more your style.
6. Enjoy!
The final step is to enjoy your poor man's cold brew coffee!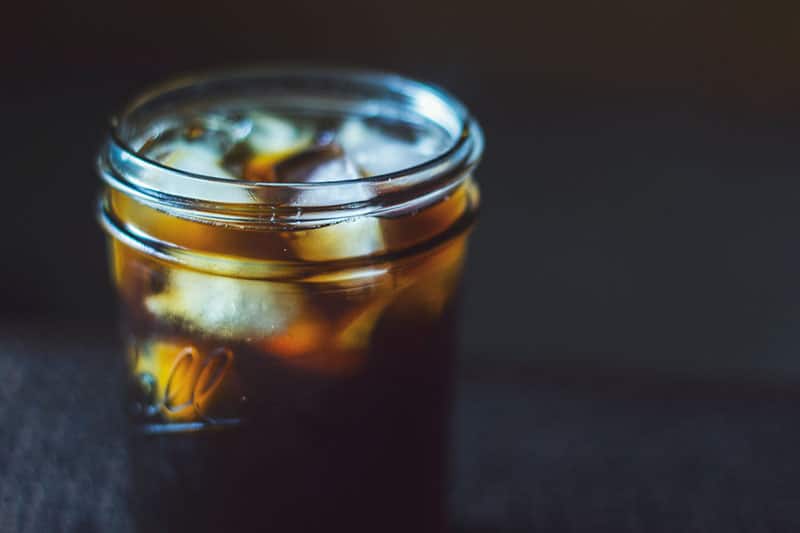 How to Make Your Keurig Iced Coffee Stronger
If your Keurig iced coffee isn't strong enough, there are a few different ways to make your coffee brew stronger.
Buy Stronger Coffee Pods
One of the easiest ways to make your coffee stronger is to do so at source. If you're using K-cup pods, search for stronger coffee when shopping! This may mean you end up with more acidic coffee. If you don't like that, try adding more sugar when you're done brewing your brew.
Add Stronger Ground Coffee Into Reusable Pods
Buying your coffee as coffee beans is always preferable to buying pre-ground coffee. One of the ways to increase the strength of your coffee of choice is to buy stronger coffee, grind it and add it to your reusable K-cups.
Add Stronger Coffee into Your Coffee Ice Brew
If you're pouring your cold brew coffee over ice, then start by making stronger coffee ice cubes to begin with. By freezing the stronger ice cubes, you're likely to reduce the acidity of your coffee as well.
Is There A Keurig Machine for Iced Coffee?
Making your own iced coffee in a roundabout way is a good way to make a cold cup of coffee. But what if there was a machine that could do it for you?! There are a couple of different options when it comes to Keurigs that will make iced coffee.
Keurig K-Elite Single Serve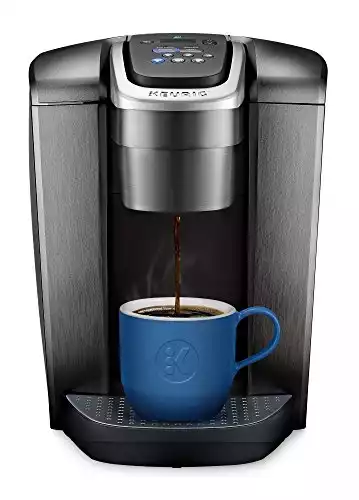 We earn a commission if you make a purchase, at no additional cost to you.

The Keurig K-Elite Single Serve coffee machine offers you the ability to make iced coffee at the touch of a button. Like most other Keurig makers, it allows you to brew a hot beverage in a travel mug or regular mug and serve it over ice, whether regular coffee or coffee ice for a strong coffee.
Keurig K-Slim + ICED
We earn a commission if you make a purchase, at no additional cost to you.

The Keurig K-Slim allows you to adjust the brew temperature of water to serve coffee over ice. This will allow you to serve a cold brew cup of coffee, or serve coffee in reusable coffee cups for the on-the-go traveler.
In this case, you can also drink your iced coffee from a tall glass. You could also use dark roast coffee to infuse more flavor during the brewing process.
Can You Make This Iced Coffee With Any Keurig
You can make hot coffee, to which you add ice with any Keurig – however, the capability to add temperature-controlled coffee is only available in the Keurig K-Slim. But it's certainly possible to make iced drinks with any Keurig.
If cold coffee is what you desire, and you only have a base-model Keurig, then the coffee ice method or adding ice to made coffee will get you the cold drinks you want.
Do I Need Some Special K Cups?
Nope! Making iced coffee will work with any K-cups that you currently have and any future K-Cups.
If you want to make an iced latte, like an iced caramel macchiato, you can add caramel syrup and heavy cream to your already-made iced coffee.
Best K Cups for Iced Coffee
The goal with K-Cups for iced coffee is to use dark roast coffee to hold its flavor better. You have plenty of options for dark roast, but other coffee connoisseurs swear by Green Mountain Coffee and their Dark Roast Magic blend alongside Death Wish Coffee.
Green Mountain Coffee Roasters Dark Magic, Single-Serve Keurig K-Cup Pods, Dark Roast Coffee, 24 Count ( Pack Of 4 )

Buy Now

We earn a commission if you make a purchase, at no additional cost to you.

01/18/2023 02:21 pm GMT

Death Wish Coffee Single Serve Pods - Extra Kick of Caffeine - Dark Roast Coffee Pods - Made with USDA Certified Organic, Fair Trade, Arabica and Robusta Beans (50 Count) - Packaging May Vary

Buy Now

We earn a commission if you make a purchase, at no additional cost to you.

01/18/2023 02:34 pm GMT
Iced coffee is one of the many delights of summer (and winter, for the masochists among us), enjoy it as a latte, or as a regular coffee – with whatever milk substitute you wish!